Brown liner is the basic bitch of eye makeup in that its the monotonous staple every woman owns. Less aggressive than black and not nearly as exciting as jewel tones or metallics, it's often reserved for daytime scenarios that are anything but sexy—like say a Monday morning meeting undoubtedly scheduled by some sort of masochist. Makeup artists Aaron de Mey and Tom Pecheux, however, proved that MAC's cult-classic Teddy Eye Kohl is the key to the seriously sultry looks at both Chloé and Balmain.
"It's not too red and it's not too ashy," explained De Mey, who ran it along the bottom waterline and smudged it onto the lower lashes with his fingertips at Chloé. "I asked the girls to squeeze their eyes shut so it feels like it was left behind from last night's makeup." The pro kept lashes "clean" and complexions "velvety" to keep the look from verging on glamorous, as Clare Waight Keller's woman looked cooler than ever in cropped sailor pants and slouchy pantsuits. "Chocolate brown keeps it beautiful and not too hard," added De Mey. "Reddish browns can make eyes look tired and draw out color in the skin that you don't necessarily want." And with an 8.a.m. call time, jet-lagged models (and beauty editors) stumbling through the fourth and final leg of fashion month gladly accepted any help they could get.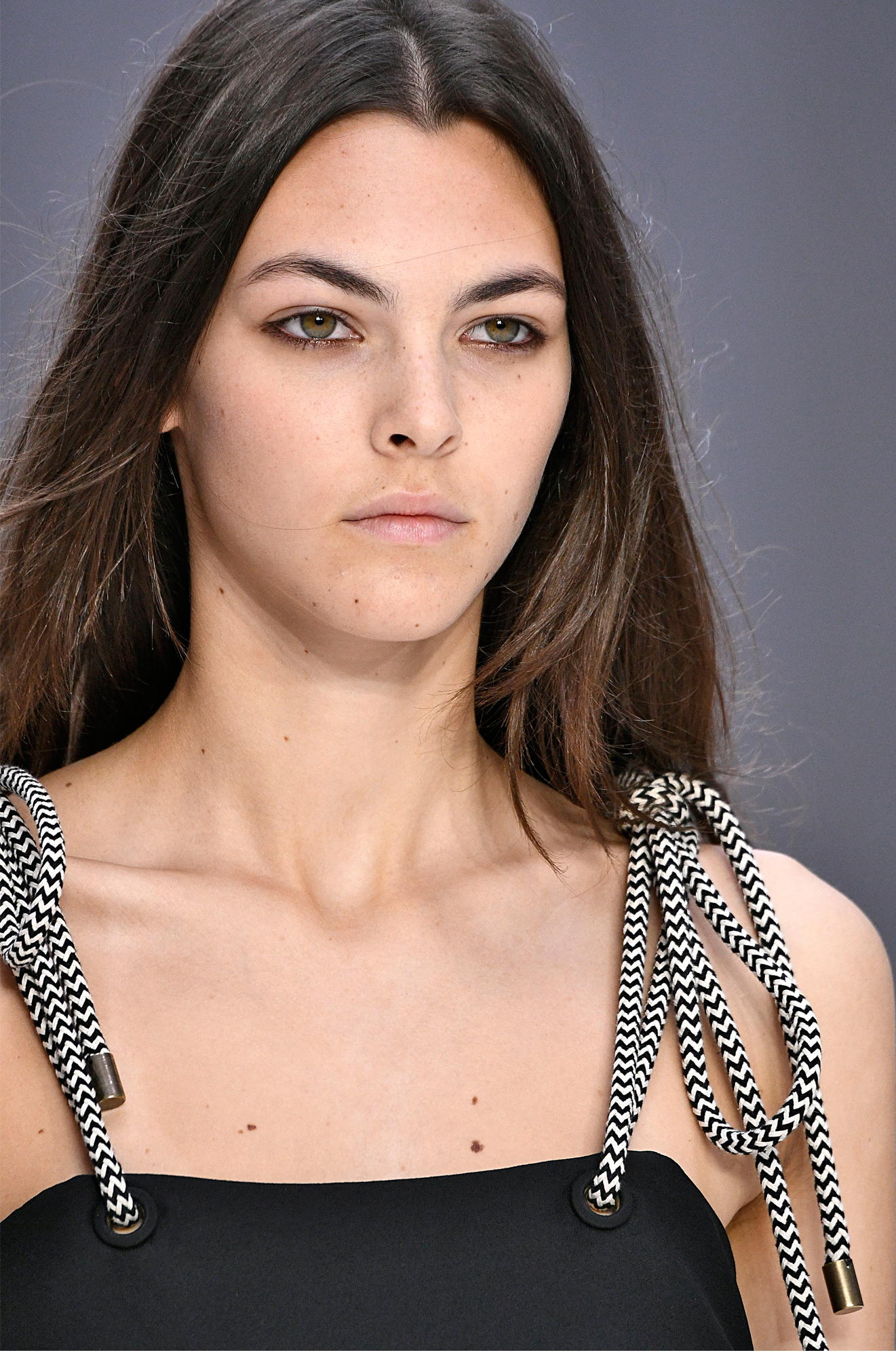 Chloé; Photo: firstVIEW
"It's not a natural Balmain—it's a naughty girl," said Pecheux backstage at the high-octane show. "Olivier [Rousteing] said he wanted his girl to look like she's come off the beach with leftover makeup on." In addition to contour cream ("Olivier likes the contour—we all know that!" he laughed), MAC Studio Eye Gloss in Clear as Glass dabbed on cheekbones and lips for a wet effect. Top and bottom lashes were coated with MAC Haute & Naughty mascara and Eye Kohl in Teddy was skimmed along the lower lash lines. Next, a black pencil was scribbled over the lid and subsequently buffed to seductive, smoldering finish. "The brown warms up the black," explained the face painter. More Eye Gloss was dabbed over top to purposely make the pigment run. "Grease on grease is always a winner!" he added.
Where the two beauty looks differed, however, was the hair. Eugene Soulemain spritzed strands with little more than water and Wella Moisturizing Leave-In Balm Spray at Chloé, while Sam McKnight sexily slicked back strands at Balmain using a myriad of products (Kiehl's Creme with Silk Groom, L'Oréal Professional Shower Shine, and Bumble and Bumble Holding Spray) for an "ultra-shiny," "swimming pool-wet" finish. For models with curly hair, he whipped out a rather unusual product: Cock Grease XXX Water-Based Hair Pomade. (Yep, you read that right.) "It's an old fashion [trick]—a petroleum jelly type of thing that is quite heavy, weighs hair down, and makes it super flat," McKnight explained. "I first saw it in Ricky's years ago." The fact that this formula is malleable and doesn't "dry hard" are just two of the reasons why pros keep it in their kits. Plus, the X-rated name makes a backstage beauty interview that much more interesting. For those who don't want their work computers flagged for inappropriate search terms, consider swapping out the Cock Grease and adding Balmain Shine Wax to cart instead.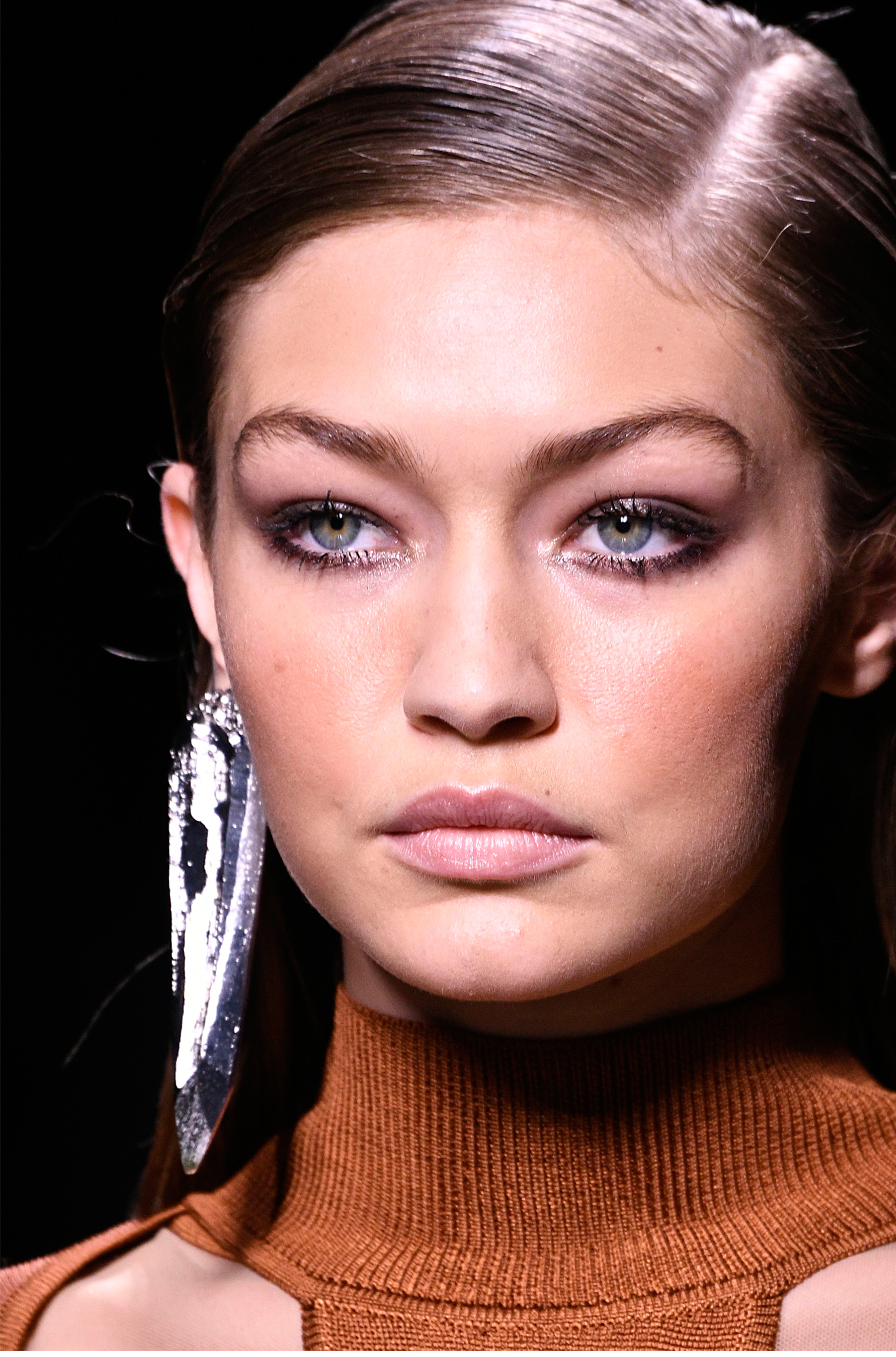 Balmain; Photo: firstVIEW
0 Comment