From snakeskin liner to Swarovski crystals, Ashley Graham's spotlight-stealing makeup might be more fun to watch than America's Next Top Model, the show on which the super acts as a judge. With 22 opportunities to make an impression, face painter Vincent Oquendo is pulling out all the stops—the latest being rainbow-colored cellophane squares from Make Up For Ever. "Cellophane offers multiple textures and finishes, but there is still a transparency," explained the pro. "The idea was not just to glue cellophane to Ashley's lids, but create depth and dimension underneath."

To get the look, Oquendo used a taupe shadow at the base. After adhering a "thin, wispy" strip from House of Lashes to each eye, he rimmed the upper lash lines with Marc Jacobs Beauty Twinkle Pop Stick Eyeshadow in Volver and Frannie before blending the two hues together with a fluffy brush. Then, he painted a thin wash of HOL White Lash Adhesive ("I like this glue because it has a brush applicator and the formula dries clear," added the pro) across the lashes, ticking it up at the outer corner into a subtle wing. Using any leftover glue on the brush, Oquendo coated the top of the faux fringe. Seeing as the cellophane squares are slightly larger than traditional, sand-sized glitter, he used a tweezer to drop clumps of the shimmery particles in place. "Think of it like confetti," said the makeup artist, who gently pressed the cellophane against the lid and lashes. After dabbing a cream blush on cheeks and slicking a dusty rose color across lips, Oquendo asked Graham to tip her face forward and shake off any excess squares. "There were a few pieces that ended up sticking to the lips of the lashes, which offered a crystallized effect," he said. "When you saw it under [studio] lights it almost looked 3D."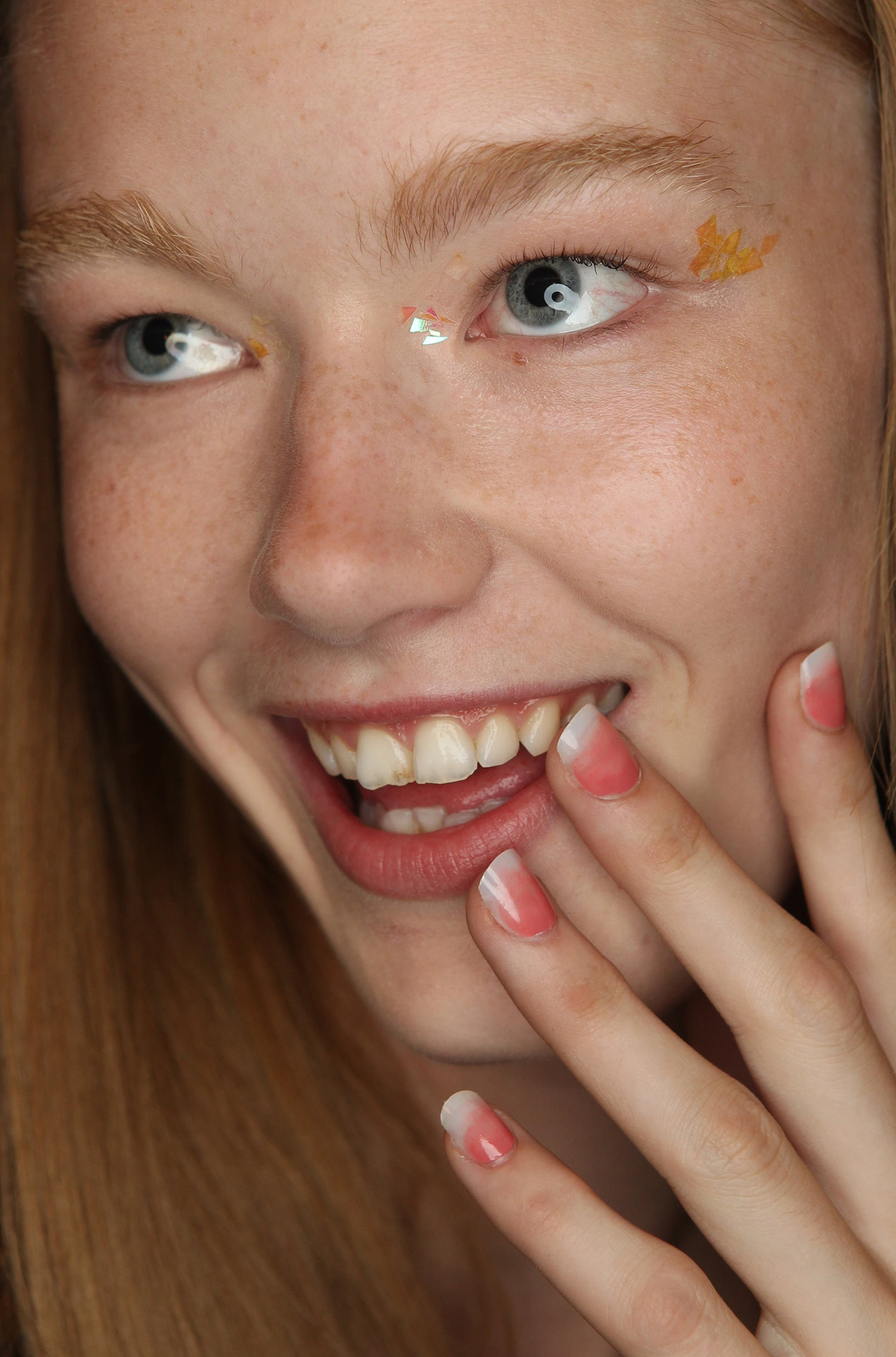 Monique Lhuillier Spring 2015 / Photo: Getty Images
It's not the first time we've seen the shimmery material incorporated into makeup, as Val Garland applied graphic slices to models' inner and outer corners at Monique Lhuillier's Spring 2015 show. Peter Philips mixed "sheer, XL glitters" with smaller blue-green and gold particles before "splashing" the high-shine combo onto brow bones and temples to create a "wet effect" at Fendi's recent fairytale-themed Couture show, almost as if the supermodel cast had emerged from the Trevi Fountain. The real magic, however, lies in the application. Philips painted "sun beam-like" strokes out towards the hairline with Ben Nye Glitter Glue then loaded a brush with the mélange of glitters, held it close to face, and blew—lending a delicate finish that looked more like "stardust" than a "metal plaque." Talk about enchanting.

0 Comment