The FU staff loves a good book—especially the glossy, oversized coffee table variety that fashion is so fond of. Here, we discuss the latest and greatest tomes that talk about everything from lipstick to ponytails to existential beauty and beyond. Grab a bottle of wine (why else do you go to book club?), curl up, and dive in.
It's a historic day for Americans as they head to the polls to cast their vote for what could be the first female President in our nation's history. The girl power was practically palpable in the air as people of all ages, races, and religions waited in line to make their voices heard. Some of us did it while listening to Fashion Unfiltered's "Nasty Women Rock the Vote" playlist (it's excellent BTW) and wearing a badge of courage and feminist pride: unapologetically red lipstick. And no, not because I'm a staunch Republican who wanted to play off a vile vermillion "Make America Great Again" hat—but because I hope lipstick becomes the new power tie that completes the power suit on our 45th President.
Color plays a huge role in our world, a concept Dior (who recently appointed the house's first-ever female creative director, Maria Grazia Chiuri) explored in its latest coffee table tome: Dior, The Art of Color. Hillary Clinton's wardrobe choices were practically dissected under a microscope after every debate and public appearance. The white pantsuit she donned to accept the Democratic nomination signaled a clean slate for the blue party, not to mention the shade is symbolic of the women's suffrage movement. Clinton's crimson pantsuit at the first televised face-off against Donald Trump conveyed that this former First Lady was in this election "for blood" (and the title of Madam President). This morning, she wore I've-got-this beige to fill in the bubble next to her name on the ballot. In short, the hue that you hang on your body or swipe across your lips matters.
Here, Peter Philips, creative and image director for Dior makeup, talks about his mind-blowing collection of makeup, explains why lipstick is the ultimate "weapon," and reveals the one shade guaranteed to flatter nasty women everywhere.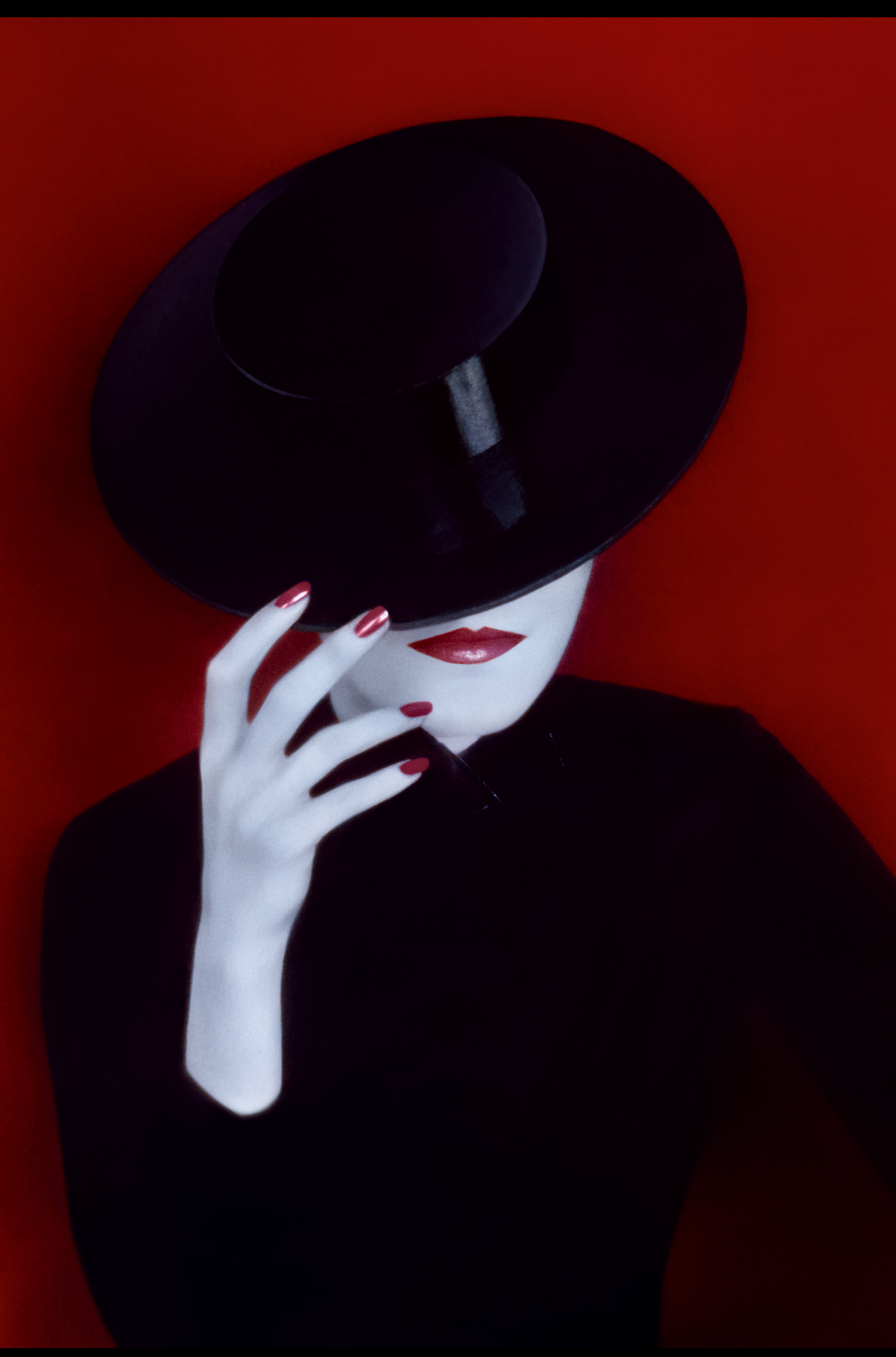 Photo: Serge Lutens / Fondation Serge Lutens
Philips on his top-secret lipstick and nail polish stash:
"I've never thrown anything away since the first day I started doing makeup. I kept everything in drawers and I started archiving old lipsticks—I would take them out and put them in plastic containers. Quite often, I mix those…I do the same thing with nail polish. I don't count! I just know [my collection] is heavy. You have to shift the bottles because when you lay them flat for a few a months, the pigment starts separating. So on a regular basis I have to shake them up and turn them around."
As for where he keeps his treasure trove of limited-edition goods (I imagine there's a coveted bottle of Chanel Le Vernis in Jade tucked in there somewhere—a polish that spurred many an eBay bidding war): "It's actually not that big—makeup is small. It's in Paris in my office in drawers behind [my desk]. It's very boring actually!"
Philips on what's in his "junk drawer":
"I have other drawers where I have all kinds of stuff. If you opened it you would think it was full of junk. Plastic bags, samples from car paint factories, anything that has to do with color and texture I keep. I even have jam pots from exotic hotels...When I want a specific color—I've got tons of things that I find like plastic, old fabric samples, different color foils—and I layer them. For example, you can take a peach fabric and put a pink organza on top of it to create a new color. It's like filters."
Philips on stockpiling lipstick like a squirrel gathers nuts:
"I have a few hundred lipsticks. It's mainly used for color because textures evolve. I don't keep references, so all of the colors are anonymous. It might be Dior, Chanel, Bourjois, or some cheap brand. Sometimes I mix them to create a new effect or color."
Considering the fact that Philips started his career in the mid-90s, that's a lot of lipstick and nail polish. But before you start envisioning the beauty edition of Buried Alive, know that the makeup maestro is one of the most organized pros backstage—arranging his station with military-like precision.
Philips on the lipstick color that's unexpectedly tough to create:
"You know what's tricky: beige. It's tricky to find a good beige lipstick and I've got tons of them. I remember always being frustrated that the beige lipsticks I had looked too white on the lips. By mixing them with a little bit of a taupe or a brow, I can create a new one. Sometimes it's only two grams of lipstick that I take to the labs and they say, 'Oh my god, we have to base everything on that?'"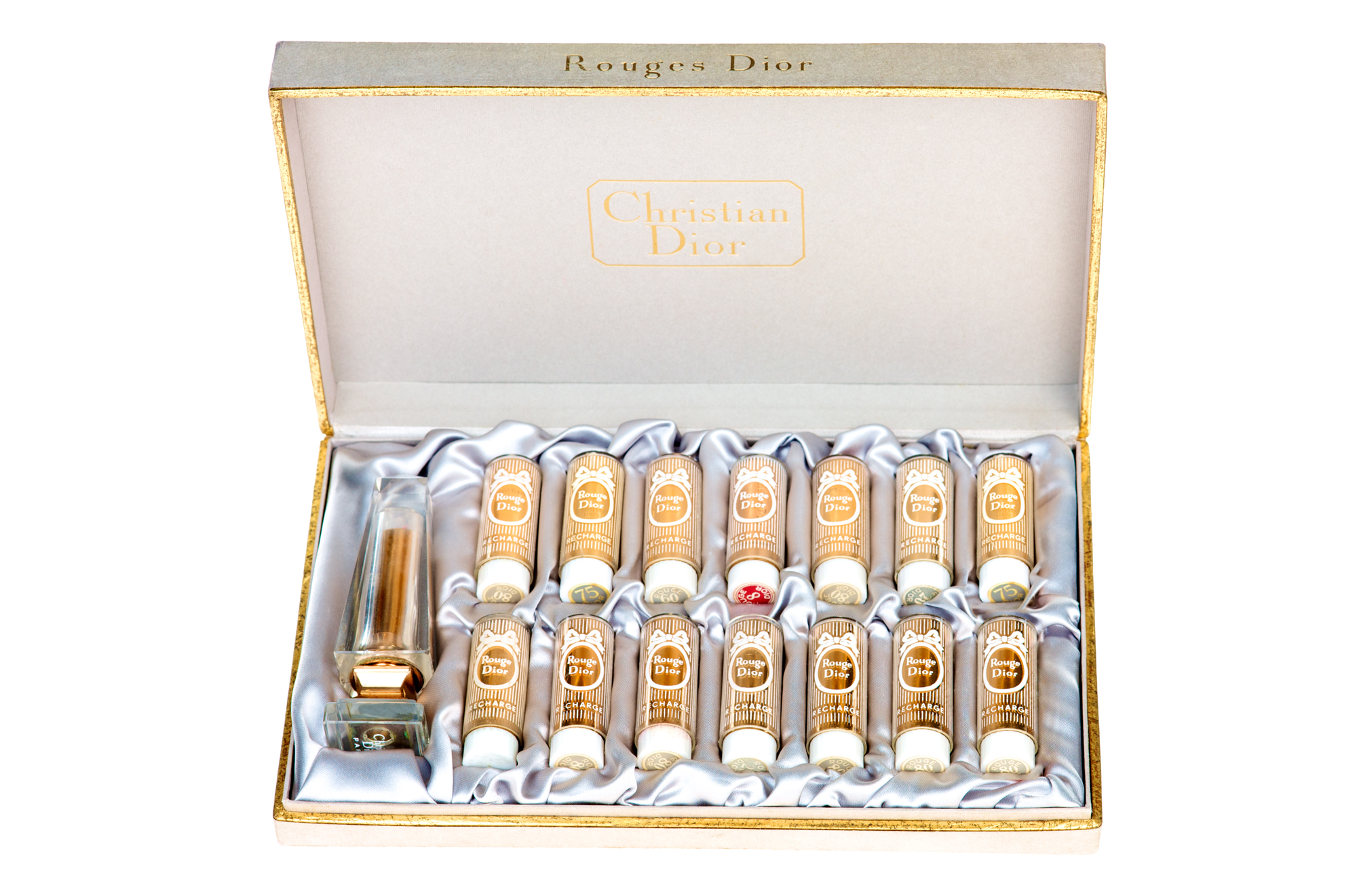 A Dior lipstick coffret circa 1960
Photo: Philippe Schlienger for Parfums Christian Dior
Philips on grey, green, and blue lipstick in the Rouge Dior collection:
"We have to keep playing with colors—especially now when girls are not afraid of makeup anymore. As a Couture house that has always been daring, we can't hold back. At the last minute, I asked [the Dior marketing team] to give me 15 shades [out of the 50-piece collection] that I could create and use for editorials and backstage that at the same time would intrigue women to dare with Dior. I didn't even have to negotiate! For me, it was just to show how you could play with makeup. They were never created to be commercially successful, but women loved it. The grey is [especially] popular. I just found out that [the more unorthodox shades] are going to be in the collection in Japan."
As famed face painter Serge Lutens, creative and image director of Dior makeup from 1967 to 1980, notes in Dior, The Art of Color, "Christian Dior himself" was the first to launch orange and yellow on models' lips. "What a shock that was!" said Lutens. So it should come as no surprise that Philips would follow suit.
Philips on how to pull off grey lipstick IRL:
"The girls that I see wear it with red lipstick and use the grey on the inner part of the lip as a highlight. Since it's not white or pearly, it blends in beautifully and looks amazing. I never thought of that when I created it—I was thinking about color blocking and very graphic editorials."
Philips on beauty cover boys:
"I don't think it's new. When I started doing makeup in the mid-90s, it was an era where there was no makeup. If you look at the history of makeup, there have always been periods where men have worn makeup. This gender thing that's going on will eventually fade out—it's always a reaction. In my career span, I started out when there was no makeup not only for men, but also for women. It was all nudes and no lipstick. It was an anti-makeup era, which evolved into where we are now. The reason I started doing extreme makeup early in my career was a reaction to that no makeup period."
Philips on the democratization of fashion and beauty:
"I think it's a very liberating era [right now]. I think it's great that everything is accessible to everybody not only [in terms of] gender, but in terms of information. Makeup and beauty and fashion in general became very democratic. It's accessible for everyone. Everyone is an expert, or they can be solely by looking at social media. I think that's a great evolution. I hope it doesn't evolve into an anti-reaction."
Philips on the power of lipstick:
"For women, it's almost like a weapon. It's a tool they can use. I never really understood the feminist point of view where a woman almost becomes a man. I think it's a force to be a woman. Use it. Use that force. Use your femininity. That's where makeup and fashion come in handy. I never got that throw away your bra thing."
Philips on the lipstick equivalent to the sisterhood's traveling pants:
Is there a shade guaranteed to flatter everyone? According to Philips, yes: "A red that isn't too orange—almost a bordeaux. It looks good on dark skin. A bright red might not read well on really dark skin because the natural color often comes through the lipstick. It's quite dramatic, but it also looks good on really pale skin or Latin skin." His go-to hue for every nasty woman: Dior Rouge Dior in Rouge Zinnia, $35. Hill, if you're looking for a lipstick for inauguration day, consider this oxblood it.
For more boundary-pushing beauty looks guaranteed to shake things up, click through the portfolio above featuring makeup by Philips captured by photographer Richard Burbridge.
*UPDATE: This is the end of the world as we know it.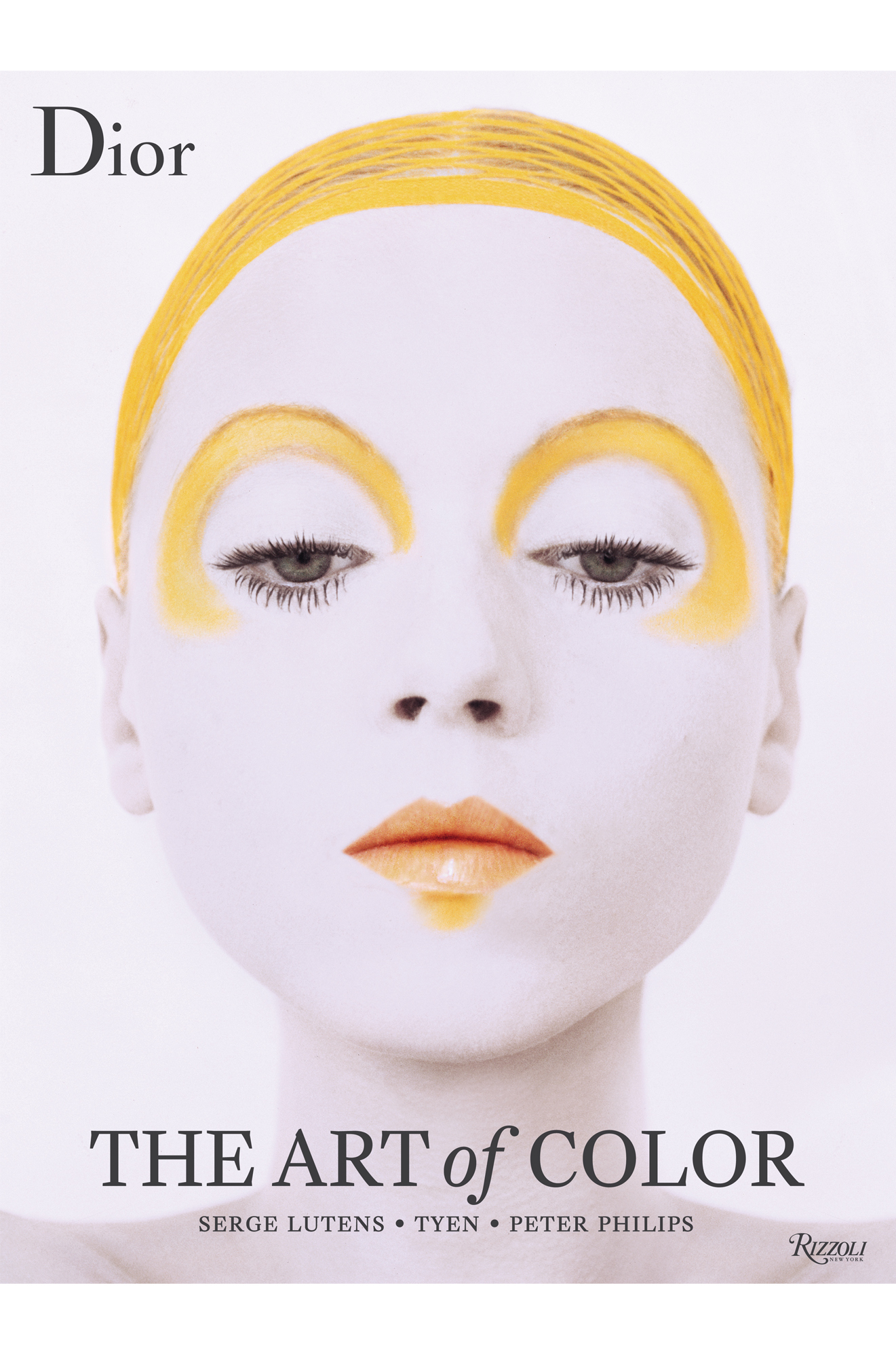 Dior, The Art of Color, $115; Buy it now.
0 Comment