Gucci just released its new ad campaign for Guilty, one of the fashion powerhouse's signature scents, starring a naked Jared Leto, 44, having a threesome with models Vera Van Erp and Julia Hafstrom. (Both are 22 years old. 22+22=44. Oh, that's why this is a threesome, because math!) Set in Venice, the film shows the trio lounging and staring at each other. It's beautiful. It leaves a lot unanswered. It's a perfume advertisement.
"I just want people to feel free," Gucci creative director Alessandro Michele said. "If you walk along the street, in any city or metropolis of the world, you realize there's a kind of marvelous anarchy that characterizes youth, but also people of all ages."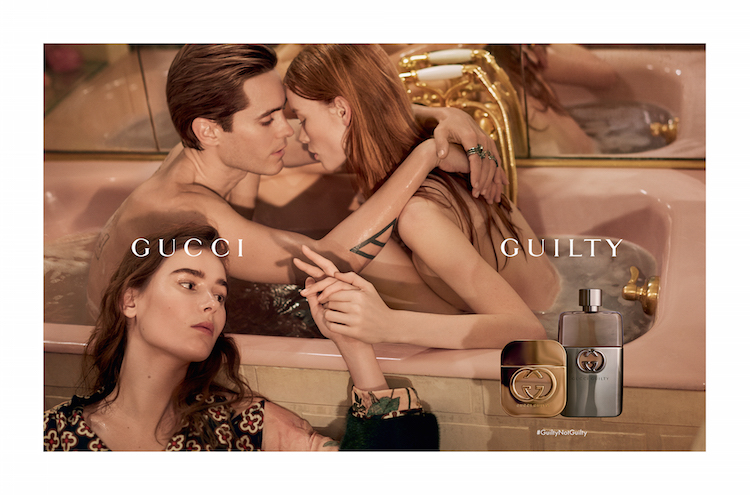 Photo: Courtesy of Gucci
Apparently, Michele was inspired by this generation's "celebrative anarchy," specifically in terms of self-expression and the breaking down of gender rules. Ironically, the scent exists in binaries: For "him" and for "her." (But that's not Michele's fault—Guilty existed long before his tenure.) Also, if you're watching the video and wondering where the anarchy is, the reference is more to 18th century Venice. It's rich people anarchy, the luxurious kind of rebellion that involves taking a bubble bath instead of going to work, because you have enough money to not work in the first place. Leto is actually the perfect face of this campaign because of his ability to boldly be Jared Leto, thanks to all of his celebrity cash. (Which, to be fair, he earned by working, but still, it exists.) Perhaps one day, we too can throw caution to the wind, rise against the powers that be, and succumb to ennui in five-star hotels in lavish cities. Release your inhibitions and just be wealthy already.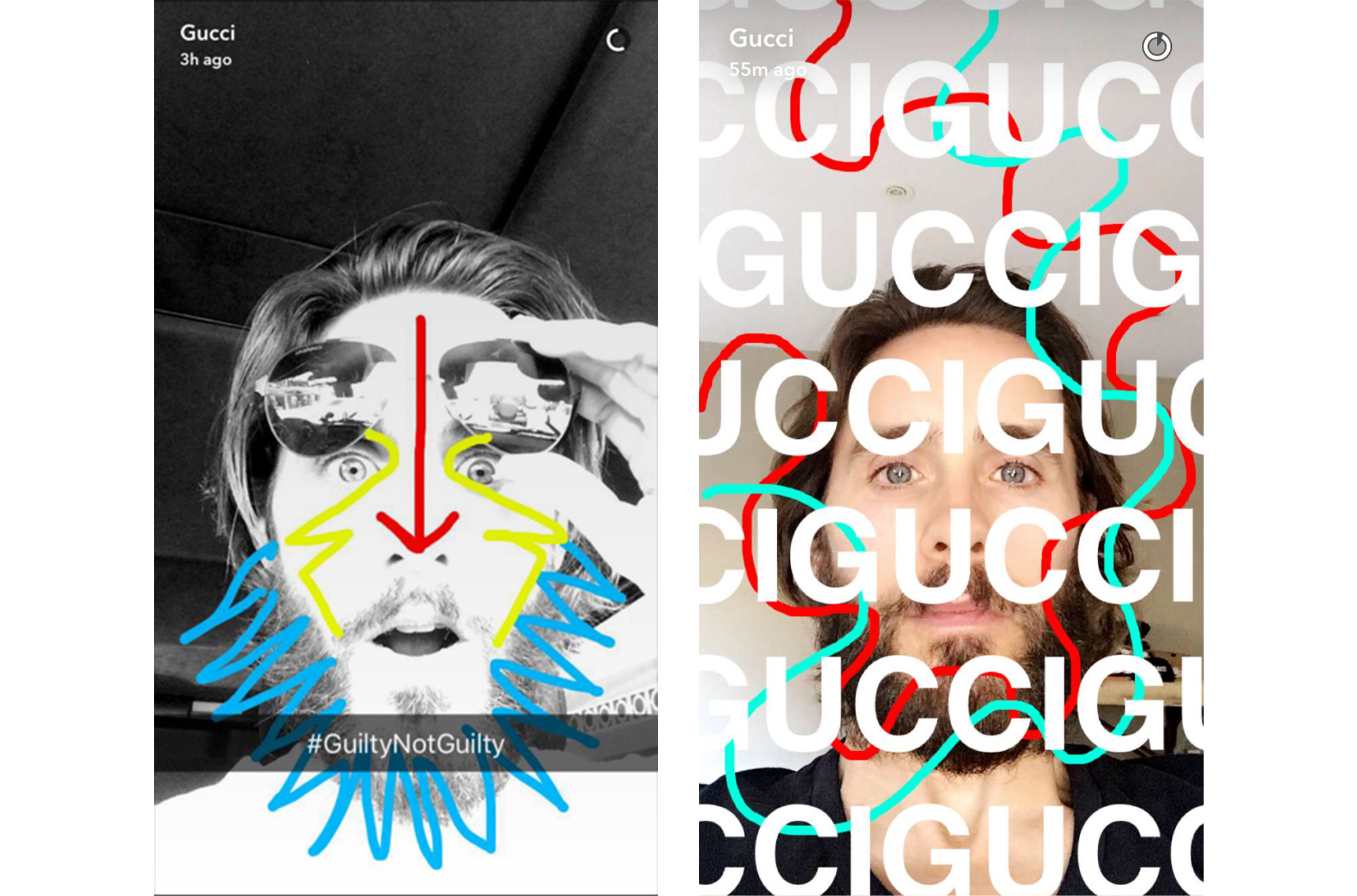 Jared Leto takes over Gucci's Snapchat / Photos: Courtesy of Gucci
We must say, although the ad, which was captured by Glen Luchford, is not the most interesting fragrance commercial released this week (that award goes to Kenzo), they are a big improvement over the old Gucci Guilty ads, which starred Chris Evans and Evan Rachel Wood. Honestly, the whole "unbridled sexuality through luxurious romance" approach to fragrance ads is pretty basic at this point. Even Loewe—minimalistic and slightly avant-garde—is leaning on sexuality, with its new 001 Man and 001 Woman fragrances evoking the scent of "the morning after." This is how the majority of brands position their perfumes these days. That being said, Luchford does a good job of making the images (and accompanying commercial) look beautiful and cinematic. There was also a social media aspect—because it's 2016, and if it doesn't happen on the Internet, it doesn't happen at all. Leto took over Gucci's Snapchat, and the whole campaign uses the hashtag #GuiltyNotGuilty.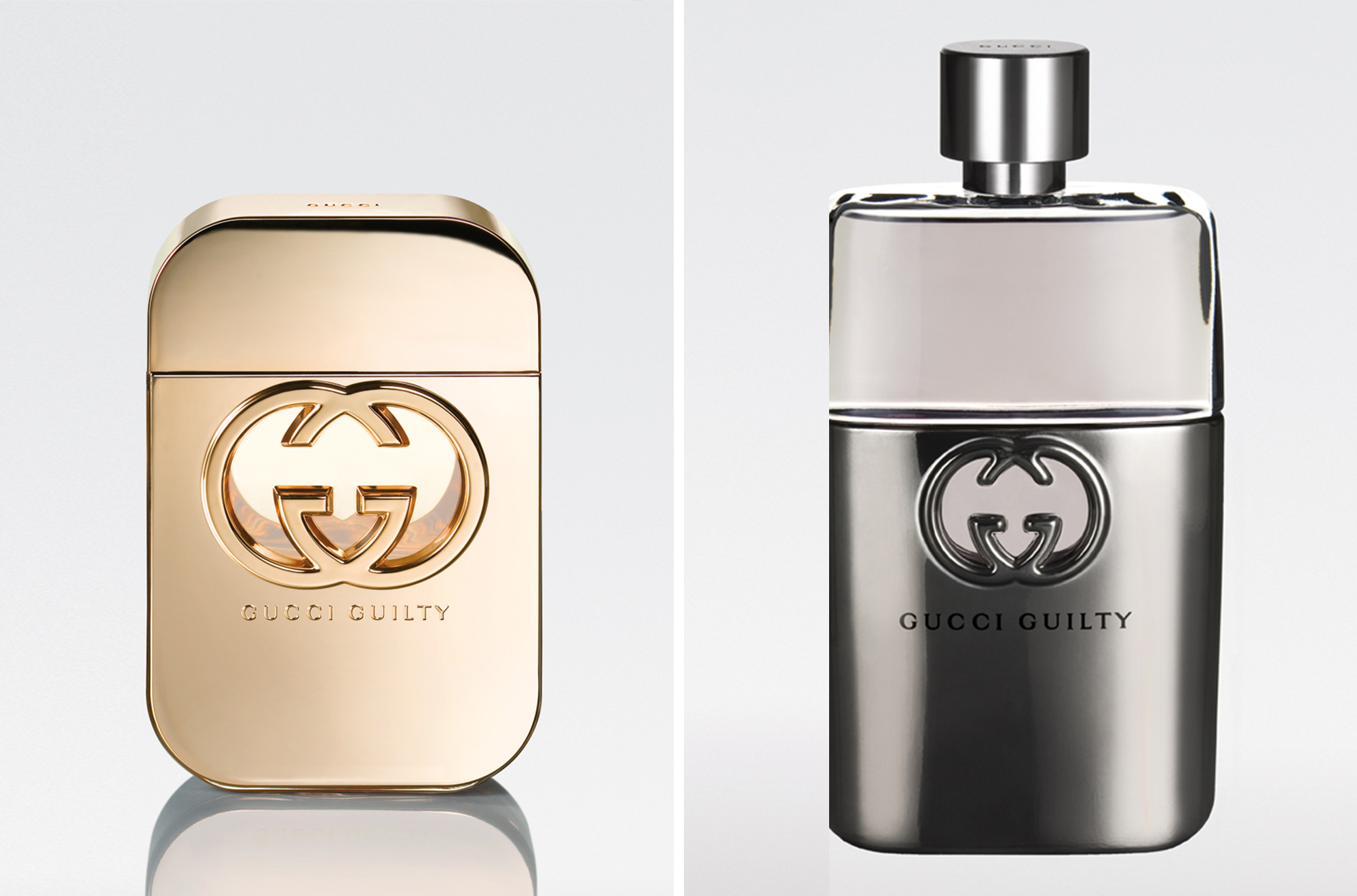 Gucci Guilty Pour Femme and Pour Homme / Photos: Courtesy of Gucci
The scent is available in multiple forms—ranging from your classic eau de toilette to body lotion to aftershave. There's even a bubble bath, allowing you to recreate the Jared Leto Gucci Guilty experience. All that's missing are two naked supermodels.
Gucci Guilty Pour Femme and Pour Homme, $78 and $69; Buy it now
0 Comment