One of the most famous statements associated with Andy Warhol goes something like, "In the future, everyone will be world-famous for 15 minutes...and wear false eyelashes every day." Ok, maybe I made up that last part, but it's just as true as the fame thing. Faux lashes have become so commonplace that you can get away with sporting them at brunch or even in the office—no need to wait for a special occasion or a red carpet moment.
"I have noticed that more and more women are wearing lashes daily. I think once they start, they get hooked," says Sirine Swed, founder of Battington Lashes. Swed, a lash addict herself, used to wear eyelash extensions regularly until she realized that they were wrecking her natural fringe. She created her cruelty-free line of silk falsies for women who want something lightweight and safe enough to wear every day, just like their favorite lipstick. The collection includes six different styles ($24 to $26 each) ranging from the thick and dramatic Bardot to the fluttery and more low-key Earhart. The big selling point: With the right TLC, Battington Lashes can last up for up to 25 uses. I need to stick mine on 23 more times before I can personally vouch for that claim, but Battingtons are definitely a lot more comfortable than others that I've tried.
For those that fear the glue factor, there's One Two Lash ($59 to $69)—innovative false fringe that sandwich your natural lashes via two patented magnetic strips that are pretty much undetectable once secured in place. While these reusable falsies aren't intended to be layered with mascara (though the brand says they are working on a formula designed to play well with their fringe), they snap on in seconds and slide off even faster. Even better: No stickiness, no mess, no problem.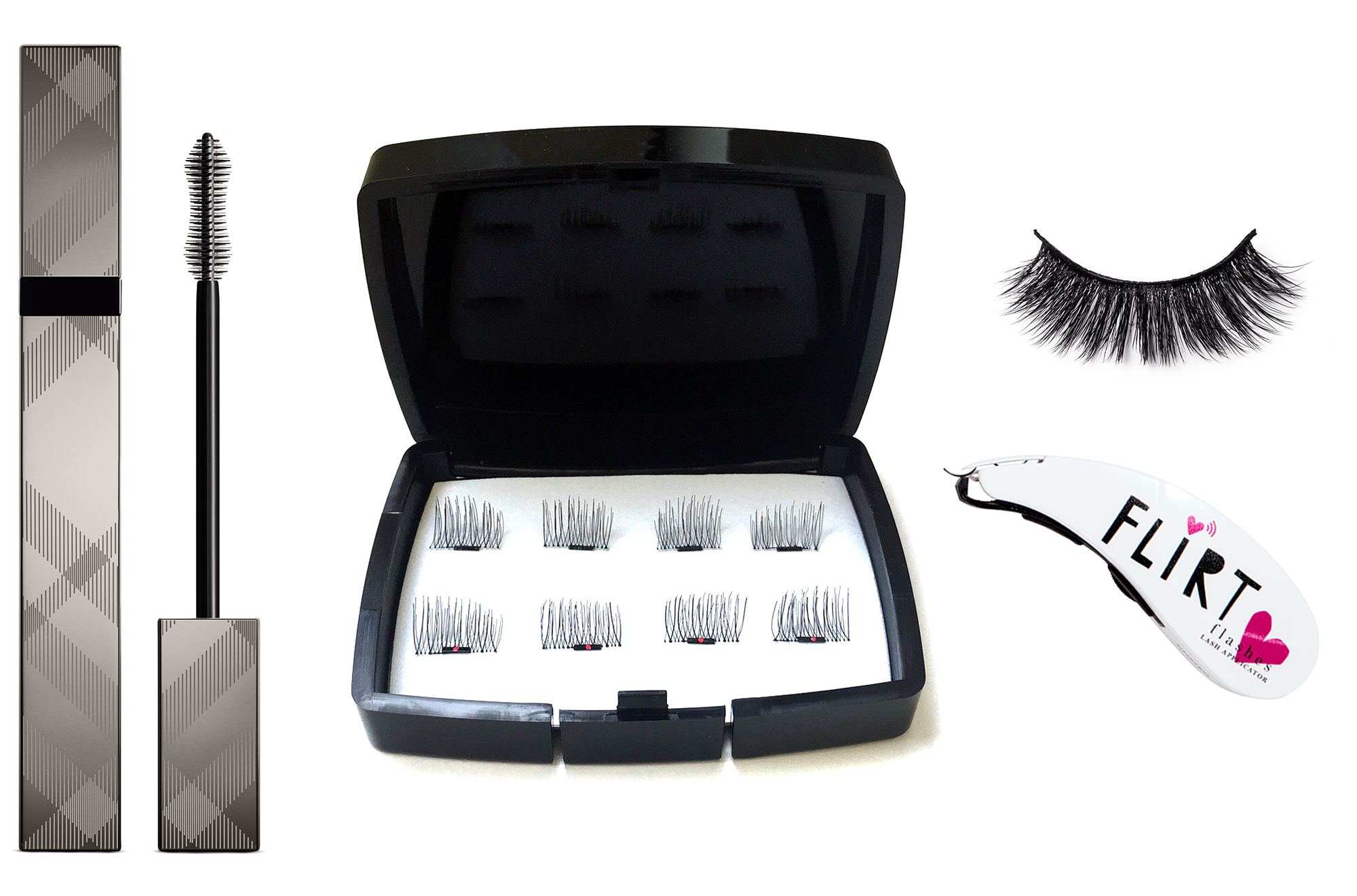 From left: Burberry Cat Lashes Mascara, One Two Lash Magnetic Eyelash Extensions, Battington Lashes in Bardot, and Flirt Flashes Lash Applicator
If you want the eye-opening effect of lashes, but haven't yet mastered the art of applying full strips, (1) keep practicing and (2) get yourself Flirt Flashes Lash Applicator ($28), a handy gadget that makes it easier to stick on individual clusters. The falsies are hidden inside the device, and are dispensed after you roll them out and press a button to release them. It works kind of like a staple gun. I liked using Flirt Flashes better than my usual method with tweezers, but until I got the hang of it, I did have to manually adjust a couple of my clusters to get them in the right spot. You can deck out your entire lash line with the falsies, but I preferred the subtle effect of only placing them on the outer corners of my eyes.
And what about those who can't be bothered with this fake lash business? Fear not. Fall is traditionally a season filled with mascara launches, and this year is no different. One standout so far is Burberry Cat Lashes ($29), which as the name suggests, gives a fanned-out effect reminiscent of feline whiskers via the hourglass-shaped wand. It does deliver, but what I liked best is that even though I piled on my usual seven coats, the spiky bristles kept my lashes safely out of the Tammy Faye zone.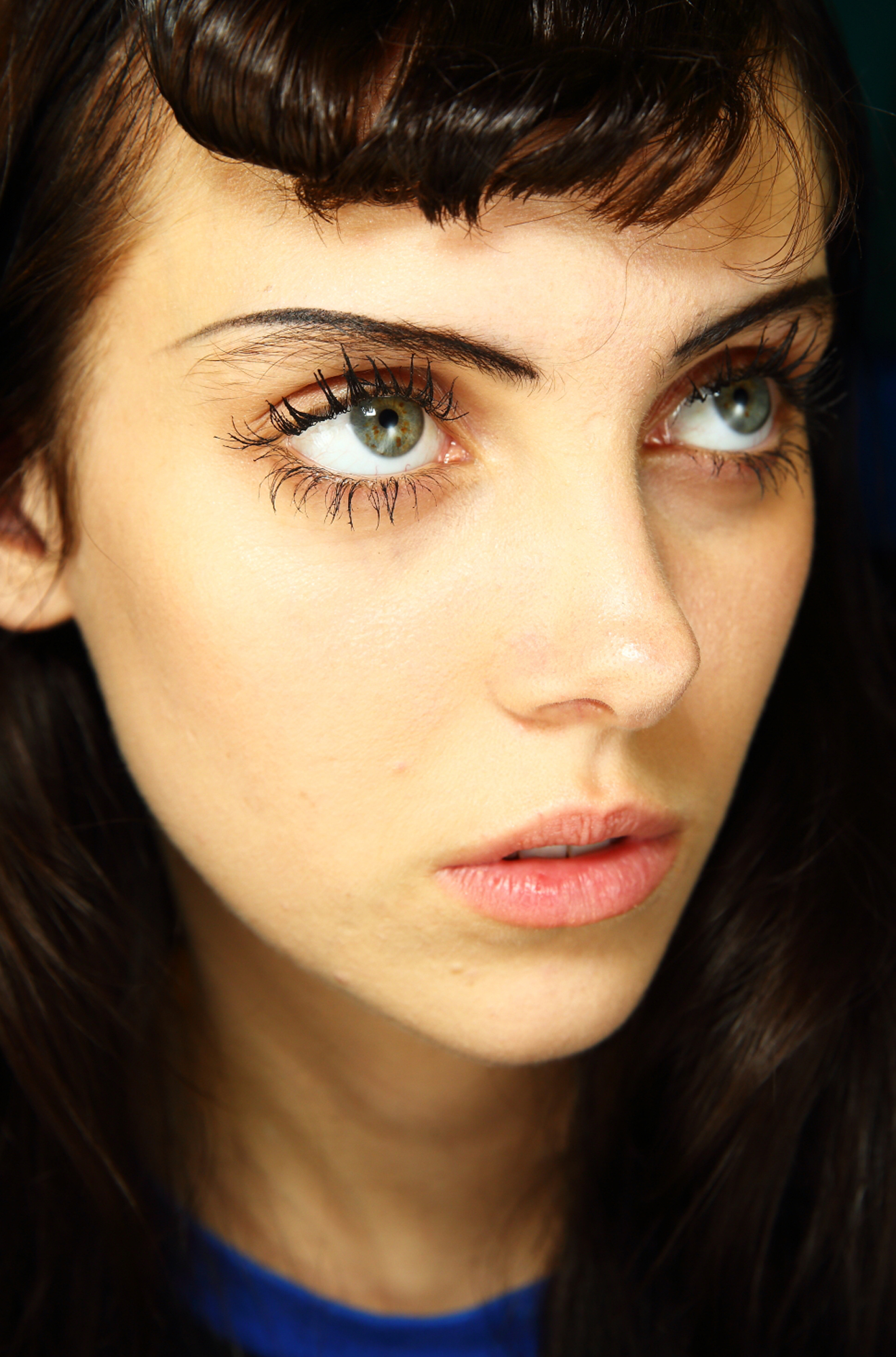 Rochas Spring 2017; Photo: Sonny Vandevelde
0 Comment