We all know Italians are genetically blessed (e.g. Isabella Rossellini, Monica Bellucci, Sophia Loren—need we go on?). But no one does otherworldly chic quite like Roman supermodel Mariacarla Boscono. For nearly 20 years, she's been killing it in the fashion game with her raven hair and alabaster skin—walking countless runways (her latest being for Versace's Spring 2017 show), fronting every major campaign from H&M to Mugler, acting as the face (and hair) of Redken, and serving as longtime muse and BFF to Givenchy's Riccardo Tisci. We sat down with the 36-year-old to talk modeling, motherhood, and her secret weapon for looking like she "slept 48 hours."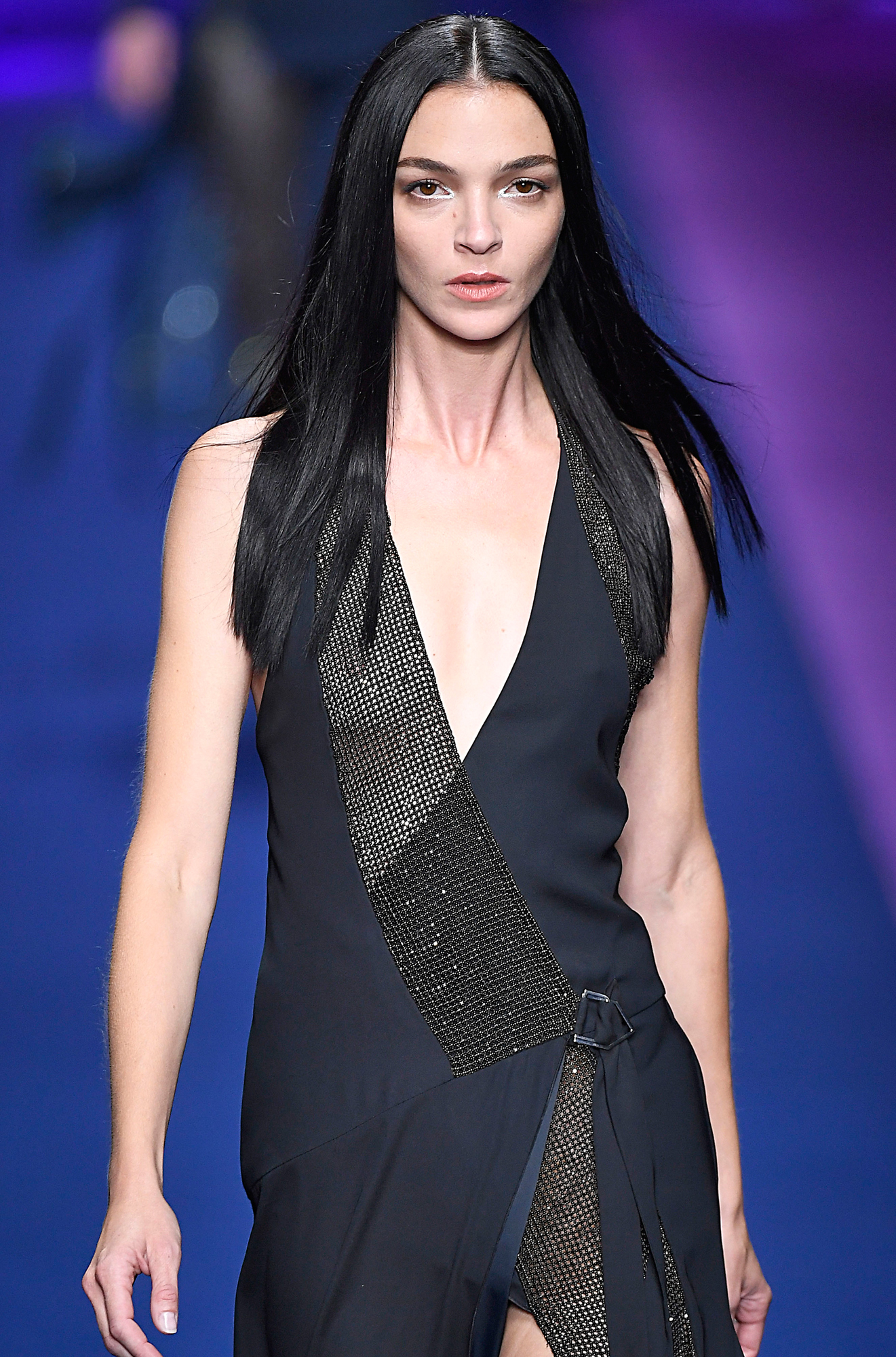 Versace Spring 2017; Photo: firstVIEW
FASHION UNFILTERED: You've grown up all over the world—Kenya, the States, England. What's your best beauty memory?
MARIACARLA BOSONO: When I lived in Kenya, I had a nanny who was from a tribe that only wore sarongs. She wore coral jewelry and had a henna tattoo. During that period of time, I had henna on my feet and she would braid my hair all over and [decorate each] with pearls. When I came back [to Rome], I was really shocked because they put me in private Christian school.
FU: Sounds like she was into experimenting with her look. How did that impact your view on beauty?
MB: Because I grew up seeing a lot of different cultures, I have no problem with nudity, bleaching my hair, bleaching my eyebrows, cutting, changing. For me there are no barriers. My mom always told me, "Go be who you are. You don't want to be a sheep."
FU: Is it true that you didn't believe you were the prettiest of your family?
MB: Yes. One of my brothers is blonde with green eyes, so mom never told me, "You're beautiful." She would say, "You're very funny and smart."
FU: Obviously you're all three. Now that you have a daughter of your own—Marialucas Patti—what beauty lessons will you pass down to her?
MB: Well, she's four now and we are in the moment of Do. Not. Touch. Me. She has little curls, so I say, "If you want hair like mom, you have to have it brushed." She's obsessed with my hair and plays with it to relax. When I'm not there, she has an extension.
FU: That's so cute. It's like her blankie.
MB: I know. It's a little gothic.
FU: At 4-months old, she was the youngest model to ever be in a Givenchy campaign. Think she'll follow in your footsteps?
MB: I hope she'll become a doctor and save lives. But she does whatever she wants to do. She is really stubborn.
FU: What's her style like?
She's all about dresses. If they're pink, they're better. Riccardo [Tisci] made this [custom] T-shirt with a panther on it when she was just two days old. She was the coolest newborn.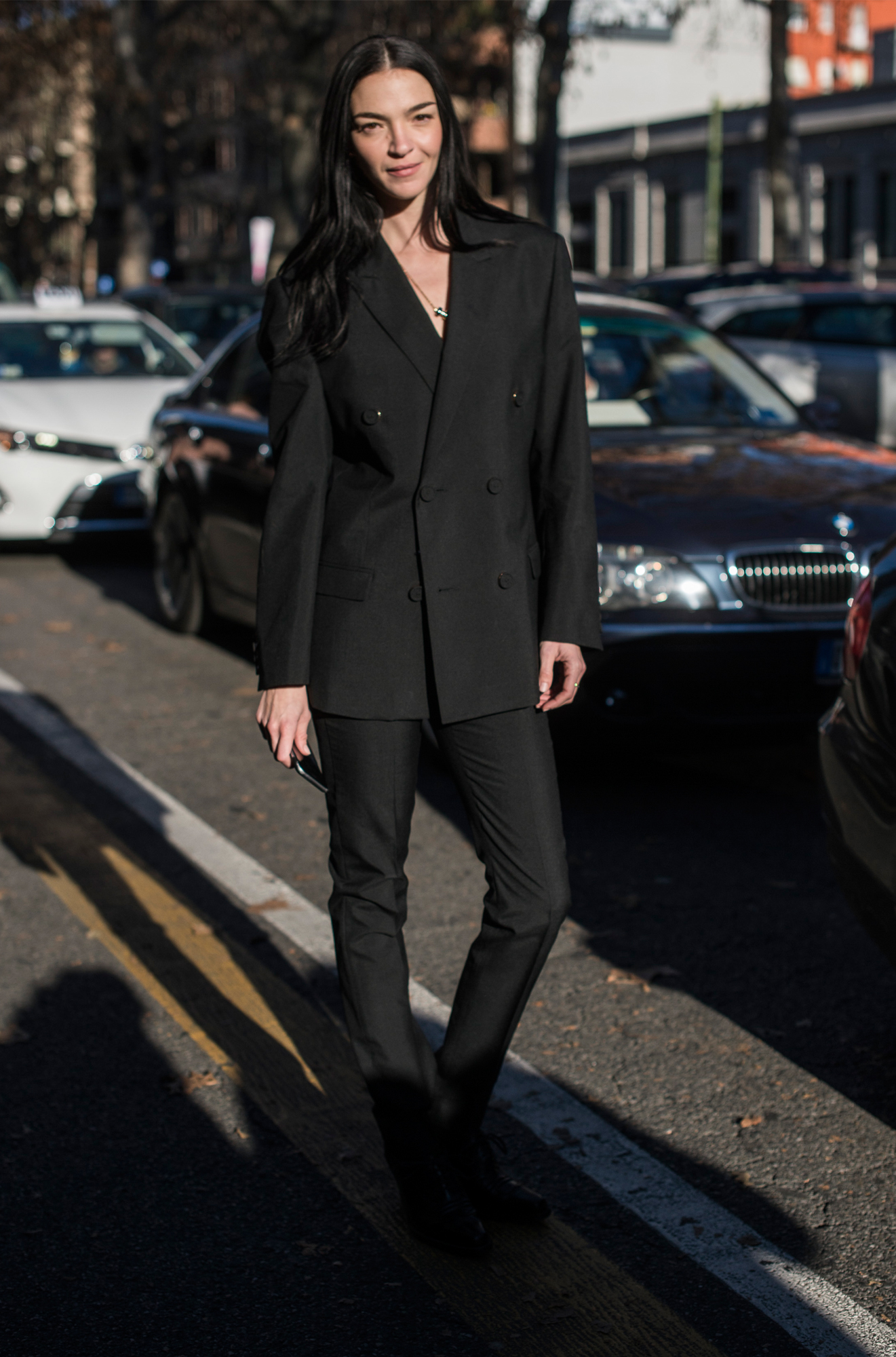 Photo: BFA
FU: I love that she's in couture on day two. Speaking of Givenchy, the internet went crazy after the show last season. What was all the drama about?
MB: Nothing. Some people in the audience started reaching out to touch the clothes and I got scared. The girl [in front of me, model Ondria Hardin] turned around because she thought maybe we should have gone the other way. But I said, "No, no, no—keep going." I pushed a little bit, but it was more just like, Go, go, go.
FU: I read that at one point you traveled with five bags of skin care. Why so much?
MB: I think it's important to switch around to not have your skin get used to a [specific] cream. Sometimes things just stop working.
FU: So then, what's your skin care secret?
MB: It's PRP [Platelet Rich Plasma], in which your own blood is injected into your face. I lost about 77 pounds after I was pregnant, and when I lost it my face was like, "Ugh." It's not like Botox; it doesn't change your face. It rebuilds collagen, so you basically look like you slept 48 hours. I do it every two months and it's so good. I also use Avène products. The Antirougeurs Day Redness Relief Soothing Cream is a green cream that gets rid of redness.
FU: And how do you keep your hair in such great shape with so many shows and shoots?
MB: My mom always told me that it doesn't matter what you wear, as long as your hair is sleek, clean, and brushed. Sometimes I'll wash my hair morning and night, so the Redken All Soft [range] is what saves me. It's amazing. I love the mask. I also use a lot of leave-in conditioner. And all the sprays are very light, especially the one that protects against the heat of blow-drying.
FU: You're very close with Guido Palau, Redken's global creative director. Tell us about your relationship.
MB: He's so iconic—and one of the best hairdressers and artists in the business. Of course he's a friend, but I also admire him a lot. I met him when I was 17 at the Alexander McQueen [show]. A model got sick so they called me up last minute. I had a bob back then and the hairstyle was all in front of the face. It was really scary. I said, "I can't see anything!" He was like, "Whatever."
FU: Let's talk hair color. How often do you have to touch it up?
MB: I go about every two weeks. I'm a Virgo, so I like it to be perfect. My hair is naturally ash-brown, but I have to say, it's getting whiter [as I get older].
FU: You're such a hair chameleon. Is there something you're still dying to try?
MB: I've never been red. Like a proper red. Blonde, yes. I've had highlights. I've had bleach, but not red.
FU: Critics are saying that runway shows are irrelevant now—that they're an antiquated concept. What do you think?
MB: No way. There wouldn't be clothes if there wasn't the pressure to put them on the runway. It's a show, a piece of art. If you take that away, there is nothing.
0 Comment