"We've seen extreme hair and makeup here, and this is quite extreme in its simplicity—it's almost shocking in its minimalist attitude," explained Guido Palau backstage at Prada of the deeply side-parted ponytails and no-makeup makeup by Pat McGrath. "It's a palate cleanser in a way." Used to seeing everything from gilded lips to finger waves, this "classic, mid-90s Prada" look did feel fairly austere in comparison to seasons past, but like a mint sorbet between courses, there was a bit of a kick thanks to seven crisp bobs snipped mere hours before the show backstage.
Inspired by the 20s, 30s, Virginia Woolf, and Russian runway rookie Milena Litvinovskaya (the show's opener), the "simple" cuts swept off the face with a bobby pin lent an instant "elegance" to both new and familiar faces. For Alabama native and Milan novice, Cara Taylor, it was her second time under the scissors this season after receiving a more "brutal" and beachy bleached crop at Alexander Wang (her first catwalk ever). "I'm going to be in the shower tonight saying, 'Where did it all go?'" said the model while touching the ends of her freshly shorn strands. "But being here is surreal—I'm so excited!" Fellow new kid on the block, Amber Witcomb, said the "sassy" cut recalled her former beauty signature: "I just took a selfie and sent it to [my family]," she said. "I had this haircut as a child, so the 13-year-old Amber is back."
On the other end of the experience spectrum, Nimue Smit opted to chop her collarbone-length hair and return to the Prada runway after a three-year sabbatical to pursue a bachelor's degree in biomedicine and public health. "That's a long time in fashion terms!" she laughed. As for how the industry has changed in her absence: "The introduction to social media happened after I left and it's a whole different ballgame. I'm still figuring it out what I think about all of that," she said. "I'm on Instagram and I have some followers, but I'm not too big into selfies—I find it very awkward to post pictures of myself. Modeling pictures or pictures with friends [are one thing], but to really take a picture of my whole face and put it online is still a bit of a step for me." For other seasoned supers like Arizona Muse and Raquel Zimmermann, walking Prada felt like coming home. "It's different, but it's still the same," explained Zimmermann, who walked the show for the first time over a decade ago. "Fashion is like art—it's always evolving." Muse echoed Zimmermann's sentiments, noting that the Italian powerhouse has continually maintained its unique point of view and somehow managed to be an untouched eye in the midst of the tumultuous fashion storm currently swirling around "models who are really, really popular on Instagram," added Muse.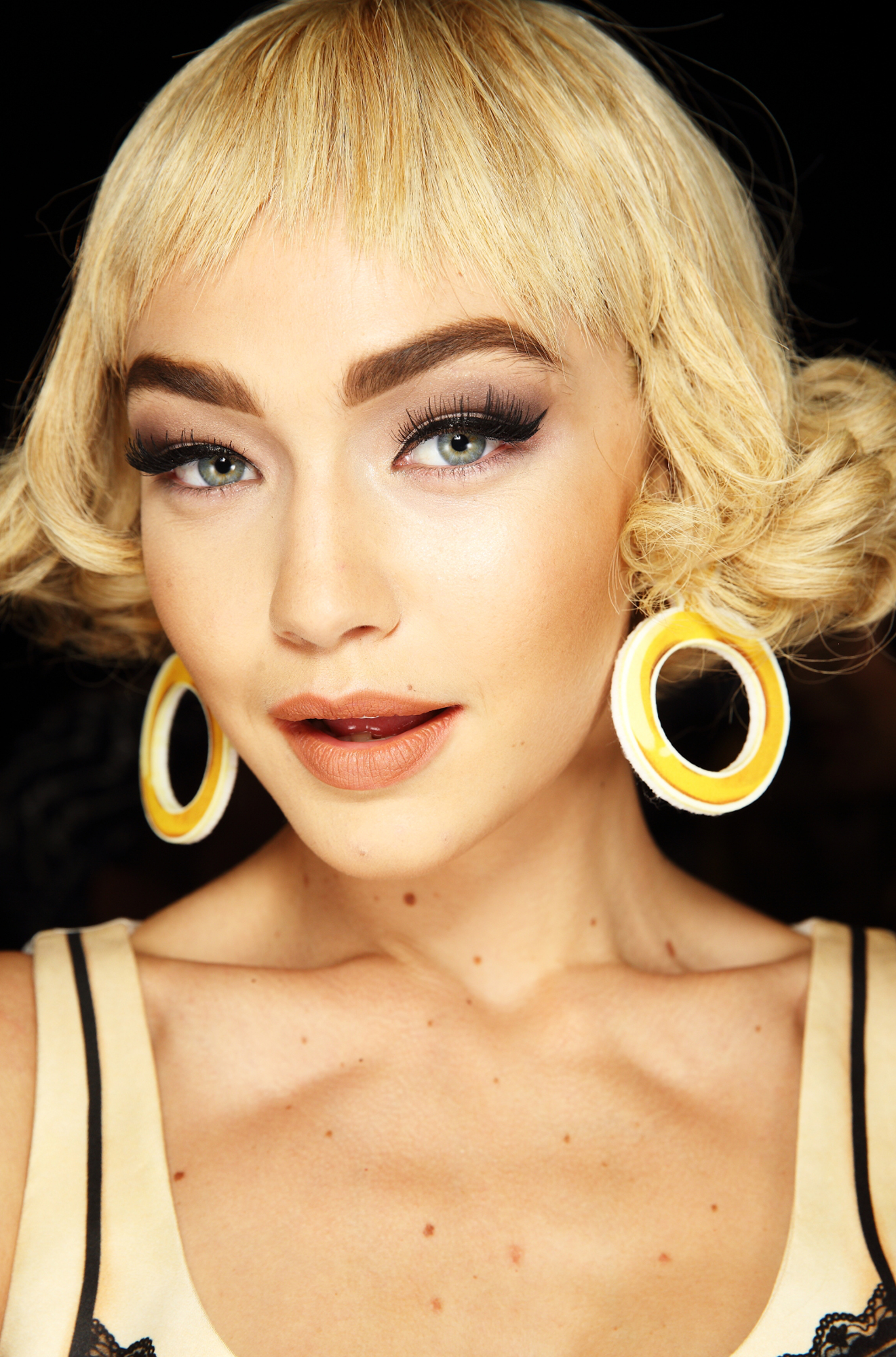 Photo: Sonny Vandevelde
Behind the scenes at Moschino, face painter Tom Pecheux and hairstylist Paul Hanlon recalled the days of old when one-name wonders like Linda, Christy, Cindy, and Naomi ruled the runway. "We're going back to the beginning," said Pecheux, referring to both the supermodel era and his beauty school training. "It's what we used to call 'sophisticated' makeup." Full-on foundation, smoky eyes, false lashes, highlighter, white liner on the inner rim, and MAC Lip Pencil in Spice (a cult-classic) were used to create the "fresh-out-of-the-box-Barbie doll" look on today's It girls (including Instagram favorites Bella and Gigi Hadid, Jasmine Sanders, and Taylor Hill). Hanlon channeled Linda Evangelista's 90s bob (one of her many iconic cuts) and current Moschino Fresh campaign, as well as Betty Boop—razoring chopping fringes into blonde, black, and scarlet wigs to make them look "less stiff."
The bob, it appears, is officially back and better than ever. And though simple,"it makes a big statement," said Palau. Similar to when Evangelista shed her back-grazing waves and subsequently "quadrupled her rate" almost 30 years ago, the style still has the power to transform and positively effect a model's trajectory. So does landing a spot in the lineup at Prada. "When I was very young, they chose me to open their show," said Zimmermann, who has now starred in the house's campaign three times. "That was huge for my career and they've done it for so many girls." Will a bold-but-timeless cut at Prada be a winning combination for up-and-comers like Witcomb, Litvinovskaya, and Taylor? History, as they say, has a tendency to repeat itself.
0 Comment