Thanks to the frantic pace of the digital age, the average person has the attention span of a goldfish. (No, seriously. This is a fact supported by an actual study.) Seeing as the fashion sphere changes its mind even faster, we decided to provide you with a condensed report from backstage this season. As much as we'd like to pen novels in the name of lipstick and hairspray, we get it—you're busy. Here, the beauty version of CliffsNotes (all facts, no fluff) that you can easily skim in eight seconds...because science says that's all the time you have.

SHOW: Rag & Bone
CITY: New York
THE LOOK: "Beautiful kids having fun," said Pecheux. "It's a little bit naughty, a little bit dirty."
INSPO: "I used to go to bed and then to the after-party—the one from 5 a.m. to 10 a.m. because that one is good," explained Pecheux. "It's a girl who's been having fun all day long, but did get [a few] hours of sleep before [the party] so she's still fresh."
KEY PLAYERS: Makeup Artist Tom Pecheux, Hairstylist Orlando Pita, Manicurist Julie Kandalec
BEAUTY MVPs: Tresemmé Perfectly (un)Done Sea Salt Spray and Fresh Start Volumizing Dry Shampoo, MAC Kohl in Smolder, Essie Nail Polish in Saint Tropez, Licorice and A-List layered with Really Red
TOP TIPS: You can stay out till the wee hours to achieve that lived-in liner look, or just fake it and clock a proper eight hours. After wrapping eyes with an inky pencil, Pecheux applied MAC's Haute & Naughty Lash Mascara and used his finger to smudge the two formulas together. The blend of translucent pencil and opaque mascara ensures the sultry, party girl effect "stays black and doesn't move," the pro explained. "We can't make the model drink or run five blocks, and we don't want to wait until five in the morning, so this is the best [approach]."
WORDS FROM THE WISE: "There were so different looks and hair types," he explained. "We have dreads, shaved heads, curls, shags, and we're embracing everyone's individuality," said Pita. Every model was meant to look as if they did their own hair, which was achieved by a complete absence of brushes and combs.
TREND TALLY: No manicure clones here: As seen at Thom Browne, nails were not the same on every model. Individuality continues to rule for hair, too!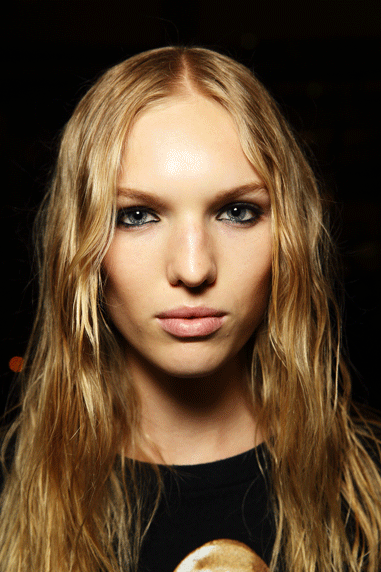 Photos: Sonny Vandevelde
0 Comment