Backstage at Dior's Spring 2017 show, there were many new faces—including that of Maria Grazia Chiuri, the French house's newly minted creative director. Among the many rookies walking the runway, however, there was a familiar-yet-transformed model: Ruth Bell. The British beauty's catwalk career skyrocketed when she broke ranks with her identical twin May and swapped her signature shoulder-grazing, blonde strands for a buzz cut to star in an Alexander McQueen ad. It was a wise move that made her stand out in a sea of long hair—and stand in stark contrast to her classically stunning sister. While May disappeared from the scene for a hot minute, Ruth continued her climb—booking everything from covers to couture shows to campaigns like Burberry and H&M.
After the Fall 2016 season, however, the powers that be decided to make a strategic modeling move and "banned" Ruth from shaving her hair for a solid six months. "I didn't want to change it because hair is a lot of effort," she said. "But I'm kind of into it right now." It appears that Dior is feeling her slightly shaggier cut, too—as she opened the house's spring show and was cast alongside her sister (who made a comeback on the catwalk) for the Spring/Summer 2017 ready-to-wear campaign that dropped today. Here, Ruth reveals why the struggle to grow out your hair is real and how her sister May fills the void at home and on the fashion circuit.
Amber Kallor: What's it like to grow out your buzz cut?
Ruth Bell: It's hideous and horrible. I was growing it out and it was all one length and it looked like a bobble head—it was really round. Then, I shaved the sides and now I keep shaving the sides.
AK: How do you style your hair now that you have it?
RB: I like to swish it all backwards with gel. It's kind of cool, but it's a lot of effort. Usually, I just it leave it natural. Eventually, it just goes like this.
AK: What kind of gel do you like?
RB: The first barbershop I ever went to they gave me this pot of stuff and it has no writing on it and I have no idea what it is! But I use it and I'm running out.
AK: Where is this barbershop that sells this magical mystery gel?
RB: Literally, where I'm from in my hometown. It's a really tiny barbershop and it costs me $9 for a haircut.
AK: Do you think you'll buzz it all off again at the end of the season?
RB: I have no idea, but probably not.
AK: If your look were left entirely up to you, would you shave your hair off again?
RB: Yeah, it's just easier.
AK: I saw your sister wandering around backstage.
RB: Yeah, she's making a comeback!
AK: What is it like to have May in the mix again?
RB: It's pretty cool! I haven't worked with her for ages because she left and got a new job, so it's been almost a year that I haven't worked with her. It's kind of crazy. But Dior is so special that she came back!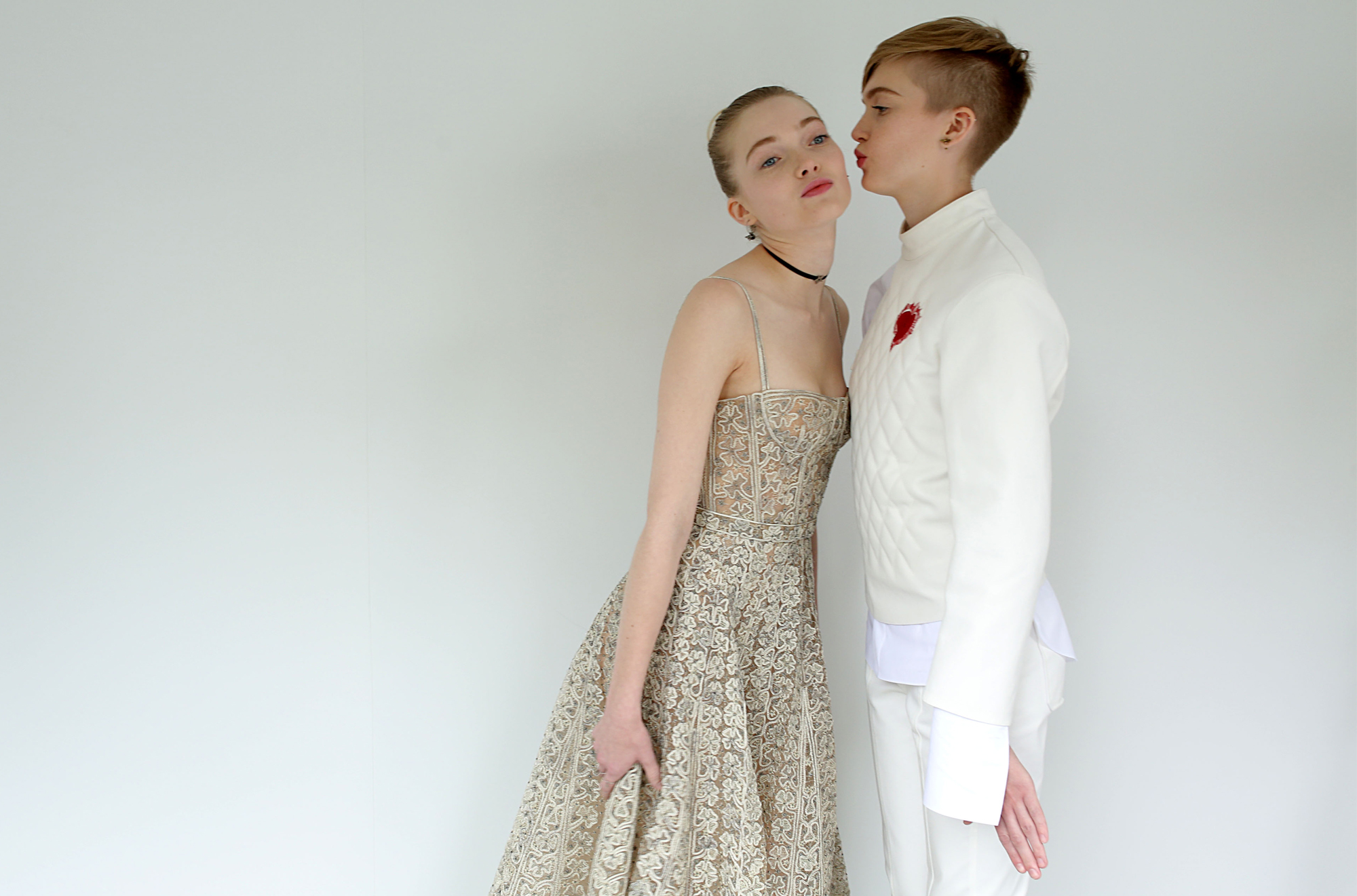 Photo: firstVIEW
AK: Is it comforting and less lonely to have her backstage again?

RB: It's just fun! Well, until I get annoyed with her and then she's not fun anymore, which happens quite often.
AK: What does your sister think of your new look?
RB: She likes it on me, but she doesn't want it on her! I always ask her if she would save her head and she always says never, ever.
AK: At least you got to skip out on the braids for today's show.
RB: I want the braids!
AK: Well, it looks like those braids took some time.
RB: Yeah, [May] complained a lot! But you know when you see a cool hairstyle and you think, Oh, I wish I had hair so I could do that! But it's fine.
AK: In the long run, you're probably saving yourself a lot of hassle by not having a ton of hair to work with.
RB: It's way easier! They literally haven't touched it once today. I was talking to Guido and he was like, No, I like it.
AK: I know you're more of a lip-balm-and-go type of girl. Is May more into hair and makeup?
RB: She wears makeup everyday, but she's not like into it. She's just more girly.
AK: What does your family think of your new haircut?
RB: My momma doesn't like it—she wants her girl back. She wants me to be a little girl in pink dresses again. But she already has one of them, that's what May is for!
0 Comment