Thanks to the frantic pace of the digital age, the average person has the attention span of a goldfish. (No, seriously. This is a fact supported by an actual study.) Seeing as the fashion sphere changes its mind even faster, we decided to provide you with a condensed report from backstage this season. As much as we'd like to pen novels in the name of lipstick and hairspray, we get it—you're busy. Here, the beauty version of CliffsNotes (all facts, no fluff) that you can easily skim in eight seconds...because science says that's all the time you have.
SHOW: Sonia Rykiel
CITY: Paris
KEY PLAYERS: Makeup artist Lisa Eldridge; Hairstylist Paul Hanlon; Manicurist Marian Newman
THE LOOK: Past meets present: The late and legendary Sonia Rykiel served as a jumping off point for hair, while the personal aesthetic of Julie de Libran (current artistic director of the iconic French house) breathed new life into makeup.
INSPO: Sonia Rykiel, Janis Joplin, Love On the Left Bank by Ed van der Elsken
BEAUTY MVPs: Lancôme Limited Edition Sonia Rykiel Maxi Palette in Saint-Germain, Lancôme Blush Subtil Cushion in Splash Coral, Kérastase Mousse Bouffant, Lancôme Vernis in Love in Rive Gauche and Cafe Philo
TOP TIPS: "The hair is a nod to [Sonia Rykiel] without being too literal," said Hanlon. "They cast natural redheads so you have versions of strawberry blonde and very red—they almost could have been Sonia when she was younger." To achieve a modern version of the French designer's signature mane, the pro raked mousse through strands and rough-dried. Then, he backcombed sections before coating the surface with Kérastase Lacque Couture hairspray and clamping over top with a marcel iron. Sections were brushed out to achieve an "irregular wave" and curled again before being pulled apart to achieve an "erratic texture."
Eldridge ran a stripe of "lived-in" midnight blue shadow close to the lashes—an element taken directly from De Libran's daily beauty routine. "She wears navy liner," said the face painter of the artistic director. A sparkly silver shadow from the same Lancôme eyeshadow palette was stamped onto the center of the lid with fingertips for a "flash of light" reminiscent of the confetti shower on the runway.
WORDS FROM THE WISE: "When I did the colors for this [Sonia Rykiel x Lancôme] collection, I was inspired by the archives," said Eldridge. "There were certain colors in the stripes that you saw time and time again."
TREND TALLY: From Kiki Willems to Hoyeon Jung—fiery redheads turned heads on the runway this season. Sparkles are also a recurring theme, with glitter popping up at Maison Margiela, Fendi, Giamba, and countless others.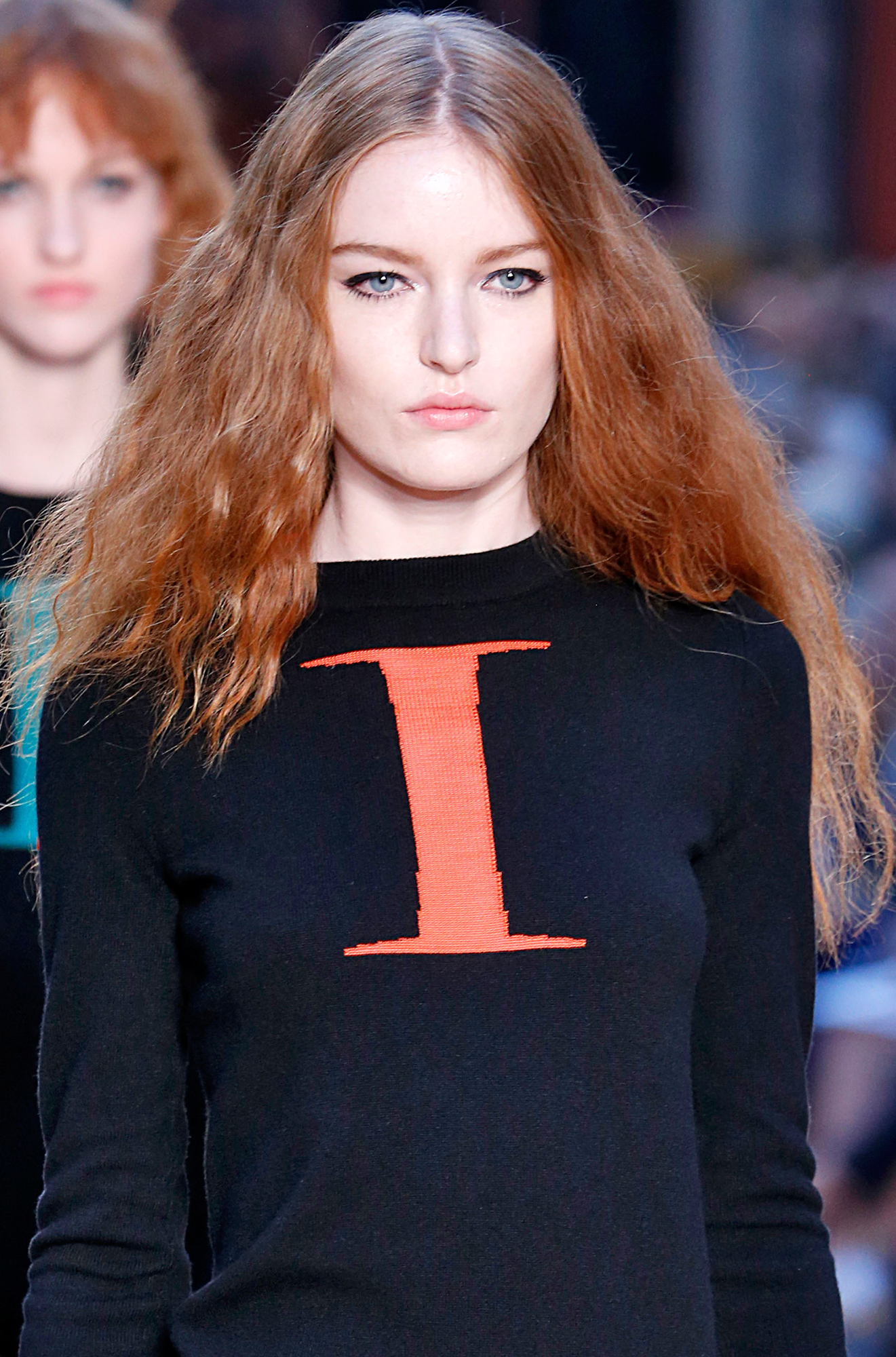 Photo: firstVIEW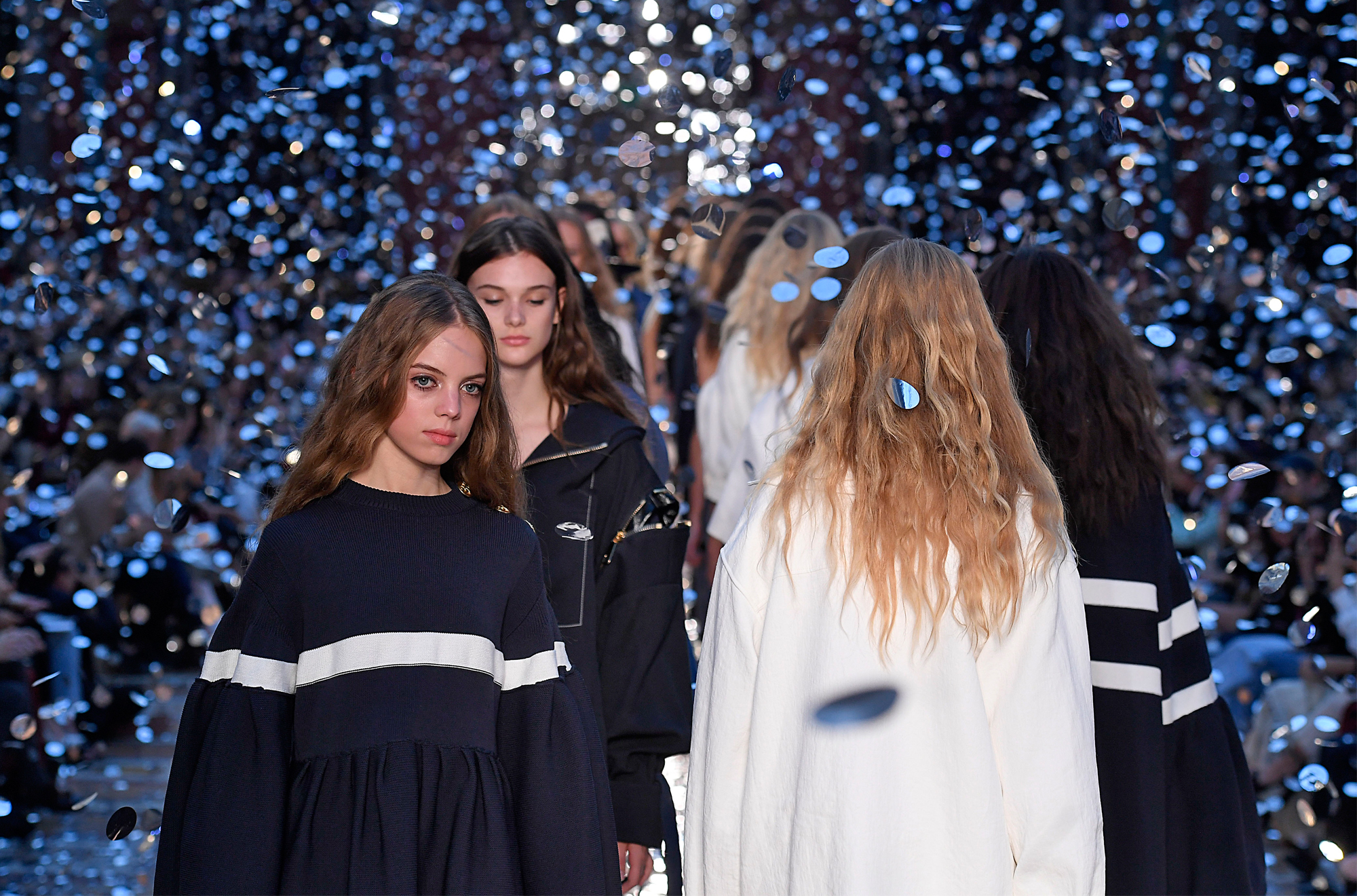 Photo: firstVIEW
0 Comment