Behind the scenes at Tommy Hilfiger it was a balmy 90 degrees. I know because I checked the temperature via a Snapchat filter. (That's pretty accurate, right?) "Welcome to Bikram yoga!" laughed manicurist Mar y Soul Inzerillo before launching into her breakdown of the "naked" manicure backstage, a "buffed" finished achieved via Zoya Naked Manicure Naked Base andMatteVelvet Top Coat. (Not even the nails could bear to get dressed last night.) While the majority of models knotted their white robes in the name of elephants, fashioning them into makeshift togas as they desperately tried not to sweat their no-makeup makeup by Pat McGrath off, there was one fresh face who casually stood off to the side, taking it all in: Dilia Martins. Surrounded by a cloud of fluffy curls, her freckled face stood out even amongst supers like Gigi Hadid, Josephine Skriver, and Stella Maxwell.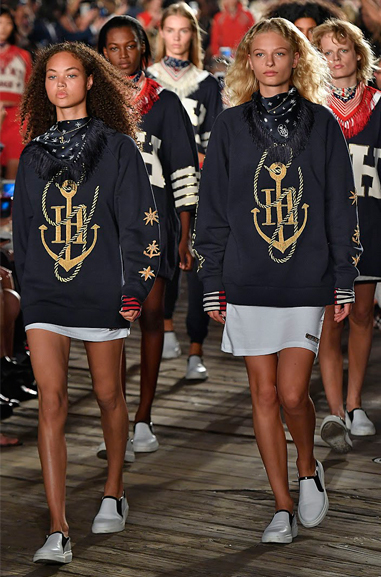 Photo: firstVIEW
"It's my first full season," said Martins, who hails from the Netherlands. "I did one exclusive show during Couture: Elie Saab." Half Dutch and half Nigerian, her unique look turned heads. Teen Vogue fashion director Marina Larroude even made a plea on Instagram to find out the name of "the most beautiful girl at Tommy Hilfiger" post-show. Paired with the reigning queen of curls, Frederikke Sofie, during the runway finale, the rookie seems poised to steal the crown by the season's end. As for how she keeps her natural spirals in shape: "Any African hairstylist products, like lotions from Mixed Chicks or SheaMoisture," she said. "I also put a lot of conditioner in my hair to tone it down, then I wash it out after about a half hour so it really soaks in the moisture." As for her feelings on the circus-like scene that is New York fashion week: "It's so different, it's so big, and so busy!"

Across town at Monse's sequin and septum-ring extravaganza, Nova Orchid, a platinum blonde with choppy, micro fringe stomped the catwalk. I bumped into her at Sonia Rykiel's Fall 2016 romp in Paris—the model's "first show ever." Now, she's taking NYC by storm. The story behind those baby bangs: "One day I cut them myself and I cut them way too short," she said. "At first I was like, 'Oh no!' But they've really grown on me and I love my short bangs now." She trims them with "whatever's around," but has an affinity for her Dad's "beautiful bird scissors that he bought in Venice." Outside of the fashion world, however, the 17-year-old's distinctive look doesn't help her blend into the conformist teenage crowds in the many cities she's lived in thus far (born in Australia, she's logged time in Paris, Amsterdam, and Montreal): "A lot of people at my school don't get my haircut and my overall vibe," Nova noted, but she finds comfort in the fact that she shares a beauty signature with one of her favorite female rappers, Yo-Landi Visser from Die Antwoord. One place she does appear to be right at home, however, is on the runway. "My Dad is a photographer, so I've always grown up around the camera," she explained, but being a model was never the plan. "It was an idea, but always at the back of my mind. It was something I thought I would do later in life," she said. If NYFW is any indication, it looks like Nova's time is now.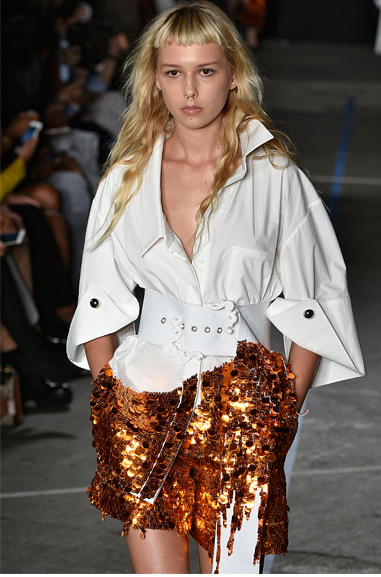 Photo: firstVIEW
0 Comment