Thanks to the frantic pace of the digital age, the average person has the attention span of a goldfish. (No, seriously. This is a fact supported by an actual study.) Seeing as the fashion sphere changes its mind even faster, we decided to provide you with a condensed report from backstage this season. As much as we'd like to pen novels in the name of lipstick and hairspray, we get it—you're busy. Here, the beauty version of CliffsNotes (all facts, no fluff) that you can easily skim in eight seconds...because science says that's all the time you have.

SHOW: Rochas
CITY: Paris
THE LOOK: Tangled lashes and pencil-thin brows paired with fucked-up micro fringe.
INSPO: 1940s meets rockabilly beauty. "It's like Bette Davis, but a little bit nasty," said Hanlon.
KEY PLAYERS: Makeup artist Lucia Pieroni, Hairstylist Paul Hanlon
BEAUTY MVPs: Clé de Peau Beauté Perfect Lash Mascara and Eye Liner Pencil in 201, Curling Iron and Clip-On Bangs
TOP TIPS: To achieve a clumpy, high-fashion lashes, work your wand in two directions–but do it fast. Apply two coats horizontally, then turn the mascara wand vertically and use it in a windscreen wiper motion, explained Pieroni, who purposely avoided the "fan-like" fringe. "You have do it all at the same time so that you get the look before your mascara dries," she added.
WORDS FROM THE WISE: If you want to get in on the bang action without going under the scissors like Nova Orchid (a rookie to watch), Grace Hartzel, or the multiple supermodels at Versace (including Carmen Kass and Vanessa Moody), clip on some choppy faux fringe like Hanlon did backstage before "erratically" curling it for a finish that's a "a bit skewed." Bends, dents, and wrinkles were created with flat irons and tongs throughout the rest of models' strands for a lived-in quality. "It's like the girl at home has done the front of her hair, but not bothered with the back," explained the pro. Temporary bangs allow you to road-test a variety of looks and settle on a length that works for your texture and face shape. "[Micro fringe] is fine for a fashion thing, but for everyday it's a bit aggressive," said Hanlon.
TREND TALLY: Bangs are so now, as we've seen them snipped in at Alexander Wang, Moschino, and Versace.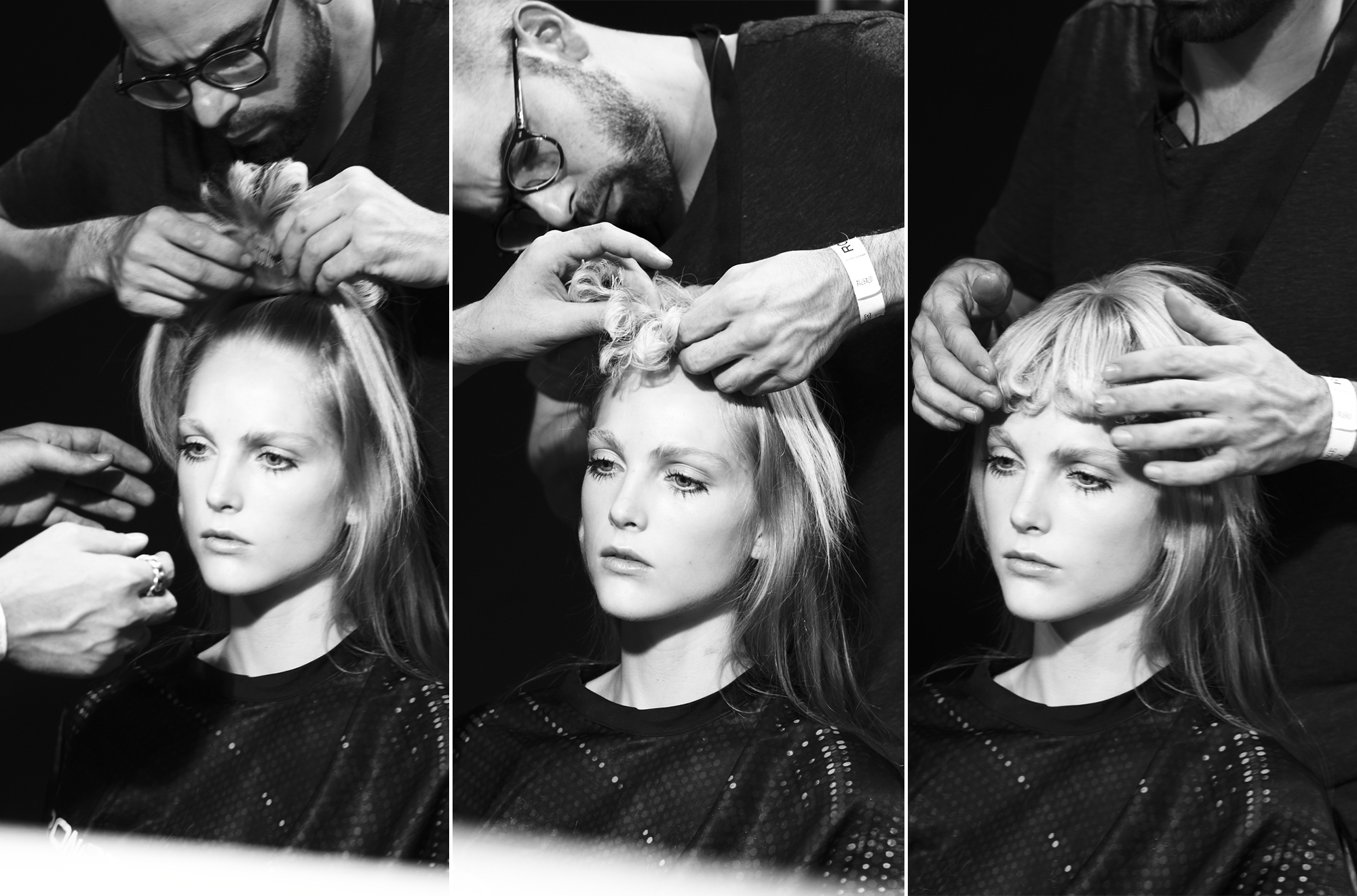 Photos: Sonny Vandevelde
0 Comment