Somewhere along the line, some killjoy declared Labor Day to be summer's grand finale. But if you want to get technical, we still have a couple more weeks before the season is officially in rear view. To celebrate those precious few days that are suitable for surfing, poolside cocktails and outdoor BBQs before we plunge headlong into cooler climates, we decided to keep the summery vibe alive with a story about, well, coconuts. By now, you may have heard that those tropical drupes are considered a cure-all, and one person who is 100% on board with that philosophy is Kiana Cabell, founder of coconut oil-based line Kopari and daughter to legendary longboarder Joey Cabell. As a trained organic chef and Hawaiian native, she's fully familiar with the ingredient, so we asked Cabell for her advice on how to use it to fuel your body and beauty routine. Plus, her best tips for surviving the last gasp of summer.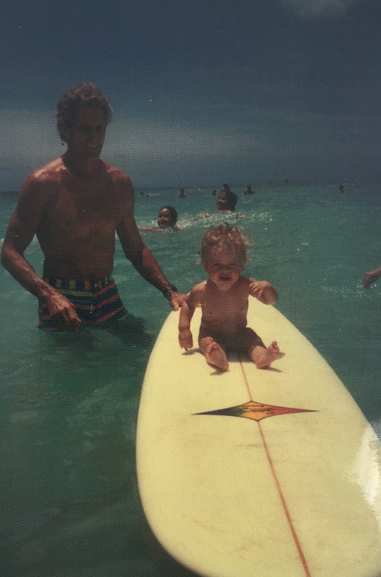 Photo: Courtesy of Kiana Cabell
Beauty and the Beach
"Pre-beach I like to slather my body from head to toe with SPF 30. Now that I am getting older I'm starting to notice sunspots from all the time I spent in the sun while I was younger and, foolishly, forgetting sunscreen. My favorite face sunscreen is by EltaMD. My dermatologist turned me onto it and I am obsessed, it's very lightweight and great for everyday, and has zinc. After applying sunscreen all over my body I put on our Kopari Coconut Body Glow, which gives my skin a nice sun-kissed shimmer. Post-beach, I always like to make sure my skin is well moisturized. I'll usually shower, and right after I'll apply our Coconut Balm all over while my skin is still damp. After a day spent in the sun, my skin drinks it up and the aloe boost doesn't hurt either."

Cuckoo for Coconuts
"Growing up in Hawaii, coconut oil has always been my skin-saving hero. I literally used it for everything. After seeing the benefits and how quickly people were becoming fans of this one simple ingredient, I set out to create a beauty lifestyle brand with coconut oil at the core. I wanted to create clean, simple yet effective coconut oil-based products that people could use everyday, in a variety of different ways."
Bikini Bodied
"Rather than sticking to a strict routine, most of my workouts consist of me doing something active. You will hardly find me sitting around or lounging on the beach for too long. I love beach volleyball, SUP (a.k.a. stand up paddleboarding), yoga, and tandem surfing."
Surf's Up
"Yes, I grew up surfing! I really didn't have much of a choice. My Dad had me in the water before I could walk. Growing up surfing in Hawaii has left me a little spoiled, and as a result I don't love California's too-cold, seaweed-y water. When I'm in Hawaii though, I'll definitely go out. Nothing beats surfing at home. My dad and I have very different surfing styles—he is a longboarder and I love to shortboard. When I was young he was the tough love kinda dad who'd just throw you in and have you figure it out for yourself. At the time I wasn't the biggest fan, but it taught me how to fend for myself and be independent."
Fatherly Advice

"My dad takes fitness to a whole new level. It's just the way he lives his life and it's very inspiring. He has set records around the world for sailing and is considered one of the originators of longboarding, but it doesn't stop there. From windsurfing to being a world-class skier and snowboarder, people look up to my father for all that he has accomplished. Even to this day, at the age of 77, he continues to charge harder than I do!"
Food Matters

"After school, I knew I wanted to pursue my passion for cooking so I decided to attend a small, traditional culinary school in Los Angeles. Upon completion of the program, I was disappointed by all the junk that is put into so much of the food we eat so I began to look into alternative cooking schools, and that's when I stumbled upon New York's Natural Gourmet Institute, a plant-based cooking school. Although I am not a vegan or vegetarian, I was inspired to explore an entirely different side of the industry and see food in a completely new way. That experience taught me balance. I don't believe in dieting but I do think you need to eat with the mindset that everything you put into your body is fuel."
Small Fry
"I always cook with coconut oil—it's my favorite by far. There are two types: refined (used to cook with heat and when you don't want to taste coconut) and virgin/unrefined (used raw and when you don't mind the coconutty flavor). I like using refined coconut oil as an alternative to olive or canola oil for frying. It has a high heating point and is very stable so it can be used for deep-frying too! One of the benefits of frying with coconut oil as opposed to canola oil is that it contains a type of saturated fat that increases energy without raising your blood sugar, like all oils though, it's best used in moderation."
Bright Ideas
"During summer, I love a good, refreshing watermelon salad (recipe below). It's so simple to make and the color just pops off the table. I also recently got a BBQ, so I have been enjoying combining different veggies onto skewers and grilling those—they're the perfect thing to eat while poolside."
Watermelon Salad
Ingredients
3 tablespoons extra virgin olive oil
1 tablespoons fresh basil, finely chopped
1 tablespoon fresh mint, chopped
1 tablespoon fresh lemon juice
1 teaspoon champagne vinegar
1/2 teaspoon kosher salt
4 heirloom tomatoes, cut into bite sized pieces
1 cup cubed (about 1") red seedless watermelon
1 cup cubed (about 1") seeded yellow watermelon (if you can't find yellow, 2 cups of red will do fine)
1/4 cup vertically sliced thin red onion
1/2 cup crumbled feta cheese
Directions
Add olive oil, lemon juice, champagne vinegar and salt to a mixing bowl and whisk together to make the dressing. In a separate bowl, combine the remaining ingredients. Dress your salad and serve.
0 Comment