Thanks to the frantic pace of the digital age, the average person has the attention span of a goldfish. (No, seriously. This is a fact supported by an actual study.) Seeing as the fashion sphere changes its mind even faster, we decided to provide you with a condensed report from backstage this season. As much as we'd like to pen novels in the name of lipstick and hairspray, we get it—you're busy. Here, the beauty version of CliffsNotes (all facts, no fluff) that you can easily skim in eight seconds...because science says that's all the time you have.
SHOW: Anya Hindmarch
CITY: London
THE LOOK: Elegant and sleek, with contrast between matte clothes and shiny skin and hair. The sum result: futuristic city slicker.
INSPO: Ideas bandied around backstage included "robotic geometry," "waxy perfection," and "superhuman."
KEY PLAYERS: Makeup artist Val Garland, Hairstylist Sam McKnight (ponytail wraps by milliner Stephen Jones), Manicurist Marian Newman
BEAUTY MVPs: MAC Studio Face & Body Foundation and MAC Mixing Medium Shine and Cloud Nine The Wide Iron
TOP TIPS: For an ultra-sleek pony in double time, focus your time on the top layer hair—that's the bit that really counts. Then, whip a flat iron through the bottom sections of your tail.
Skin was glossy, but still perfected. To get the balance just right, Garland blended foundation with MAC Mixing Medium Shine, then dabbed eye gloss onto cheekbones and lids.
WORDS FROM THE WISE: Newman enhanced the glassy finish of the nails by pouring a touch of silver shimmer into clear top coat: "I've just got back from Iceland and really wanted to channel the clearer-than-clear water I saw when painting these nails—the silver just adds that sharpness."
TREND TALLY: Gloss is emerging as a key product for Spring 2017, with the shiny stuff making an appearance at Baja East, Altuzarra, Rosie Assoulin, Gareth Pugh, and Mary Katrantzou.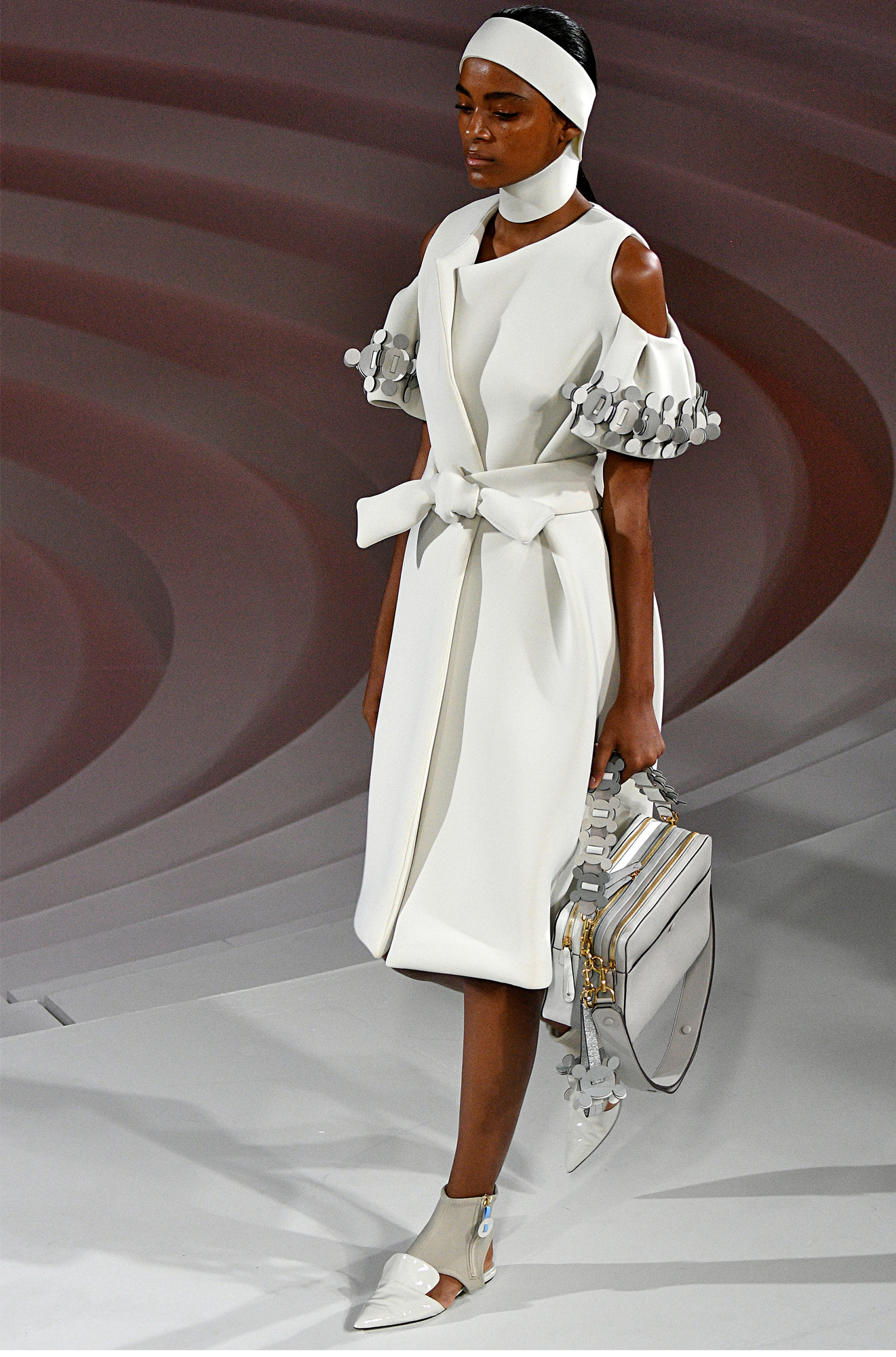 Photo: firstVIEW
0 Comment