"I will always be the British Bardot," reads Nikki Pennie's Twitter bio. One look at the DJ, with her flaming red hair and lipstick (Rouge Dior 999, bien sûr) and it's easy to see why. We caught up with Dior's newest beauty ambassador on day four of PFW to talk makeup, the tracks to pump you up in Paris, and why nobody's dancing at parties anymore.
Amber Kallor: Being the new DJ for Dior, what's your go-to look in the booth?
Nikki Pennie: I'm loving Rouge Dior 999 because I love a red lip. It instantly transforms [your face] and gives you a va-va-voom nighttime look.
AK: So many redheads are afraid to rock a red lip. What is your advice to fellow fiery gingers?
NP: I disagree—think redheads should always rock red lipstick. It's really dramatic, and in the DJ booth, it's a really good way to add edge and drama.
AK: Do you have any tips for applying red lipstick?
NP: Always put a red lip liner underneath because it stains the lip, and then use lipstick over top. I just learned from the makeup artist who did my makeup this morning that you should always put a bit of red lip gloss in the middle [to make lips look fuller].
AK: Since you're always at DJ-ing late nights and at parties, what's your beauty routine like when you head home?
NP: I make sure I cleanse my face properly. I use the Dior eye makeup remover, and then I use a cleanser by facialist Shani Darden in L.A. She's an amazing facialist and she prescribed me this cleanser that everyone who goes to her uses. It's very clean—there aren't too many things in it.
And I use the Dior Prestige Eye Cream before I go to bed. I also use a lot of moisturizer. I'm very careful with my skin.
AK: Do you ever skip washing your face when you're spinning super late?
NP: Never—I wash my face religiously.
AK: Who does your hair color?
NP: Tracey Cunningham in L.A. She's the best. I wouldn't be a redhead without her. I'm a natural brunette and she's been making me red for two years. She's amazing.
AK: What inspired you to go red?
NP: You know what? I just fancied being something different and when I started DJ-ing professionally I wanted a look that was eye-catching. There weren't that many redheads, so I tried it and red hair became my signature.
AK: How do you maintain your color?
NP: Go and see Tracey every month! But in terms of shampoo, I just started using Jen Atkin's Ouai products because they don't have too many things or sulfates in them. It's good for colored hair.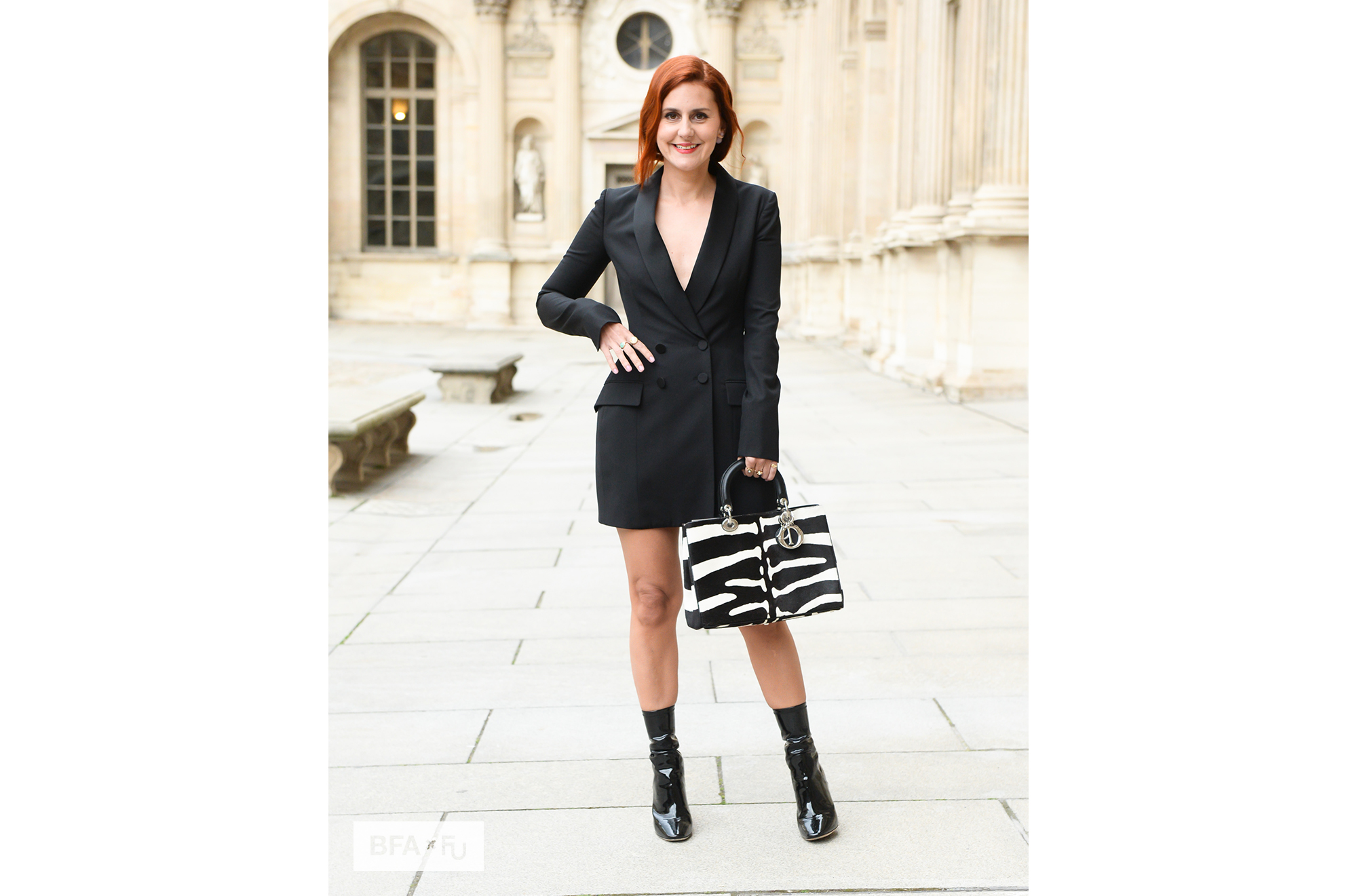 Photo: Joe Schildhorn / BFA.com. View more at BFA.com.
AK: What's on your Paris Fashion Week playlist?
NP: Carla Bruni, Edith Piaf, and Brigitte Bardot. "Quelqu'un M'a Dit" is a little French song by Carla Bruni, and I like the Brigitte Bardot "Tu Veux ou Tu Veux Pas."
AK: Seeing as you are a Dior beauty ambassador, have you always loved makeup?
NP: I've recently gotten more into it, but not so much growing up—I was more of a tomboy. Now, I'm more ladylike!
AK: Where did you grow up in England?
NP: In the countryside in Henley.
AK: I imagine living in L.A. is a big change! What are the differences between women in the U.K. and L.A. in terms of their approach to beauty?
NP: Well, I think U.K. girls are a bit more disheveled—like rock-and-roll, Kate Moss. And in L.A., people are a lot more polished, but sometimes they wear a bit too much makeup. I feel like I bring my British-ness to that because I want to be dishevelly-polished. It's the London look!
AK: What are the songs that get you revved up on this last leg of fashion month?
NP: Right now I'm into AlunaGeorge a lot—they're British. Disclosure, obviously. I like Jamie xx. Adele, I love. Florence and the Machine. "Dog Days Are Over" is still one of my favorites. And Robyn's "Dancing On My Own."
AK: What's the difference between DJing a fashion party and a regular party?
NP: For fashion parties, I always try to incorporate new, cool music. But for regular parties, people like to hear music they love and can dance to.
AK: Do people actually dance at fashion parties?
NP: No. There's no dancing, so you can play all kinds of tempo.
AK: They just stand around trying to look cool?
NP: Yeah, so you can play all kinds of cool music and they just look cool!
AK: More people should dance! As they say, "Dance like nobody's watching—because they're not. They're looking at their phones."
NP: Well yeah. Now, when you're at a party, people go "Let me take a picture." Then, they go on Snapchat followed by Instagram. Those are the three things you have to do now. Everyone's too busy not enjoying the moment.
AK: What do you say to all the social media addicts on the dance floor?
NP: Drink a bottle of champagne and dance!
AK: What's your go-to champagne?
NP: Veuve Clicquot. And I like a glass of red wine. The thing that I do right before I go to bed after I take my makeup off is have a cup of hot skim milk because it makes you sleep well.
AK: I feel like that's a very British thing to do.
NP: It's a very grandma thing to do. I'm a very un-rock-and-roll DJ!
0 Comment