Thanks to the frantic pace of the digital age, the average person has the attention span of a goldfish. (No, seriously. This is a fact supported by an actual study.) Seeing as the fashion sphere changes its mind even faster, we decided to provide you with a condensed report from backstage this season. As much as we'd like to pen novels in the name of lipstick and hairspray, we get it—you're busy. Here, the beauty version of CliffsNotes (all facts, no fluff) that you can easily skim in eight seconds...because science says that's all the time you have.
SHOW: Adam Selman
CITY: New York
KEY PLAYERS: Makeup Artist Emi Kaneko, Hairstylist James Pecis, and Manicurist Holly Falcone
THE LOOK: Windswept Wild West—apropos considering the day's blizzard.
INSPO: "It's about the old West and the movie The Good, the Bad and the Ugly," said Pecis of the look for Selman's not-too-polished, on-the-go girl. "It's almost as if she's been running around in this [snowstorm]," adds Kaneko. "She's kind of in a rush. She has these rosy cheeks, but is still healthy and sexy, young and cool."
BEAUTY MVPs: Heated Argument from MAC's Trend Forecast Fall 17/Lip palette (available in March) on lips, cheeks, and temples, MAC Studio Fix Perfecting Stick in NC50 on eyelids and cheeks, Amika Bombshell Blowout Spray, SinfulColors Professional Nail Polish in You Just Wait
TOP TIPS: Backcombing was key to Pecis' fresh take on the topknot. To recreate the look, start by teasing an offset pony, then prep the tail with a light hairspray and roll it into a chignon. Any strays can be backcombed and sprayed so they "shoot out"; strands around the ears and at the nape of the neck can be left free. "She has to look kind of disheveled," Pecis said before a handful of models' buns were accented by black Gigi Burris veils and vibrant blooms (a combo that immediately called to mind Beyoncé's recent pregnancy announcement).
Meanwhile, minimal products were used to the fullest in the makeup department. A foundation stick became a bronzer when applied to the eyelids and cheeks ("it's a multi-purpose color we're using," Kaneko explained), while a brick orange lipstick from MAC's forthcoming lip palette stretched up towards the temples to lend models' complexions a natural, rosy flush. "She's too cool for mascara," Kaneko concluded about the smudged, "next-day makeup."
WORDS FROM THE WISE: Strobing shouldn't stop at your cheekbones. "If you want a little highlight, you can do a third coat down the center [of the nail], almost like cheek highlighter," Falcone said of the pearlescent manicures at the show. "You just accentuate the center of the nail to elongate it a little bit."
TREND TALLY: Fresh faces were also seen at Brock Collection, while veils made an appearance at La Perla.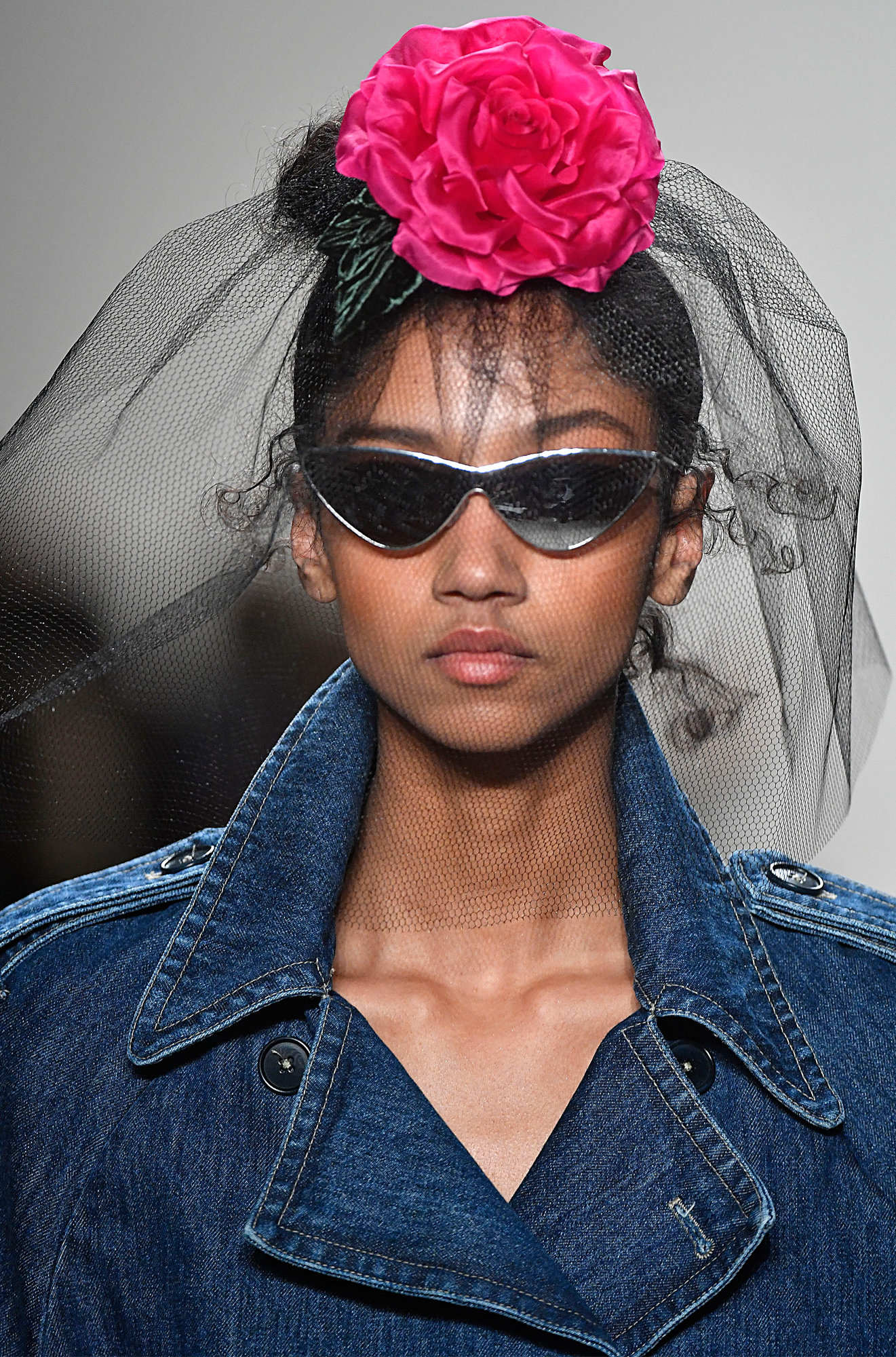 Photo: firstVIEW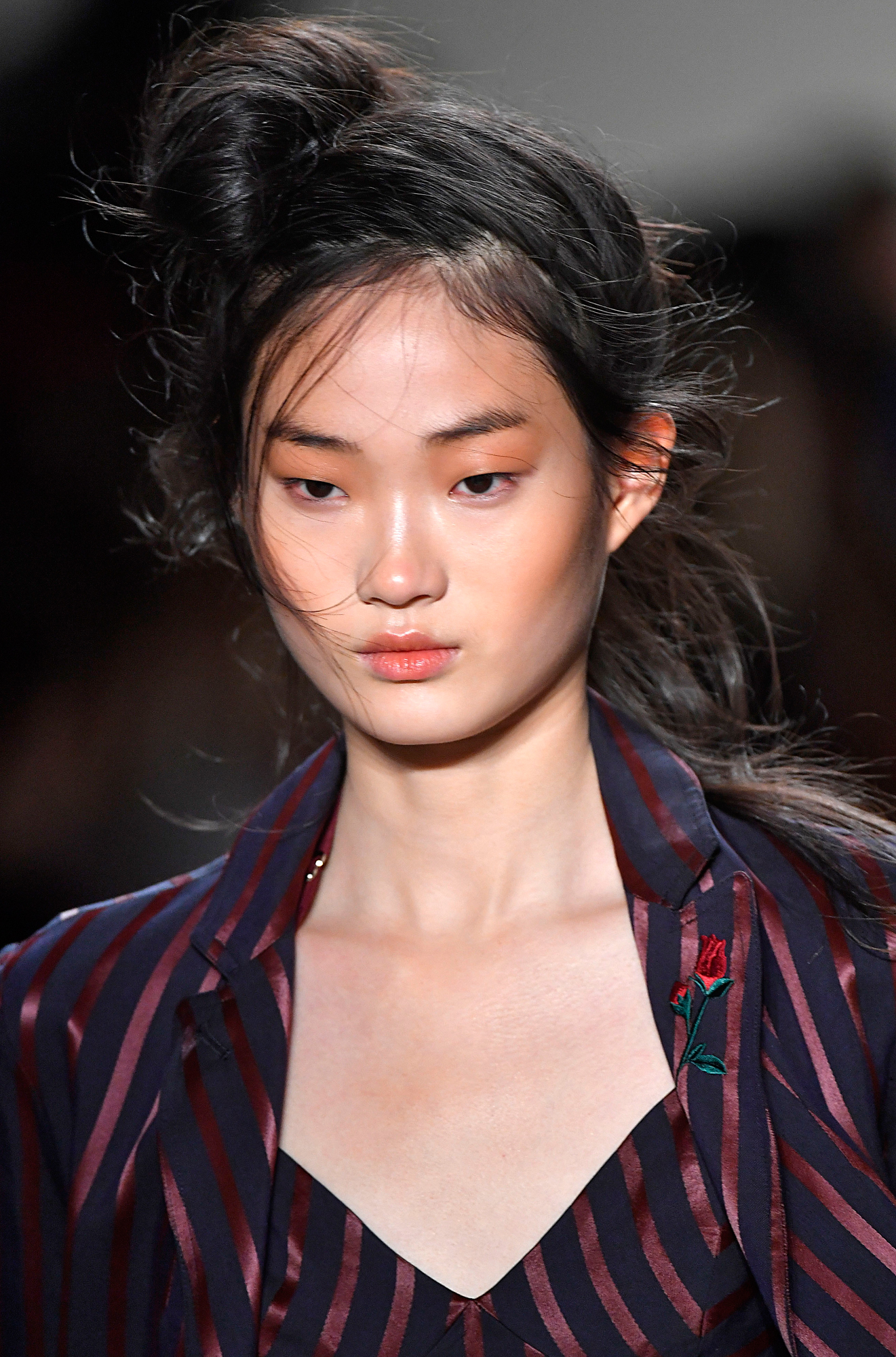 Photo: firstVIEW
0 Comment