Thanks to the frantic pace of the digital age, the average person has the attention span of a goldfish. (No, seriously. This is a fact supported by an actual study.) Seeing as the fashion sphere changes its mind even faster, we decided to provide you with a condensed report from backstage this season. As much as we'd like to pen novels in the name of lipstick and hairspray, we get it—you're busy. Here, the beauty version of CliffsNotes (all facts, no fluff) that you can easily skim in eight seconds...because science says that's all the time you have.

SHOW: Rochas
CITY: Paris
KEY PLAYERS: Makeup artist Lucia Pieroni, Hairstylist Paul Hanlon
THE LOOK: Boyish details meet ultra-femme bows for a "chic and polished" finish.
INSPO: "Prince charming" and "dressage" were just two of the many references beauty pros kept in mind.
BEAUTY MVPs: Cle de Peau Beauté Cream Eye Color Solo in 301, Cle de Peau Beauté Lipstick in 1 and 2 (available Fall 2017), Dyson Supersonic Hairdryer, L'Oréal Paris Elnett Hairspray
TOP TIPS: Crafting this elegant "dressage tail" is actually fairly simple: Pull strands into a standard pony, leaving a small section out (we'll get back to it in a second). Loop the tail in half and wrap it with a hairnet to keep the shape contained. Wind the section of hair you left out at the beginning to cover the base and pin in place. Thread a black ribbon through the hair just above your pony and tie it off in a pretty LBB (little black bow). Done!
WORDS FROM THE WISE: To create a "soft-focus" smoky eye, concentrate a cream shadow (like the "sinister" burgundy shade used backstage) close to the top and bottom lash lines. Then, blend it out with a fluffy brush.
TREND TALLY: LBB's were spotted at Tory Burch, Marchesa, Lela Rose, Temperley London, and Philosophy di Lorenzo Serafini.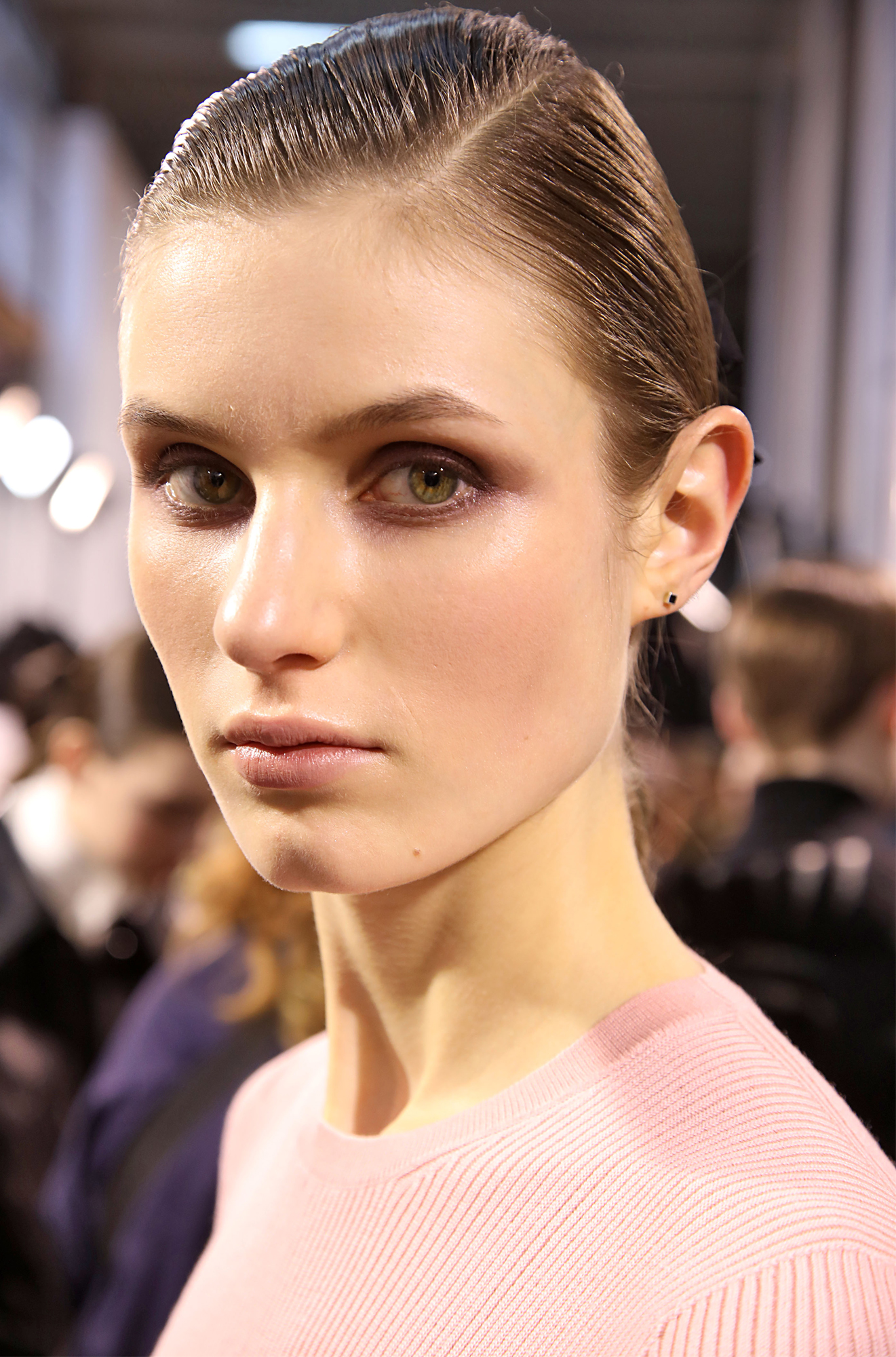 Photo: firstVIEW
0 Comment