For Becca McCharen-Tran, fearlessness is at the forefront of Chromat, her seven-year-old swimwear and lingerie label. With a background in architecture, the young designer's Brooklyn-based brand is heavy on technical fabrics, 3D prints, and structural wares, attracting everyone from Beyoncé to Madonna. Now, thanks to a new partnership between the CFDA/Vogue Fashion Fund and MAC, she's expanding into cosmetics.

Aptly titled "MAC Chromat," the eight-piece capsule collection—which, as you might guess, is just as unapologetically bold and fiercely empowering as McCharen-Tran's diverse tribe of #ChromatBabes—hits stores tomorrow. The lineup includes a pigment-packed eyeshadow palette; a cyan blue lipstick dubbed #Shockvalue (named after the nightlife event put on by DJ and Chromat muse Juliana Huxtable); two cobalt eyeliners; turquoise glitter; and a shocking Yves Klein-blue mascara. A coral-colored lipstick (Augmented Reality) is also available for traditionalists who want to add some edge without treading too far outside their comfort zone.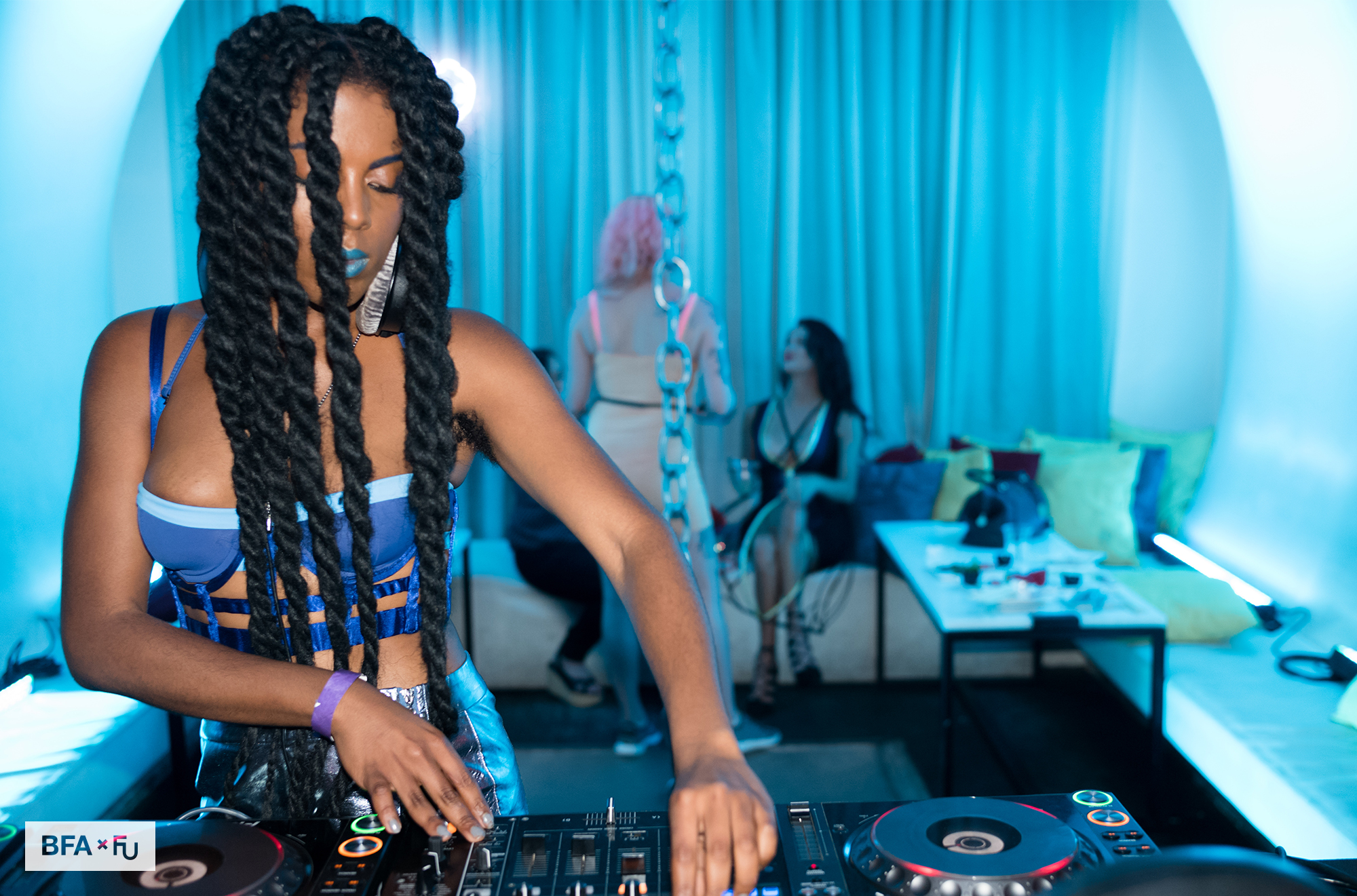 Juliana Huxtable
Photo: BFA.com. View more at BFA.com.
"This is a dream come true, really," gushed McCharen-Tran, who celebrated the launch of her new capsule at a karaoke lounge in Koreatown last night. Sporting a vivid cat-eye and blue mascara from her forthcoming cosmetic line, as well as an inflatable blue top from her Fall 2017 collection, she revealed that liner is the one beauty product she can't live without (as evidenced by the graphic wings seen on her runway in February). "I love makeup," she continued. "It's part of my identity. I've been so many different people in my life and makeup has always been there to kind of transform me."

Inclusivity was key in designing the collection, McCharen-Tran added, which is kind of a given seeing as her shows often feature a wildly diverse cast of models comprising every race, size, and gender. "It was really important for us to do colors that work on all types of skin tones," she said. "That was a must—it had to be super high-pigmented and not look washed out on darker skin tones."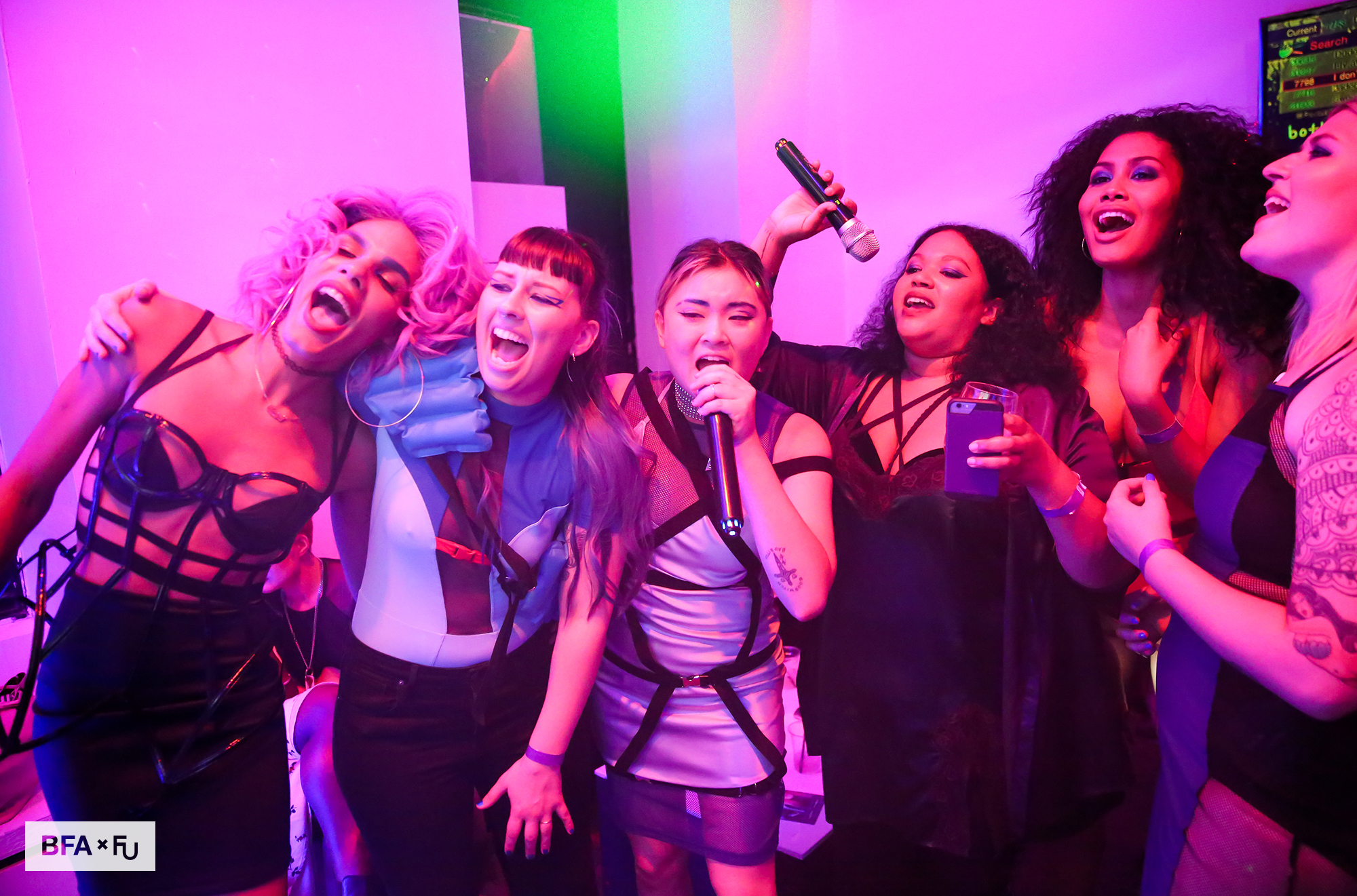 Photo: BFA.com. View more at BFA.com.
Musicians and DJs were a huge source of inspiration for the line, she said, counting Björk, Bearcat (who provided music for the party), and R&B artist Rahel as direct references. Inspiration also came from Chromat's catwalk, most notably through the packaging, which features an architectural grid design on display during her Fall 2013 romp. McCharen-Tran's employees also played a part. "One of the eyeshadows is named after Lolita Bandita," the designer said. "She does our social media at Chromat and she was kind of our muse."

Prabal Gurung (who also collaborated with MAC back in 2014), Steven Kolb (who helped judge the contest), Caroline Vreeland, Aurora James, and Adam Selman all turned up to fete the launch. While some guests sipped vodka cocktails and sang karaoke, others received complimentary makeovers consisting of McCharen-Tran's signature cat-eye. "I just hope they feel that they can be themselves, that they can be accepted and empowered," she said of the look. "Being yourself is such a revolutionary act right now."
See every piece in the MAC Chromat collection (available tomorrow in stores and on mac.com) in the slideshow above.
0 Comment