The 52nd Academy of Country Music Awards are only a few hours away. Held in Sin City, the annual ceremony will see crooners Dierks Bentley and Luke Bryan host, with the latter up for Entertainer of the Year (along with Florida Georgia Line, Carrie Underwood, Jason Aldean, and Keith Urban). While we're all highly anticipating the rhinestone-studded evening that kicks off at 8:00 p.m. ET on CBS, what we're most looking forward to is seeing Nashville's finest in their Sunday best—think cowboy hats, boots, and best of all, some really stellar hair. Ahead of the big night (did we mention Shania Twain is rumored to perform?) we sat down with Erin Duvall, who traced the evolution of iconic hairstyles in country music from the '50s until now in her book Country Music Hair. Here, Duvall dishes on everything from the story of Billy Ray's iconic mullet (Miley apparently begged him not to cut it) to the one product country music's biggest stars can't live without.

Hilary Shepherd: Obviously, hair is a huge part of country music, but what inspired you to write a book like this?

Erin Duvall: The idea actually came from the fact that Connie Britton's hair has its own Twitter account. Connie's the inspiration—you gotta admit, she's got gorgeous hair—but there's no mention of her in the book. I think it was more just the idea that her hair had its own account. That's how much people were invested in her hair. I just thought, let's go through the evolution of [country music hair]—from the 1950s until today. I put together a proposal and highlighted each decade. Each one had its own moniker, like, the 1980s was "The Higher the Hair, the Closer to God."
HS: What are the hair trends in country music right now?
ED: The trend now is that there are no rules. I say that because we've got one member of the biggest duo right now in country music, which is Tyler Hubbard from Floria Georgia Line, who has a man bun. We've got a lot of females, too, who will kind of just cut their hair and the reaction isn't as drastic as it used to be.
HS: How have fans' reactions to haircuts changed?
ED: We've seen Taylor Swift go from long, wavy locks to a bob, and while it headlined and made news, it wasn't an outrage. If this were 2000 and Gretchen Wilson cut her hair, I think that would be a big deal. Keith Urban shaved a side of his head [in 2015] and people didn't necessarily love that, but I don't think he was vilified as much as Faith [Hill] was in the '90s. If Carrie Underwood came out and shaved her head, I think everybody would have a problem with that, but right now I think there just aren't any rules. Anybody can be country music at the moment.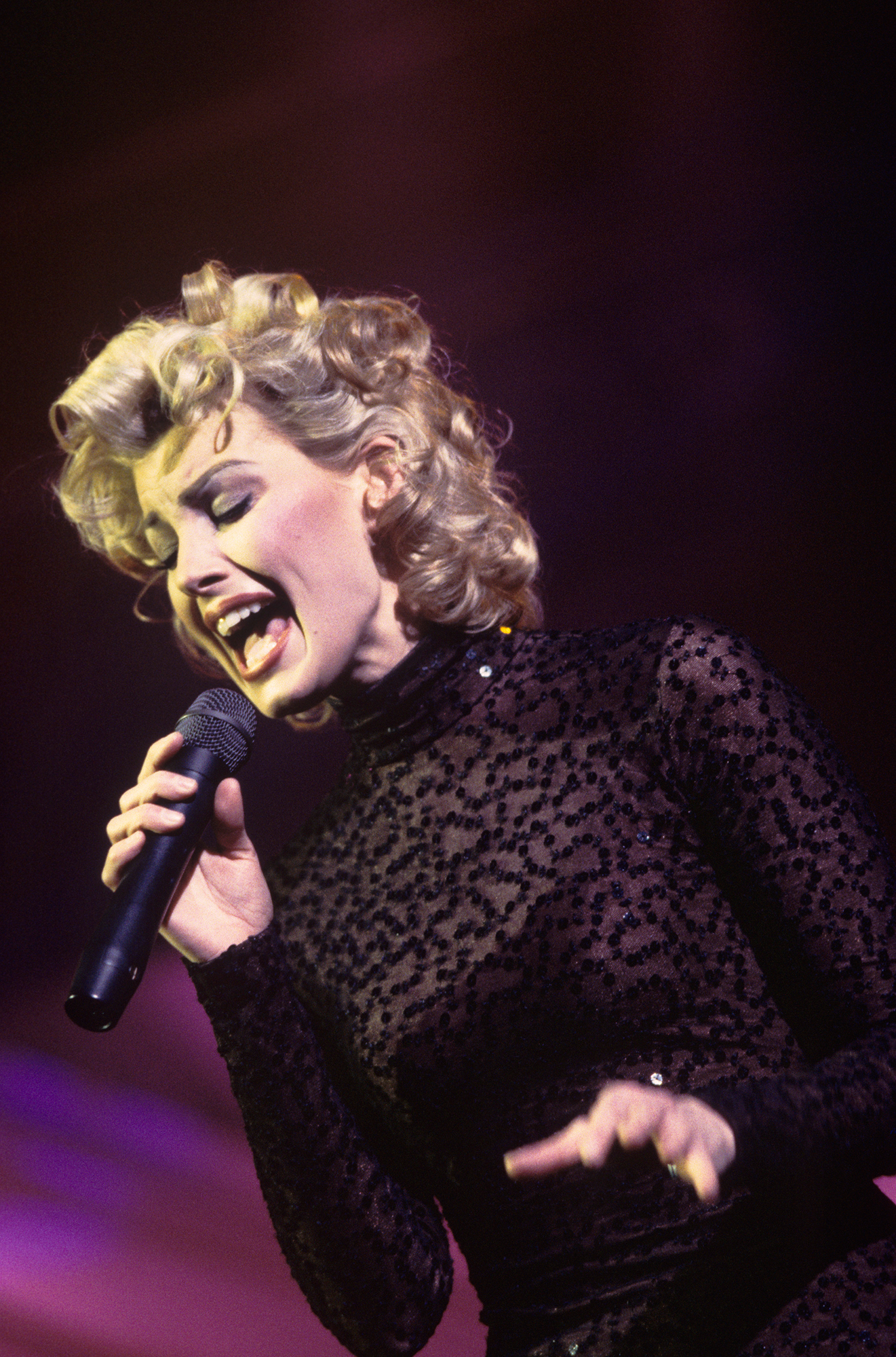 Faith Hill
Photo: Getty Images
HS: Let's talk about that Faith Hill moment in the '90s, the "Mullets and Meltdowns" decade.

ED: The '90s brought Billy Ray Cyrus and everybody else, like Alan Jackson. Everybody but George Strait had a mullet. And on the flip side, were the meltdowns. Women were really cutting their hair a lot in the '90s. We saw a lot of pixie cuts and shorter, not-quite-pixie cuts—most notably when Faith cut off her hair in 1996. Fans lost their minds. I sat down with the stylist who cut it, Earl Cox, and he explained that they weren't trying to make statements. It wasn't a fashion choice—she had simply gone on vacation and had gotten really tight little braids, and her hair started to break. In order to save her hair, he had to cut it. Fans of the '90s still seem outraged that Faith Hill cut her hair. Looking back at it, I interviewed a couple [music] artists [for the book] and asked them what the most memorable change had been in terms of hair, and every single one said it was when Faith Hill cut her hair.
HS: Do you remember that moment?
ED: Oh, yeah. The "You Can't Lose Me" music video when she's on the beach—we were like, "What, what? Is that Faith Hill? Really?" I absolutely remember that. I'm pretty sure we had landlines and I immediately picked up the phone and called my best friend and was like, "Turn on the TV right now!" because, you know, at the time there was no Google or anything.
HS: Imagine what would have happened if there were social media at that time.
ED: It would have gone one of two ways: It would have been just as huge, if not bigger. Or, it would have flickered out because everybody knew it happened on what day. Last year, Jake Owen cut his hair—it was chin-length, almost shoulder-length at times, and he came out [on stage] clean-cut.
HS: Why do you think it's such a big deal when country music stars—and really all celebrities in general—cut their hair?
ED: I think when country fans, like [fans of] any other genre, become a fan of someone, they are a fan. That is it. It sounds kind of dumb, but it's not like, "Oh, I kind of like that song. It's like, "I love George Strait. I love Luke Bryan." You take a lot of ownership.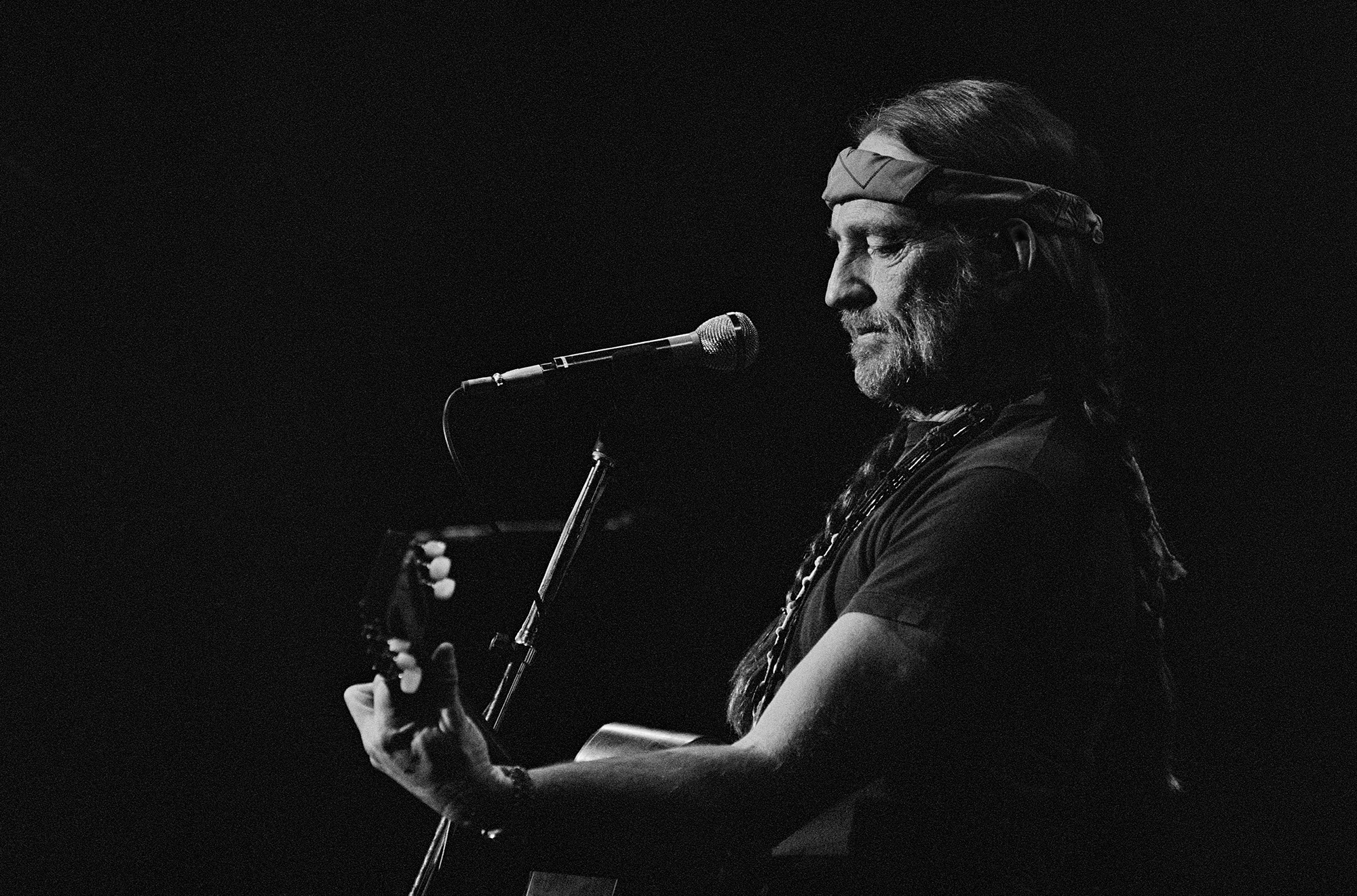 Willie Nelson
Photo: Getty Images
HBS: You noted in your book that hairstyles evolve as music trends do. Can you elaborate on that?

ED: One thing that I tried to explore in the book was how hairstyles and images of the artist reflect what they're doing [at that moment], and I think the biggest proof of that was the outlaw movement in the '70s. You had someone like Willie Nelson, who had been really clean-cut, grow his hair out. And he was singing about that kind of freedom, pulling away from the American family image of the 1950s, which really carried over into the 1960s. And you've got Merle Haggard singing about being a hobo as his hair is getting longer. We were starting to see a look that hadn't been the standard in country music, let alone popular culture, in men. Saying goodbye to your old ways.
HS: Was that the case with women as well?
ED: I think so, but in a different decade. You had Martina McBride coming on the scene singing extremely empowering songs. She's singing a song about a woman killing her husband to get out of an abusive relationship in "Independence Day." She's singing "Broken Wing," about another woman leaving another abusive man. She came onto the scene with a pixie cut, and she kept her hair long before the '90s. She didn't start growing her hair out until the early 2000s. There were a lot of good girl power songs before the 1990s, but I do believe that Martina McBride kind of started the movement where all women were singing girl power songs in the '90s. I don't want to discount Loretta Lynn—she sang "The Pill," but thats the '70s. Even before that, Kitty Wells was singing "It Wasn't God Who Made Honky Tonk Angels," which definitely was a girl power song, but again, that was a one-off and not an entire movement.
HS: What are some other iconic hairstyle moments throughout history that are really important?
ED: For me, one of the biggest ones that gets overlooked because he's a male would be the evolution of Willie Nelson's hair. When [he] came to Nashville, he was a songwriter and he was very clean-cut. And then by the '70s, he grew it—it was kind of down to his chin. And then into the '80s, we had the Willie we know today with the long braids. You can actually buy what I'm going to call "the hat," with the braids and the bandana. It's Willie's hair. He's the red-headed stranger. It's weird. I think that his [hair] is extremely iconic, but overlooked. I really love Barbara Mandrell's hair because it's almost timestamped in the 1970s.
HS: There's a passage in your book about Barbara Mandrell.

ED: Earl Cox, the one that did the Faith Hill cut, also worked with Barbara, and he told me a little story about how when she was 13, she went on the road with Patsy Cline and Patsy had Barbara do her hair every night. She hated it, but she did it because she was on the road with Patsy Cline.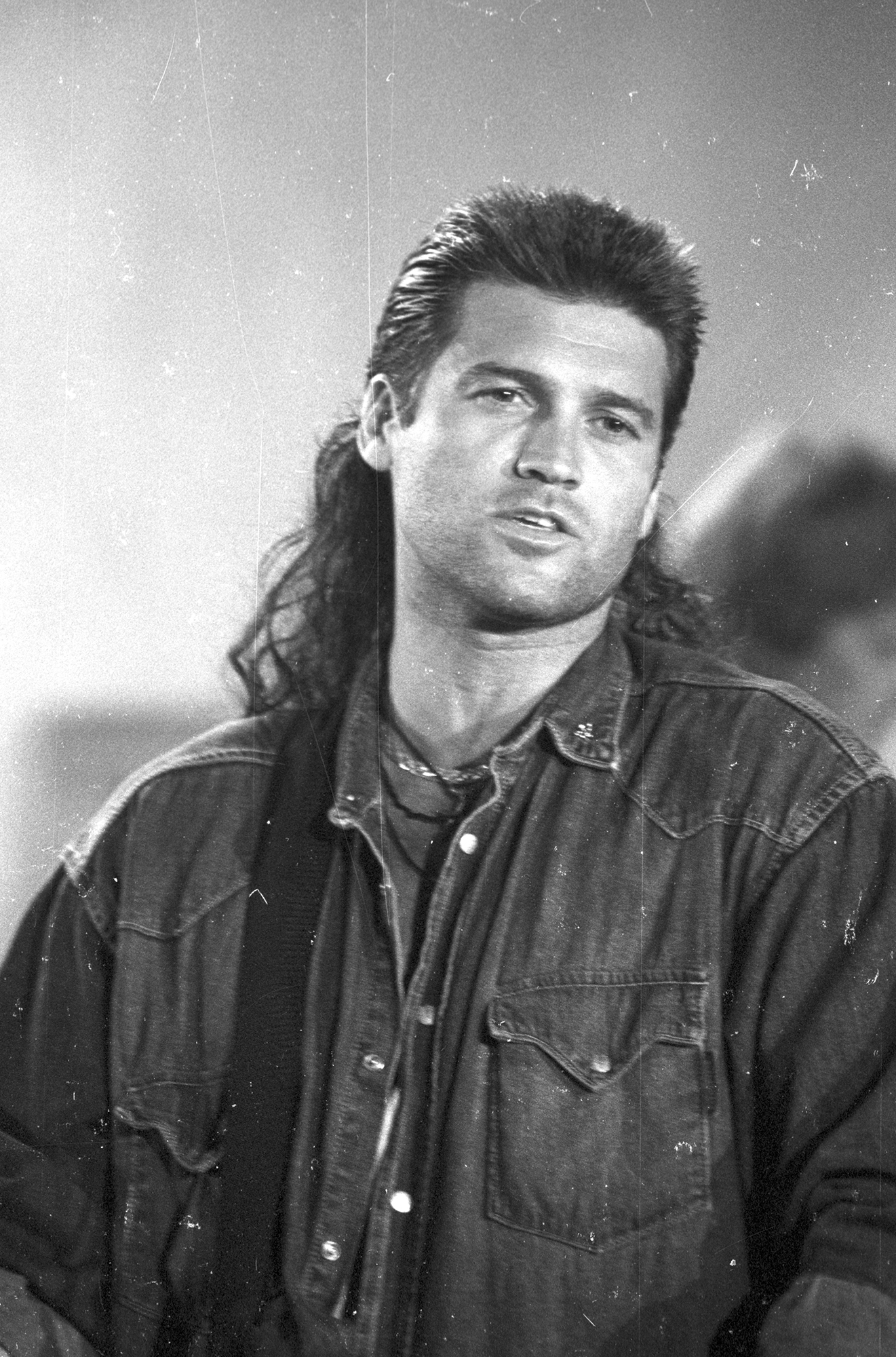 Billy Ray Cyrus
Photo: Getty Images
HS: You interviewed a ton of hairstylists. What's the biggest trick you learned for achieving country music-style hair?

ED: I learned that castor oil stops breakage. So if your hair's breaking, you need castor oil.
HS: Did they dish on any dirty secrets?
ED: The biggest one would be the use of hair extensions today. I mean, it's very common, but because of HD cameras, I guess they see more than the human eye and therefore it can make someone look like they have very, very thin hair or that they almost have bald spots, so a lot of artists and their stylists are using hair pieces or just the clip-in extensions so their hair looks full when they're on camera. You do a camera test and see where to fill in the holes.
HS: Were there any specific hair products that kept coming up in your interviews?
ED: Nobody was willing to talk specific products or brands, but hairspray was by far the biggest product.
HS: For both women and men?
ED: For women and men. [Men] need it, too.
HS: Let's talk about the mullet.
ED: I think the mullet is horrible. I don't know why anyone would wear it. On the red carpet [at last year's CMAs], I asked Ty Herndon, who was big in the '90s, why he ever had a mullet and what the appeal of it was. He just said that's what you did. That was the look. But I have absolutely no love for the mullet.
HS: And speaking of mullets, you talk a lot about Billy Ray Cyrus in your book. He had the ultimate mullet.
ED: The story goes like this: Billy Ray, his wife, his stylist, and Miley were sitting in a bathroom. It had been a big talk, I'm sure, with his manager, because his mullet was…again, talking about Willie Nelson with the braids, this is Billy Ray with the mullet! You can't have one without the other. From what I'm told, [they were] sitting on the edge of the bathtub about to cut his hair, and Miley threw herself on the floor kicking and screaming. Maybe that was an exaggeration, but she was like, "Daddy, don't cut the mullet."
HS: And he did.

ED: He did. From my understanding, it was one of those things where they talked about it for much longer than it took for them to actually do it.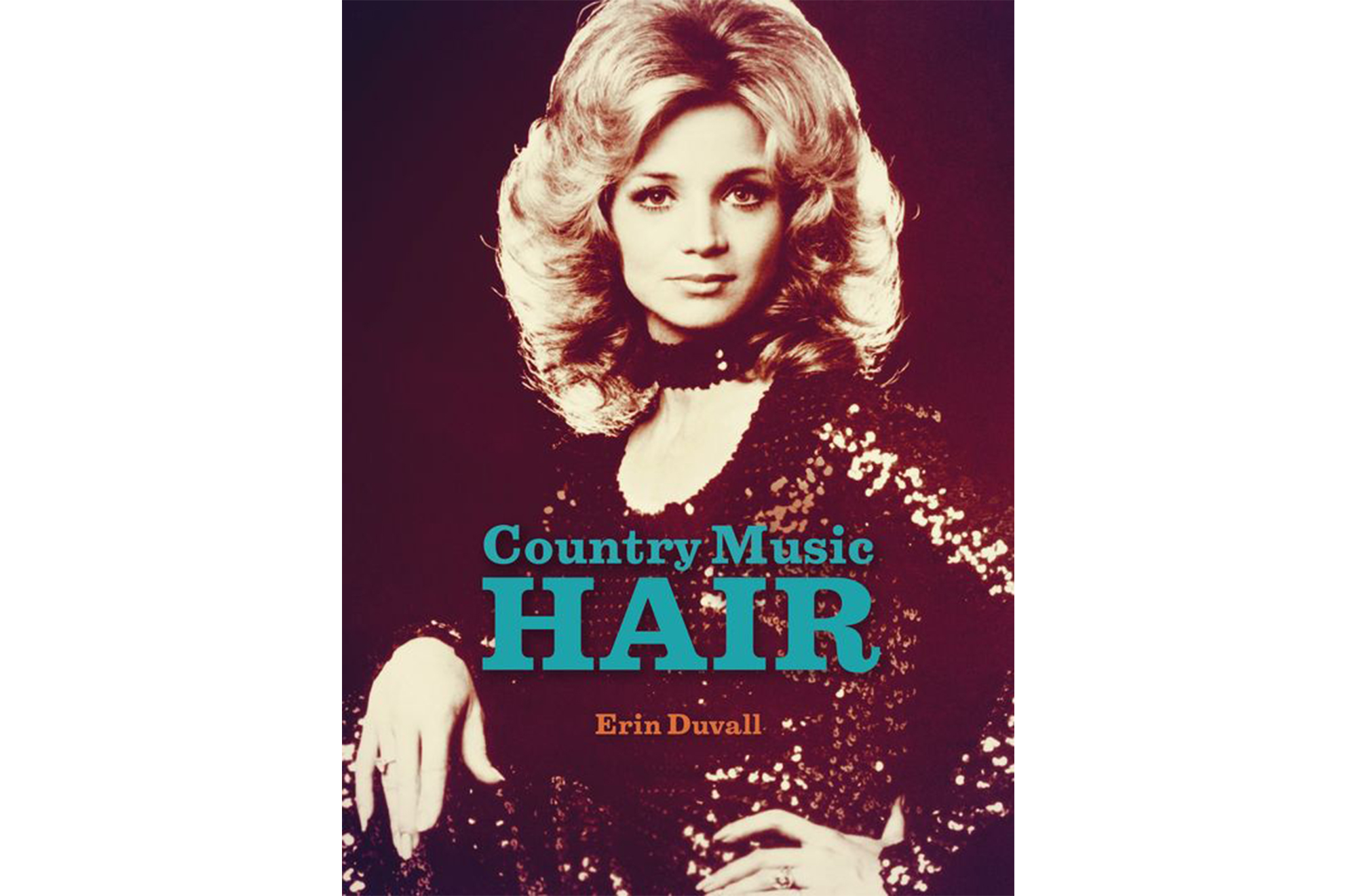 "Country Music Hair" by Erin Duvall
Photo: Courtesy of Erin Duvall
HS: Tell me about Dolly Parton. What's her hair story?
ED: Her trick is that she wears wigs. And she has her own hairstylist, who I believe has been her best friend since childhood. She's got a lot of quotes about [her hair], like, "It takes a lot of money to look this cheap." And people are like, "How long does it take to do your hair?" And she's like, "I don't know. I'm never there." Also, she told me this yesterday, but she does her own makeup.
HS: Wow, that's impressive. What's your favorite Dolly decade in terms of her hair?
ED: I love the first photo we have of her in the book, which is from the '60s. It's a beehive bouffant as high as it can go.
HS: Why do you think hair is so important in country music?
ED: I think a lot of people listen to country music to fantasize about who they want to be. You see Carrie Underwood up there and every curl is in place, and you think, "I could be that. I could definitely be that." I think it's a way of living vicariously through your favorite singers.
0 Comment