David Gandy and Bianca Balti have skied in the Italian Alps and spent time sunning themselves in Capri, all in the name of Dolce & Gabbana Light Blue. And at the end of every ad spot, the magnetic model duo is forced to lock lips. (It's a tough gig, but somebody has to do it.) For the Italian powerhouse's latest iteration of the cult-classic scent, Light Blue Eau Intense—a dialed-up version of the original eau featuring notes of zesty lemon, crisp green apple, heady musk, and woodsy amber for women, and fresh mandarin, frozen grapefruit, and salty juniper for men—Gandy and Balti meet yet again. And much like the fragrance, the new campaign is molto intenso (watch the ass-grabbing action below—you won't be disappointed). With that in mind, we thought it best to sit down with the perfume pair to talk the steamy new advert—and play a little game of Never Have I Ever. Here, the two talk everything from threesomes to nude beaches to hooking up (and passing gas) at 30,000 feet.

Hilary Shepherd: The ad is really sexy. Can you tell me about the butt grab at the end?

Bianca Balti: We've actually been banned from a lot of countries where they can't show that. It's like, why? I do not understand. [The Light Blue campaigns have] always been sexy. Maybe it's the butt grab, but it felt good when I did it. And it looked good, too. Isn't it awesome that for work you can touch beautiful men? And you have a good excuse with your husband because it's work, you know? I mean, what can I do? [laughs]
David Gandy: It's funny because I have a lot of friends who see it and they're like, "Oh, that's your work?"
BB: It's exhausting.
HS: So, David, how did you prepare for this bum-revealing scene? Any specific exercises to tone your glutes?
DG: I actually wasn't aware that there was going to be a butt-grabbing scene. It wasn't like they gave me a script.
HS: So it was natural?
DG: Yes. She was just adjusting my swim trunks, really.
BB: I improvised. I should get an award for that.
DG: Yeah, improvisation. I mean, I prepared as a whole. You have to, really, when you know you're going to be shooting. I suppose somewhere along those exercises my glutes might have gotten trained, but I might have trained them a little harder if I had known [my bum] was going to have a starring role.
HS: Bianca, if you could grab anyone's butt besides David's, whose would it be?
DG: You better say your husband's.
BB: No, not my husband's. It's either Charlie Hunnam's…no, what's his name? The one from Sons of Anarchy?
HS: Yes, Charlie Hunnam.
BB: Oh my god, he's my latest crush.
DG: He's so British.
BB: I know he's British, David! And then the other bad guy…what's his name? I don't know. Anyway, that's a good one. It's like an obsession.
DG: "The other bad guy." Are we seeing a trend here?
BB: If I have to choose one, that's enough. For me, he would make me very happy.
DG: I'd give Charlie's a squeeze as well.
BB: We could do a threesome! Let's do it.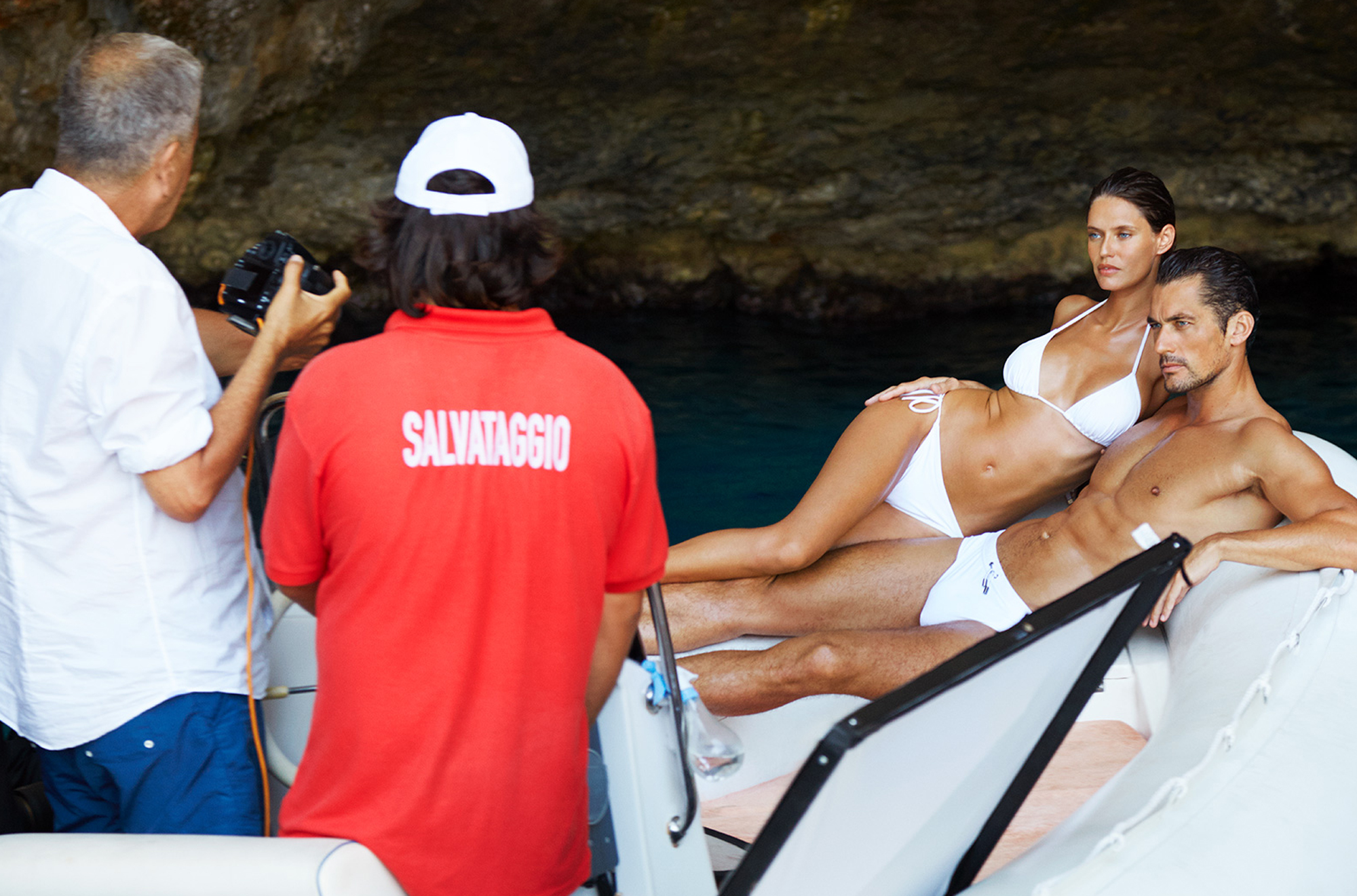 Behind the scenes of the Light Blue Intense campaign with photographer Mario Testino
Photo: Courtesy of Dolce & Gabbana
HS: David, have you ever attempted a swan dive like the one in the ad?

DG: I probably have. I [took] diving classes when I was about 14 or 15. But [for the campaign] we had Olympic-level divers doing it. We used harnesses to get up there, rock-climbing harnesses, so me and the divers had to climb up with rock-climbing experts. When I looked over the edge, I did want to jump—I said I would jump. And they were like, "Actually, that would probably go wrong. You can do that after we finish shooting." But the [stunt double] was so impressive. I would love to be able to dive like that. But it would go very, very wrong if I tried to attempt it.
HS: Bianca, not only do you sport a bikini for the new ad, but you made your Sports Illustrated Swimsuit Issue debut this year. How did you prepare?
BB: I didn't prepare. That's always my secret—I always improvise. The butt grab worked out very well! But besides that, I like to suntan because tanning always makes you look better and skinnier. I've trained a lot since I had baby number two, but right before this campaign and for Sports Illustrated shoot, I wasn't training.
DG: See, that just makes me angry because I have to train. And she's like, "Look at me—I've got my babies and I look like this. I just improvise!"
BB: But I had to exercise a lot after baby number two.
HS: Bianca, I read that you never liked swimming growing up, but what about now?
BB: I didn't like swimming growing up because I had to take lessons and I always suffered from the cold. The swimming pool [in Italy] is always cold—it's not heated like here in America. But I do like to suntan and then go in the water and come back. That's my favorite. The only thing I do is dipping because I'm afraid of water when you can't see what's underneath.
DG: I can't swim. I used to swim a lot.
BB: When I go, and I'm always like, yes, let's do this. And then after two times, I'm like…[panting]
HS: Bianca, let's talk about walking the Dolce & Gabbana runway pregnant for Fall 2015. What was that like?
BB: It was very, very sweet. I was so proud. I felt so beautiful. The nice thing is that when I came out, everybody applauded. And as I was looking out at the front row, I [realized I] knew all those people. Everybody was so nice and happy—to me, especially—so it felt like a celebration of the relationship I have with Stefano [Gabbana] and Domenico [Dolce]. A pregnant woman is really not a typical runway figure, so the fact that they really embrace every stage of my life, even when I'm pregnant, is just fantastic. And I still have the dress—it's awesome. Actually, I have an English magazine that says something like, "Bianca Balti walked the runway pregnant, which makes her daughter the youngest person to walk the catwalk." I kept it because it's just an amazing memory. I'm sure that in ten years I'm going to be super stoked looking at it.
HS: Alright, now to the fun part. First question: Never have I ever hooked up with another model on a shoot.

BB: I did. I have. He did, too! I know for sure.
DG: Yeah…I told her.
BB: Do you want to know who, Hilary?
DG: No!
HS: Never have I ever given someone a fake phone number.
BB: No. I'm too honest unfortunately.
DG: Yeah, I have.
HS: Never have I ever been to a nude beach.
BB: Nude beach? No.
DG: I've accidentally gone to a nude beach in Greece. I went for a walk and [encountered] this beach where I saw a woman doing naked yoga and stuff. And there was a naked trumpet player. When I came back I looked a bit shocked and my girlfriend was like, "What's wrong?" I said, "I just went to a nude beach." She was like, "You've been gone for an hour." I was like, "I couldn't get out of there." But I didn't strip off myself.
HS: Never have I ever joined the mile-high club.
BB: The what? Which club?
DG: The mile-high club.
BB: The what?!
DG: Sex on a plane.
BB: No! And, I'm really sorry, but to me it is just bullshit. How do you make sex on the plane?! If I have to take, like, five minutes longer [in the bathroom] I'm already embarrassed because I think people are waiting outside. Imagine two people in there? I don't think it exists. I think people just lie. Did you, David?
DG: No, I never have. But I know people who have done it.
BB: But in a private jet maybe.
DG: No—in the back row. Like, under blankets and stuff.
BB: No way. I don't believe it. If your neighbor farts, everybody hears it. And then people say they have sex? I don't believe it.
DG: So you have farts on the plane then, Bianca.
HS: Never have I ever farted on a plane.
DG: Oh, everyone farts on a plane. Everyone does. You can't not do it. It's the pressure or something.
BB: Yeah, it really is. One of the most uncomfortable things of traveling is the air in your stomach.
DG: You know the people who get on the plane when they first open the door? Don't you reckon that the plane just stinks? The door opens and everyone's like, jesus—the smell of 400 people farting. That's my theory about what that wheelchair is for. When the plane opens, they just faint and they have to be wheeled off. That's my theory in life.
BB: I like this interview.
HS: Never have I ever showed up to a photoshoot or a runway show after partying all night.
BB: Yes, I did. In the past, though. Not anymore. I even slept through a very important campaign. I'm not going to say names, but they were all waiting downstairs—other important models—for, like, an hour and half, and I didn't wake up because I just partied too much the night before. But I changed. I don't do that anymore. What about you, David? You are such a good boy—I don't believe you did.
DG: No, no. I don't do it anymore. I can't. I'm physically too old. But I used to go out partying, get on a plane, land somewhere, go do a shoot, and carry on. And then go out that night again.
BB: Wow, I wish we met during those wild times.
DG: We would not be here. We would have been fired. But I think because you are aware that you are so tired and you feel like you are not looking great, you overcompensate and maybe try harder. Sometimes I look at those shoots and I'm like, I don't know how I did that.
HS: Never have I ever been drunk before noon.
DG: We do a lot of traveling. [laughs]
BB: Yes, a long time ago. I was still up from the night before. But that was my past life. That's why I say it so relaxed. Now, no.
DG: The thing is, if you're on a plane and you drink and then you change time zones...like, if you're going from here and it's 8 p.m. and you're drinking on the plane but landing in the morning in London, you're drunk before noon, but on a different time zone somewhere. I've definitely done that.
HS: You guys have kissed in several of the commercials for the fragrance. Who is the better kisser?
BB: I already know what his answer is.
HS: He thinks he's better?
DG: Yeah, I am.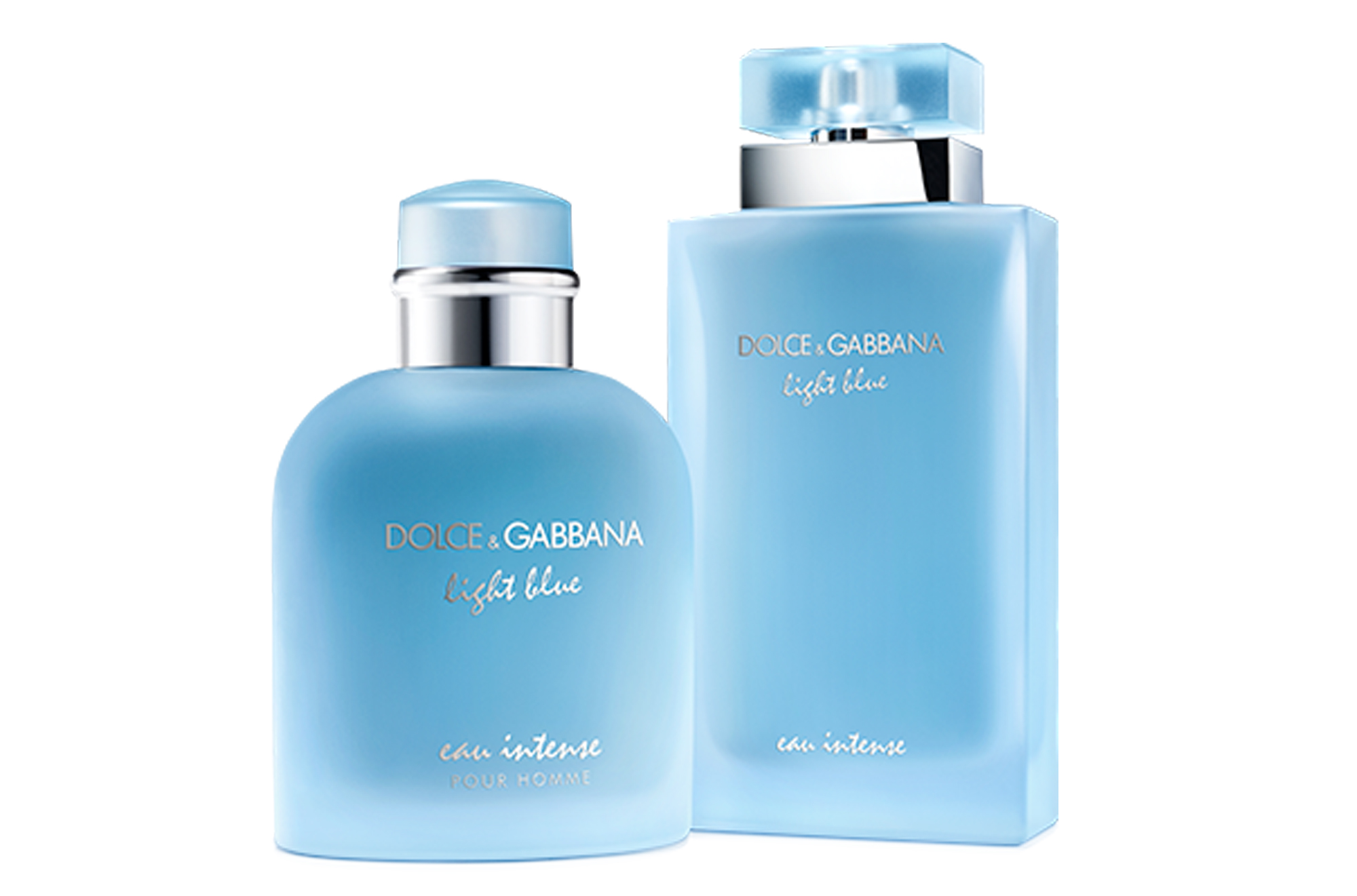 Dolce & Gabbana Light Blue Eau Intense Pour Homme ($70) and Pour Femme ($84)
Photo: Courtesy of Dolce & Gabbana
0 Comment