Christophe Robin has established a cult following across the pond—with everyone from Catherine Deneuve to Léa Seydoux entrusting the master colorist with their high-profile hair. And his warm and intimate salon, with paint colors picked out by none other than John Galliano, is a must-see (and experience!) spot in Paris. Customers can stroll in off Rue Bachaumont and have their hair washed with Robin's line of luxe shampoos, conditioners, masks, and treatments in a clam shell-shaped sink that would undoubtedly make Ariel swoon. But much like the Little Mermaid herself, the pro wants more. To be specific, he wants to truly be part of the American world, which is why he packed up his trove of treasures—including his porcelain poodles and a sparkling Tony Duquette tapestry—and shipped them to New York City's Tribeca neighborhood for three weeks. His goal is to mingle, meet, and expand his growing U.S. fan base and teach women how to properly wash their hair—for free.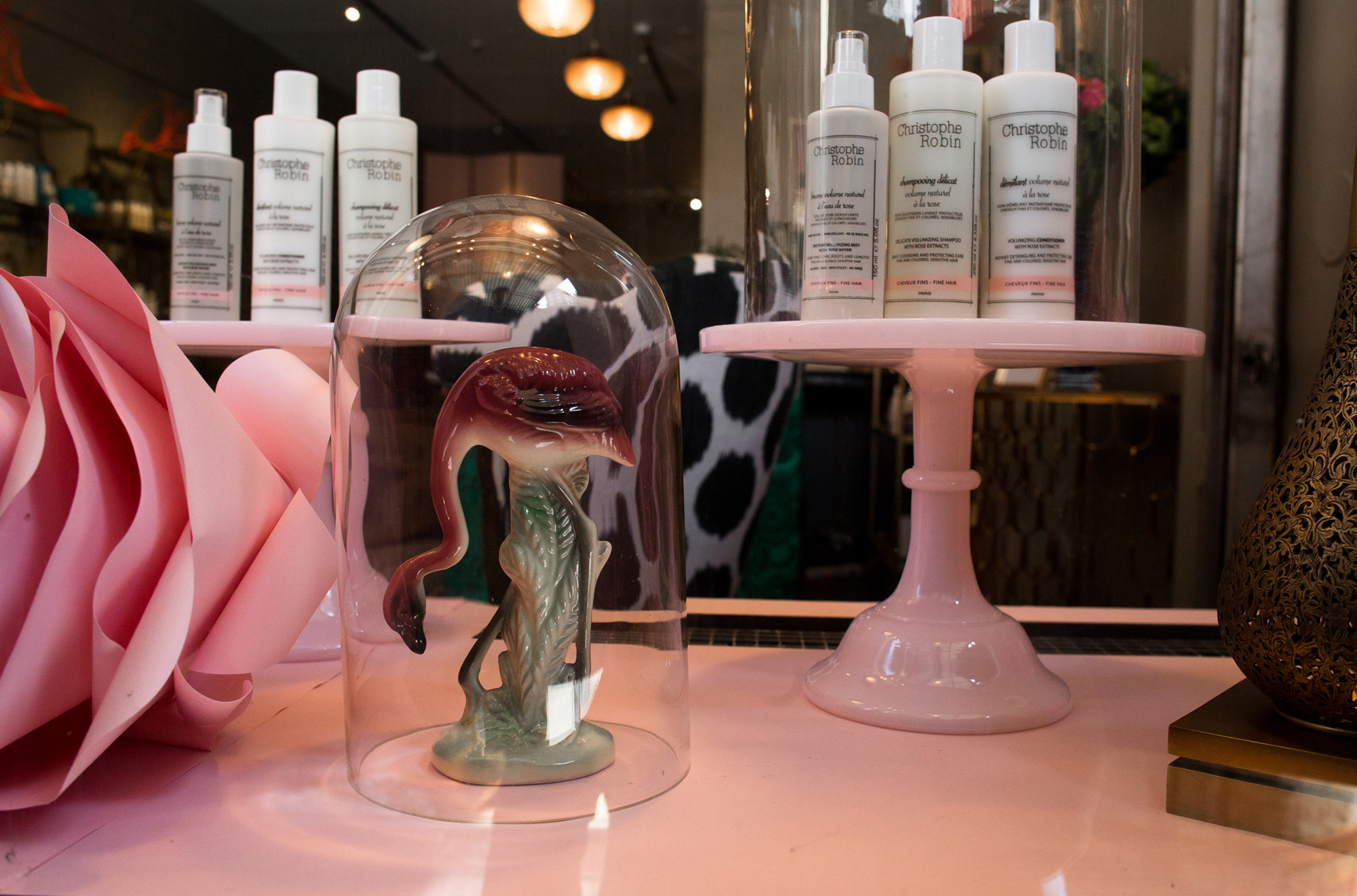 Christophe Robin's core volumizing collection
Photo: Courtesy of Christophe Robin
While he left some objets in the City of Light—like his penis-shaped watering can, a gem he fears may be a "bit much" and "too French" for "chic New Yorkers"—he's got plenty of other G-rated surprises up his sleeve. The first being his new Cleansing Volumizing Paste (available in June) laced with oil-absorbing Rassoul clay from Morocco (a beauty staple that's been used for centuries in hammams) and soothing rose extracts, a combo that leaves limp hair with loads of body. Eight years after launching his beloved volumizing shampoo, conditioner, and mist, the formula is a welcome addition to the well-established ritual and perfect for urban clientele looking to wash away the grit and grime acquired on the mean streets of NYC.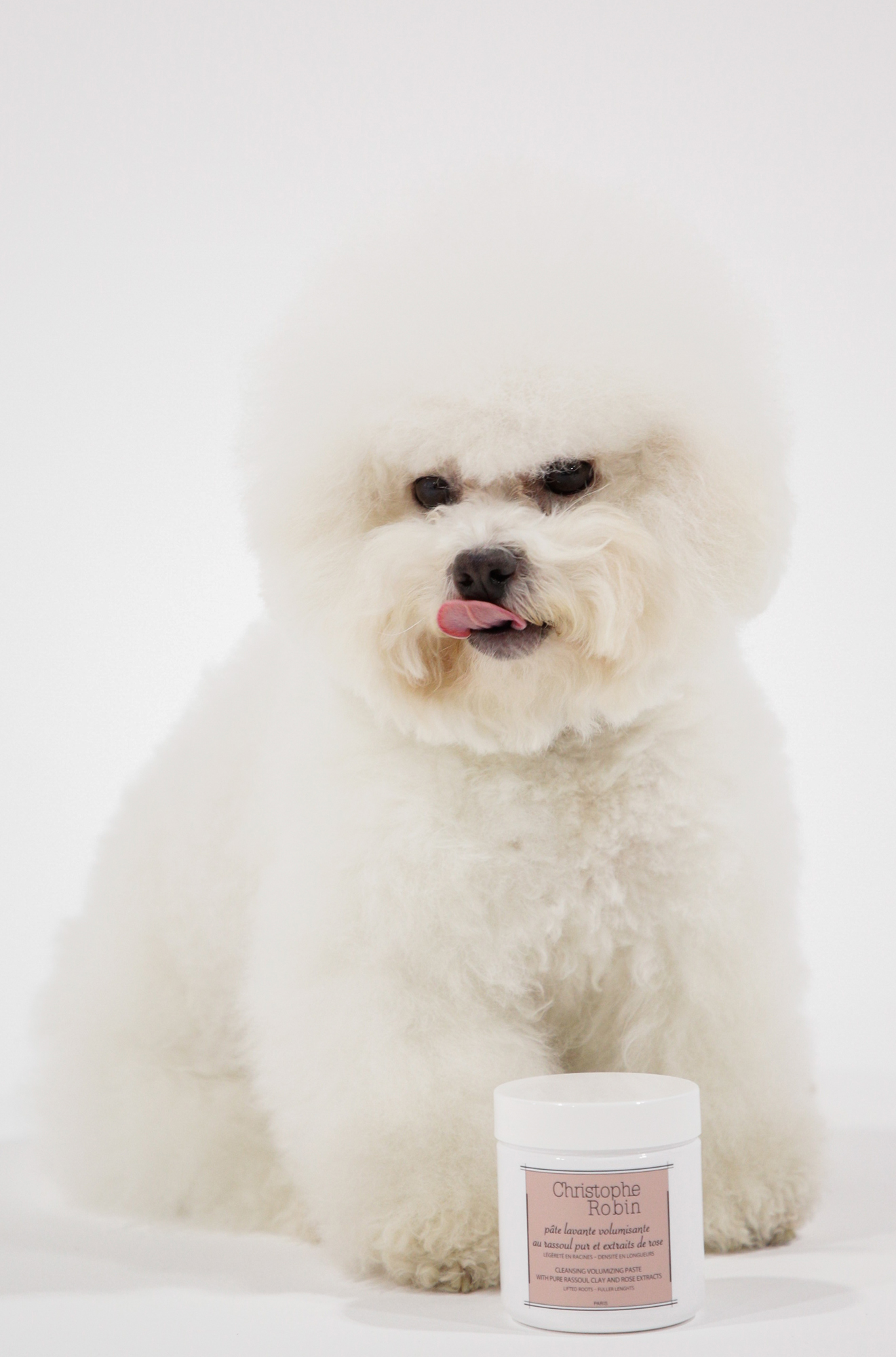 Tinkerbell and Christophe Robin's new Cleansing Volumizing Paste
Photo: Courtesy of Christophe Robin
The face (and hair) of his latest launch is equally as celebrated as the hair colorist himself. "She is a champion of beauty in France," said Robin proudly of Tinkerbell, the snow white Maltese with enviable curls who stars in the ad spot. Her photograph hangs proudly on the wall of the pop-up boutique not far from a candid snapshot of Deneuve, another French beauty icon. "I wanted to kiss her all the time, but we had to keep her white," added the pro of working with the chic chien. Inspired by Tim Flach's conceptual images of animals ("Each time I see [his work], it makes me smile," said Robin), Tinkerbell was the obvious choice for the leading role in his campaign. While the colorist is no stranger to working with A-list celebrities, he said this Parisian pooch was next level: "She was the first one to be shot, and the first one to leave." Tinkerbell also arrived to set with an entourage—including a personal groomer.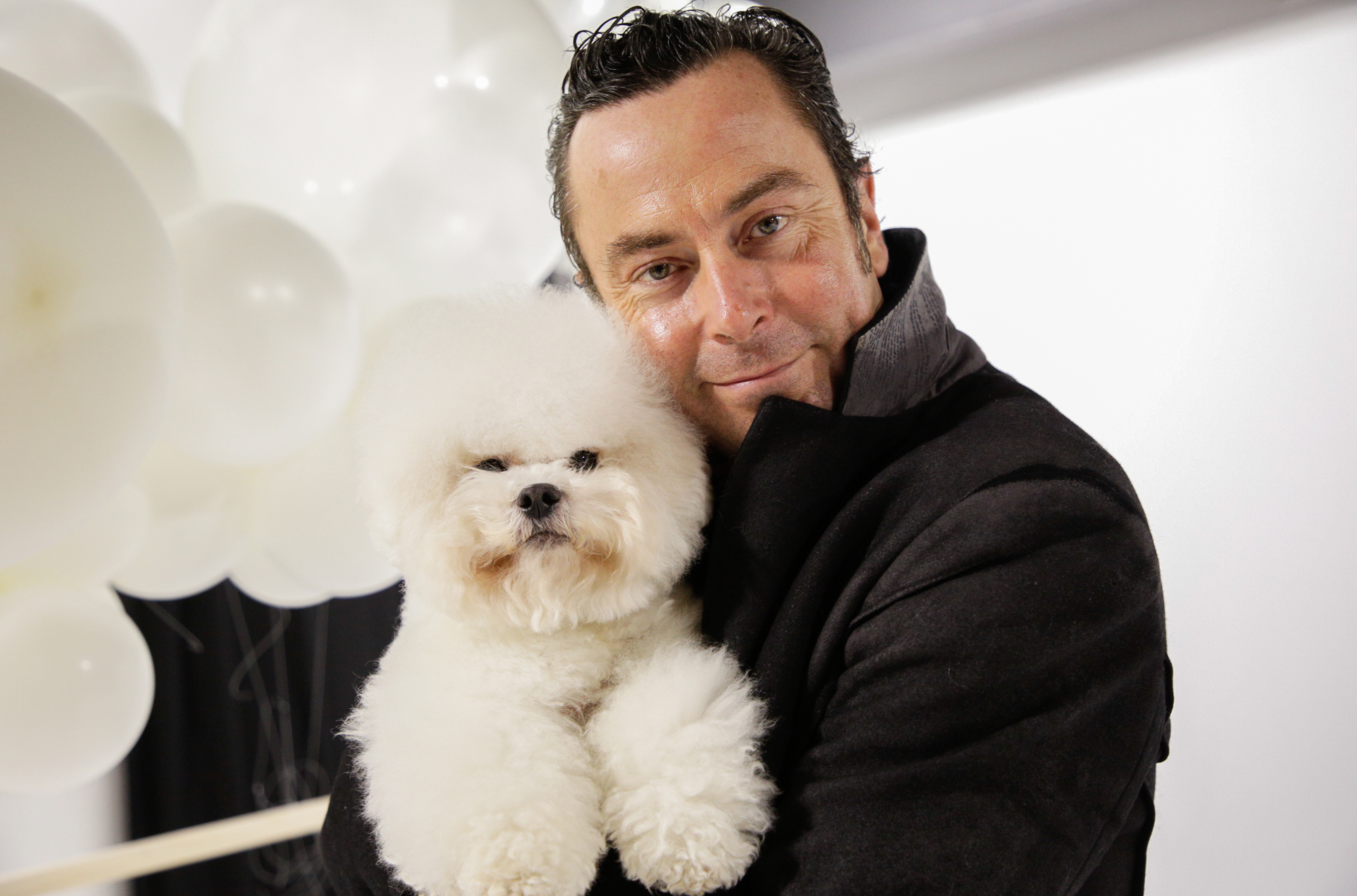 Two French beauty icons
Photo: Courtesy of Christophe Robin
For the rest of us that don't have a glam squad at our beckon call, Robin is offering plenty of DIY tips at his pop-up boutique and shampoo bar, which to be clear, is not intended for blow-outs (though there are Dyson Supersonic Hairdryers available to customers post-wash and Robin's Paris-based staff will be on hand to help with a quick chignon). If you can't make it to Manhattan, the pro suggests raking through ends of your hair with a wooden comb soaked in almond oil before you wash to detangle and add moisture. Next, shampoo your hair upside down to boost blood circulation and de-stress the scalp. The final step: "Rinse like crazy—your hair should be squeaky clean," he added. Then, make like Tinkerbell and werk the fluff like a French girl.

Christophe Robin NYC Pop Up Boutique, 42 Hudson Street, New York City, 646-902-9335. Monday through Saturday, 10 a.m. to 7 p.m. Sunday, 11 a.m. to 5 p.m. Open through April 21.
0 Comment