This month marked the premiere of Feud, a new FX show chronicling the behind-the-scenes drama that ensued when two of Tinseltown's most notorious divas, in an attempt to save their fizzling careers, filmed the campy (and now utterly classic) 1962 thriller What Ever Happened to Baby Jane?. For those of us long captivated by Bette Davis and Joan Crawford, what a month it's been! While Jessica Lange and Susan Sarandon have done a masterful job capturing both the essence and bitter rivalry of these Hollywood feminist forbearers, can anyone really compare to the originals? We think not. It may only be Davis' tombstone that's etched with the epitaph, "She did it the hard way," but the sentiment is applicable to both women: they were legends of their own design.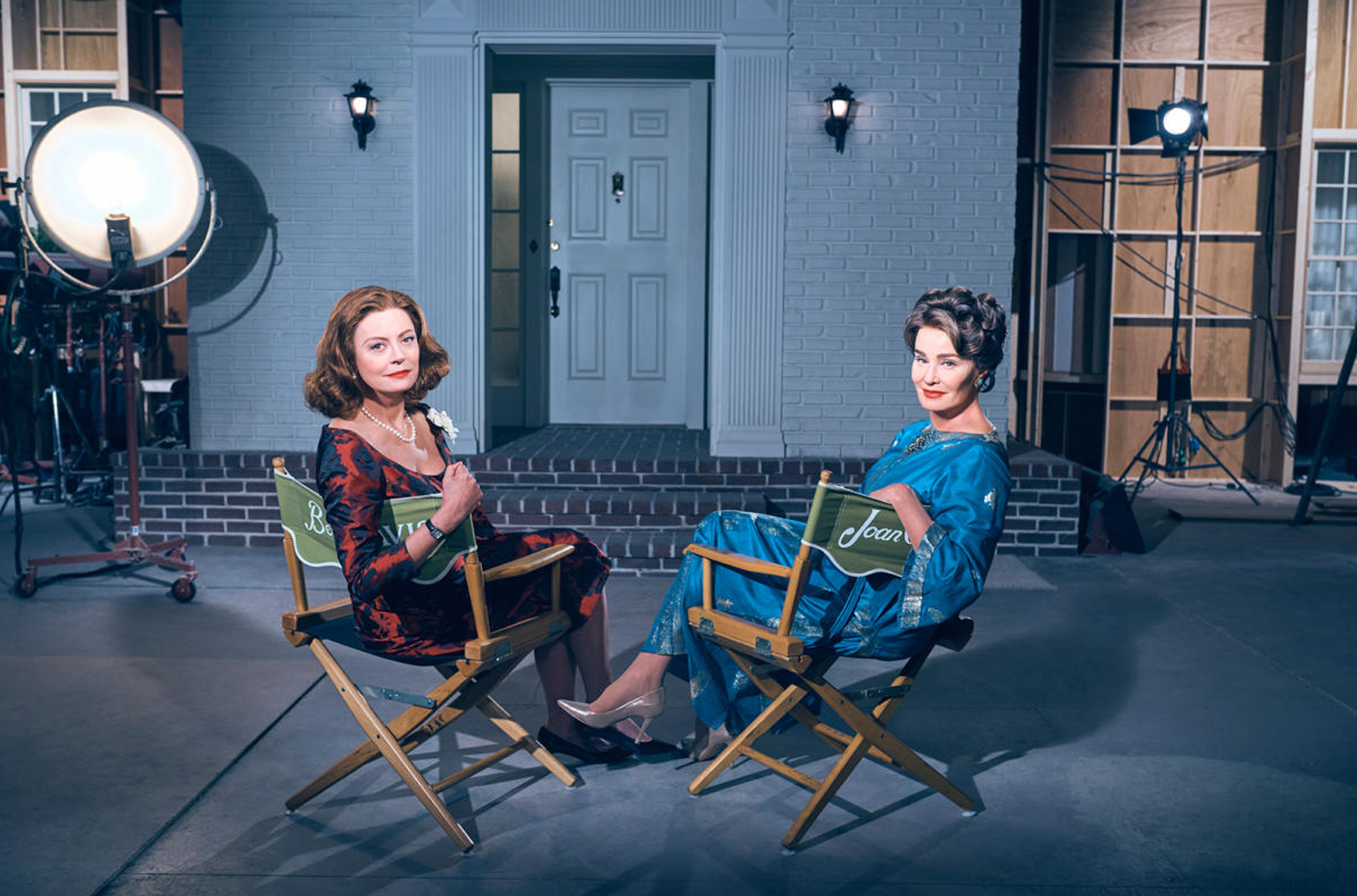 Photo: Courtesy of FX
Bette Davis
Davis started her career as a stage actress in New York in 1929 but a screen test would bring her to Hollywood by 1931. Only three years later, she would earn her first Academy Award nomination for Of Human Bondage; between 1935 and 1963 Davis was nominated in the Best Actress category ten times, winning twice (for 1935's Dangerous and 1939's Jezebel). Because the outspoken actress was steadfast in her determination to take on serious roles and never shied away from playing an unsavory part, many a juicy character landed on her lap. Perhaps most notorious (besides Baby Jane, of course) was her turn in All About Eve as Margo Channing, the aging actress with a memorably sardonic wit, which yielded one of the most famous big screen lines of all time: "Fasten your seatbelts, it's going to be a bumpy night." Hollywood's persistent obsession with youth would cause Davis' career to peter in the 1960s, and the issue of actresses aging out of the business is tackled on Feud. And it's something that even inspired Davis to once post a tongue-in-cheek ad seeking employment in a Hollywood trade publication. It read: "Mother of three—10, 11 & 15—divorcée. American. Thirty years experience as an actress in motion pictures. Mobile still and more affable than rumor would have it. Wants steady employment in Hollywood." A star in her own lifetime, generations to come would worship Davis' indelible performances and singular beauty—her husky voice; brassy sexuality; and those saucer-sized, wide-set, wildly expressive eyes that would be rhapsodized about in song by Kim Carnes so many years later.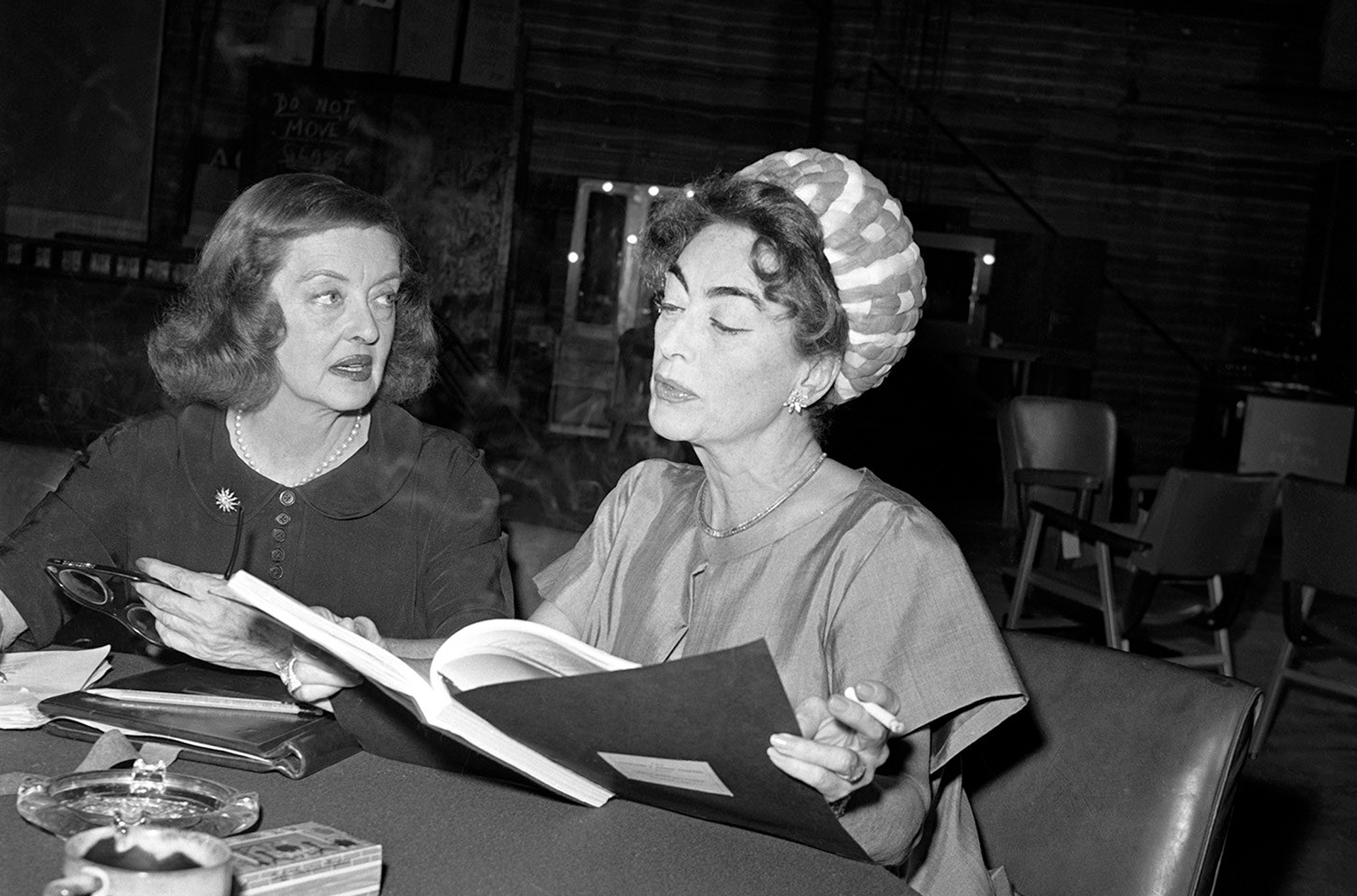 Photo: Getty Images
Joan Crawford

Crawford's beginnings were rough. Born Lucille LeSueur into extreme poverty in San Antonio, Texas to a cruel and abusive mother and absent father, she was forced into a sexual relationship with her stepfather at 11 (something addressed on Feud) and never made it past the fifth grade in school. That Crawford had to claw her way out of her circumstances, working as a dancer in Chicago before making the move to Hollywood and silent films, meant that once she finally tasted success after transitioning to talkies she would hold onto it with a steely grip. In the 1920s, F. Scott Fitzgerald would write of the immensely watchable Crawford: "She is doubtless the best example of the flapper, the girl you see in smart nightclubs, gowned to the apex of sophistication, toying iced glasses with a remote, faintly bitter expression, dancing deliciously, laughing a great deal, with wide, hurt eyes. Young things with a talent for living." Crawford earned top billing in the 1930s and even when her star began to fade her ambition wouldn't let up. Her only Academy Award would come in 1945 for her performance as a driven restaurateur in Mildred Pierce. In her private life, Crawford would marry four times and battle with alcoholism (on Feud, we see that her private bathroom had a mini fridge for her witch hazel and Smirnoff) and intense loneliness. Crawford, whose beauty trademark was always those chiseled cheekbones and dramatic, pitch-black arches, was also hyper-conscious about her appearance. As the brassy actress, and forever gay icon, once said herself: "I never go outside unless I look like Joan Crawford the movie star. If you want to see the girl next door, go next door."
0 Comment