Thanks to the frantic pace of the digital age, the average person has the attention span of a goldfish. (No, seriously. This is a fact supported by an actual study.) Seeing as the fashion sphere changes its mind even faster, we decided to provide you with a condensed report from backstage this season. As much as we'd like to pen novels in the name of lipstick and hairspray, we get it—you're busy. Here, the beauty version of CliffsNotes (all facts, no fluff) that you can easily skim in eight seconds...because science says that's all the time you have.

SHOW: Giambattista Valli
CITY: Paris
KEY PLAYERS: Makeup artist Val Garland, Hairstylist Paul Hanlon
THE LOOK: After an afternoon downpour in Paris, "it could have almost looked like they walked from outside into the show," said Hanlon. "[Giambattista] wanted girls to feel very Lolita, hot, wet, and sexy," added Garland.
INSPO: An early 90s image of Kate Moss shot by Juergen Teller was pinned to Garland's makeup station backstage. "The idea is that our girl has been up all night dancing, maybe it's 4 a.m., and she's gone to the steam room to chill out," said the face painter. "She's got this very moist, dewy skin and a very brushed up eyebrow."
BEAUTY MVPs: MAC Lip Pencil in Burgundy, MAC Lipstick in Diva, MAC Lipglass Clear, L'Oréal Paris Elseve Huile Extraordinaire, L'Oréal Paris Studio Line Fix and Shine Spray
TOP TIPS: To create fresh-from-the-rain, glossy waves that didn't read drowned rat, Hanlon crafted curls with an iron then passed over them with a flat iron to "squash" any volume. Then, he raked a dry oil through strands and finished with a "wet" hairspray.
WORDS FROM THE WISE: The soft-focus mouth seen on the runway was a "backlash to the Instagram lip," explained Garland of the kissed-off color. "On Insta you have the 27 step lip program: You baste it, you bake it, you natural line it, you line it with red, then you fill it in with a pencil, go over it with a lipstick, and go over it again with powder." Instead, the pro opted for a look you can slap on and go. She filled in models' mouths with a burgundy pencil, then glazed over top with a matching lipstick before buffing out the pigment with a fluffy brush to achieve a blurred edge. "It feels sexy because it looks like a girl who's been kissing," said Garland. "She's touchable and approachable, whereas you don't want to go near the Insta lip!"
TREND TALLY: Wine-colored lips were spotted at La Perla, Rosie Assoulin, Anna Sui, Topshop Unique, Preen, Dolce & Gabbana, Andrew Gn, and Ann Demeulemeester.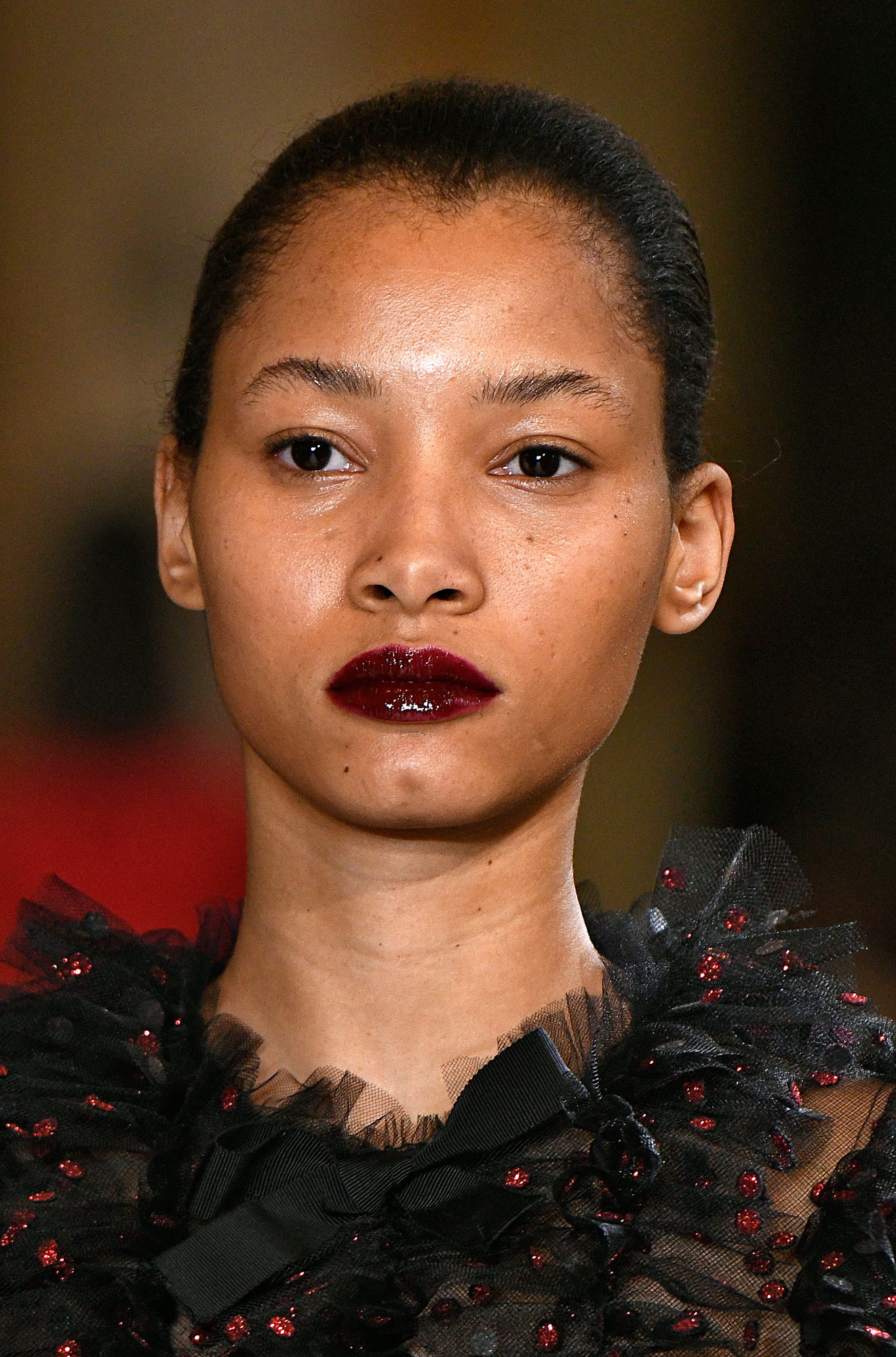 Photo: firstVIEW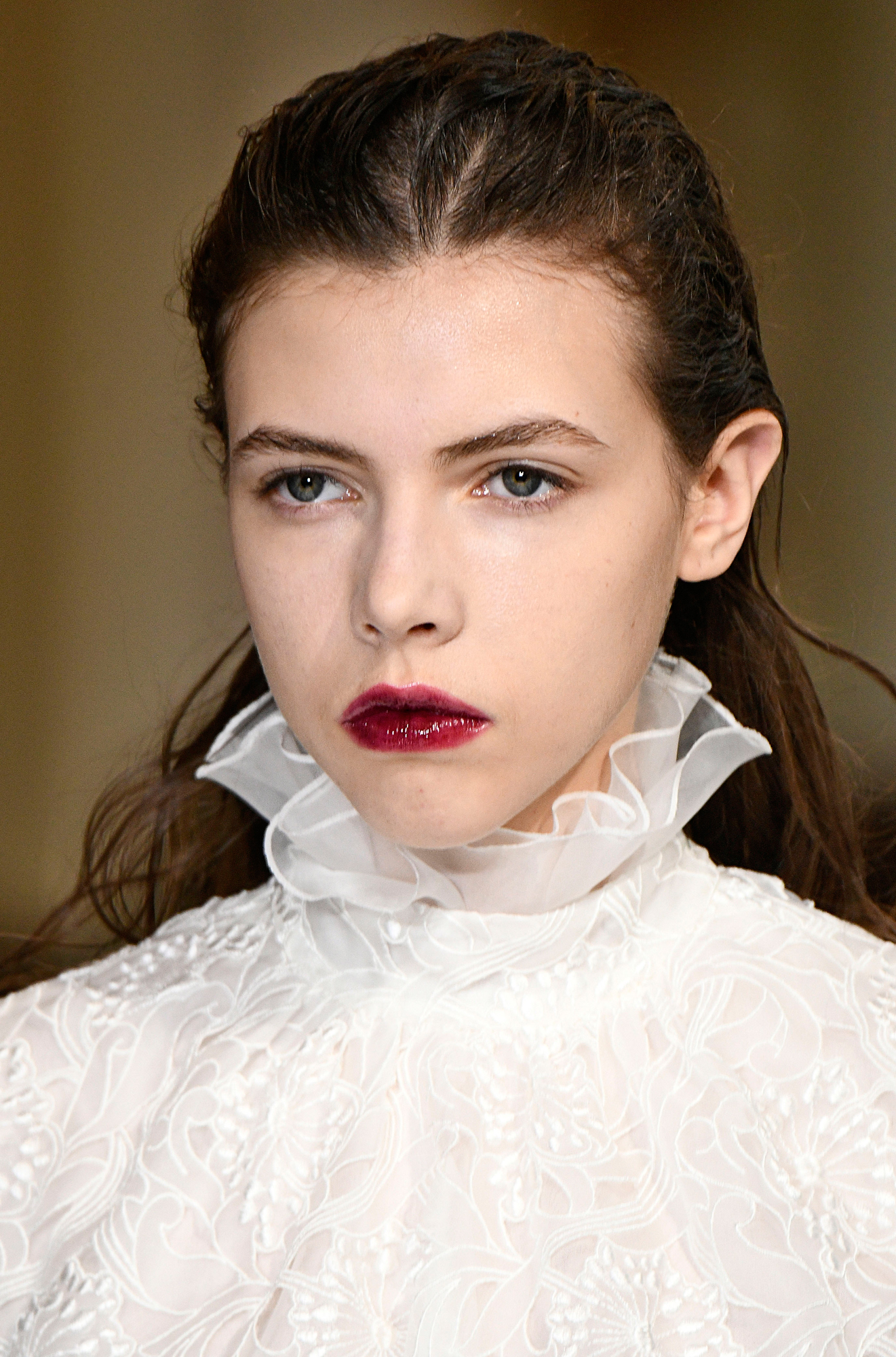 Photo: firstVIEW
0 Comment