Thanks to the frantic pace of the digital age, the average person has the attention span of a goldfish. (No, seriously. This is a fact supported by an actual study.) Seeing as the fashion sphere changes its mind even faster, we decided to provide you with a condensed report from backstage this season. As much as we'd like to pen novels in the name of lipstick and hairspray, we get it—you're busy. Here, the beauty version of CliffsNotes (all facts, no fluff) that you can easily skim in eight seconds...because science says that's all the time you have.

SHOW: No. 21
CITY: Milan
KEY PLAYERS: Makeup artist Tom Pecheux, Hairstylist Anthony Turner
THE LOOK: "There's a cuteness to the grunginess," said Turner of the "day-after-the-night-before" waves clipped to one side with a sparkling snap pin.
INSPO: "There's an Americana influence," noted Turner. "We aren't doing anything too obvious, but it's still based on skater boys and a little bit Courtney Love."
BEAUTY MVPs: MAC Roller Wheel Liner in Brown (launching Spring/Summer 2017), MAC Trend Forecast Fall 2017 Eye Palette (available in March), L'Oréal Professionel Tecni.art Pli, L'Oréal Professional Tecni.Art Full Volume Mousse
TOP TIPS: Skip the curling iron and "scrunch" to achieve "skater boy" waves. Turner prepped strands with a modeling spray and mousse, then hit hair with a blow-dryer as he squeezed the length up towards the roots for a "worn-in texture." A bit of oil on the ends and a bejeweled barrette polished off each girl's center or side part like a proper rock goddess. "[Courtney Love] had messy hair, but then she'd wear a cute tiara or a little pin," he added.
WORDS FROM THE WISE: Swap basic brown liner for burgundy—a tip Pecheux picked up from the one and only Madonna. "She was using burgundy mascara when I first started working with her—she taught me the trick!" said the pro who worked with icon for over a decade. "It helps bring out the color of your eyes, especially if they are blue, green, or hazel." Instead of mascara, however, Pecheux focused his attention on models' upper lash lines, where he used MAC's highly anticipated Roller Wheel (affectionately dubbed the pizza cutter liner by the Internet) in brown to lay the foundation for perfect bespoke shade of burgundy. Over top, he layered a mustard cream color from the Fall 2017 trend palette and MAC's Extra Dimension Blush in Hard to Get before sealing the deal with the cosmetic company's classic Coffee Pencil.
TREND TALLY: Sparkling accessories also made an appearance at Ashley Williams.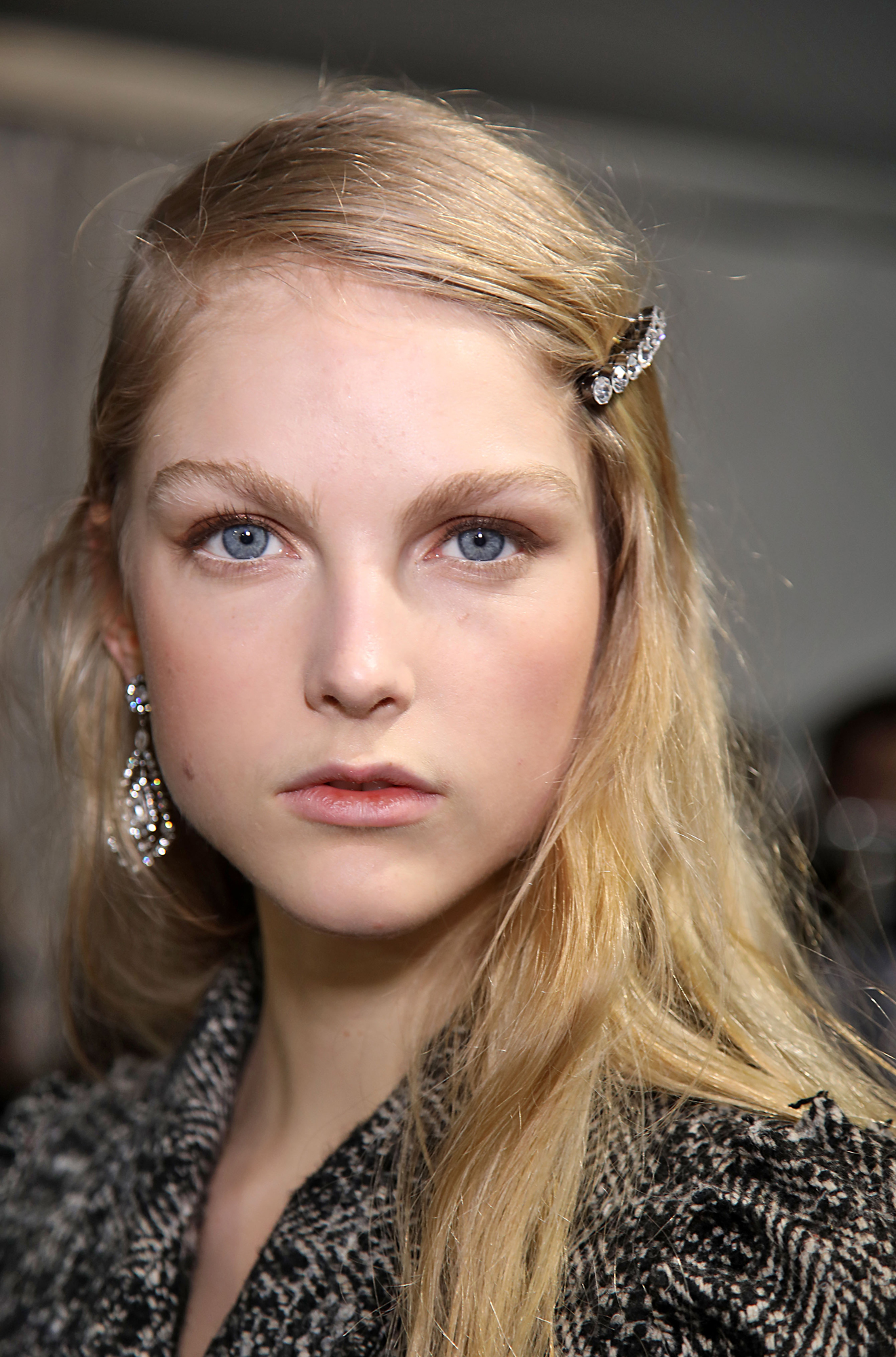 Photo: firstVIEW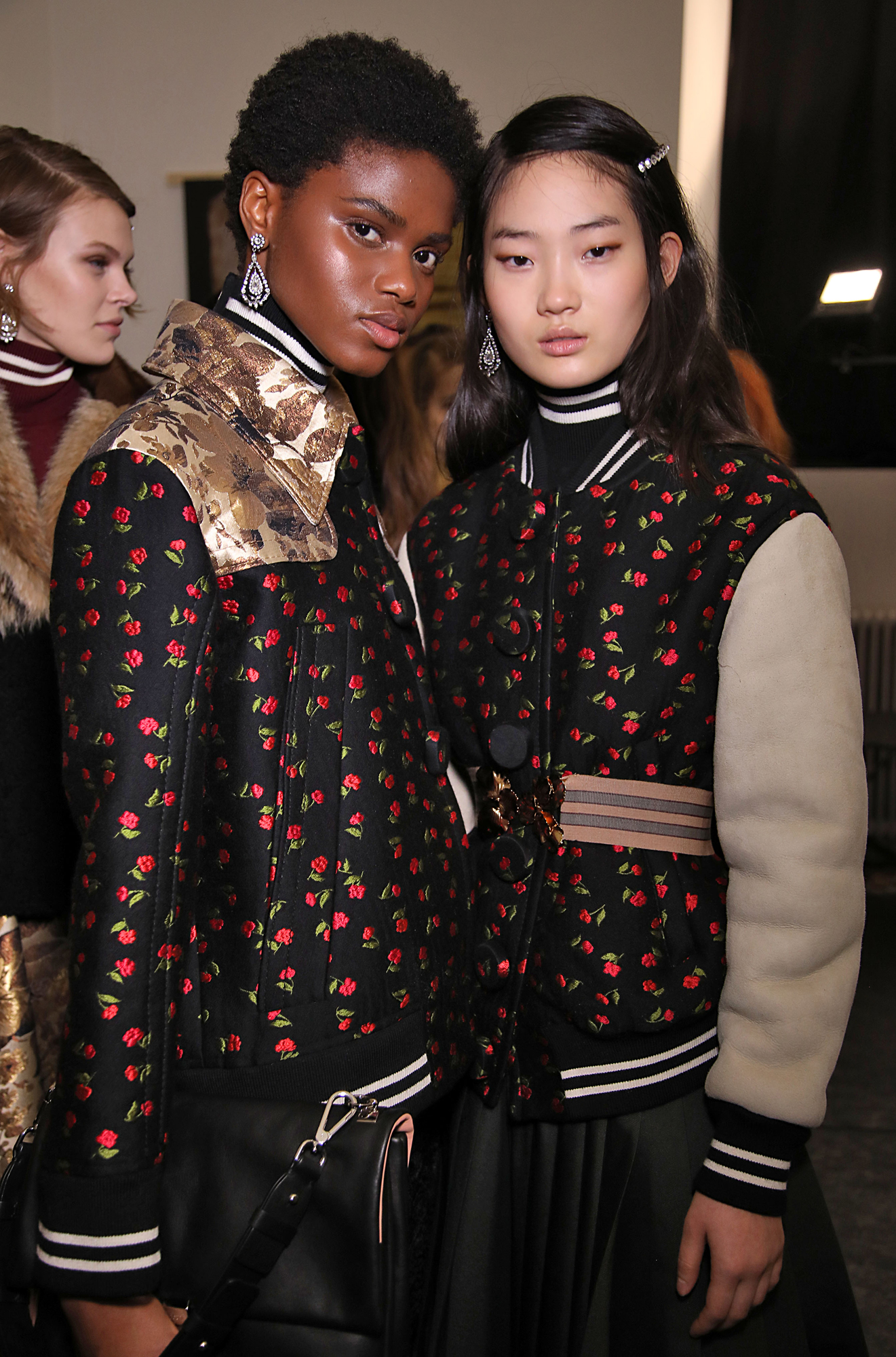 Photo: firstVIEW
0 Comment