Marc Jacobs took fashion and his Fall 2017 collection to the place that inspired it: the streets of New York City—a refuge and melting pot for millions. As horns blared in the background and passerby pressed in closer to catch a glimpse of the action, models like Slick Woods, Adwoa Aboah, Winnie Harlow, Grace Bol, Jamie Bochert, and Kendall Jenner strutted down the sidewalk just outside the cavernous Park Avenue Armory sporting hats, clothes, and accessories influenced by the designer's beloved Big Apple and the acclaimed documentary series, Hip-Hop Evolution, which spotlights music icons like Grandmaster Flash and The Furious Five. Floppy Kangol hats, knit beanies, and baseball caps were reimagined and "exaggerated," explained hairstylist Guido Palau, who fit the headgear over the hair models walked in with. "The more casual the texture is, the cooler you look," he added of his hands-off approach this season. "The style comes from the hat shape."
Manicurist Jin Soon Choi may have had the most difficult job of the morning, as she frantically filed press-on tips into squared-off talons and crafted graphic nail art with five new polishes from the designer's lacquer line—the predominant shade being Trax, a rich bordeaux borrowed from Jacobs' favorite maroon track pants that he's clung to for 15 years. Choi even branded a few girls' fingertips with gold, flat-backed studs that spelled out Marc Jacobs from right to left.
But for once, the hair and makeup weren't the main focus backstage. Instead, it was the motley mix of models that rightly stole the spotlight—a theme we've seen time and again this week at shows like Michael Kors, Baja East, Chromat, 3.1 Phillip Lim, Prabal Gurung, and Brandon Maxwell. "We have these great models now that have their own personal style and designers are really inspired by that," explained Palau. "Often, they don't want you to eradicate that and make [the girls] into something that they're not. It's about embracing their quirks, nuances, and individuality." From buzz cuts to blue hair, every stripe and type seemed to be represented on the runway—most noticeably members of the trans community. "Marc is sort of a voice for every minority and I'm not sure that people realize this," Palau told me last season after the colorful dreadlocks designed by a white woman in Florida sparked endless debates on social media. Fall 2017 is certainly an answer to anyone who doubted Jacobs' intentions.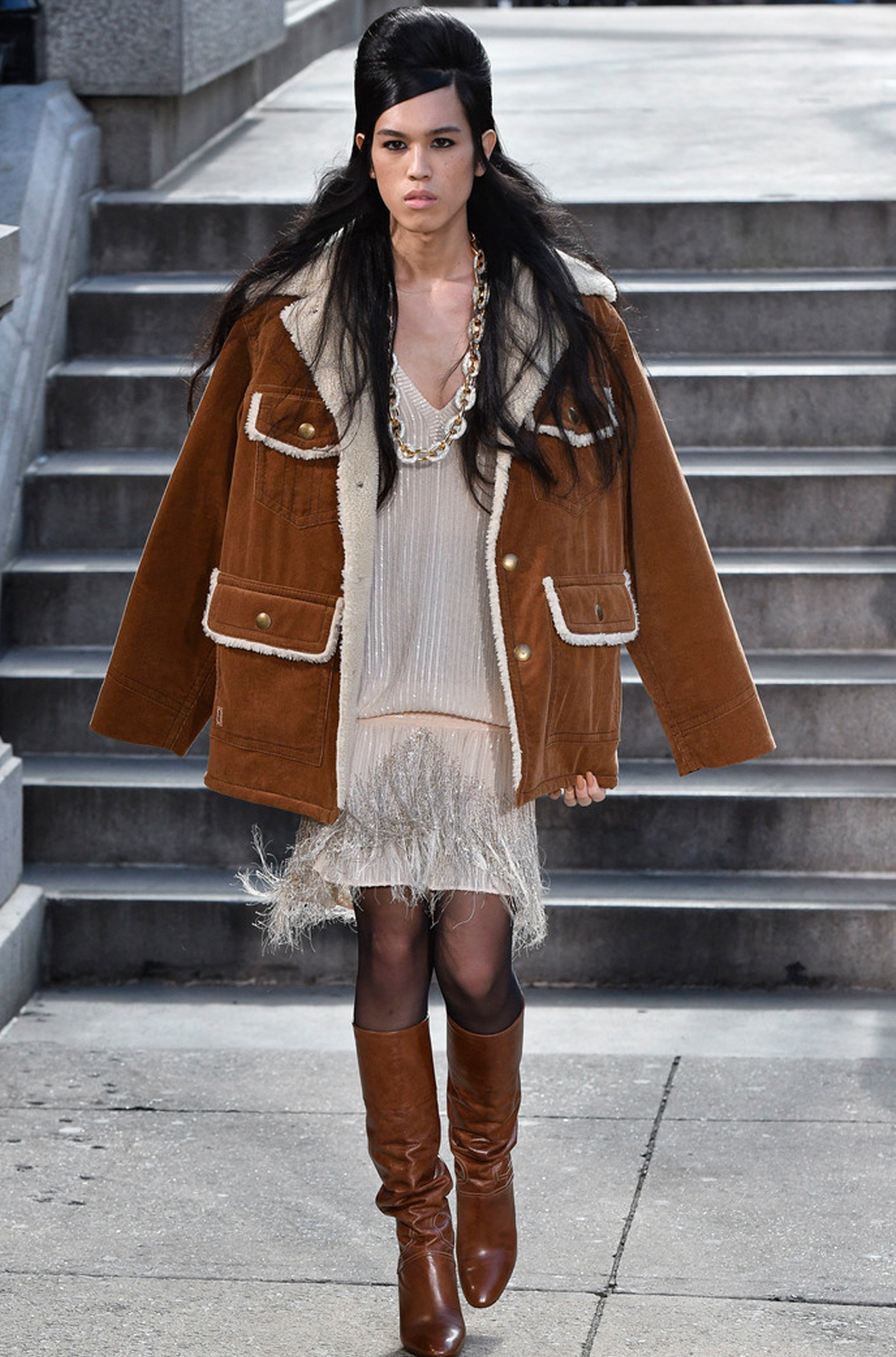 Dara walks Marc Jacobs' Fall 2017 show
Photo: firstVIEW
Dara—a model who recently graced the cover of Candy ("the first transversal style magazine") after being discovered by close friend Hari Nef—was a vision with jet-black hair cascading down and around her shoulders. "I buzzed it four years ago, but I've grown it out," she said backstage. "I normally don't do anything to it, but today they are really teasing it up and giving me a Debi Mazar, '60s look." Jacobs' runway is also the first show she's ever walked. (Not a bad way to start!)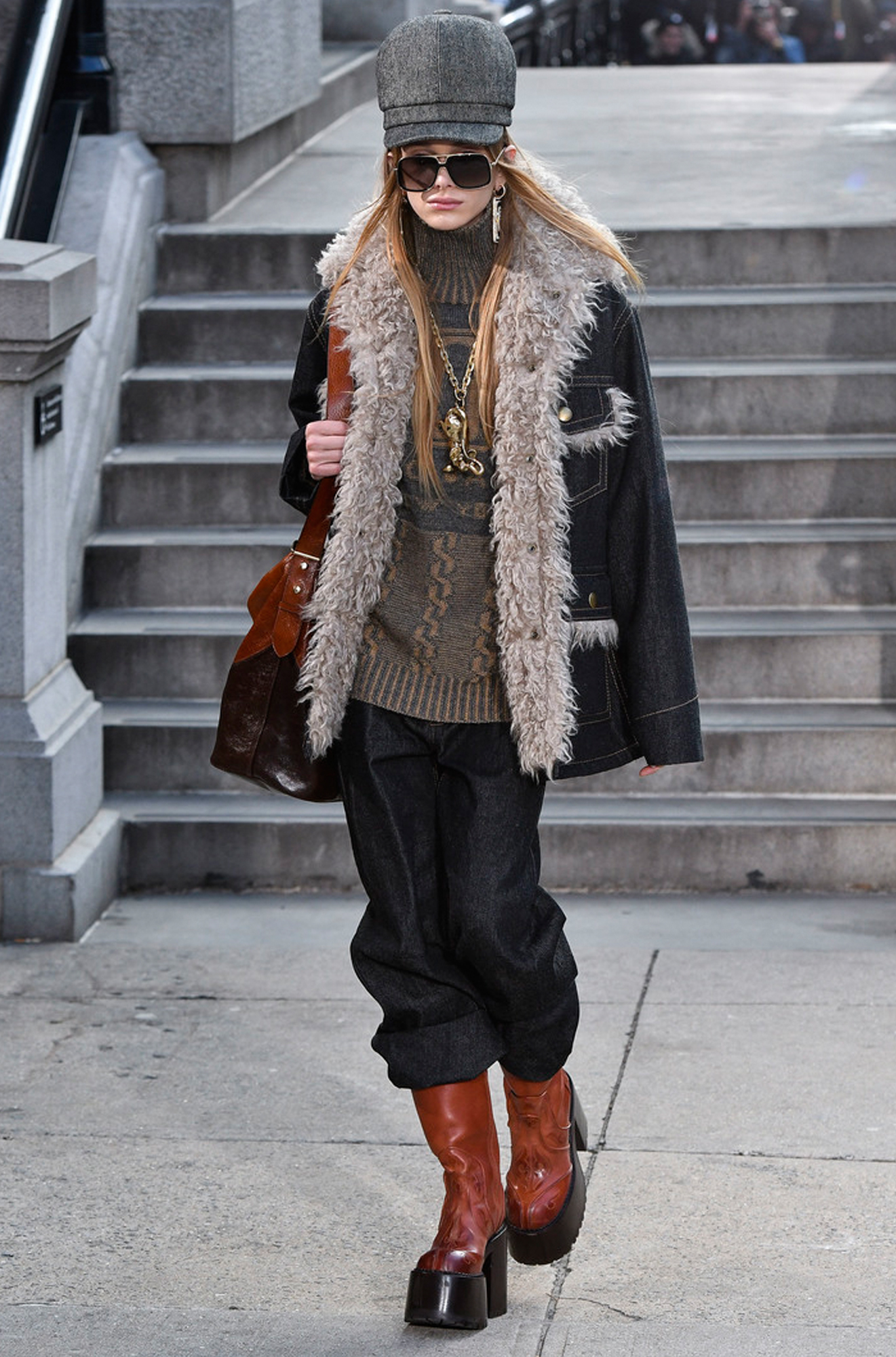 Stav Strashko stomps the streets of NYC
Photo: firstVIEW
"I love that you can see more and more trans models on the runway, which is great," said Stav Strashko, another model with enviable hair who swears by Kérastase Chroma Captive shampoo and conditioner. "I think the casting is very diverse—not just plain, pretty faces. It's been building up through the years, but we're here and we're doing it." And no doubt, trans models like Strashko and Dara are breaking down boundaries and eliminating stereotypes in style. "I'm working on a lot of amazing things that just a few years ago you would never believe a trans model would do," said Strashko. "I shot Urban Outfitters this year, I'm shooting a fragrance campaign in a week—we're getting there and we're conquering the map." She's also shooting a movie in her native Israel in April and playing the leading role of a trans girl. "It's going to [shed] light on the situations that some trans people end in because we are being pushed to the [fringes] of society," she explained of her upcoming film. A spectacle as big and respected as Marc Jacobs' show is also helping to illuminate a community that was once shrouded in "darkness," said Strashko.

Perhaps more than ever before, Fall 2017 was the time to finally turn traditional, elitist, and exclusionary casting on its head and invite every size, race, and gender into an industry that is meant to serve and support women. From designer runways to street style stars, fashion—which often gets a bad rap for being a business for mean girls (and guys)—made a strong and powerful statement about inclusivity. Whether you were snapped wearing your heart on your sleeve (or jacket…or underwear) or stomping the catwalk despite not being a size zero, New Yorkers united this week and told a fractured world that anyone and everyone can sit with us. In short, what may seem like a rather frivolous business on the surface got really deep. "With everything that's happening around the world and Donald Trump being elected, I guess this is the right time for people to speak up for human rights and LGBT rights," said Strashko. "Fashion isn't necessarily a way to protest, but it's a way of sending out a message." Politicians, we hope you received it loud and clear.

0 Comment