Thanks to the frantic pace of the digital age, the average person has the attention span of a goldfish. (No, seriously. This is a fact supported by an actual study.) Seeing as the fashion sphere changes its mind even faster, we decided to provide you with a condensed report from backstage this season. As much as we'd like to pen novels in the name of lipstick and hairspray, we get it—you're busy. Here, the beauty version of CliffsNotes (all facts, no fluff) that you can easily skim in eight seconds...because science says that's all the time you have.
SHOW: Public School
CITY: New York
KEY PLAYERS: Makeup Artist Grace Lee, Hairstylist Allen Ruiz
THE LOOK: Be yourself—whatever that looks like.
INSPO: New York City's melting pot.
BEAUTY MVPs: Maybelline New York Color Sensational The Loaded Bolds Lipstick in Midnight Merlot, Maybelline New York Lip Studio Lip Color Palette and Aveda Phomollient Styling Foam
TOP TIPS: To create the ultimate stain to play off Public School's Trumpian red baseball caps, Lee tapped a crimson shade from Maybelline's Lip Studio Palette into each girl's pout with her fingertip, then wiped off the pigment. To intensify the just-bitten stain left behind, she applied a plum shade (Maybelline's Midnight Merlot) to the center of models' mouths.
WORDS FROM THE WISE: Want to achieve maximum volume without weighing down strands? Apply product (like mousse) directly to a paddle brush instead of using your hands. This technique distributes the formula quickly and evenly, said Ruiz. Even better: No more sticky fingers.
TREND TALLY: Much like the politically charged message of inclusivity conveyed by Public School's collection, the idea of embracing natural hair textures and tailoring the look to the model (rather than tailoring the model to the look and creating a regimented rank of robots on the runway) is an idea embraced by many this season, including Jason Wu and Alexander Wang. Wine-colored lips were also spotted at La Perla and Jonathan Simkhai.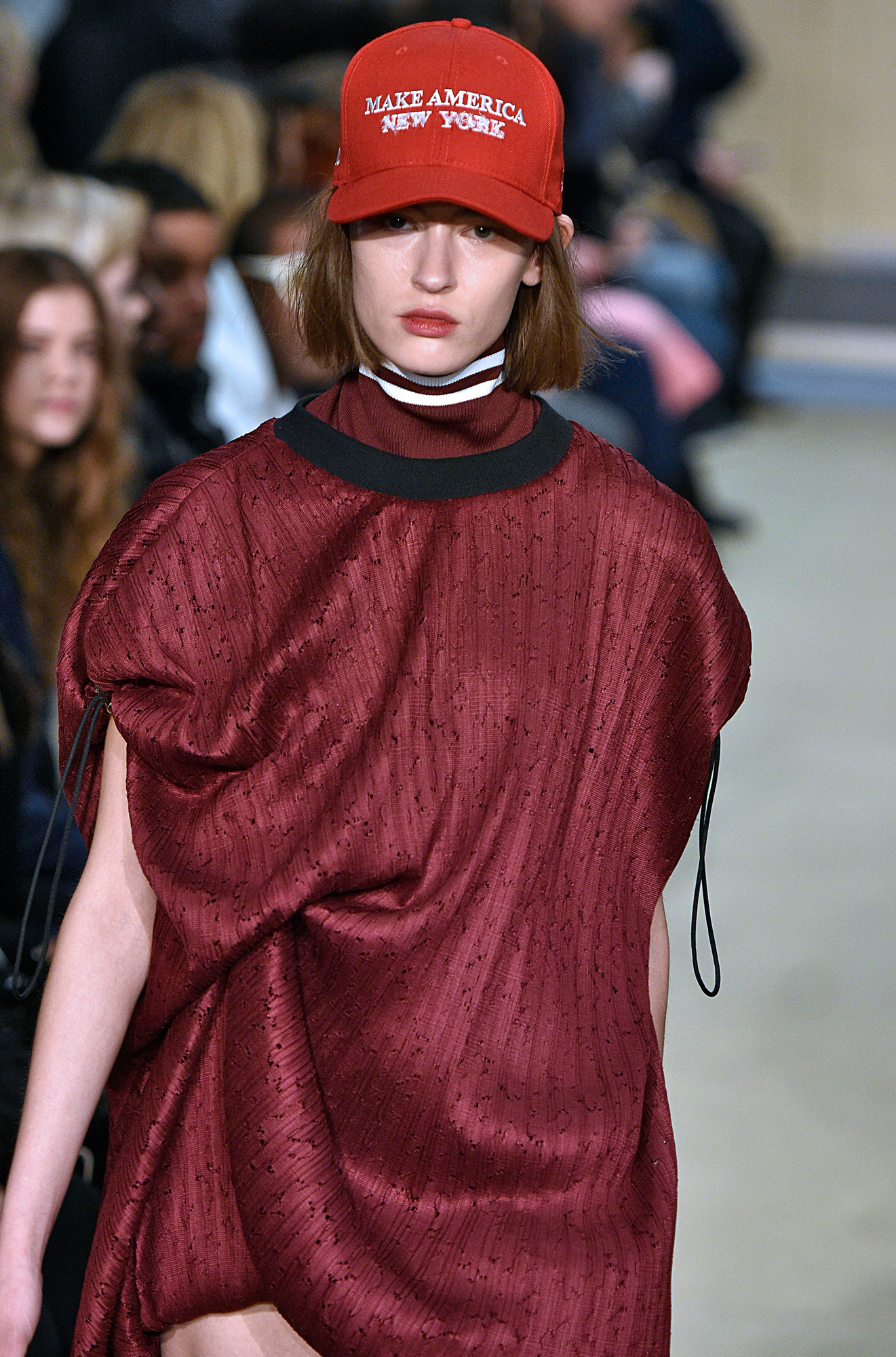 Photo: firstVIEW
0 Comment