Thanks to the frantic pace of the digital age, the average person has the attention span of a goldfish. (No, seriously. This is a fact supported by an actual study.) Seeing as the fashion sphere changes its mind even faster, we decided to provide you with a condensed report from backstage this season. As much as we'd like to pen novels in the name of lipstick and hairspray, we get it—you're busy. Here, the beauty version of CliffsNotes (all facts, no fluff) that you can easily skim in eight seconds...because science says that's all the time you have.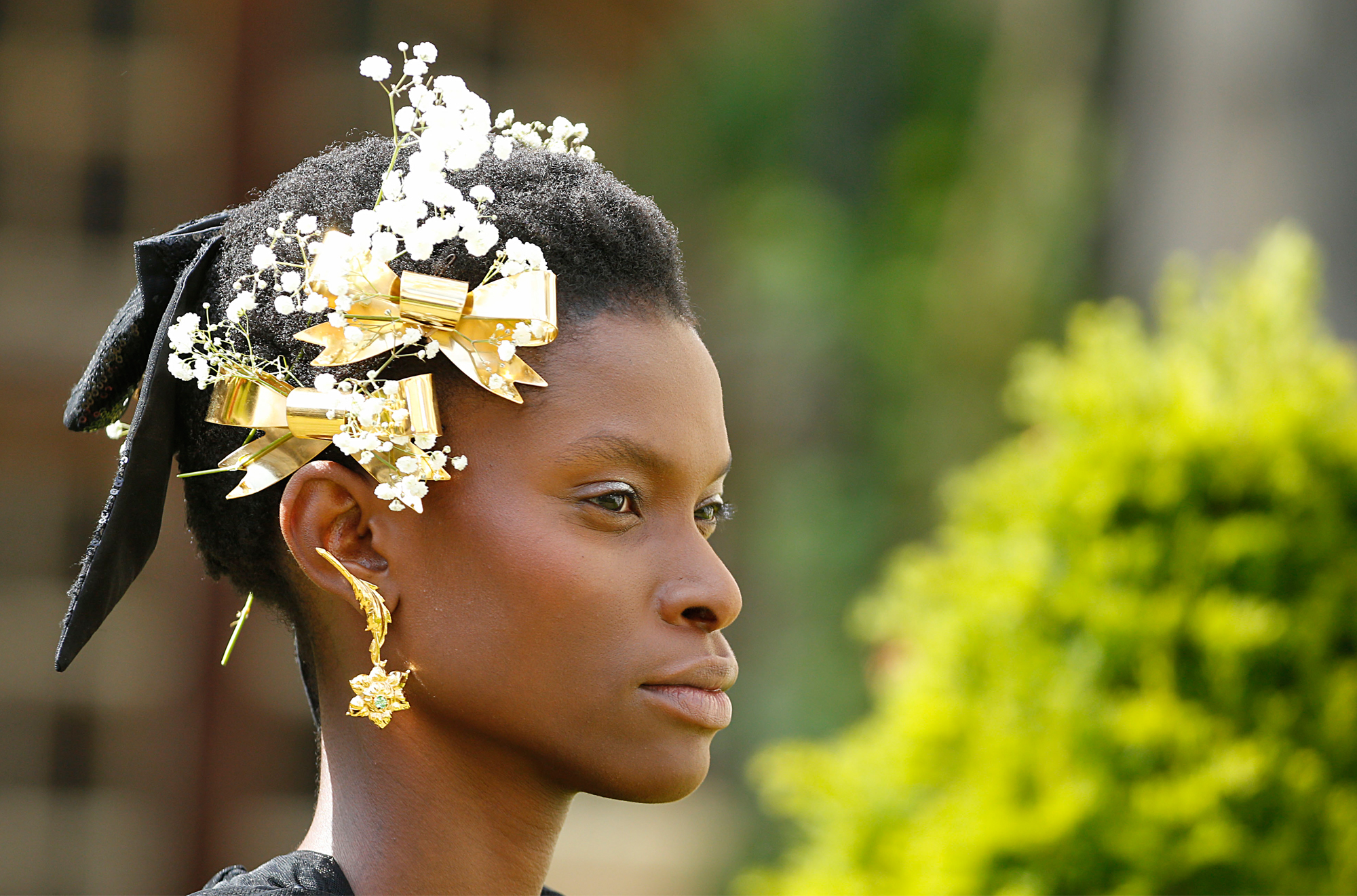 Photo: firstVIEW
SHOW: Rodarte
CITY: Paris
KEY PLAYERS: Makeup Artist James Kaliardos, Hairstylist Odile Gilbert, Manicurist Tracylee
THE LOOK: "Beautiful, healthy, and ethereal," surmised Kaliardos.
INSPO: Belles fleurs by L.A.-based florist Joseph Free. "The [Mulleavy] sisters were inspired by flowers, so they wanted to incorporate them into the hair, makeup, and nails," explained Tracylee.
BEAUTY MVPs: NARS Eye Paint in Interstellar, NARS Blush in Bumpy Ride, NARS Satin Lip Pencil in Biscayne Park, Bumble and bumble Does It All Light Hold Hairspray, Morgan Taylor Nail Lacquer in All White Now and Sugar Fix
TOP TIPS: "I think the whole hand makes the look, not just necessarily the nail," noted Tracylee of the daisy designs (dotted onto fingers with Morgan Taylor's All White Now lacquer and punctuated by a tiny Swarovski crystal) that scaled models' pinky and ring fingers "I also had this idea to put flowers on the nail," the polish pro added. "I know dried flowers have been done before, but not real, live flowers." She secured bunches of baby's breath from a local florist and even picked a few bitty blooms in the wilds of Paris before securing them to catwalkers' cuticles with eyelash glue. Asked whether the floral-adorned fingertips will catch on off the runway, Tracylee replied: "Everyone went crazy for the glitter cuticles I did in New York and so many people recreated that look. Why not?!"
WORDS FROM THE WISE: "We had to pull back on the makeup a bit, but we still wanted something that created a little bit of magic," said Kaliardos, who was inspired by the recent rainfall in Paris. "It wasn't just a makeup look, it was an effect." He dabbed NARS Eye Paint in Interstellar across lids for a dewy finish.
After cooling summer showers brings, in the case of Rodarte, wreaths of fresh flowers. Gilbert placed crowns of baby's breath and Birds of Paradise (both crafted by Free, the mastermind behind the floral jewelry for Rodarte's Fall 2016 show) atop tousled strands tied back with satin ribbons and golden bows.
TREND TALLY: Luxe florals and eyes accented with silver were also seen on the runway at Guo Pei.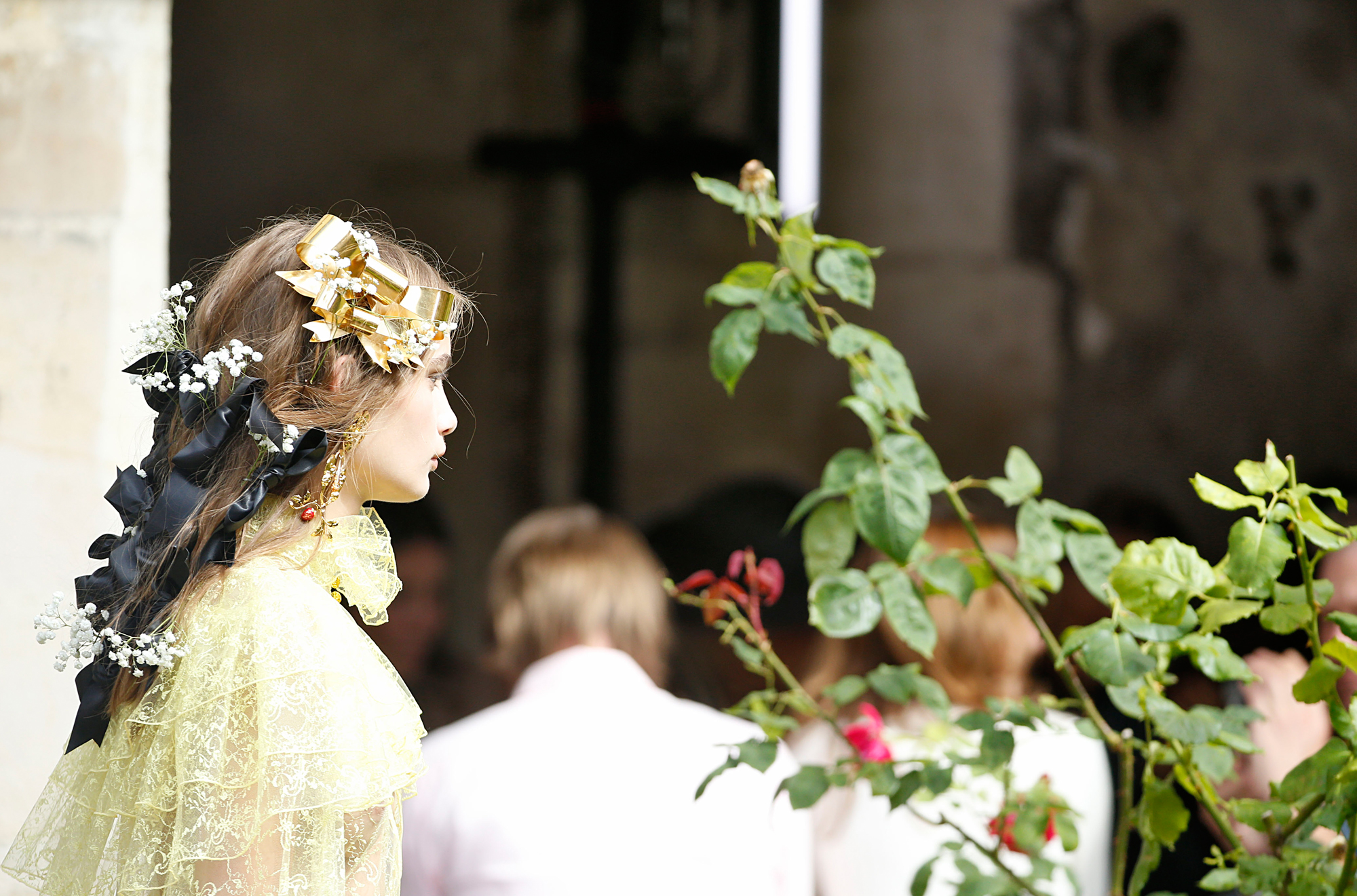 Photo: firstVIEW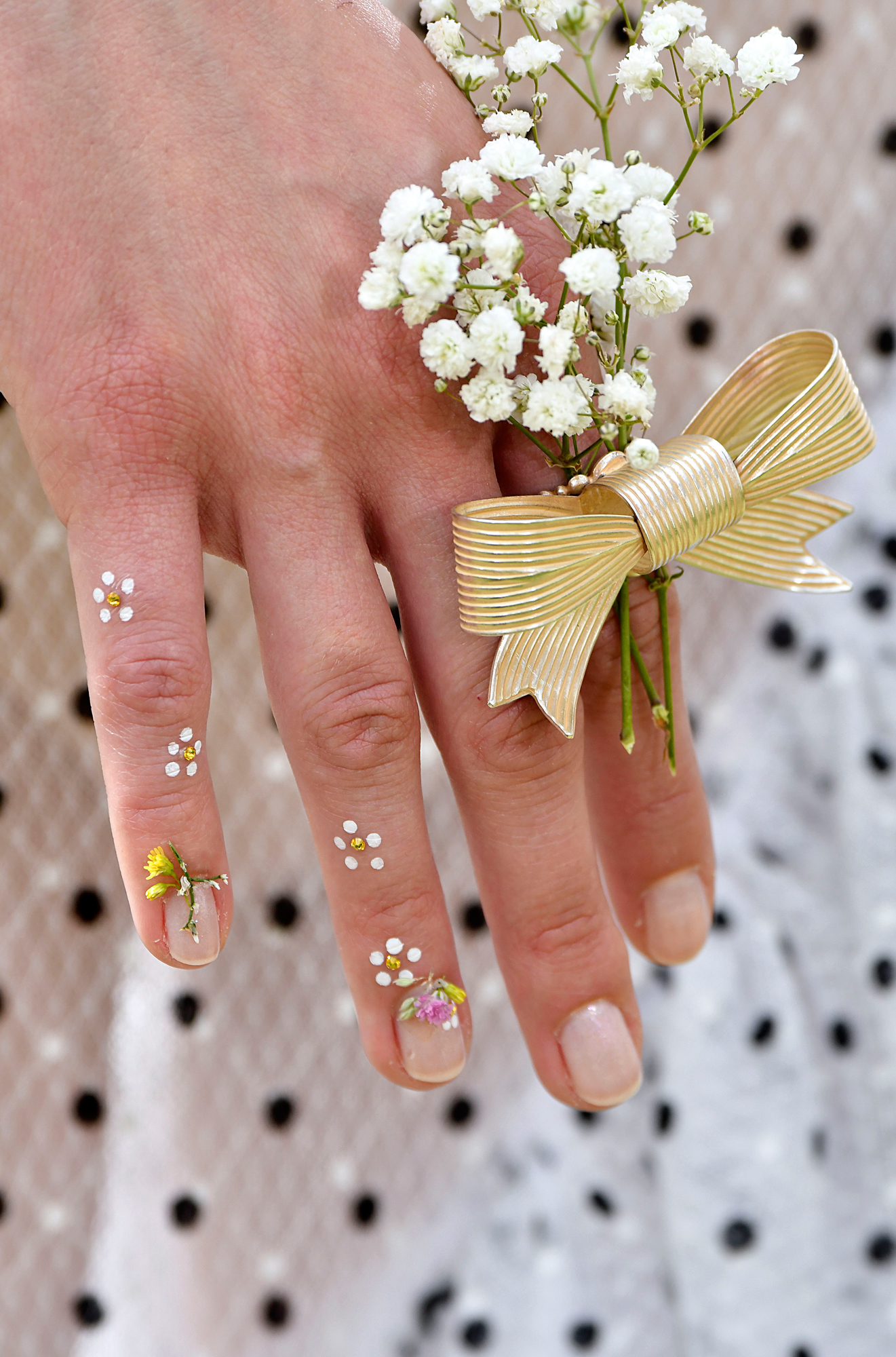 Photo: firstVIEW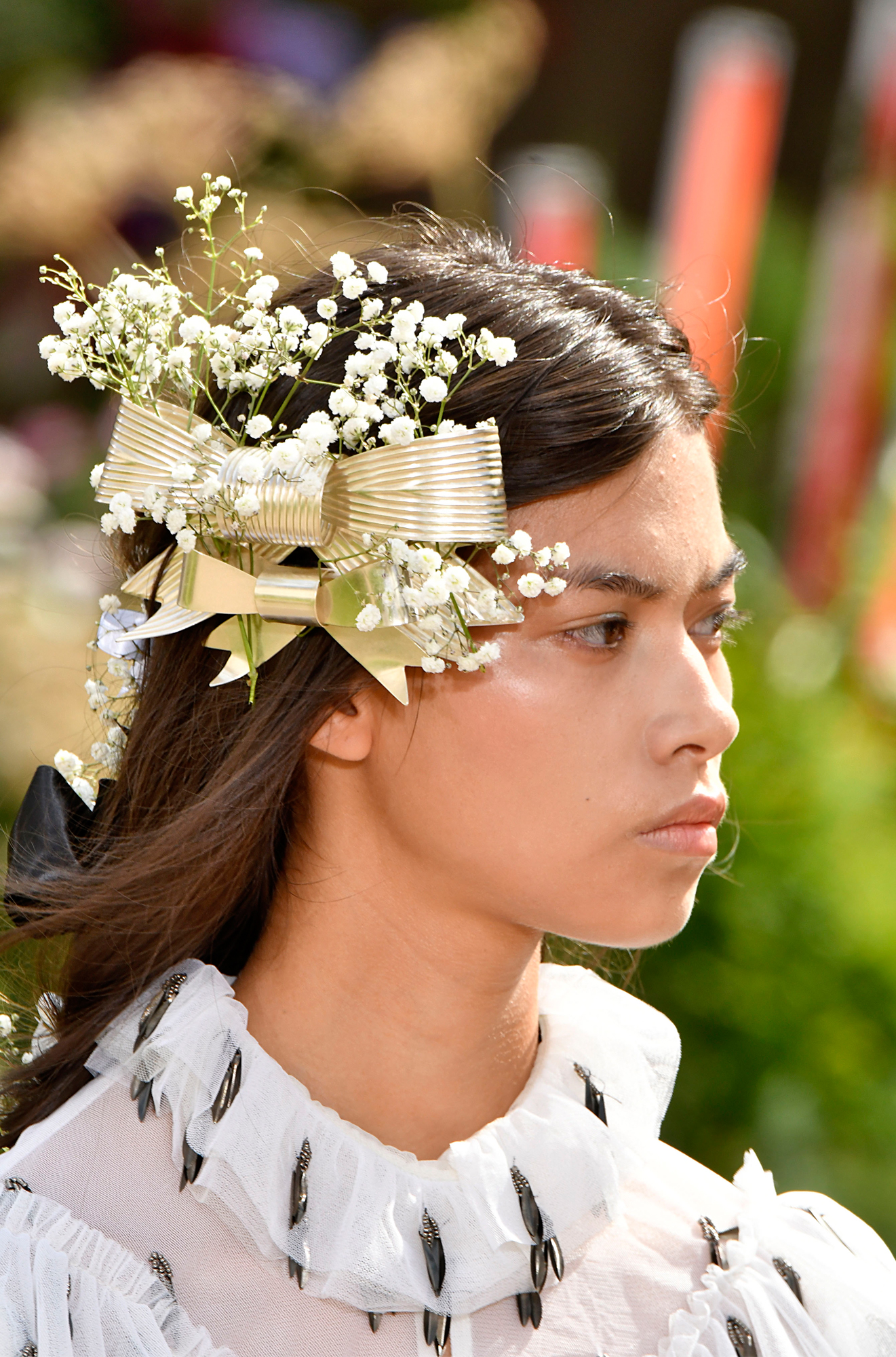 Photo: firstVIEW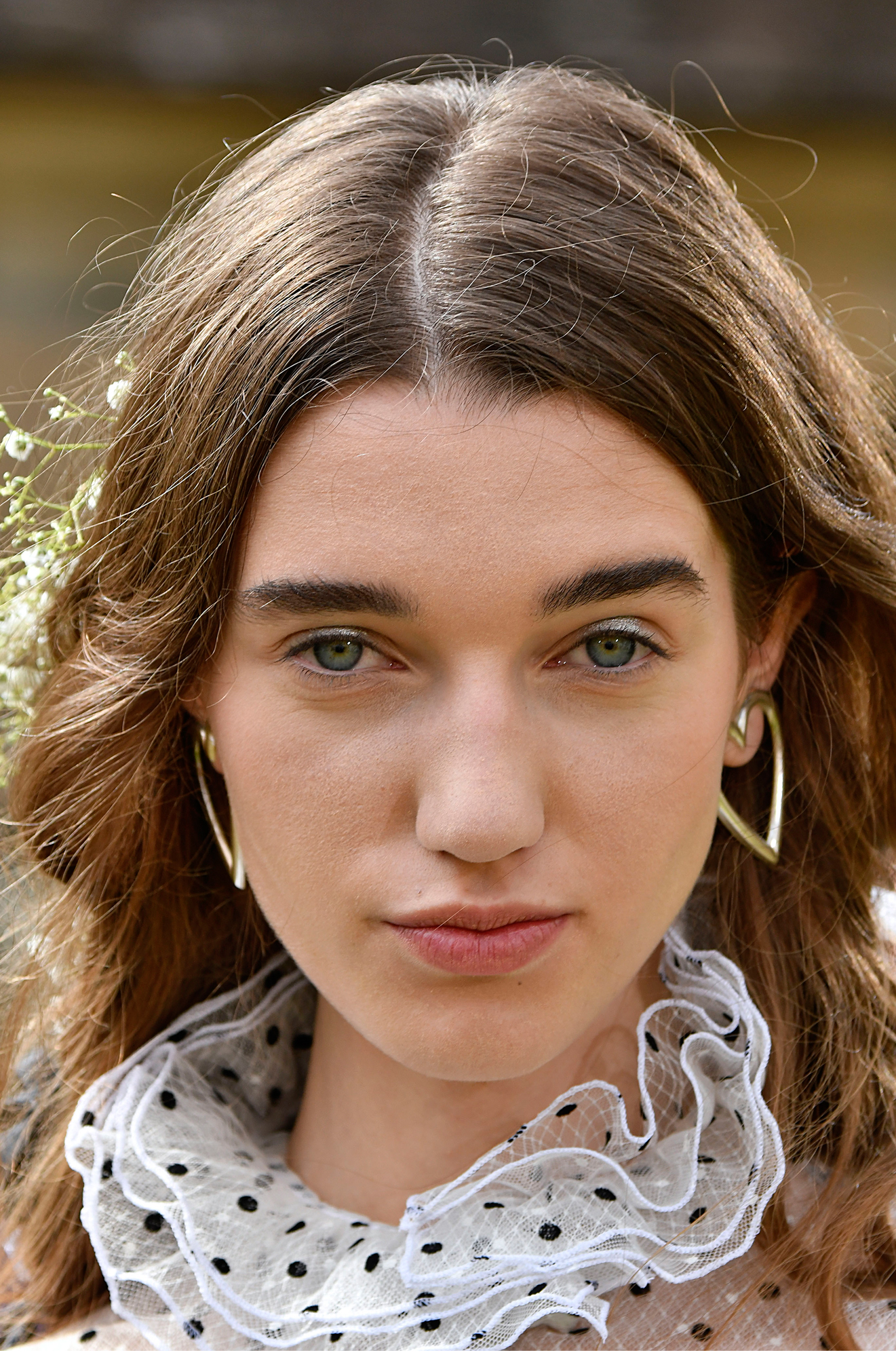 Photo: firstVIEW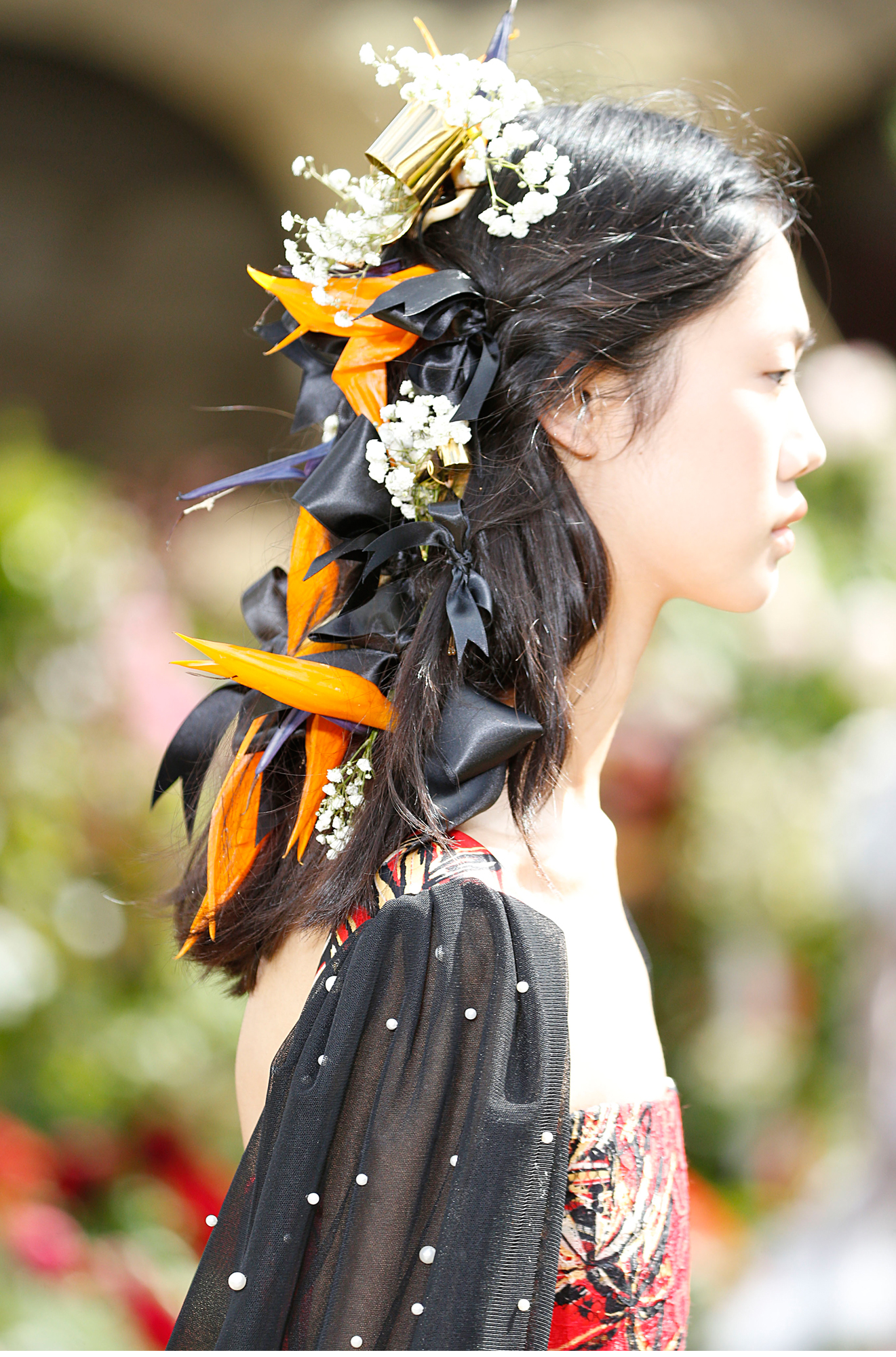 Photo: firstVIEW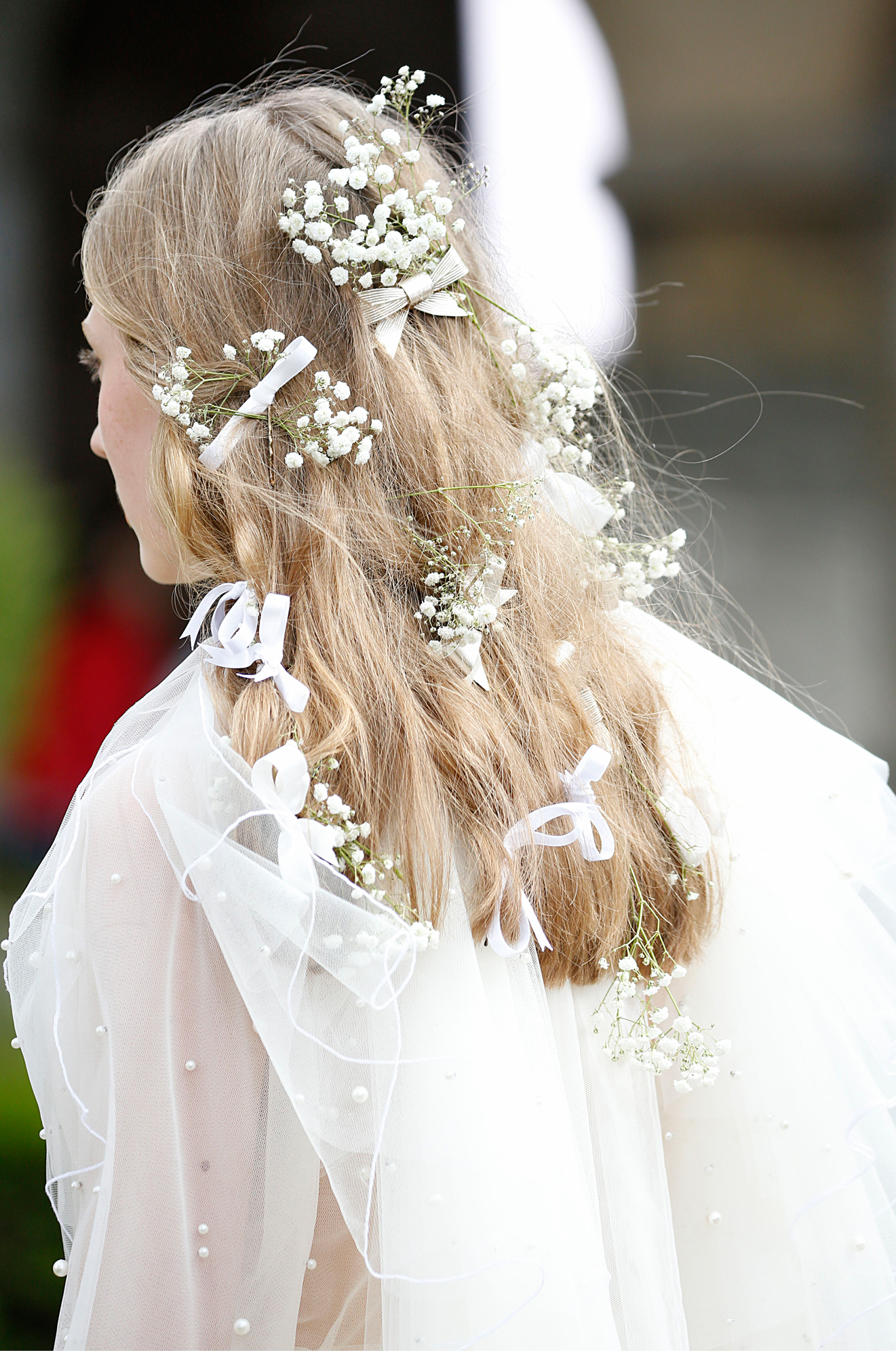 Photo: firstVIEW
0 Comment