The most Instagram traction Azzedine Alaïa's triumphant return (after a six-year hiatus) to the haute couture stage garnered may have come courtesy of show opener, closer, and longtime acolyte, Naomi Campbell, and a platinum-coiffed Karlie Kloss (who did, admittedly, slay in her look: a black, tea-length number lined with rows of thick pleats that recall bullet bandoliers). But when our eyes weren't fixated on the lavish intricacies of the gowns they were trained on Rossy de Palma.
Much to our voyeuristic delight, the Spanish actress was a front row fixture this couture week: there she was at Jean Paul Gaultier (whose runway she has also walked a number of times), Valentino, Elie Saab, Dior, Armani Privé, Giambattista Valli, and Schiaparelli. Her brand of beauty—pitch black hair, lively eyes, toothy smile, and features sharp and ever so slightly askew—has been likened to a Picasso painting sprung to life and would qualify as what the French call jolie laide: directly defined as "pretty ugly," it's better explained as unconventional, singular, striking. All of these unique features attracted Alexander McQueen, who gave de Palma her first fashion gig: a spot in his Givenchy haute couture show in 1996.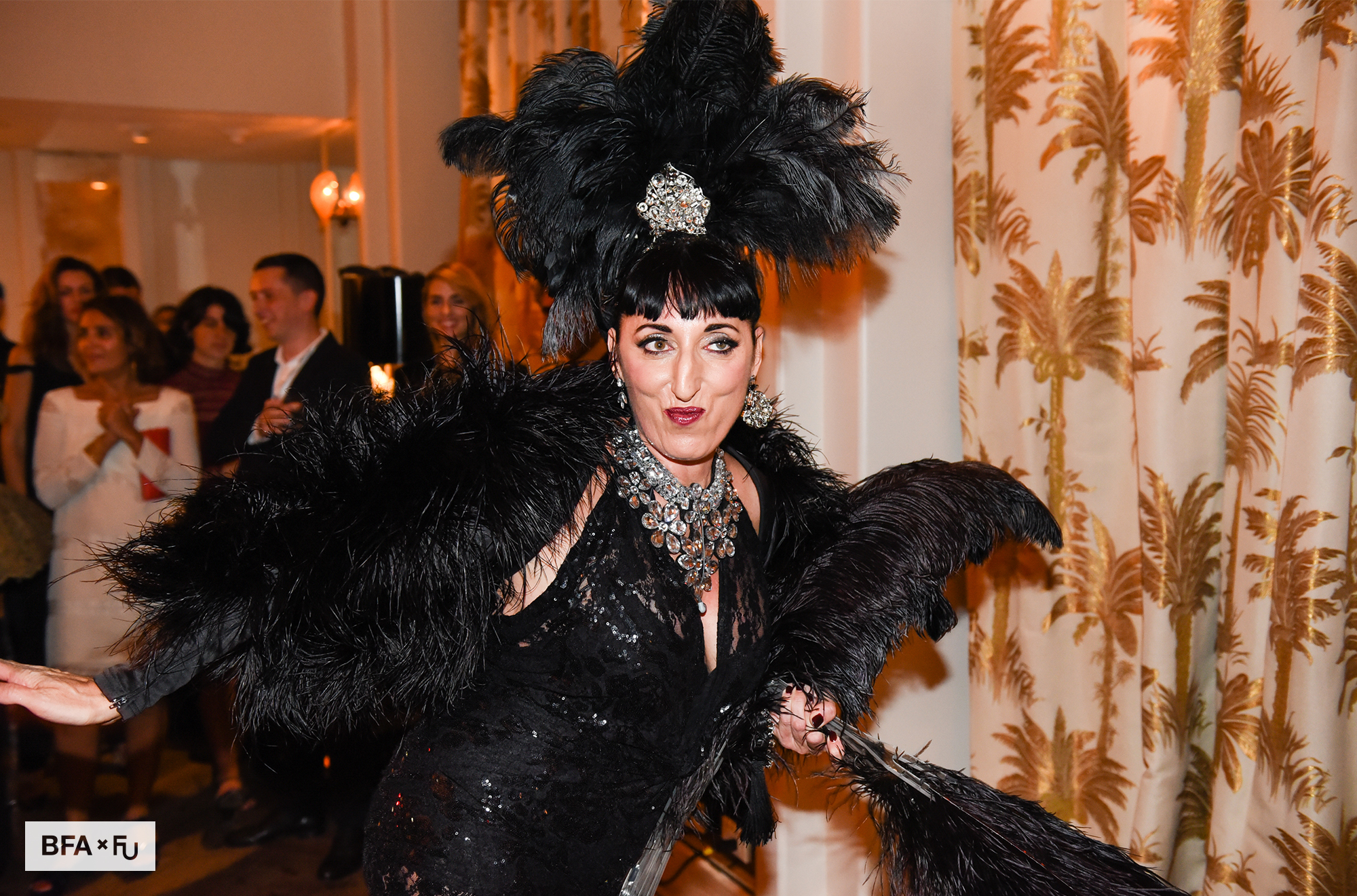 Photo: BFA.com. View more at BFA.com.
De Palma's dramatic look is also what first caught the eye of director Pedro Almodóvar, who spotted her in a Madrid café playing with her band Peor Imposible (translation: the worst possible) and cast her in his 1987 film Law of Desire, what would be the first of many roles. (Most recently, she appeared in Julieta). Countless male directors have an actress (or actresses) who is their muse: Gena Rowlands for John Cassavetes; Anna Karina for Jean-Luc Godard; Diane Keaton, Mia Farrow, and more recently, Scarlett Johansson and Emma Stone, for Woody Allen. Almodóvar is no exception, and that he is uniquely adept at recounting stories about women with all their glorious complexities, is largely thanks to the regular cast of strong actresses of varying appearance, and more importantly, age (he has publicly lambasted Hollywood for their "diabolical sexism" and obsession with youth), he puts at the helm: Penélope Cruz, Marisa Paredes, Julieta Serrano, Carmen Maura, Chus Lampreave, Lola Dueñas, Blanca Portillo, and, of course, de Palma.

As he once rhapsodized to The New York Times: "I like working with people who are photogenic, which has nothing to do with how beautiful you are. The camera decides who it likes and who it rejects. Penélope is very well-treated by the camera, but at the same time I also adore Rossy de Palma, whose beauty is unbalanced in comparison. Her face is cinematic, expressive and beautiful." A rare bird that we too can't keep our eyes off.

0 Comment