When it comes to Couture and the six-figure dresses that saunter down the runways, there's not much for the fashion enthusiast who didn't fly to gay, old Paree on a private jet to take away the week aside from inspiration. These fantasy clothes—especially those from innovative houses like Maison Margiela, Iris van Herpen, and Azzedine Aläia (all hail the designer's return after a six-year hiatus!)—are spun out of dreams…and undoubtedly, lots of time and money.

The great equalizer, however, will always be the imaginative hair, makeup, and nails that the maestros of the beauty world devise behind the scenes. While that breathtaking bridal gown that rounded out the sartorial spectacle at Chanel is well out of the reach for many, that twisted tail or those rainbow eyes are absolutely affordable for those wanting to make a splash on their big day…and can't ride down the aisle on a Gaultier tricycle like Coco Rocha. And will we ever look at baby's breath (the epitome of a filler flower) the same after Rodarte's memorable romp? More traditional trends—like the red lip, bold brow, smoky eye, classic curls, and basic pony—also received a Couture-worthy upgrade this season.
Here, we rounded up the best, budget-friendly beauty lessons from runway so you can look like a million bucks.
Lesson #1: When in doubt, reach for red.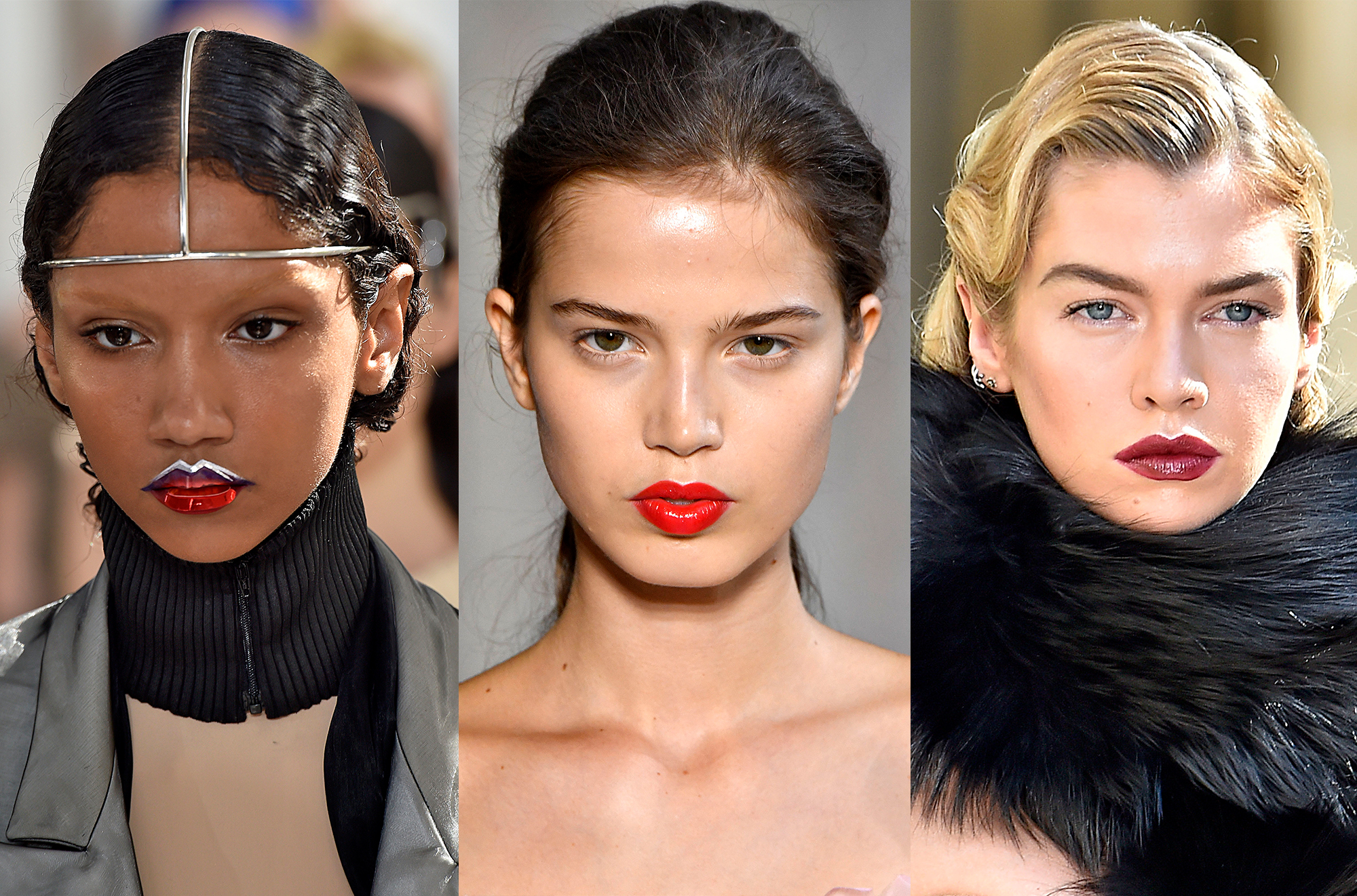 Photos: firstVIEW
Where we saw it: Maison Margiela, Giambattista Valli, Ulyana Sergeenko, Viktor & Rolf, Miu Miu, and Ronald van der Kemp

From foil-layered lips that sparkled like rubies at Maison Margiela to "lollified" pouts at Giambattista Valli to glamorous matte mouths that simultaneously recalled Old Hollywood and "Russian espionage" at Ulyana Sergeenko, classic crimson was the color du jour. To really make your go-to tube of red pop, layer it with a matching powder like makeup artist Val Garland.
Lesson #2: You can teach an old pony new tricks.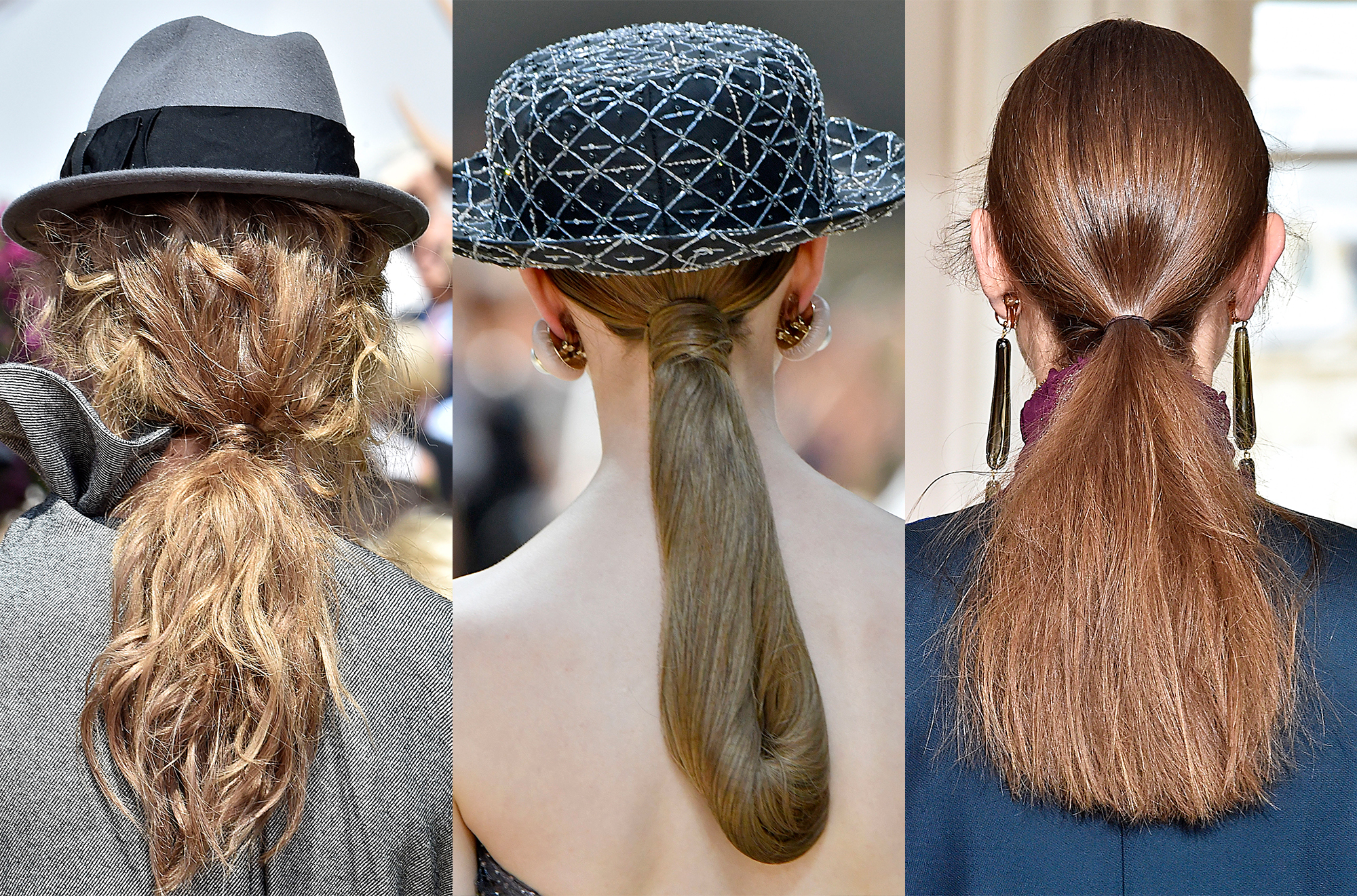 Photos: firstVIEW
Where we saw it: Dior, Chanel, Schiaparelli, Giambattista Valli, Guo Pei, Valentino, and Miu Miu
These ponies were designed to be trotted to places far more fabulous than the gym. The variations on the traditional tail at Couture ranged from sleek and center-parted (Schiaparelli) to romantic, windswept, and waved (Dior). Mane master Sam McKnight's elegant twist on the beauty classic at Chanel, however, was anything but ordinary. The pro extended models' natural length, twirled the tail, and secured the end around the base of the pony before encasing it a net "almost like a snood." Chic.
Lesson #3: Go for the gold…and silver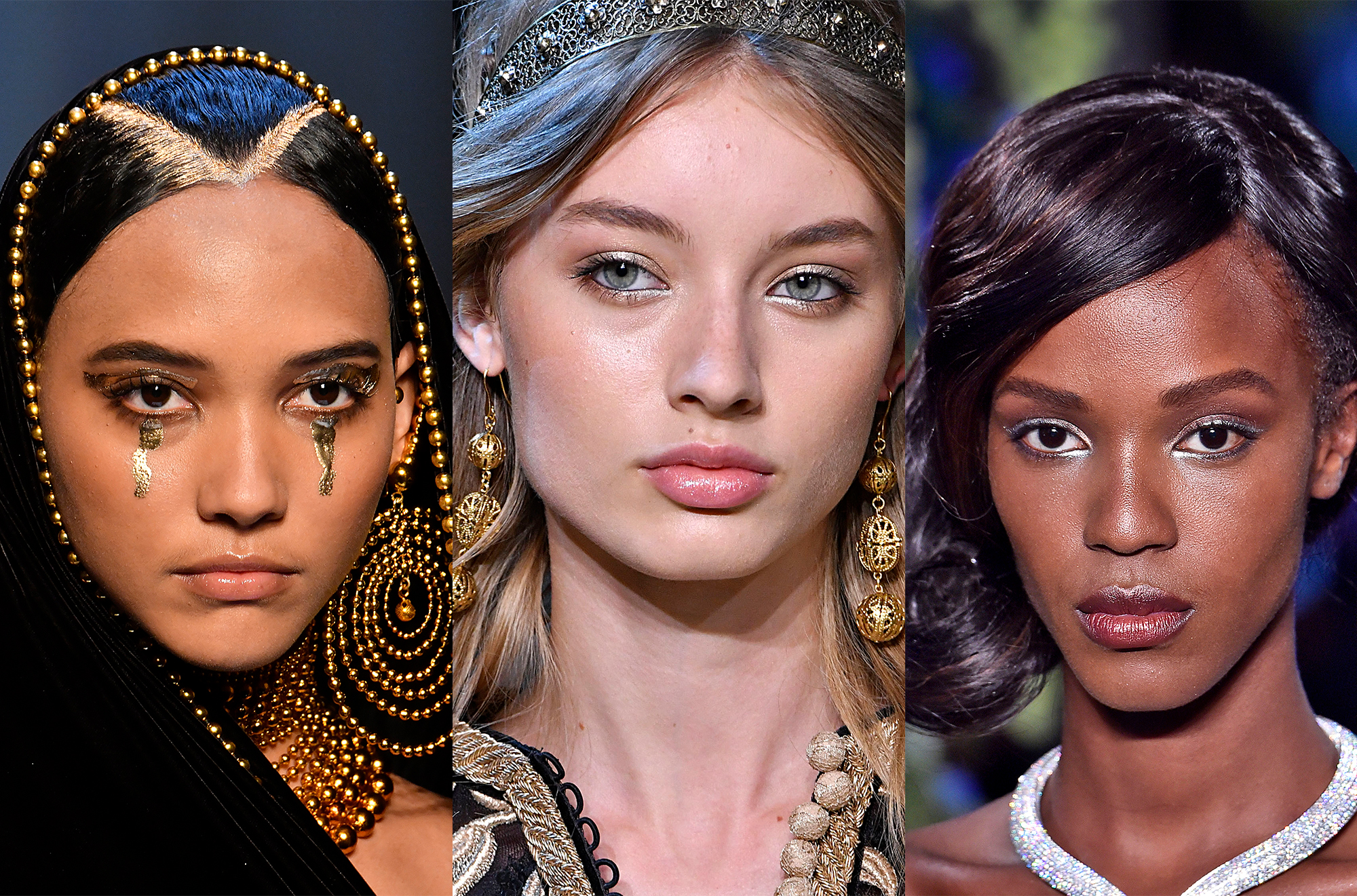 Photos: firstVIEW
Where we saw it: Jean Paul Gaultier, Elie Saab, Guo Pei, Valentino, Rodarte, Dior, Maison Margiela

Molten metallics looked major on the catwalk. For those who prefer a subtler approach to a face full of sparkle, try adding a silver highlight around the inner corners of eyes like pros at Valentino and Guo Pei. Or, up the ante with a wash of white, yellow, copper, and pink gold across lids and cheekbones like Tom Pecheux at Elie Saab. If you really want to take things to the next level, look no further than the gilded parts, lids, arms, fingers, and tears at Jean Paul Gauliter. Even the designer himself got in on the action with a glittery, gold-rimmed ear.
Lesson #4: Bulk up your brows.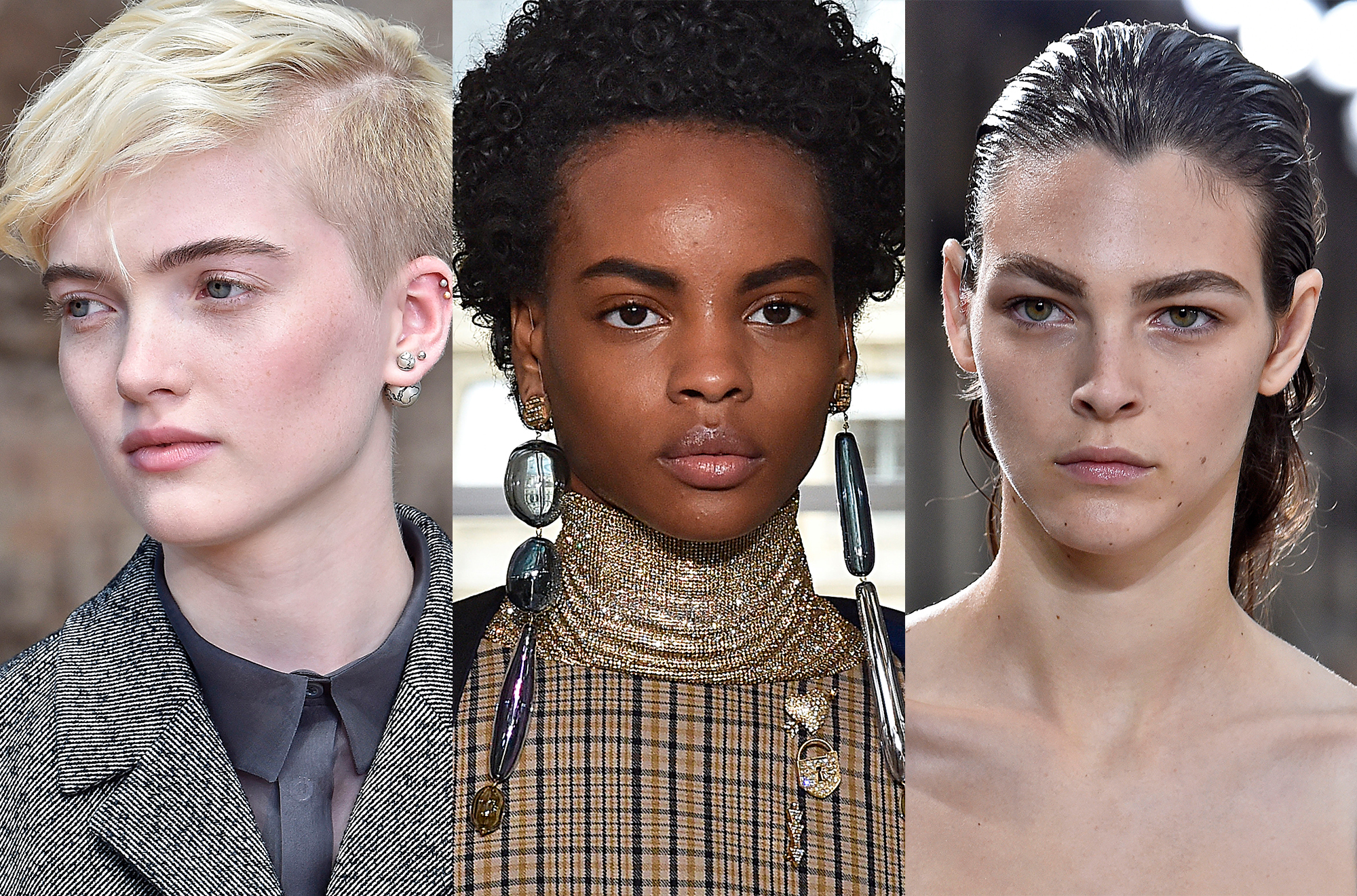 Photos: firstVIEW
Where we saw it: Dior, Schiaparelli, Proenza Schouler, Ulyana Sergeenko
There were plenty of bleached brows (a fashion week favorite), but unapologetically bold and bushy arches aren't going anywhere anytime soon. Makeup artist Diane Kendal added a single, strength-giving stroke across the tops of models' brows at Proenza Schouler, while Peter Philips filled in arches with a pencil, then zig-zagged a small spooly through the hair for a "boyish" effect. Cara Delevingne, eat your heart out.
Lesson #5: Crimps are cool again.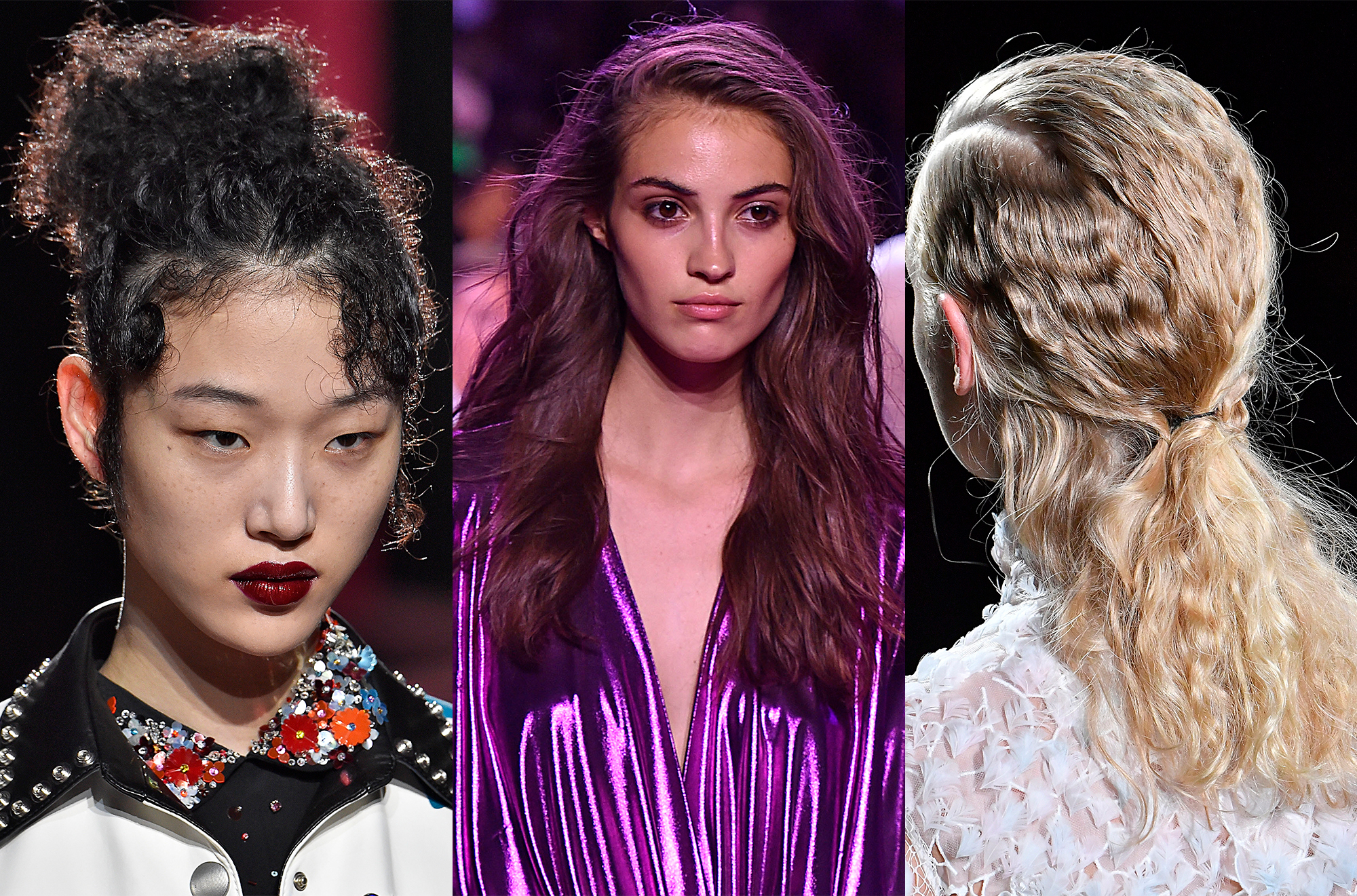 Photo: firstVIEW
Where we saw it: Miu Miu, Alexandre Vauthier, Fendi, Dior, Rodarte

Curls and coils of all shapes and sizes took their turn on the catwalk—from tight and tiny (Miu Miu Resort) to "loose disco waves straight out of Studio 54" (Alexandre Vauthier). There was plenty of natural texture, too. But the look we loved most was the crinkled hair accented by colorful fur pom-poms at Fendi. In lieu of a crimping iron, McKnight made tiny braids all over models' heads and unraveled them just before show time.
Lesson #6: Smoky doesn't necessarily mean black.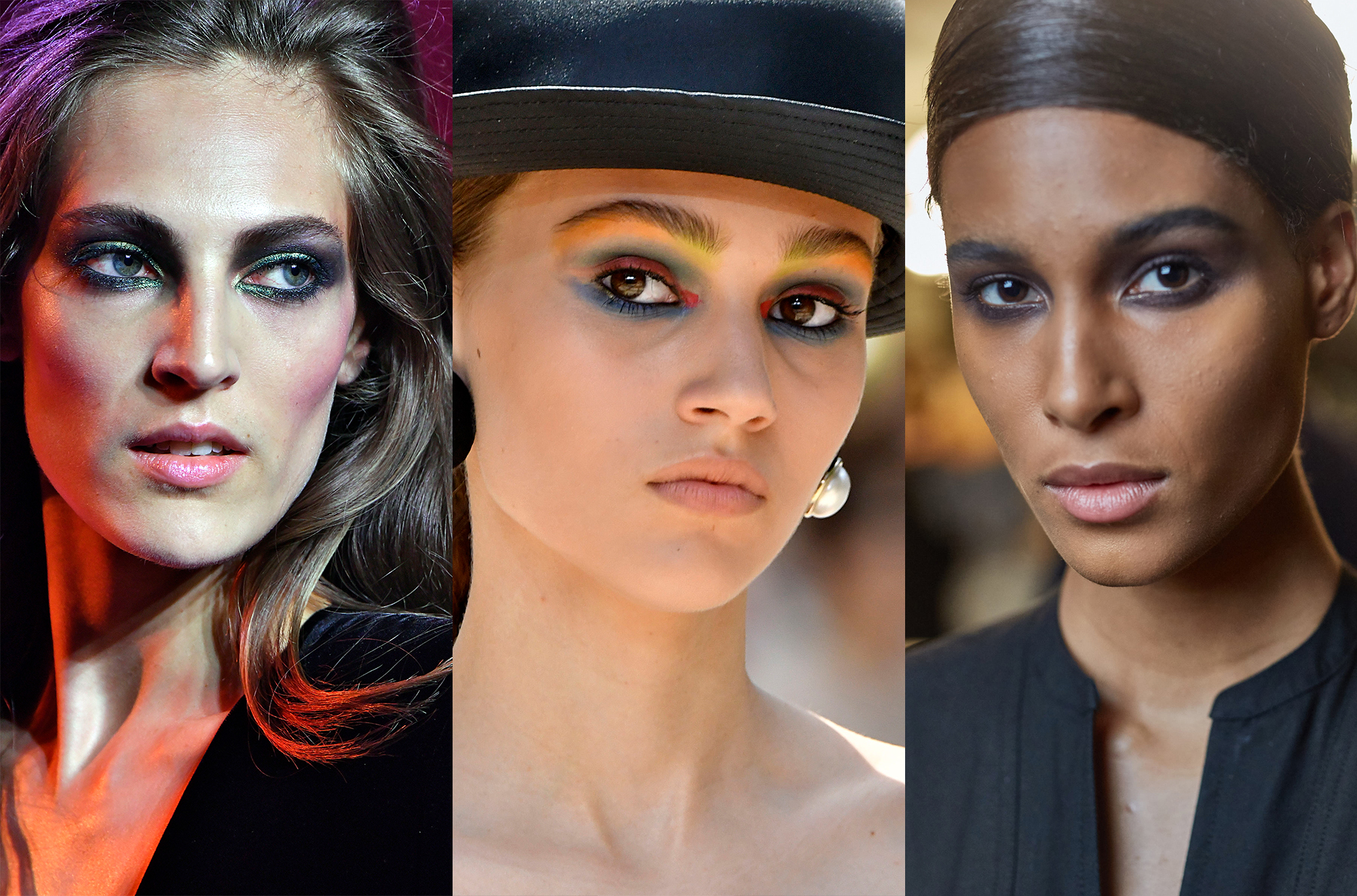 Photo: firstVIEW
Where we saw it: Alexandre Vauthier, Chanel, Armani Privé

Talk about a smoke show—beauty pros injected traditional smoky eyes with full-throttle color for Couture. Makeup artist Linda Cantello crafted an "enigmatic" eye at Armani Privé with a wash of grey, plum, pewter, white, and gold from the house's forthcoming holiday palette, while Lisa Butler created a sultry effect on supermodels like Bella Hadid via glimmering green and violet shadows. Pecheux took a more painterly approach, using nearly every color in a box of Crayolas to create the mesmerizing rainbow lids at Chanel.
Lesson #7: A bride should think outside her bouquet.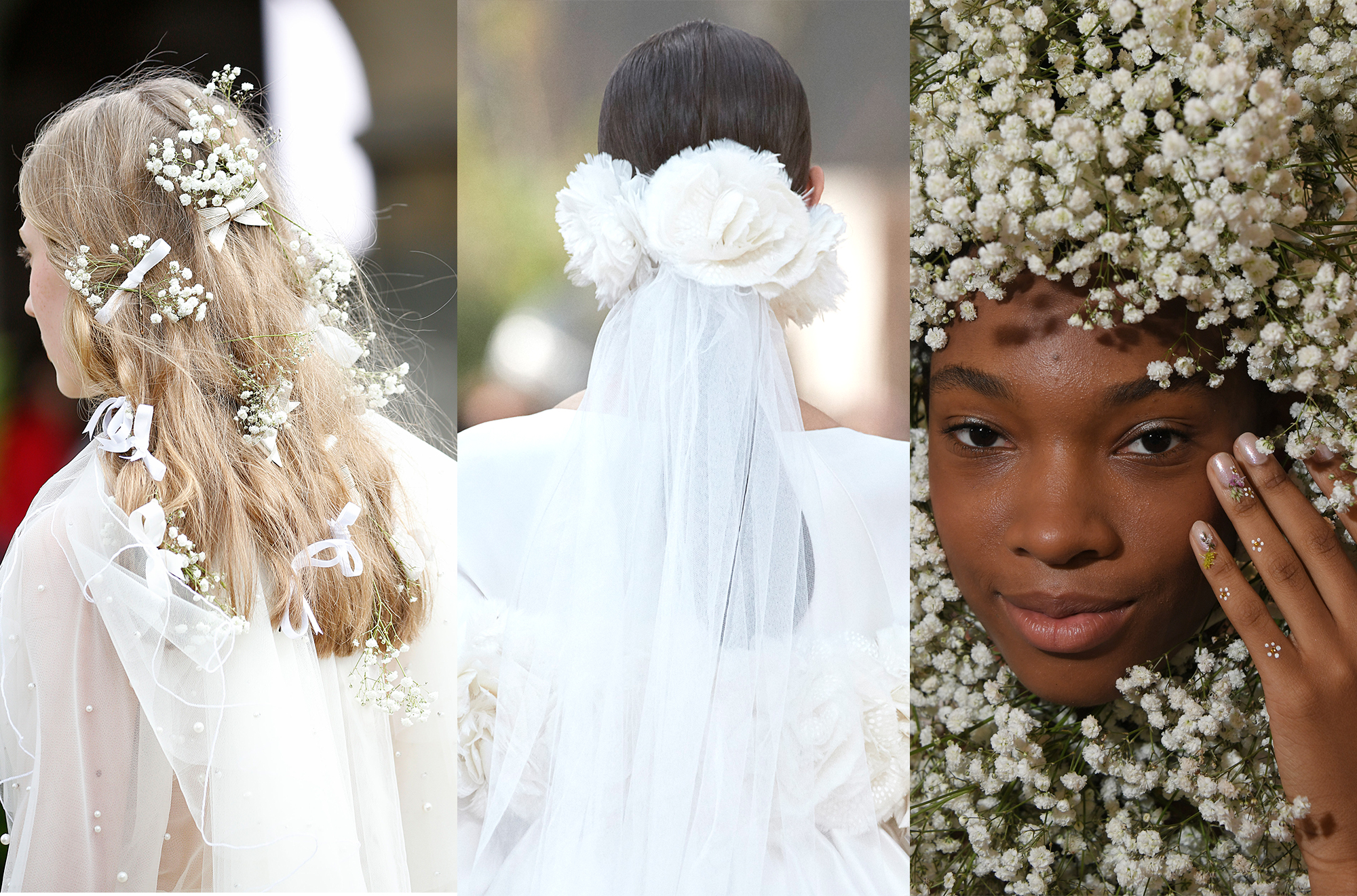 Photos: firstVIEW
Where we saw it: Rodarte, Chanel, Jean-Paul Gaultier

There was something for every bride on the Couture catwalks—especially those with unlimited budgets. But it was the out-of-the-box beauty ideas that caught our attention. Cliché flower crowns were replaced by delicate clusters of baby's breath scattered through strands, or a fluffy cloud of flora encircling one model's face at Rodarte's first romp in Paris. Coco Rocha pedaled down Jean Paul Gaultier's catwalk with a triangular part gilded with glimmering gold paint and a vampy bordeaux lip, while 19-year-old stunner Camille Hurel closed Chanel with feathery camellia flowers tucked into her twisted ponytail. To complete any look, adhere bitty blooms to your fingertips with eyelash glue like manicurist Tracylee at Rodarte...and skip the traditional bouquet.
0 Comment