Saks Fifth Avenue's flagship location in Manhattan is continuing its shift into becoming a destination shopping center, rather than just another luxury New York department store. When opening The Terrace last summer, the retailer was looking to create a space for customers to take a break. This week, Saks is pushing the idea even further with the launch of The Wellery, a pop-up space devoted entirely to health, fitness, relaxation, and beauty.
"We hope that it's a sanctuary for your soul and inner being. Saks has always been the destination for bringing fashion and luxury to our customers, but this is now a whole different experience," explained Saks' fashion director Roopal Patel.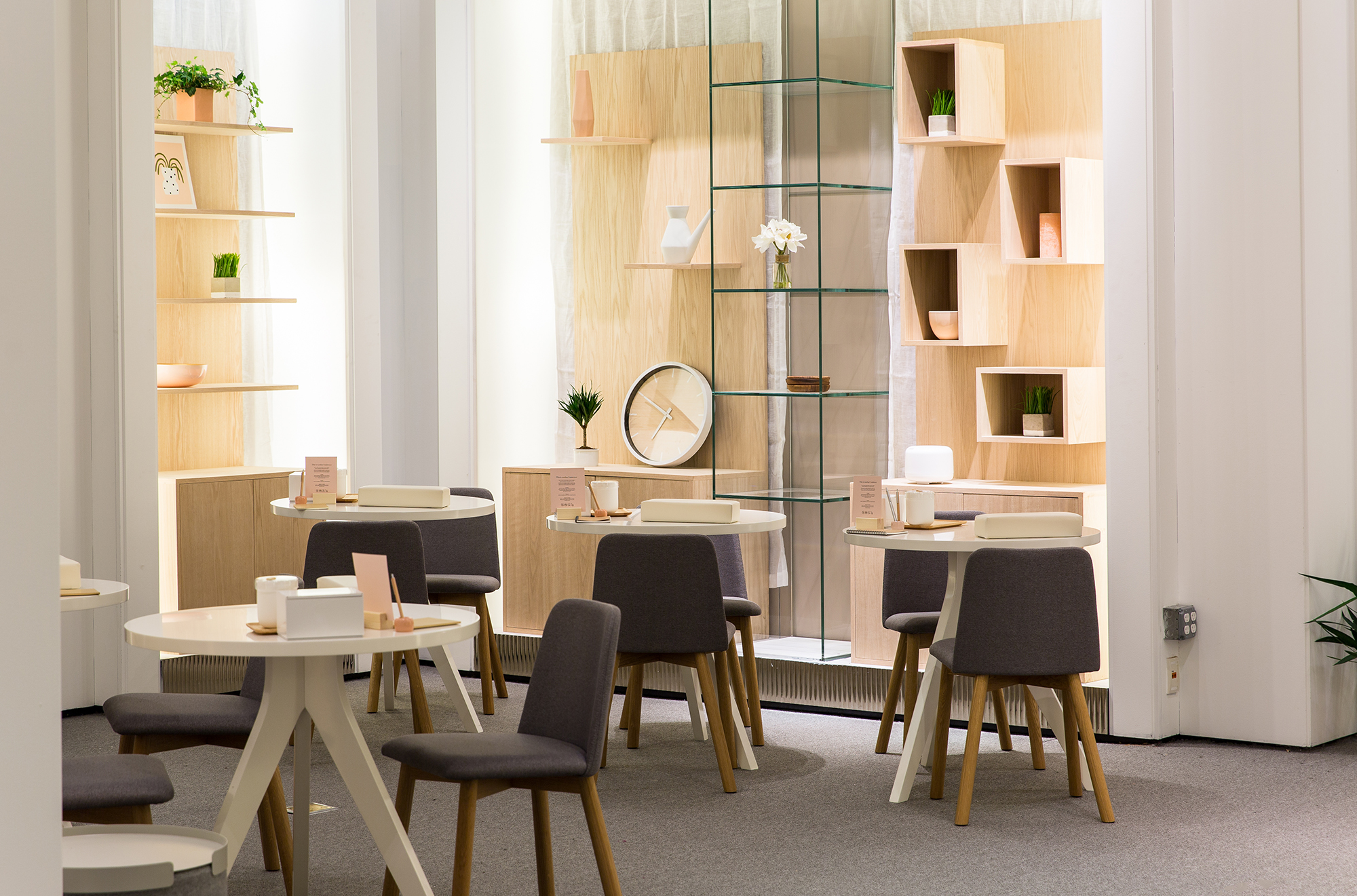 The Sundays nail salon in The Wellery at Saks Fifth Avenue
Photo: Courtesy of Saks Fifth Avenue
The Wellery features an array of vendors and services, including beauty treatments and products from MedSpa, Blink Brow Bar, Trish McEvoy, and Glow Recipe. Perhaps the most intriguing offering, however, is ConBody, a prison-style workout routine developed by ex-con and "kingpin" Coss Marte. While ex-convicts and luxury goods don't seem like an obvious match at first, let's just say if you can run a multi-million dollar cocaine ring and lose 70 pounds in a cell (as Marte did while serving time), then you've got yourself a business coaching shoppers armed with AmExes who want to buy a body-con dresses after class. Even better, Marte's ConBody gives ex-convicts the rare opportunity to bring their skill set to (high) society. The FU staff will be the first in line to sign up for a workout by Sultan Malik, an instructor fresh out of Auburn Correctional who served seven years in solitary confinement, and according to his bio, "really understands how to use limited space." (Hell, our NYC apartments are practically cells, so we figure we'll sweat as well as take away some practical advice for burning calories in the confines of our own homes.) For shoppers who prefer straight chilling in a spa-like environment to prison-style bootcamp, there are "meditative" manicures from Sundays Nail Studio and glass chambers featuring detoxifying millennial pink salt from Breathe (perfect for urban warriors or allergy sufferers hoping to counteract the city's ever-increasing pollution).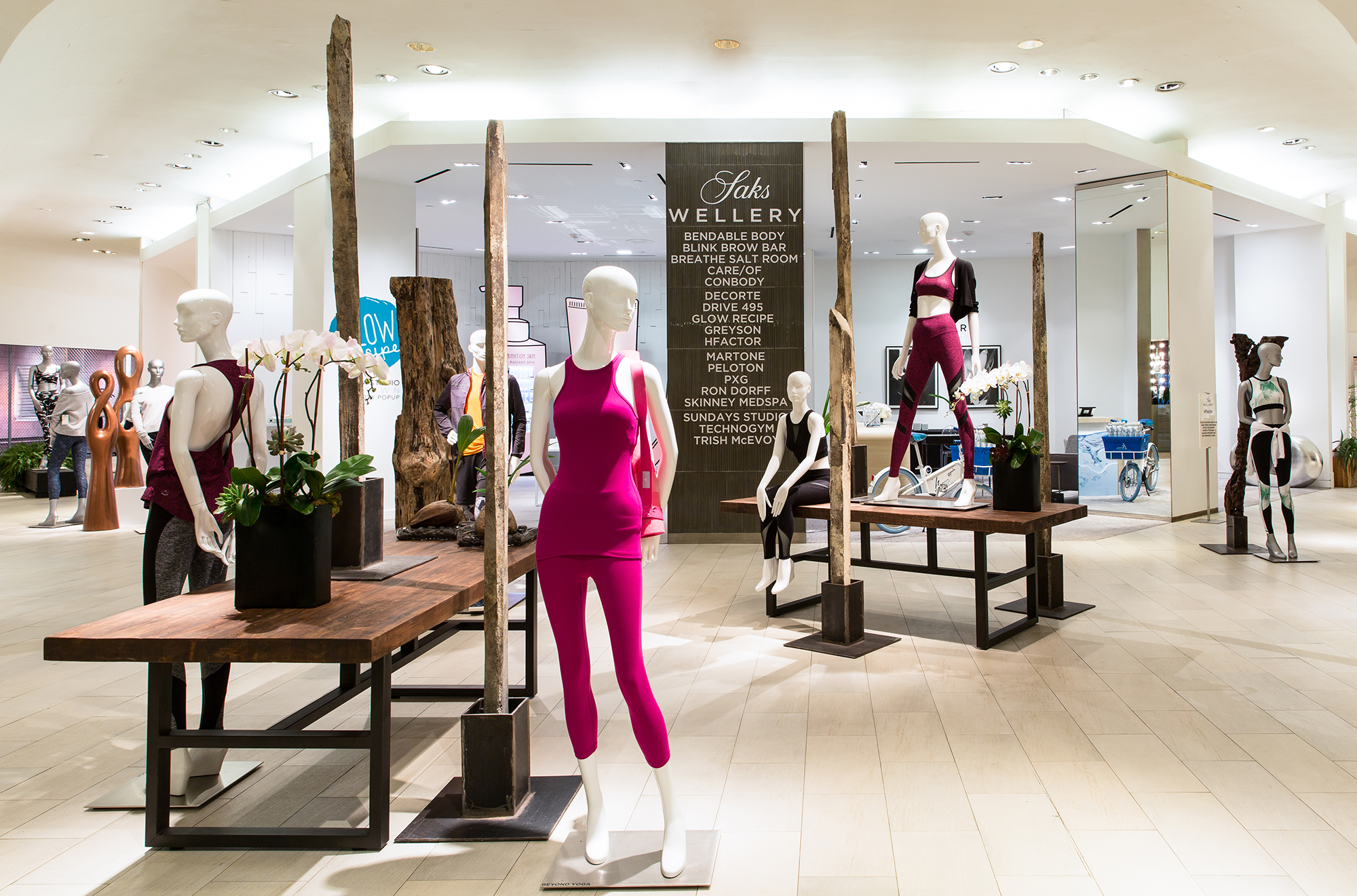 The Wellery at Saks Fifth Avenue
Photo: Courtesy of Saks Fifth Avenue
"When we started the idea was going to be on this floor and what was going to be in this pop-up space, the idea of 'wellness' came to mind, the team actually sat around in a room and we pulled upon our own personal experiences," Patel said of how the project came together. "It was really a personalized curation of brands when you come to the floor, of what the Saks team thought customers would enjoy experiencing."
If you want to experience The Wellery, do it sooner rather than later. As a pop-up, it will only be around until October—after that, Saks moves forward with renovations to transform the space into the new beauty floor. "It's a complete gut-renovation," she said. "It's going to be very personalized—the idea of the beauty floor is really to have it be more of an intimate experience."
In the meantime, the brick-and-mortar is hoping to offer something online shopping just can't: an experience. As life in New York is increasingly hectic, Saks is hoping to draw customers in by providing a reprieve (or a killer workout like the kind you see on MSNBC's Lockup). "Wellness means balance. Wellness means your inner peace and your inner sanctuary are really maintained. I think that's when we look at The Wellery, it is about bringing those properties and principals together," said Patel. "I like that these are experiences that are looking to target that inner wellness, that inner being in a really spiritual way."
The Wellery is now open at Saks Fifth Avenue in Manhattan, and will run through October. 611 Fifth Avenue, 2nd floor, New York, NY, 212-753-4000.
0 Comment