Thanks to the frantic pace of the digital age, the average person has the attention span of a goldfish. (No, seriously. This is a fact supported by an actual study.) Seeing as the fashion sphere changes its mind even faster, we decided to provide you with a condensed report from backstage this season. As much as we'd like to pen novels in the name of lipstick and hairspray, we get it—you're busy. Here, the beauty version of CliffsNotes (all facts, no fluff) that you can easily skim in eight seconds...because science says that's all the time you have.

SHOW: Versace
CITY: Milan
KEY PLAYERS: Makeup artist Pat McGrath, Hairstylist Guido Palau
THE LOOK: "She's tough, but she always oozes sexuality," explained Palau of the Versace woman. "That comes from both her hair and her attitude."
INSPO: "[The look] reflects what we see on the streets, which is girls using their hair color as a cosmetic idea," said Palau.
BEAUTY MVPs: Black Cream and Pigment (quite possibly a new launch from Pat McGrath Labs), Redken City Beats Bold Semi-Permanent Haircolor, Redken Pillow Proof Blow Dry Express Treatment Primer
TOP TIPS: Use hair color as an "accessory," but keep the texture "easy," said Palau of the vivid extensions custom dyed by Josh Wood. The pro created undone waves by drying hair with just his fingers and bit of primer in lieu of a brush, then he clipped in the pre-colored pieces—kicking them up a bit with a curling iron if needed. "I don't want a sheet of hair, it should look blended," Palau said. Streaks of sunny yellow, lipstick red, traffic cone orange, and sky blue instantly amped up strands belonging to supermodels like Bella and Gigi Hadid, Amber Valletta, and Anja Rubik. Behati Prinsloo even made her return to the runway looking fresh despite giving birth just five months ago—proving to "cool moms" everywhere that bringing sexy back after baby is as easy as slipping into a thigh-baring mini, adding some tangerine highlights, and strapping on some Versace stilettos.
WORDS FROM THE WISE: McGrath celebrated the "return of Donatello's black eye" by creating an aerodynamic wing with an onyx cream and pigment—teasing that one of the products used to craft the graphic lid look might just be the next beauty brainchild from her namesake labs. "Maybe there was something mysterious used, who knows?" she laughed. Whatever it is, the key to making a strong statement eye work is to balance it with "fresh skin" that glows in all the right places thanks to strategically applied highlighter (like Skin Fetish).
TREND TALLY: Bold eyes were on deck at Versus and Prabal Gurung, while rainbow bright dye jobs were seen at Hayley Elsaesser, Ashley Williams, and Baja East.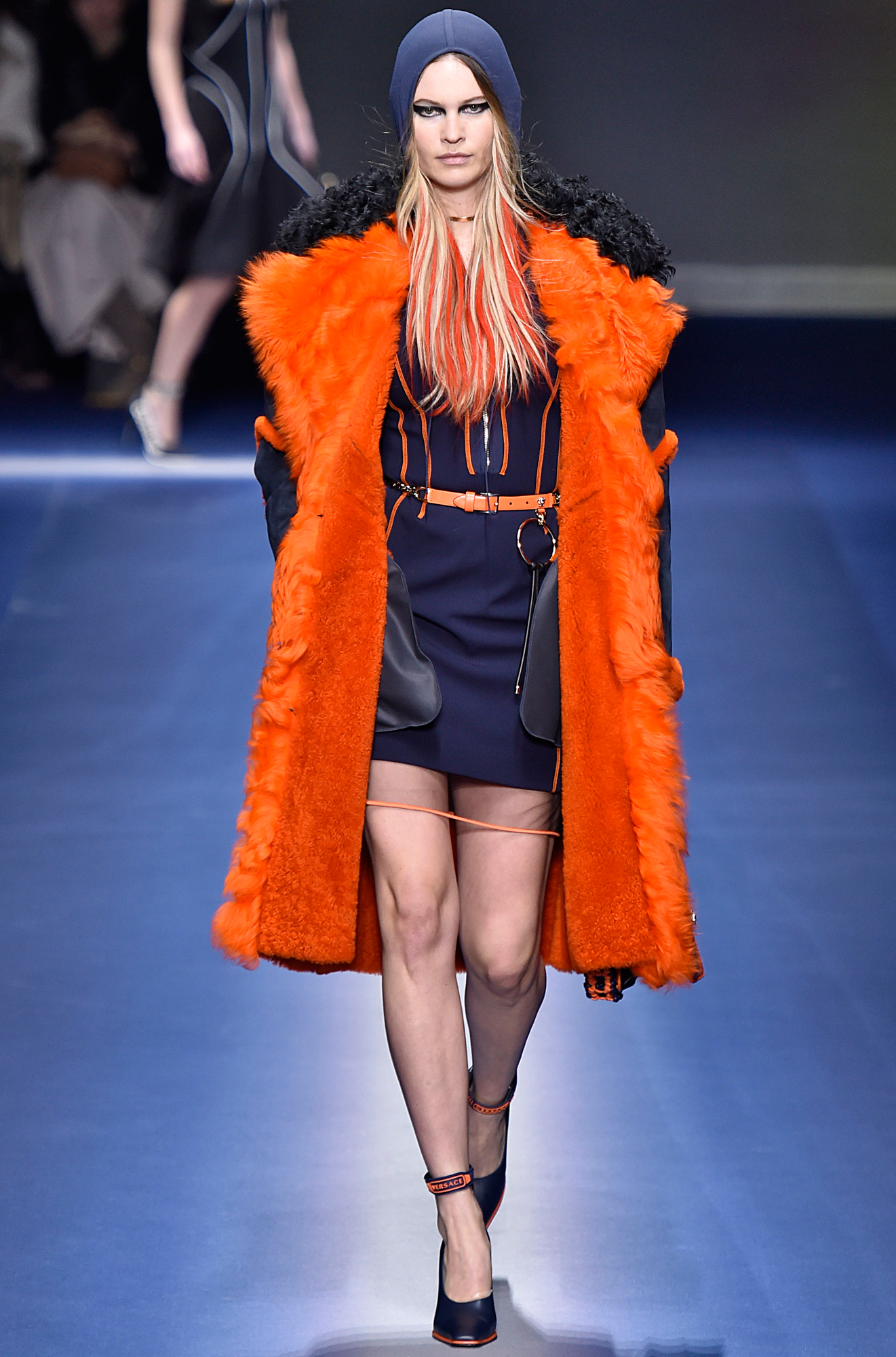 Photo: firstVIEW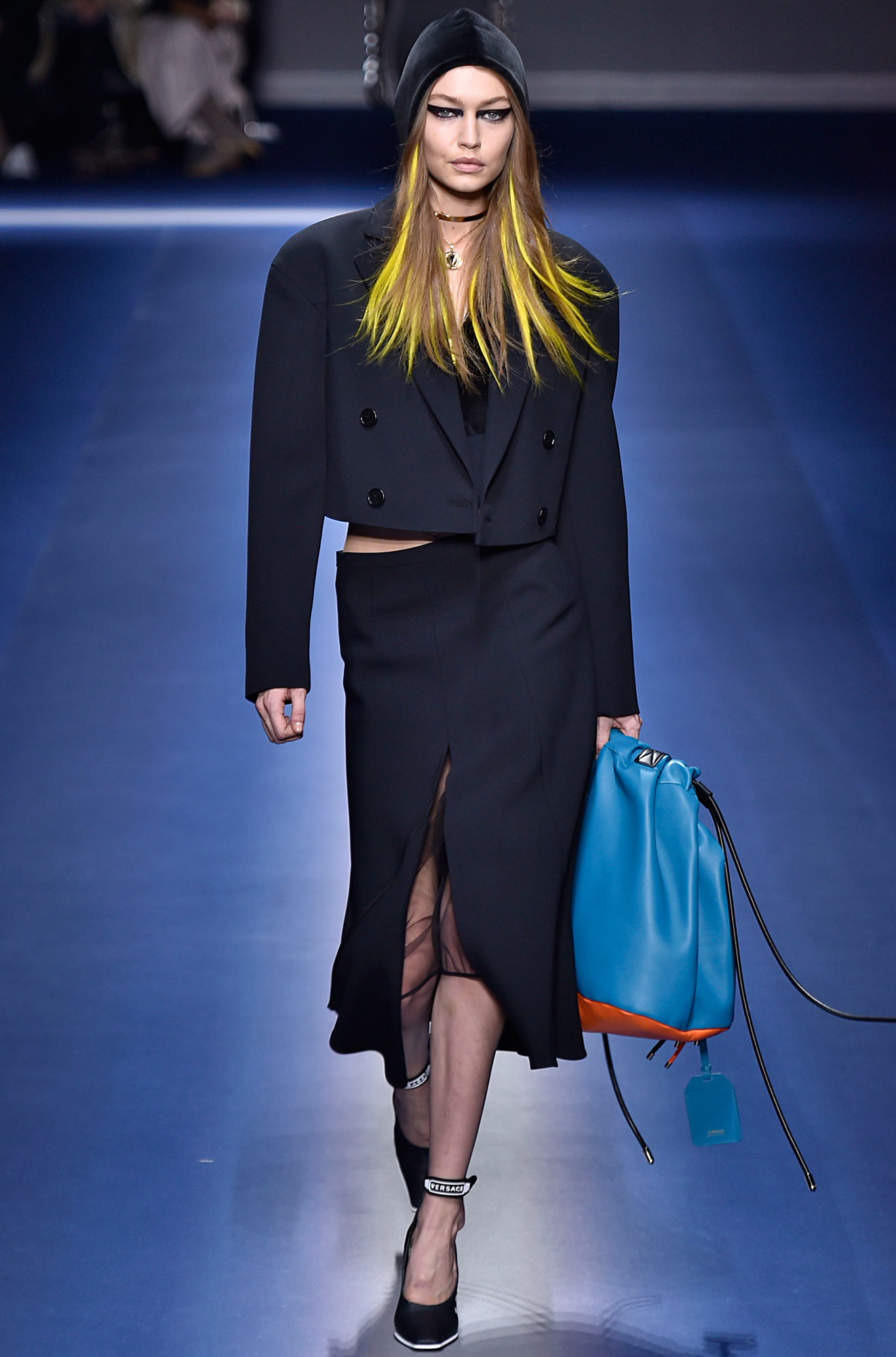 Photo: firstVIEW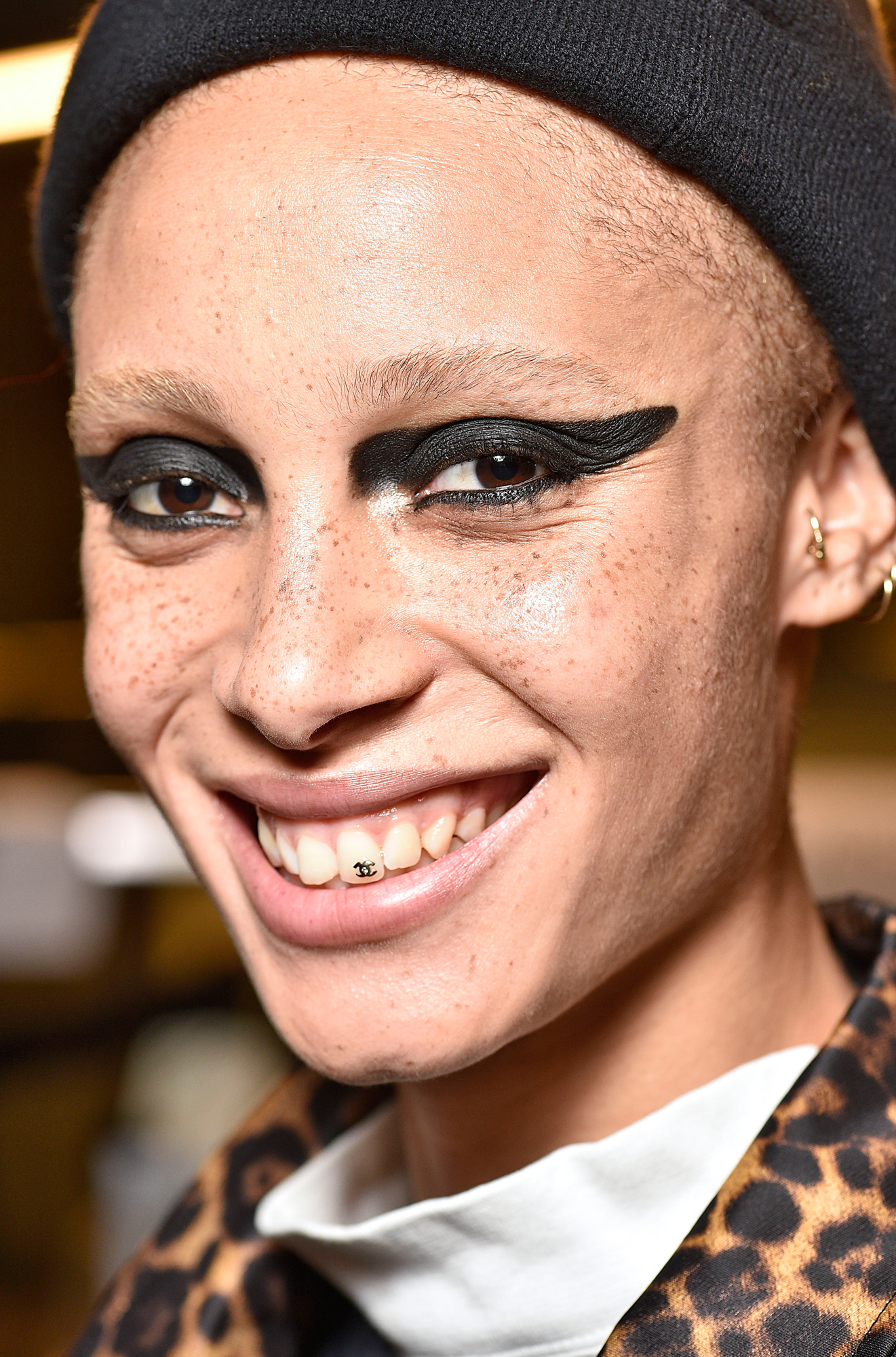 Photo: firstVIEW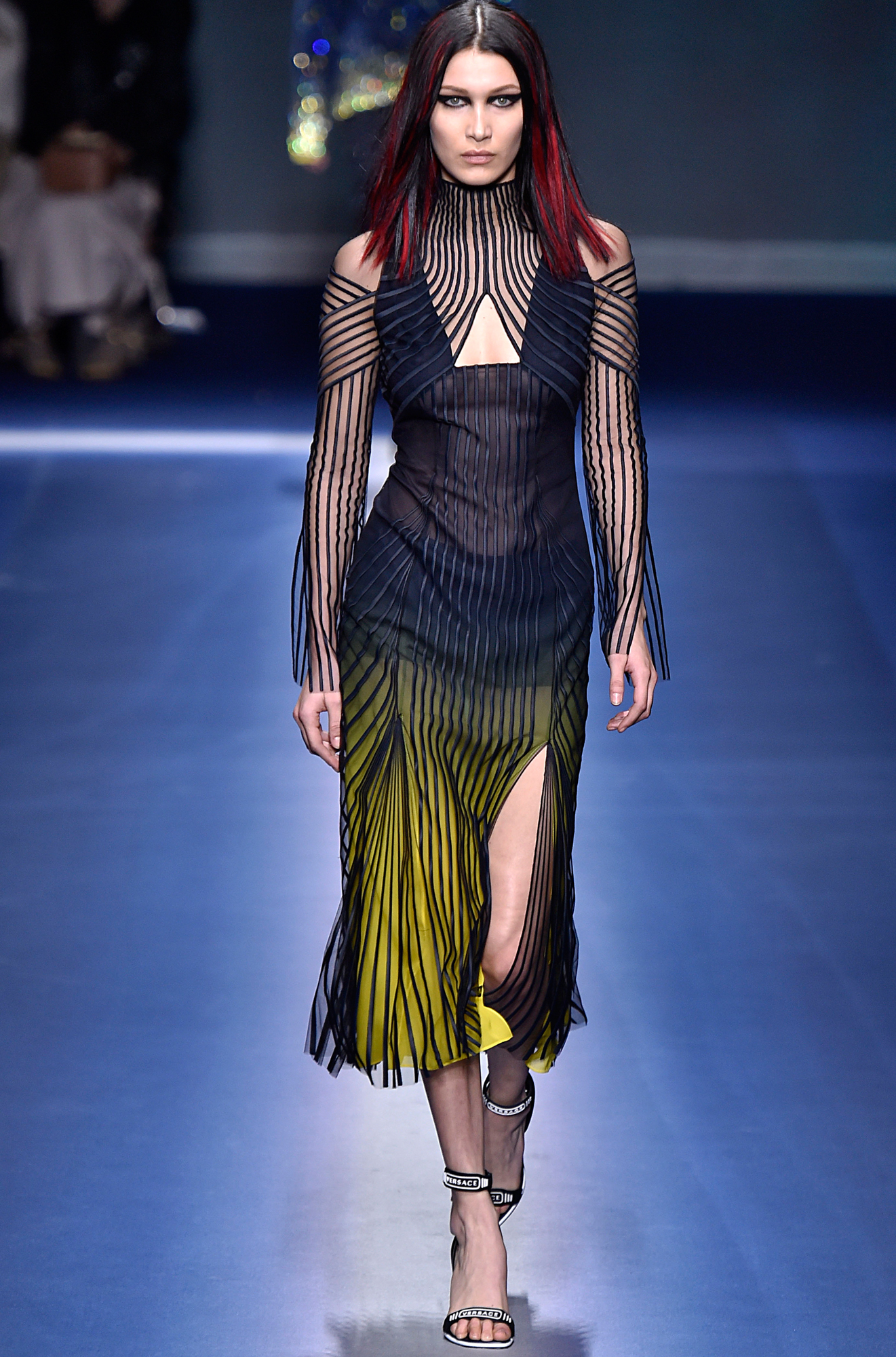 Photo: firstVIEW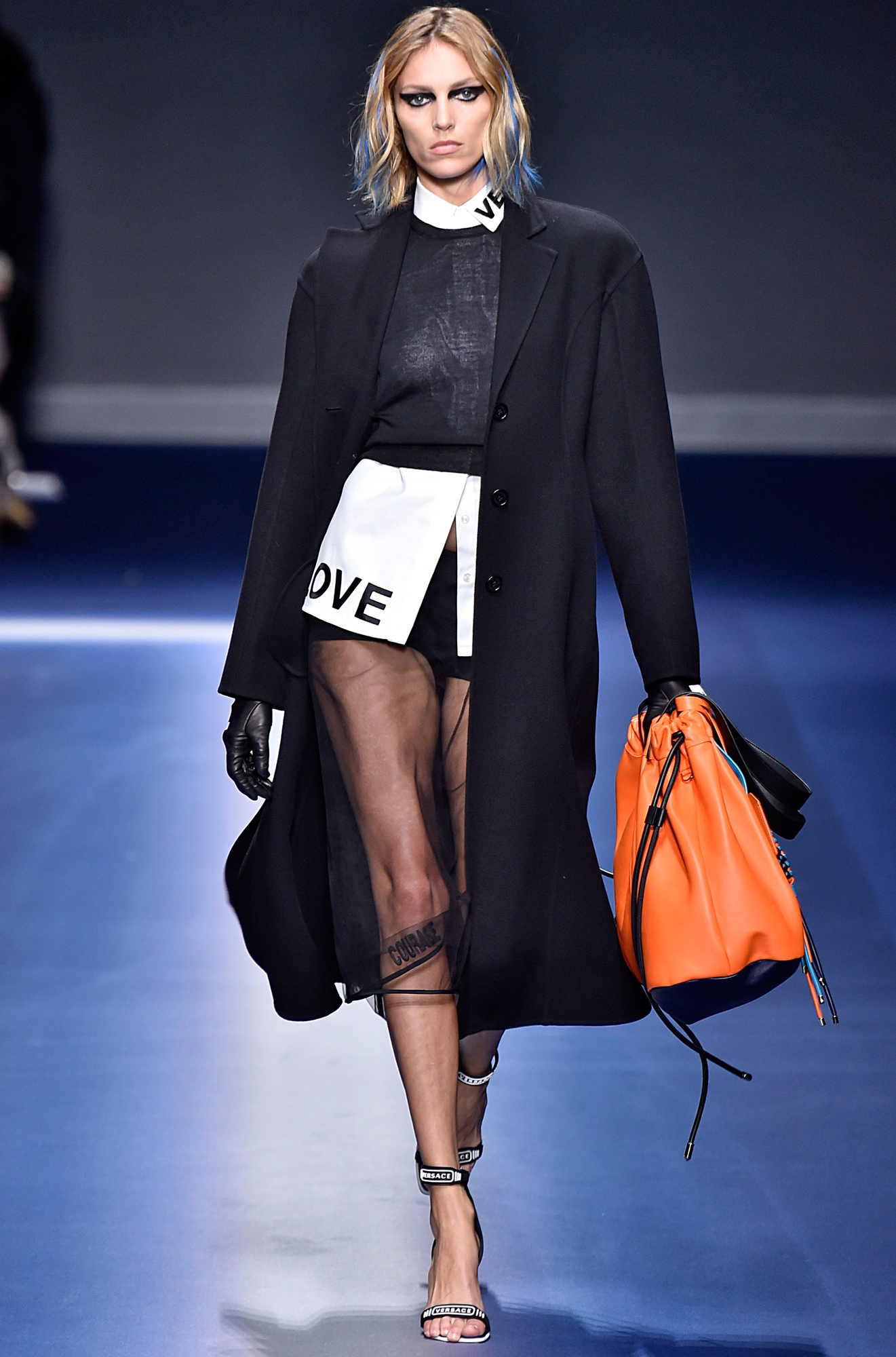 Photo: firstVIEW
0 Comment