There is no easy way to write about getting a Brazilian wax other than to have two glasses of wine and just go for it. Which is what I did. Call it my Hemingway moment…if Hemingway drank cheap prosecco, and if Death in the Afternoon was actually about getting 24k gold-infused wax poured on your lady parts. Oh, has "24k gold-infused wax" piqued your interest? As did it mine, dear reader, when an invitation to VSPOT revagination spa came to me via FU's beauty editor. Naturally, visions of Goldfinger danced in my head.
VSPOT—located on Manhattan's posh Madison Avenue—is a vaginal health spa founded by Cindy Barshop, the same woman who birthed Completely Bare and blessed the world with things like vajazzling and laser hair removal in a sleek and chic atmosphere. "The whole space is a women's sexual health and well being spa. It's really the whole concept that women's sexual heath shouldn't be a taboo subject," Barshop said of her goals for VSPOT. "We use all new technology that's non-invasive—no pain or down time—to enhance women's well being and their sexual health. There's so much out there that people just don't know about."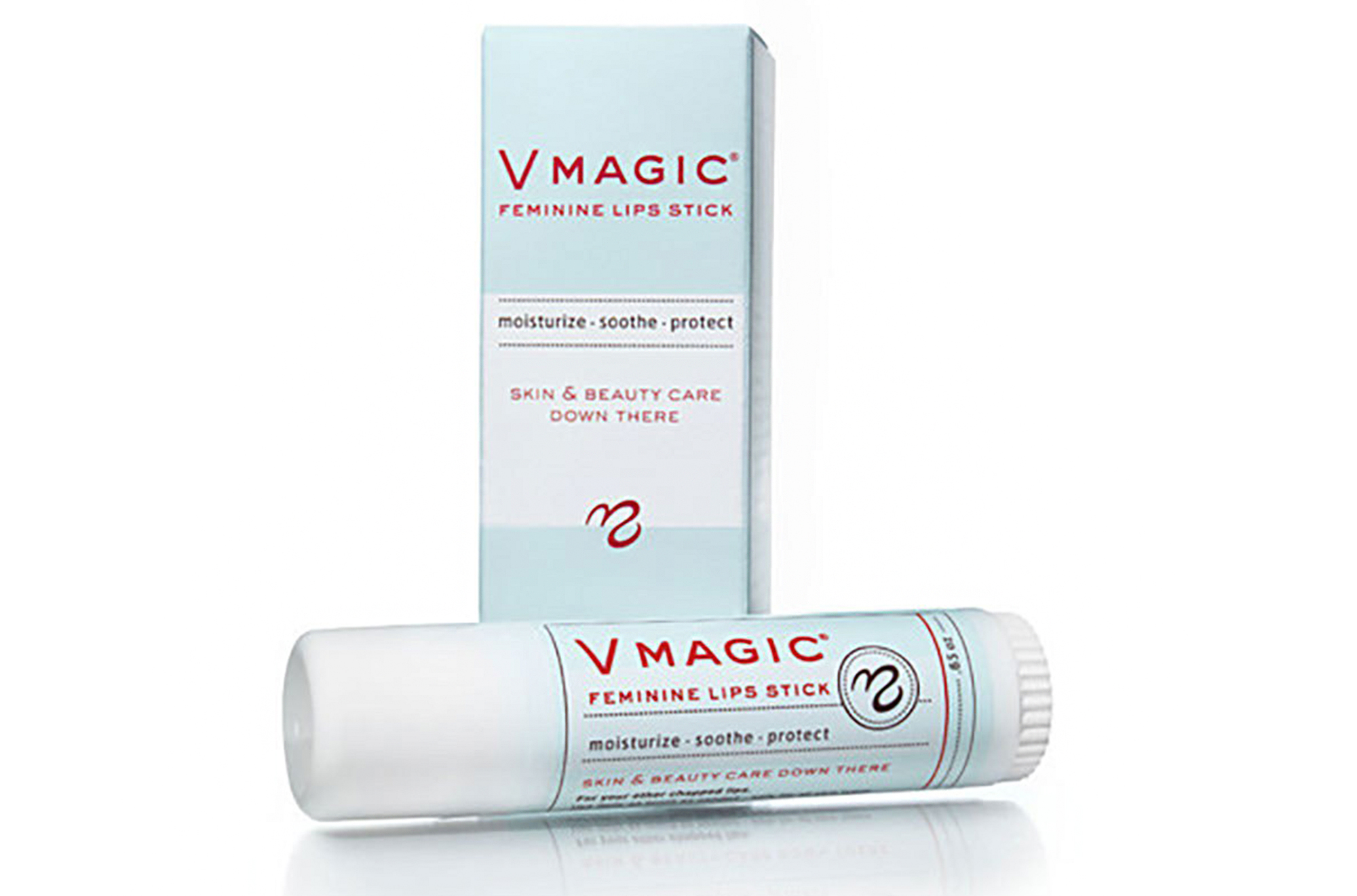 Photo: Courtesy of Vmagic
The VSPOT spa offers an array of vaginal-wellness procedures that deal with everything from incontinence to sex drive. It also sells products from outside vendors that tackle all sorts of below-the-belt concerns. One particular little gem that I uncovered at my appointment was the Vmagic Feminine Lips Stick, which is basically lip balm…for your other set of lips. I was too scared to slick the Chapstick-like tube across its intended location, so I applied it to my mouth instead, where it surprisingly moisturized pretty well. (I was told that the formula is so organic that it can actually be eaten…do with that information what you will.) FU's beauty director Amber Kallor, however, dove right in (and to clarify, we each had our own Vmagic stick), noting that the solid blend of olive, avocado, sea buckthorn oils and beeswax instantly seeped into skin without leaving a greasy residue behind. While she said that crossing her legs after lubing up was a rather slippery experience, the fragrance-, dye-, paraben-, and preservative-free stick was undoubtedly hydrating and worked equally well on dry cuticles. In short, whether you're a woman suffering from skincare challenges down below (and one in four women is), or just prone to chafing post-Brazilian at SoulCycle (or during a marathon sex session), this could be your answer. And hell, if Emma Watson is cool with conditioning her pubic hair, than why shouldn't the rest of us follow suit?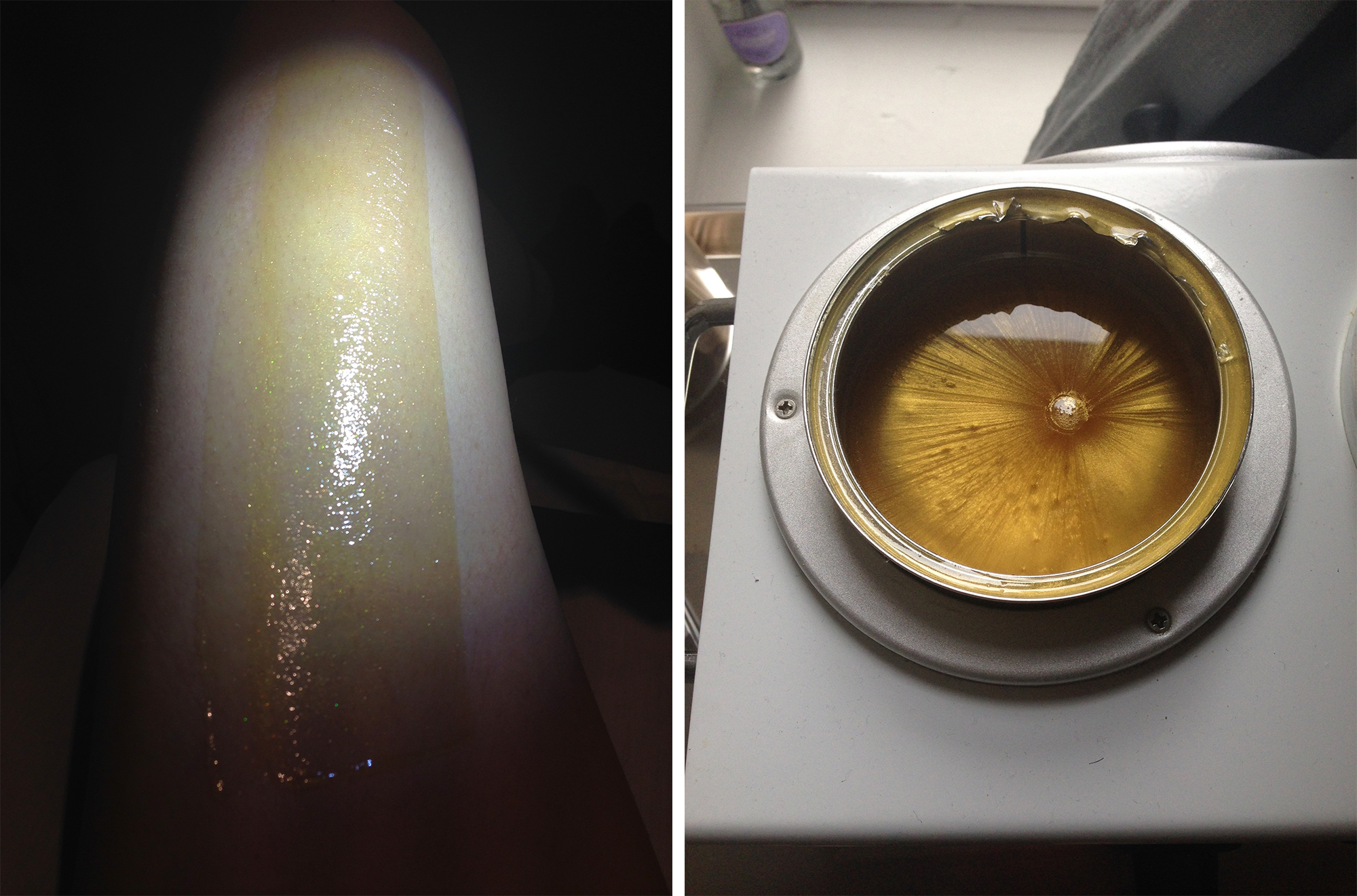 Left: the 24k gold-infused wax, spread on a leg. Right: the wax being warmed
But I digress, because I actually trekked to VSPOT to lose my Brazilian V-card and have the hair ripped from my body for the first time in the most needlessly fancy way possible (because you never forget your first, right?). Well, not entirely needless, there is a purpose for the gold. "The infused gold is an anti-inflammatory," explained Barshop. "And it's a low-temperature wax, therefore you don't get as many ingrowns. It doesn't cause as much tension on the skin, so you get a smoother wax." The overall process was fairly normal. First, my skin was prepped with anti-inflammatory witch hazel and then the gold and sparkly wax was swathed across my skin. The final step: a "vajacial," which involves shining a blue LED light down there for ten minutes to kill bacteria and prevent ingrown hairs (although I was still advised to exfoliate my skin in the days post-wax).
At almost a week later, my skin is indeed smooth. From what I can tell, ingrown hairs are being kept at bay, and Shirley Bassey's theme for Goldfinger has been running through my head, albeit with updated lyrics to fit the situation. Talk about a Midas touch.
24K Gold Wax with Vajacial, $150. VSPOT, 741 Madison Avenue, New York, NY 10065; vspotmedispa.com
Vmagic Feminine Lips Stick, $20; Buy it now
0 Comment