It may be rather balmy in New York City today, but that's all about to change—and fast. The National Weather Service is predicting eight to ten inches of snow tomorrow. In short, you can forget about prancing around NYFW in new stiletto boots and posing for street style photogs camped out on sidewalks, and start preparing your blizzard-friendly look now. (Either that, or we'll just wait for those priceless photos capturing frigid fashionistas slipping on ice to roll in.) Here, we asked mane master Michael Angelo, founder of Wonderland Beauty Parlor, for his best tips for beating hat hair while sitting front row and glowing like a Victoria's Secret Angel while hoofing it through wind tunnels on your way to the shows.

Put down the dry shampoo and back away slowly
You're not the only one whose hygiene suffers during fashion month—there are plenty of dirty girls on the circuit who know exactly how real the struggle can be when it comes to mustering the strength required to wash your hair. After a few rounds of free champagne, forgoing a shampoo for an extra 20 minutes of sleep seems like the only logical choice.
However, greasy roots are the hair equivalent of a one-night stand: You'll undoubtedly wake up and regret it. "The reality is that dirty hair and messy skin take way more time to polish than clean hair and good skin, so time saving starts with investing time strategically," said Angelo. (Think of the hair pro like your mother, who, despite your best attempts to prove her wrong, is always right.) "I hear so much 'I don't have time' but I find more often that its 'I am too drunk or lazy at night to take care of myself.'" (Accurate.) His suggestion: "Trade some screen time for beauty time"…and get your Veuve-soaked ass in the shower.
Then, apply a bit of leave-in conditioner and air-dry if you don't feel like firing up your hot tools. "If you're strategic about how you put it up for bed, you can actually style while you sleep," he said. "Buns and braids make lovely ripples and waves that will last a few days, while a slick pony helps smooth hair while you dream."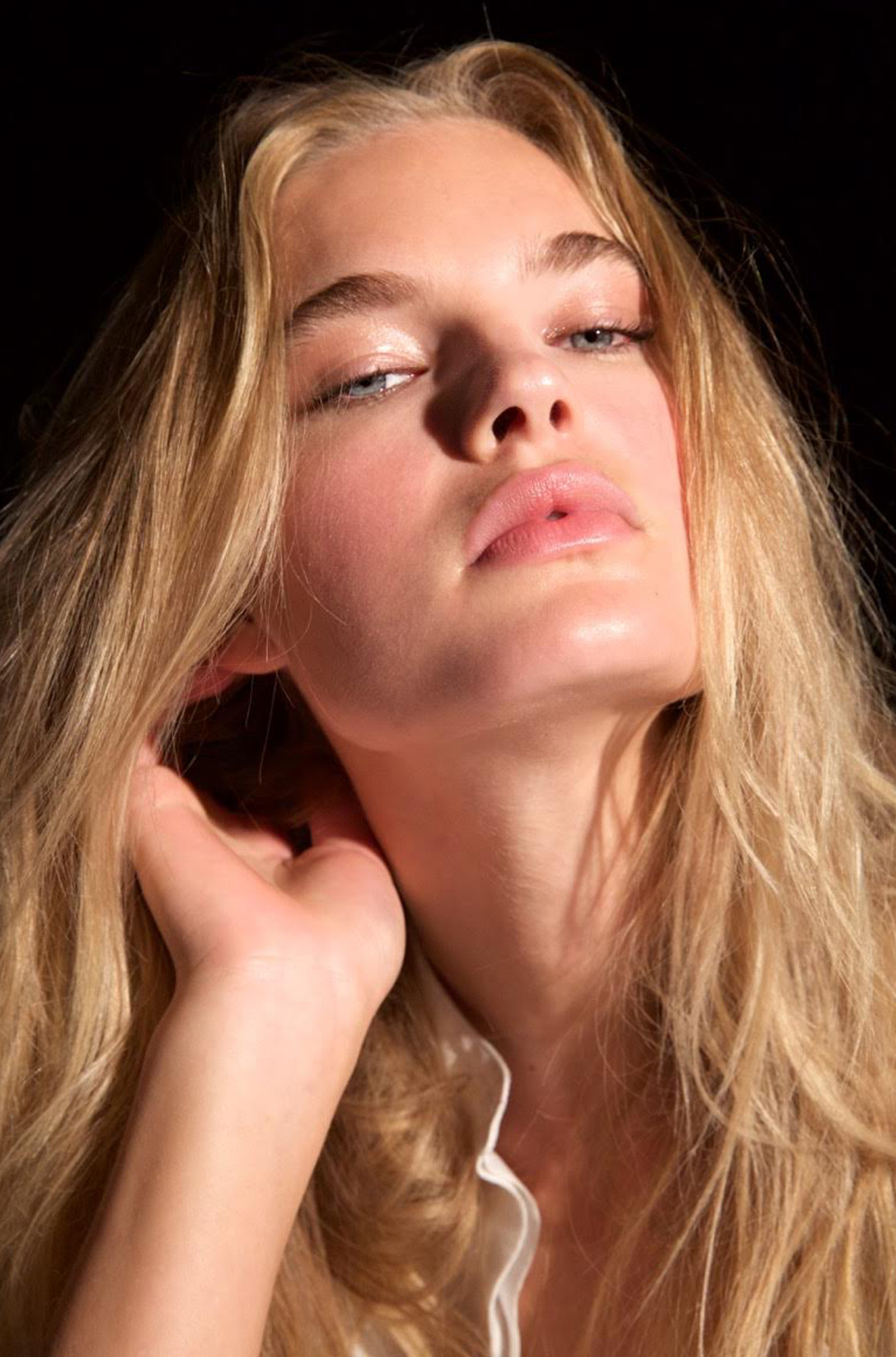 Photo: Michael Angelo for Michael Angelo's Wonderland Beauty Parlor
Be the Gordon Ramsay of beauty
"An everyday look really doesn't take too much if your beauty closet is edited and you always put your products away in the same place," said Angelo. In other words, don't toss your makeup bags and brush like you do your jeans on that chair. "Think of a pro kitchen: A chef is never stressing out or wasting time having to search for a knife, she knows where it is," he explained. "Tighten up your routine by getting rid of clutter and arranging your products in the way you use them so you can move right down your assembly line."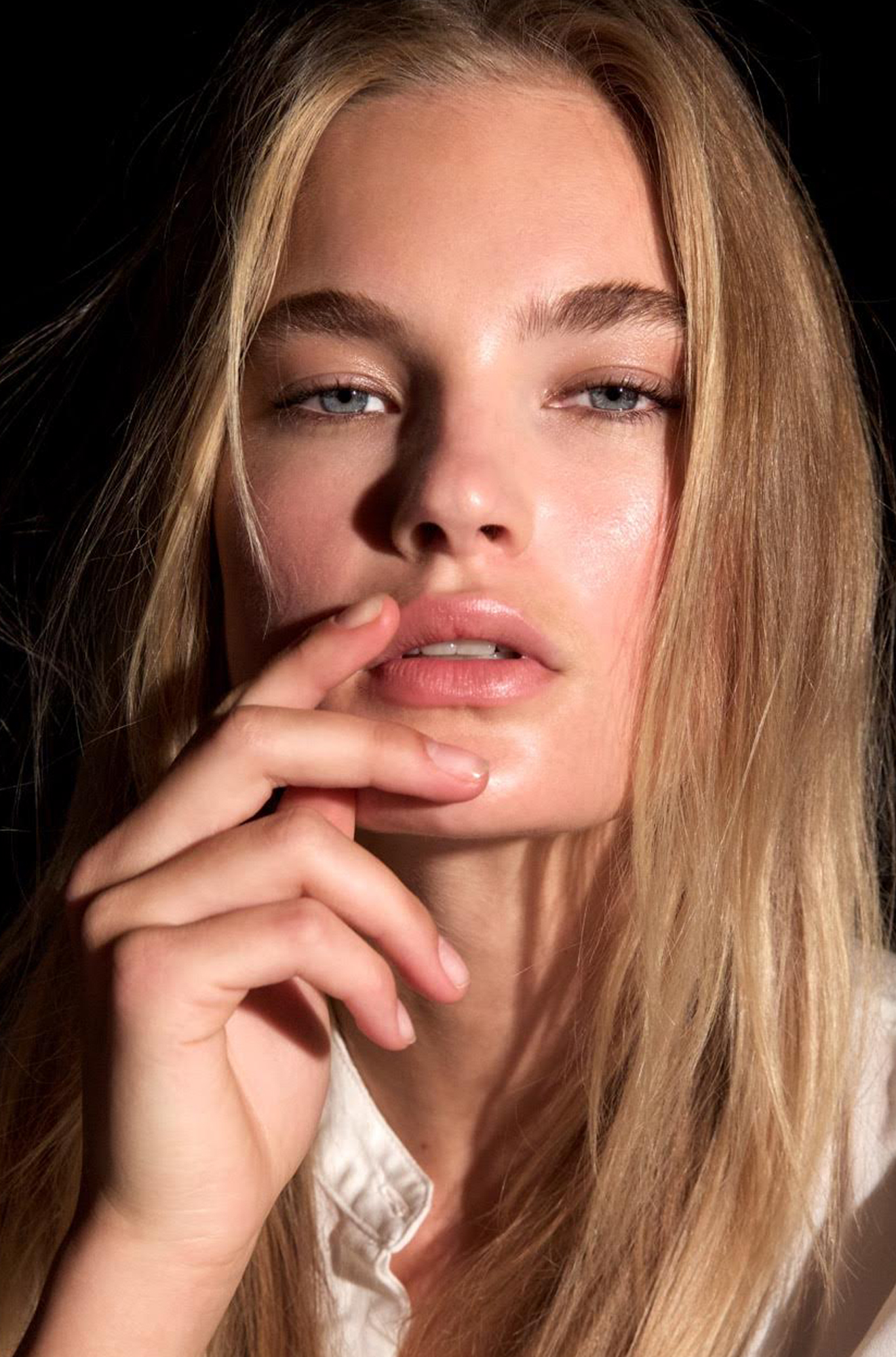 Photo: Michael Angelo for Michael Angelo's Wonderland Beauty Parlor
Glow like a Dutch master's painting minus makeup
"Glow is about reflecting just the right amount light, right? Overdo it and you're in that weird Instaglam territory. Underdo it and you're left wondering why you bothered," said Angelo. His solution: serious skincare. "My favorite way to make skin glow without makeup is using Retrouvé's serum, crème and eye concentrate like highlighters. The serum makes the skin moist without being too shiny, so that goes everywhere. The crème is more moisturizing, so that's used where you would place a luminizer: across the forehead, chin and cheeks. And the eye concentrate goes where you would put your brightest highlights, like eyelids, Cupid's bow, and tops of the cheekbones."
Want a little more coverage? A touch of RMS Un Cover-Up Concealer applied with a Q-tip or brush and a "kiss" of RMS Living Luminizer are all you need to camouflage any leftover redness or dark circles—leaving your face looking "coddled instead of caked." For a natural flush (like the one makeup artist Mayumi Abuku gave model Isabel Scholten here), opt for a cream blush over powder. Try RMS Lip2Cheek in Smile or Demure. If you have seconds to spare, quickly curl lashes, add a few generous coats of mascara, and fill in arches. "A groomed lash and brow somehow always makes the skin look better," added Angelo.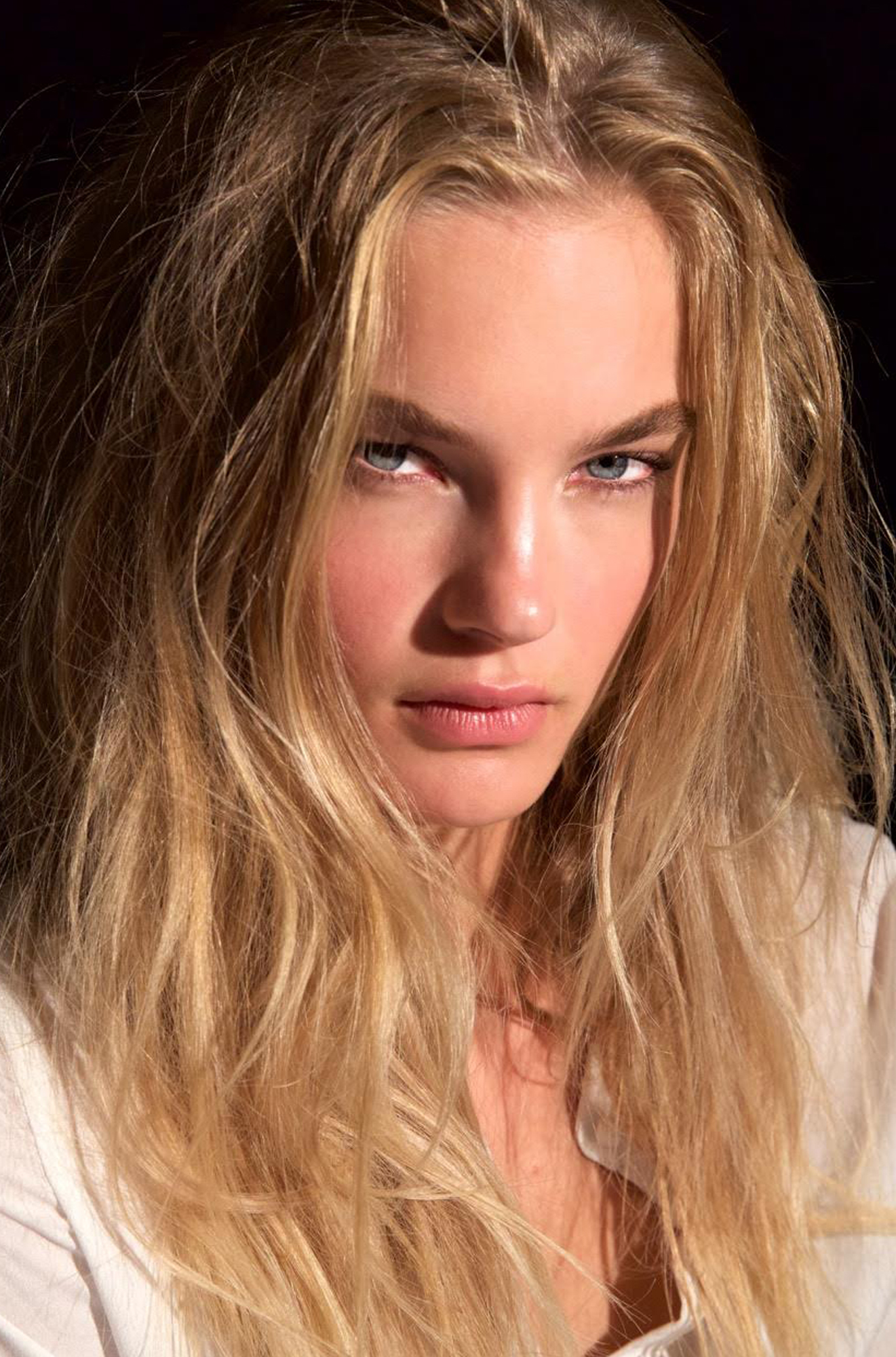 Photo: Michael Angelo for Michael Angelo's Wonderland Beauty Parlor
Stop hat hair before it starts
"Think of your hat as you would a roller or a curling iron—the way you direct the hair under that hat is the way the hair will want to go, so be intentional," said Angelo. "Laura Denny, a stylist at Wonderland Beauty Parlor, has the best trick: She smoothes her hair in the opposite direction that she wears it so when the hat comes off and she flips her hair she has a little volume!" He also suggests keeping a small brush (like Christophe Robin's Travel Boar Bristle Hairbrush) and an oil (such as Shu Uemura's Essence Absolue) in your bag to tame flyaways and untangle windblown strands while you wait for the lights to dim. "Keeping the ends shiny with oils will make it less obvious if the roots are a little greasy," said Angelo.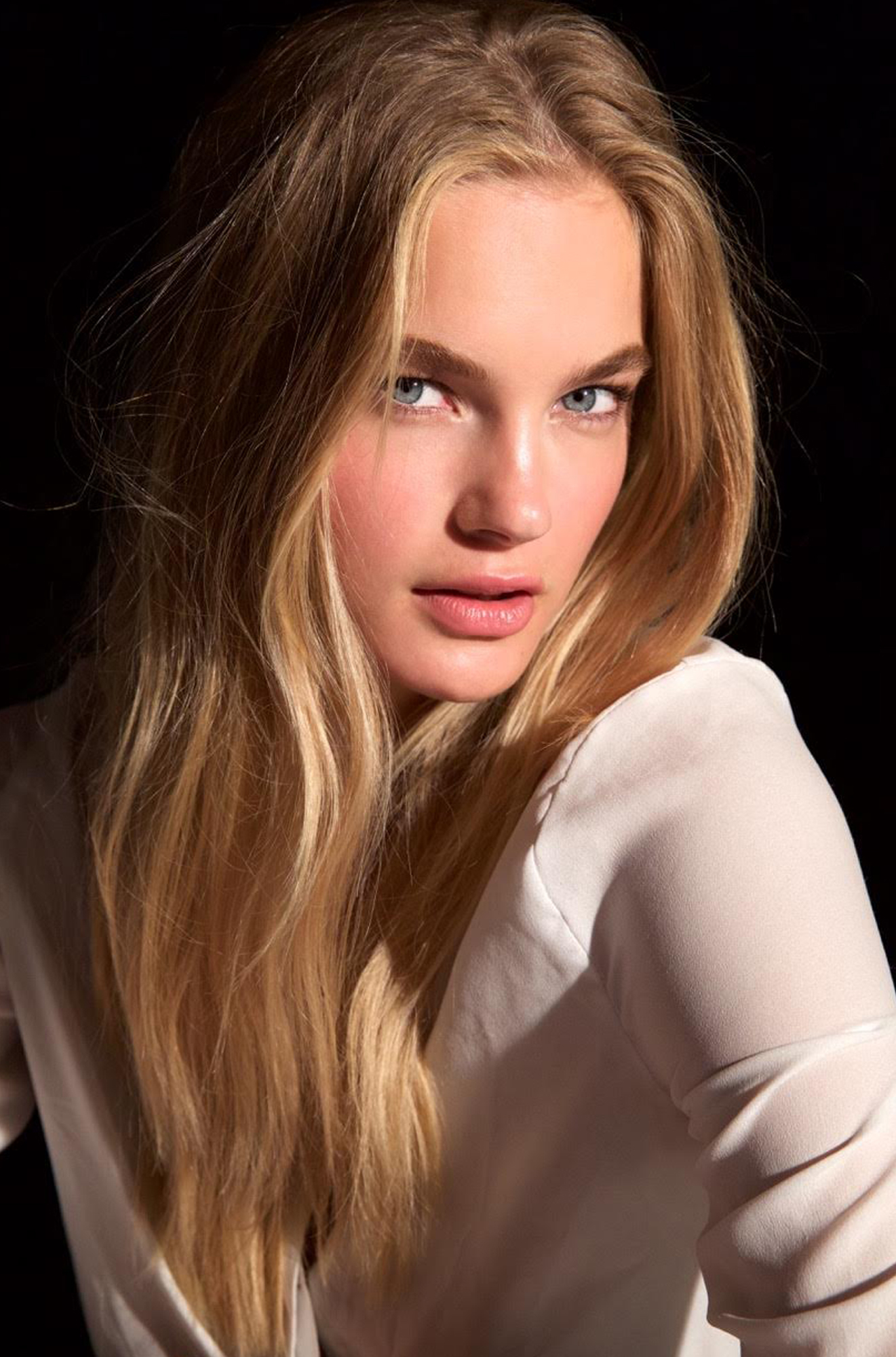 Photo: Michael Angelo for Michael Angelo's Wonderland Beauty Parlor
If all else fails, do the wave
Angelo crafted those made-for-TV waves seen at the Victoria's Secret Fashion Show, but achieving them IRL is easy. "I use a Beachwaver on the mid-shaft of the hair to create a little bend, but leave the ends out so she looks carefree," said Angelo. For that fresh-from-a-romp-in-the-sheets feel, the pros uses a texturizing spray (like Shu Uemura Texture Wave or Oribe Dry Texture Spray) for volume before adding a "touch" of conditioning cream or oil (try Christophe Robin Moisturizing Hair Cream) to ends for "shine and separation."
Model: Isabel Scholten for The Society
Photo: Michael Angelo for Michael Angelo's Wonderland Beauty Parlor
Hair: Michael Angelo for Michael Angelo's Wonderland Beauty Parlor
Makeup: Mayumi Abuku for Michael Angelo's Wonderland Beauty Parlor
0 Comment