On Monday, Calvin Klein—the brand that pretty much invented provocative advertising—released its Spring 2016 campaign, and surprise! it's pretty suggestive. And surprise again! it has some people up in arms. Today, the National Center on Sexual Exploitation has taken issue with Calvin Klein's latest ads, specifically a photograph of Klara Kristin that qualifies as an "up-skirt shot." The NCOSE issued a statement, saying, "Once again, Calvin Klein has used a depiction of sexual harassment or assault in its advertisements." The organization goes on to claim that the ads contain a "glamorized depiction of an 'up-skirting' victim… By normalizing and glamorizing this sexual harassment, Calvin Klein is sending a message that the experiences of real-life victims don't matter, and that it is okay for men to treat the women standing next to them on the bus as available pornography whenever they so choose." The NCOSE has also started a petition, demanding that the ad be removed and that Calvin Klein apologize. Naturally, several news outlets and social media users have jumped in to join the conversation, calling the campaign, "predatory," "disgusting," and "full-on porno."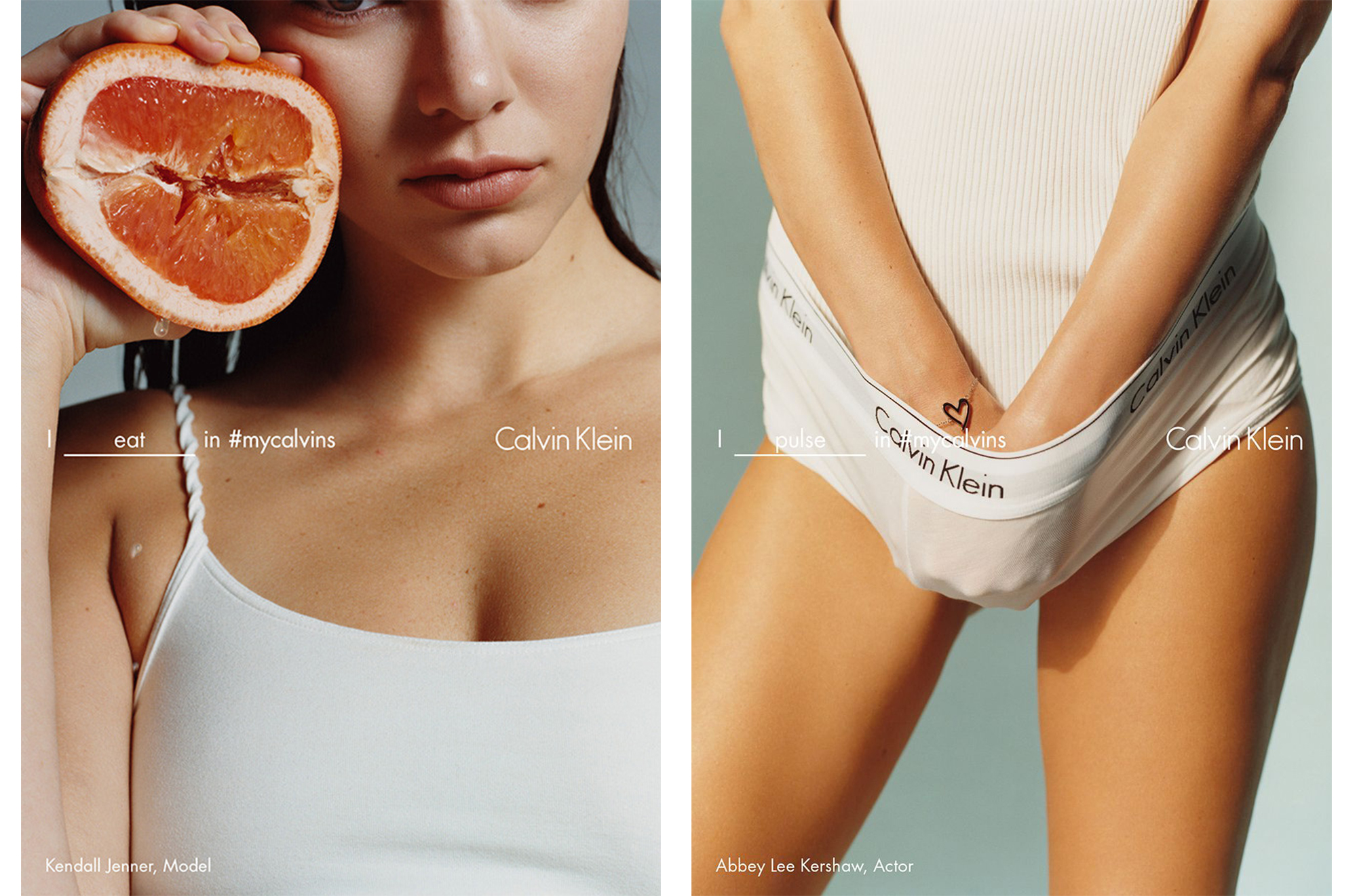 Kendall Jenner and Abbey Lee Kershaw by Harley Weir for Calvin Klein
The campaign was lensed by photographer-on-the-rise Harley Weir (who, by the way, just shot Proenza Schouler's new film exploring female relationships), and also features shots of Saskia de Brauw pushing her breasts together and holding a lamb; racy snaps of Abbey Lee Kershaw with her hands down her Calvins, potentially masturbating; and photos of Kendall Jenner posing with a grapefruit that's obviously a reference to a vagina. (Actually, Jenner's series reminds me of those Thinx period panties ads that, in a move that was sexist, absurd, unfounded, and completely nonsensical, were initially banned from New York City subways. But I digress.) And as the old adage goes, sex sells, especially when what you're trying to sell is underwear. For better or worse, I wouldn't expect anything less from Calvin Klein, the brand whose 1980 commercial, directed and shot by Richard Avedon, showed a 15-year-old Brooke Shields telling viewers that "nothing" gets between her and her Calvin jeans. The house also cast a teenaged Kate Moss to pose topless and straddle Marky Mark in its iconic 1992 Herb Ritts campaign, the shoot for which Moss later admitted caused her to have a "nervous breakdown," and of course, there was the recent recreation of that ad with Lara Stone and Justin Bieber, the sexting-themed ads that came shortly thereafter, etc. etc. etc. Do I agree with all the advertising choices Calvin Klein has made? No. Do I think it's appropriate to sexualize teenage girls? Absolutely not. But personally, I find the latest campaign empowering, rather than degrading.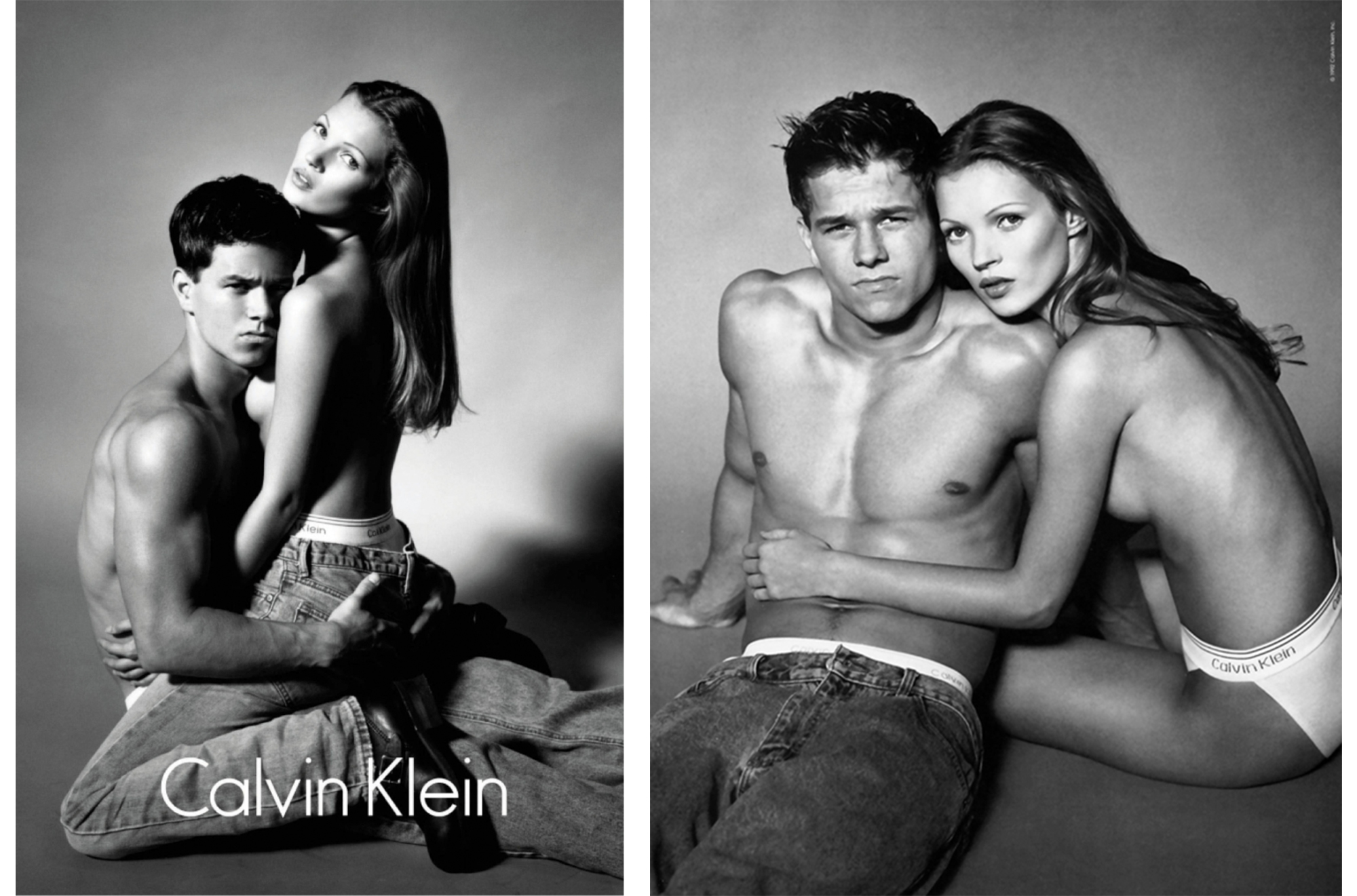 Mark Wahlberg and Kate Moss by Herb Ritts for Calvin Klein
First off, Harley Weir is a female photographer, and with these ads, she's flipping the male gaze—a gaze through which Calvin Klein's ads are most often presented—on its head. Are the images sexy? Absolutely. But they appear to be sexy on the model's terms, not the male photographer's or the casting director's, or the head of marketing's. What's more is that each model featured in this campaign is in her 20s or 30s, and has demonstrated that she is in control of her own sexuality, career, life choices, image, self-esteem, etc. Now, about that up-skirt image, the NCOSE defines up-skirting as, "a growing trend of sexual harassment where pictures are taken up a woman's skirt without her knowledge, or without her consent. Not only is this activity a crime in many states like New York, Washington, Florida, and more, but it is also a disturbing breach of privacy and public trust." Up-skirting is degrading, offensive, and an abhorrent violation of any woman's rights. No woman or man, for that matter, deserves to be photographed in an intimate manner without her knowledge and have the resulting images exploited for someone's sexual pleasure. This act is terrible, and it's unfortunately an ongoing problem for any woman who dares to wear a skirt or dress on public transportation.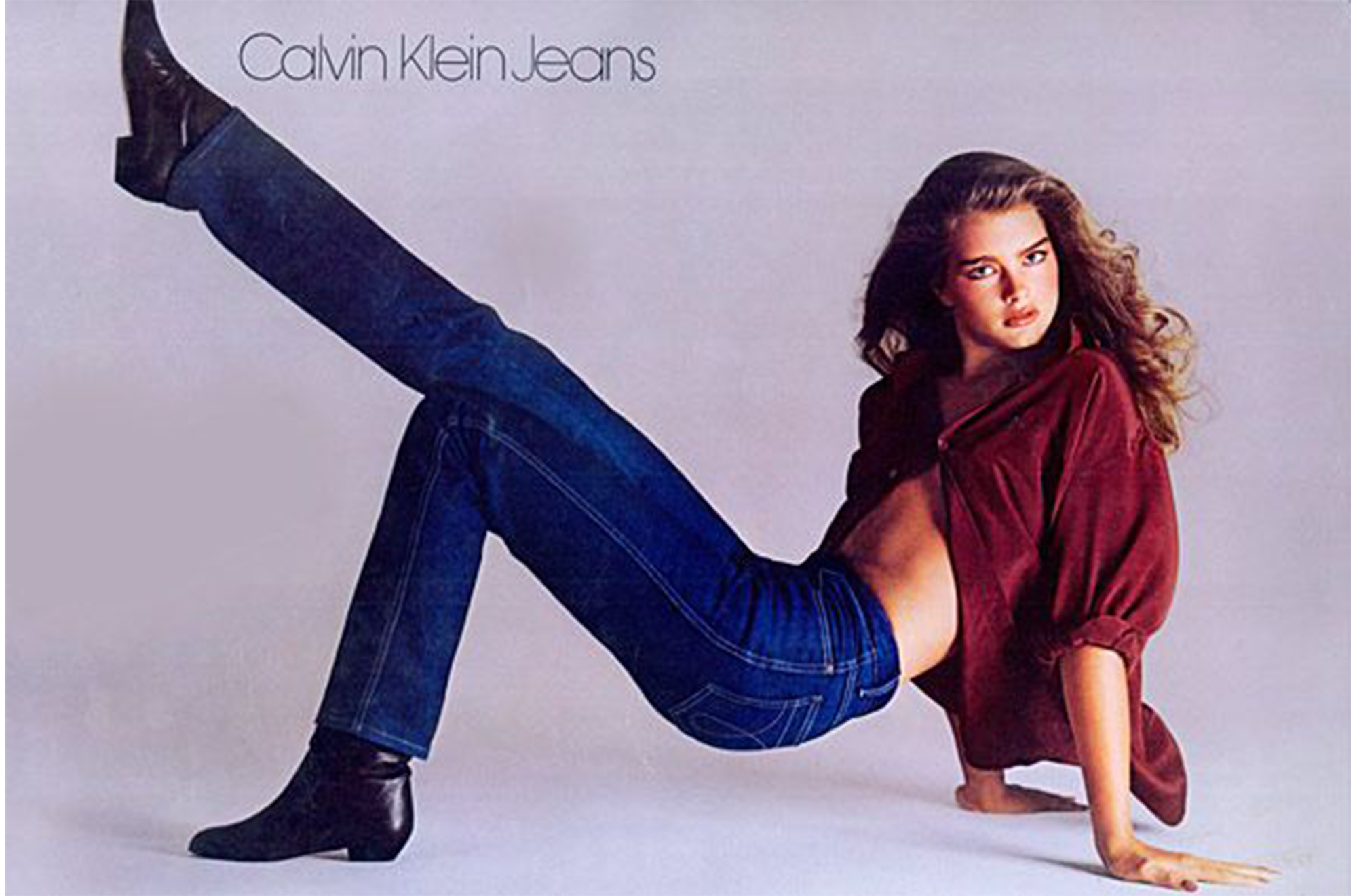 Brooke Shields by Richard Avedon for Calvin Klein
However, the NCOSE's definition of up-skirting does not apply to the Calvin campaign. Kristin clearly knows she's being photographed and isn't trying to look as though she's unaware. There is no misunderstanding this image—there's nothing to lead one to believe that she's a victim. On the contrary, she's staring directly into Weir's lens, almost daring the viewer to look at her Calvin-clad crotch. In fact, it's almost as if Kristin and her co-stars are laughing at the objectifying breed of sexuality that Calvin has used in the past, and redefining "sexy" through the female lens—literally. For her part, Weir told the Associated Press that she is "really happy," with the response, adding, "I love it."
These ads are cheeky, playful, terribly clever, and celebrate female sexuality. And you know what? I, a woman who, yes, calls herself a feminist, think they're great. To Calvin Klein, I say bravo for celebrating not just female models and actresses, but a bold female photographer on the rise. And to Weir, I say keep pushing the envelope. Also, more grapefruit vaginas.
0 Comment