To call David Bowie "fascinating" is, at this point, redundant. The late icon has influenced more than music, being an important figure in all avenues of visual culture and performance. But in the wake of his death, what can be explored are the individual facets of his interests themselves, through entry points such as his personal art collection.
Sotheby's, which is auctioning off Bowie's collection and currently touring select pieces across the globe in Bowie/Collector, has certainly had no trouble showcasing not only the legend's interest in the art world, but his involvement as well. An avid collector, he also wrote for Modern Painters magazine in the 1990s, interviewing the likes of Balthus, Tracey Emin, and Damien Hirst.
"He wrote about the artists that he was interested in," Simon Hucker, a senior specialist in Modern and Post-War British art at Sotheby's, told Fashion Unfiltered. He also revealed that the singer, despite being private in his collecting, never refused a loan to a museum.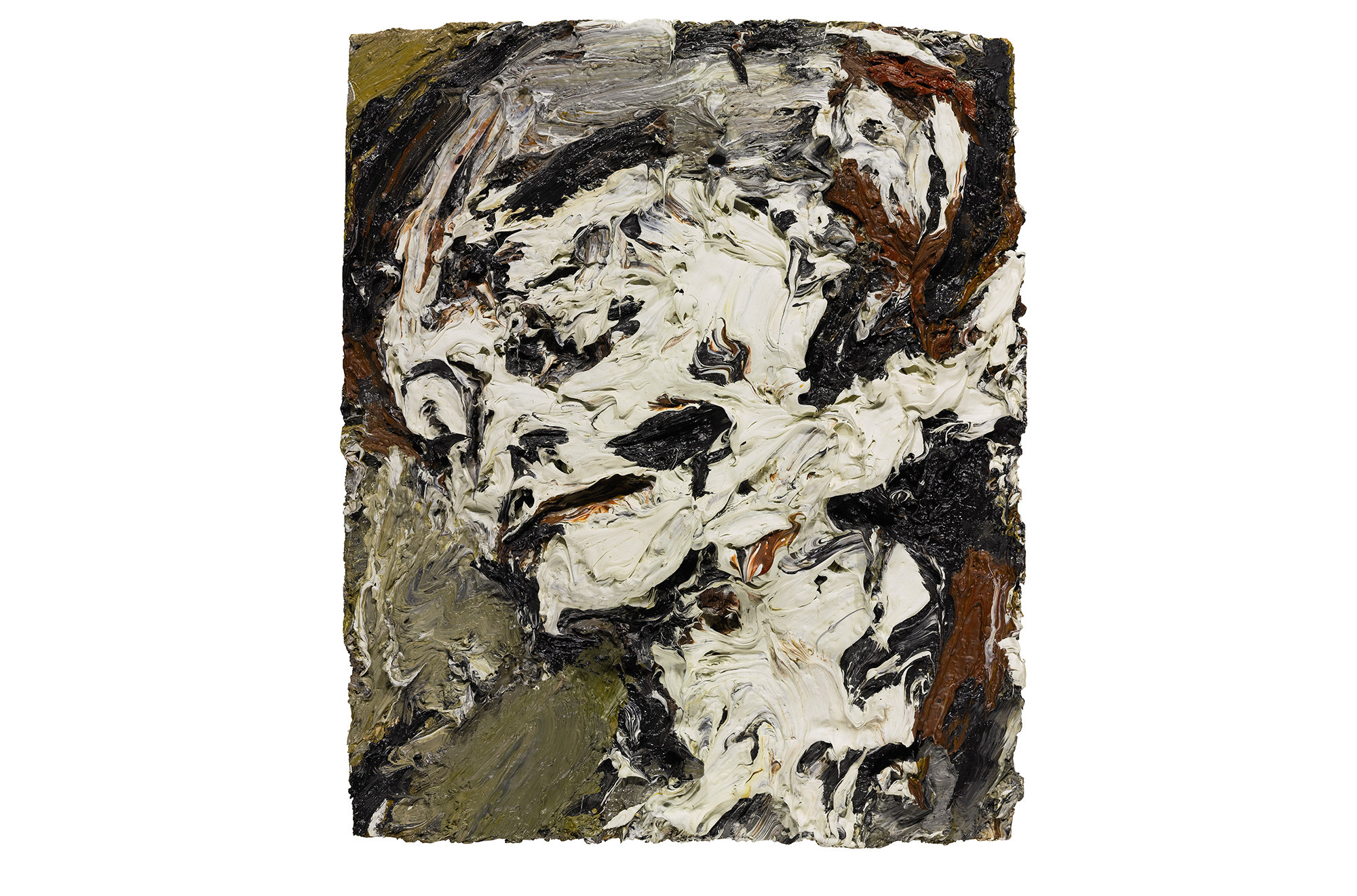 Frank Auerbach, "Head of Gerda Boehm." Oil on board, 44.5 by 37cm. 1965. / Photo: Courtesy of Sotheby's
"Historically, I think people are always interested in who's owned something, in provenance. Especially if they're well known for having great taste, because that gives you confidence that they've picked the best of what was available," said Hucker. "I think people, hopefully, will be reassured that the art that [Bowie] chose is going to be the best of what's available…because it's really personal. He's not just looking at the most expensive, or the most famous artists, he's actually going the opposite. He's going around looking for stuff outside the mainstream, stuff that's maybe a little bit forgotten, or out of the way. It's even better, because it's him just using his eye. When you buy a work from his collection, you're getting that. You're getting his eye."
Pieces in the collection are dated throughout the 20th century, from modernism through the war years. "We've got works by artists who are relatively well-known, somebody like Henry Moore, or Frank Auerbach. He was interested in David Bomberg, who was Auerbach's teacher," he said, noting that the Auerbach piece, "Head of Gerda Boehm," is from 1965, while the Bomberg is from the 1930s. "It wouldn't be very Bowie-like to just be limited to one thing," Hucker continued. "There are two works in the collection by Jean-Michel Basquiat. There's some surrealist work, there's Dada, there's outsider art, he was interested in contemporary African, and obviously you've got the design collection as well."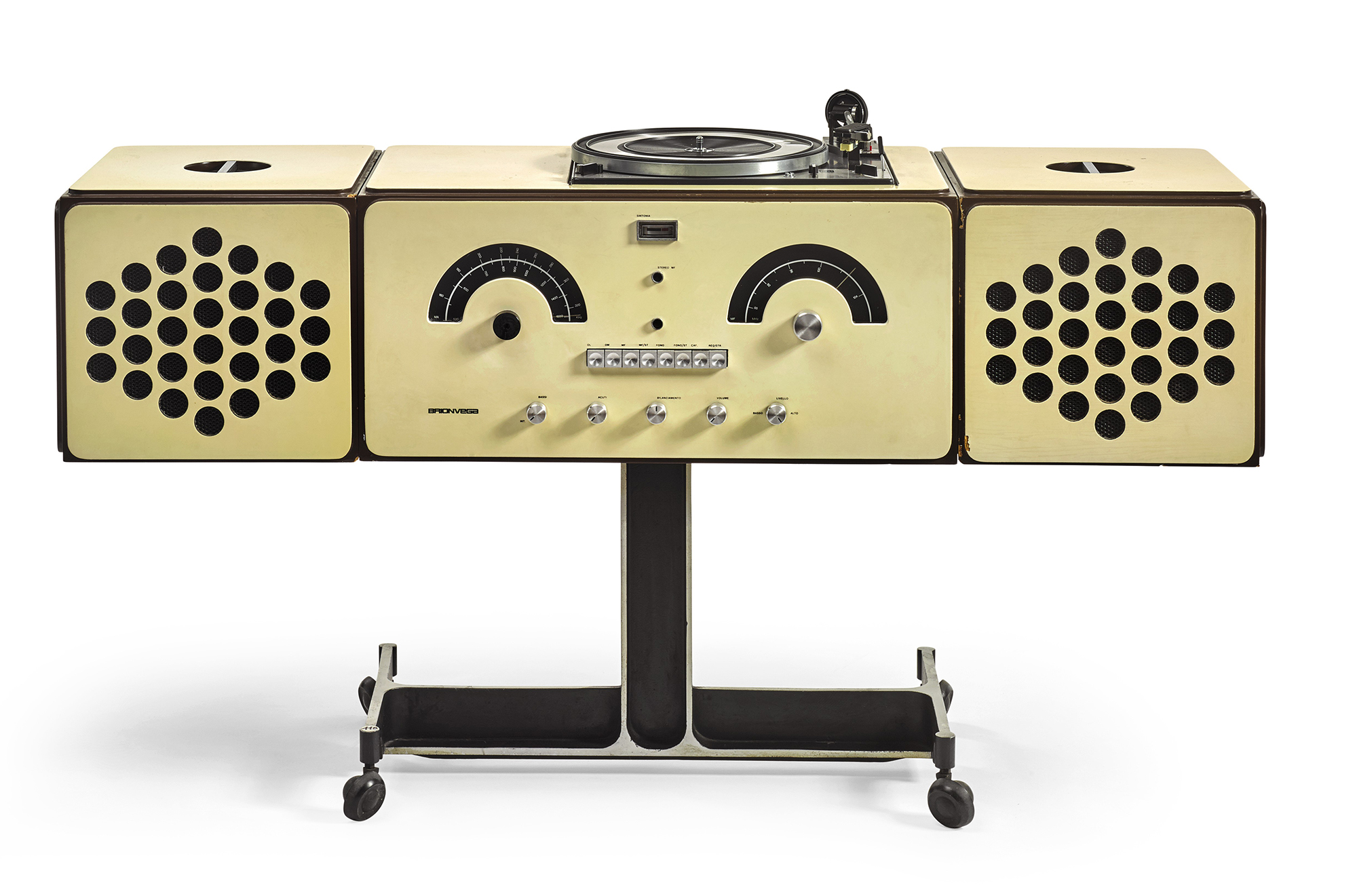 Pier Giacomo and Achille Castiglioni, "Brionvega Radiophonograph", model no RR 126, circa 1966 / Photo: Courtesy of Sotheby's
There is also the Hirst piece, Beautiful, hello, space-boy painting (1995), that Bowie had a hand in making. "They worked on it together, so Damien would spin it, and David would be on the ladder pouring the paint on," explained Hucker. "It's a proper collaborative work, and they both signed it." Bowie had been a vocal champion of Hirst. Apparently, when the artist invited the legend over to his studio, he warned him to wear old clothes. Bowie instead arrived in an immaculate suit. "He said, 'Well, I don't have any old clothes.' Which Hirst thought was completely cool."
There are even items for those who perhaps are not well versed in art, but are mega-Bowie fans. His battery-powered radio, designed by Marco Zanuso and Richard Sapper, is a fun piece that the Sotheby's team even listened to while setting up the exhibit. And perhaps most enticing to fans is a Castiglioni-designed record player from 1965. What better way to listen to a music idol's work than with the piece that he himself played records?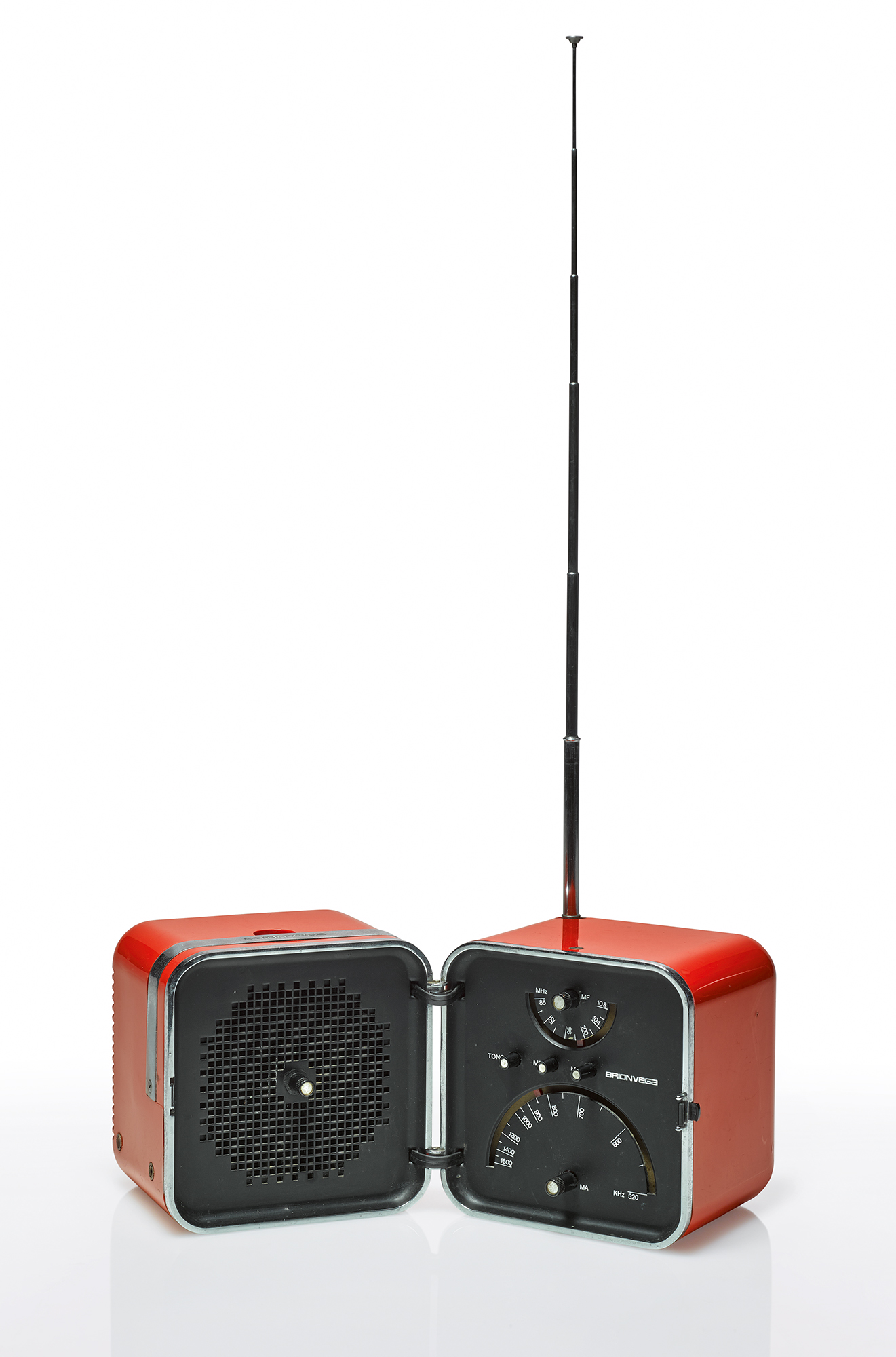 Marco Zanuso and Richard Sapper, "Cube" Radio, model no. TS502 , 1963 / Photo: Courtesy of Sotheby's
As for how to pick and choose, Hucker can only offer one piece of advice: "You should think like Bowie—just buy what you like. No, seriously, that's how he would have approached it. Does this thing move me? Is this artist interesting?" He went on, "There's an immediate reaction with a work of art. That's what he's about."
Bowie/Collector is now on view at Sotheby's auction house in New York, until Wednesday, September 28th. The auctions will take place in London on November 10th and 11th.
0 Comment