"It's all connected," said photographer David Godlis of the world that revolved around The Bowery in 1970s New York. Rock, fashion, film, and of course, punk—to paraphrase Lenny Kaye from Patti Smith's band, a bolt of lightning ran through these scenes. Images of this world he captured—one with famed venue CBGB's at its core—have now been compiled into his first book, History is Made at Night. "We were all kind of on fire with each other every night. It was a great, great time, and it really brought out the best of what I had been absorbing about photography." Naturally, he makes a musical analogy: "It's like my first album that comes out 40 years later. A band writes all these songs, and records the first album. This was my first album, it just didn't get recorded until much later."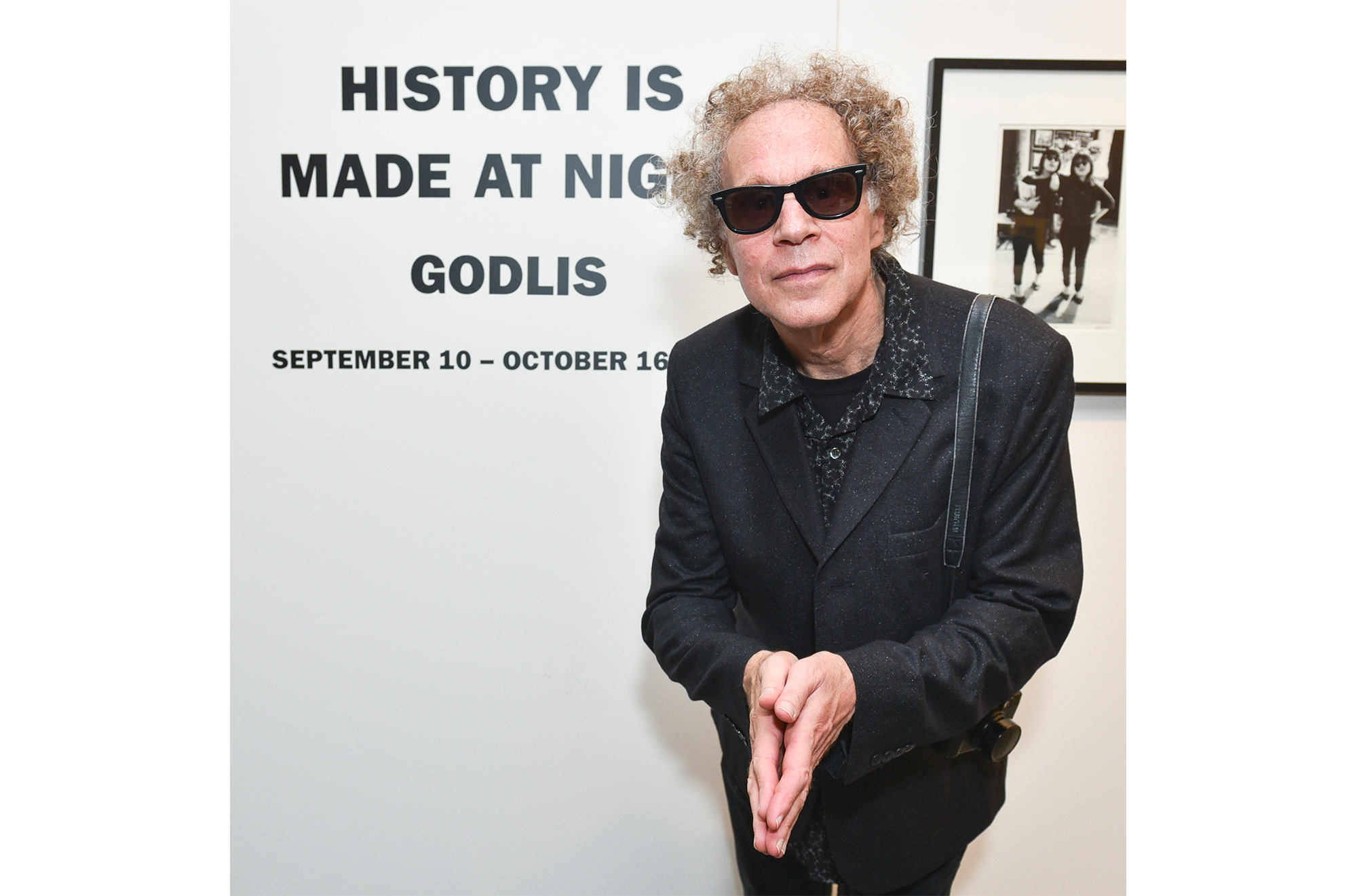 David Godlis / Photo: Courtesy of agnès b.
Godlis's images have a romantic quality to them, which is not a description typically used for images of punk musicians. Shot at night and without the use of a flash, the shadows in the pictures create a sense of intimacy with the subjects. Even images of those performing seem comfortably human. If they seem personal, it's because, in a way, they are.
"I was hanging out with these people. I was hanging out with Alex Chilton and talking with him," he says of the lead singer to bands the Box Tops and Big Star. The pair hit it off discussing William Eggleston—an art photographer whose famous image "The Red Ceiling" (or "Greenwood, Mississippi, 1973") was used for the cover of Big Star's album Radio City.
"We'd have long photo discussions. I would be sitting at the bar talking with him. All of a sudden I'd sit there and go, Oh, could we take a break for a second and take a couple of pictures? And then we'd go back to talking."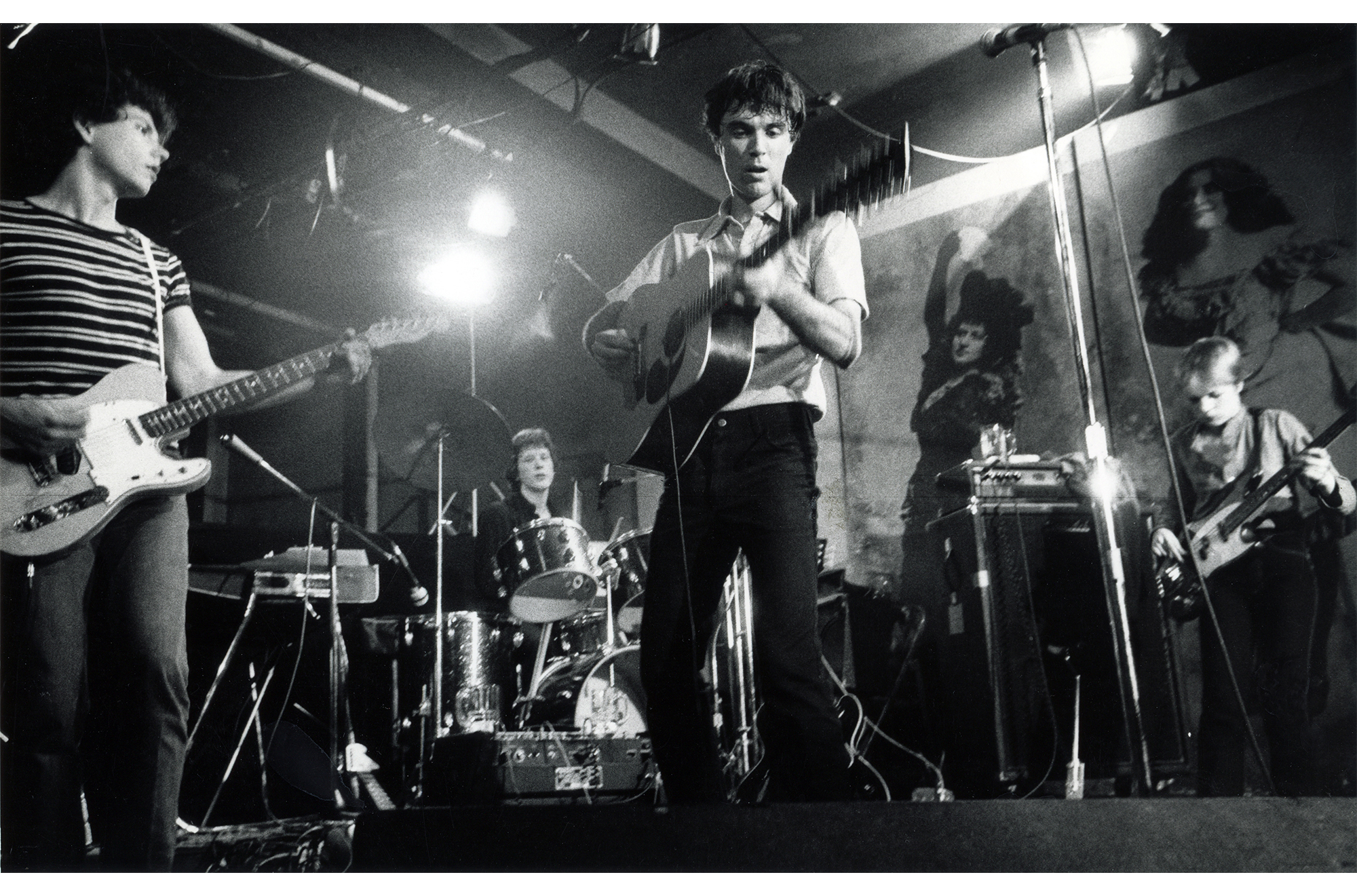 Talking Heads / Photo: Courtesy of David Godlis
Much like famed street photographers Diane Arbus or Robert Frank, Godlis' work is not that of a fly on the wall, but of an insider. "I remember I had to look cool, and I had to only carry just as many rolls of film that wouldn't make me look like a fool, and that I could stuff in my jeans pocket. And still be whatever it was I was, being a photographer available to take pictures, but not like a hired gun on any particular night. That wasn't what I was doing, I was there to hear the music and hang out, just like everybody else."
Godlis studied photography in Boston, and immersed himself in the work of artists like Weegee, Brassaï, Arbus, Frank, and Gary Winogrand. "I come from a photo background," he stated. "I landed at CBGB's, but I came from a photo background." He moved to New York in 1976 to photograph everyday life in the streets. Like anyone new to a city, he sought out entertainment, in this case, music. It was the band names in the back of the Village Voice that piqued his curiosity—Blondie, Talking Heads, and The Ramones.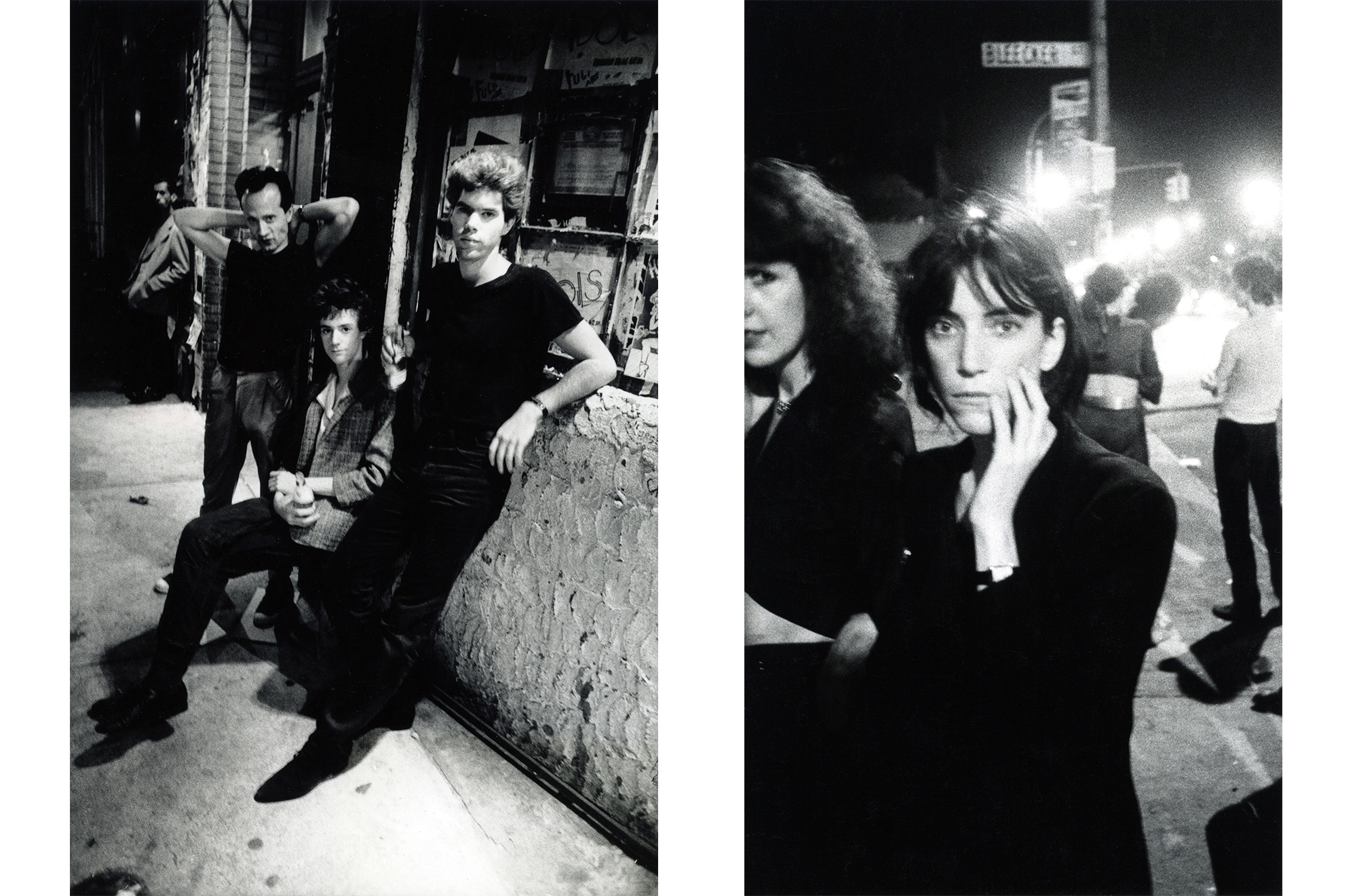 Left: Klaus Nomi, Christopher Parker, and Jim Jarmusch; Right: Patti Smith / Photos: Courtesy of David Godlis
"When I went to hear that music, it didn't really occur to me that I would be a photographer of that music," he explained. "But I was looking at Brassaï's pictures, and one night, very late at night, sitting at the bar at CBGB's I had one of those 'duh' moments. Like, I should be doing this here."
Despite interest in the images, Godlis struggled to find a publisher that would be willing to back a book on his terms—a photography book that happened to be focused on the Bowery punk scene, rather than a book about musicians. Finally, someone asked him a question he hadn't considered before. Why not try Kickstarter? "I hadn't thought about it really," Godlis said. (Previously, he had associated crowd funding with filmmakers.) "Then I started to understand—the more I thought about it, the more I researched it, the more I realized I could do a DIY thing, and that my photos were about a DIY scene. They're people who put out their own 45s and did their own promotion to get around record companies."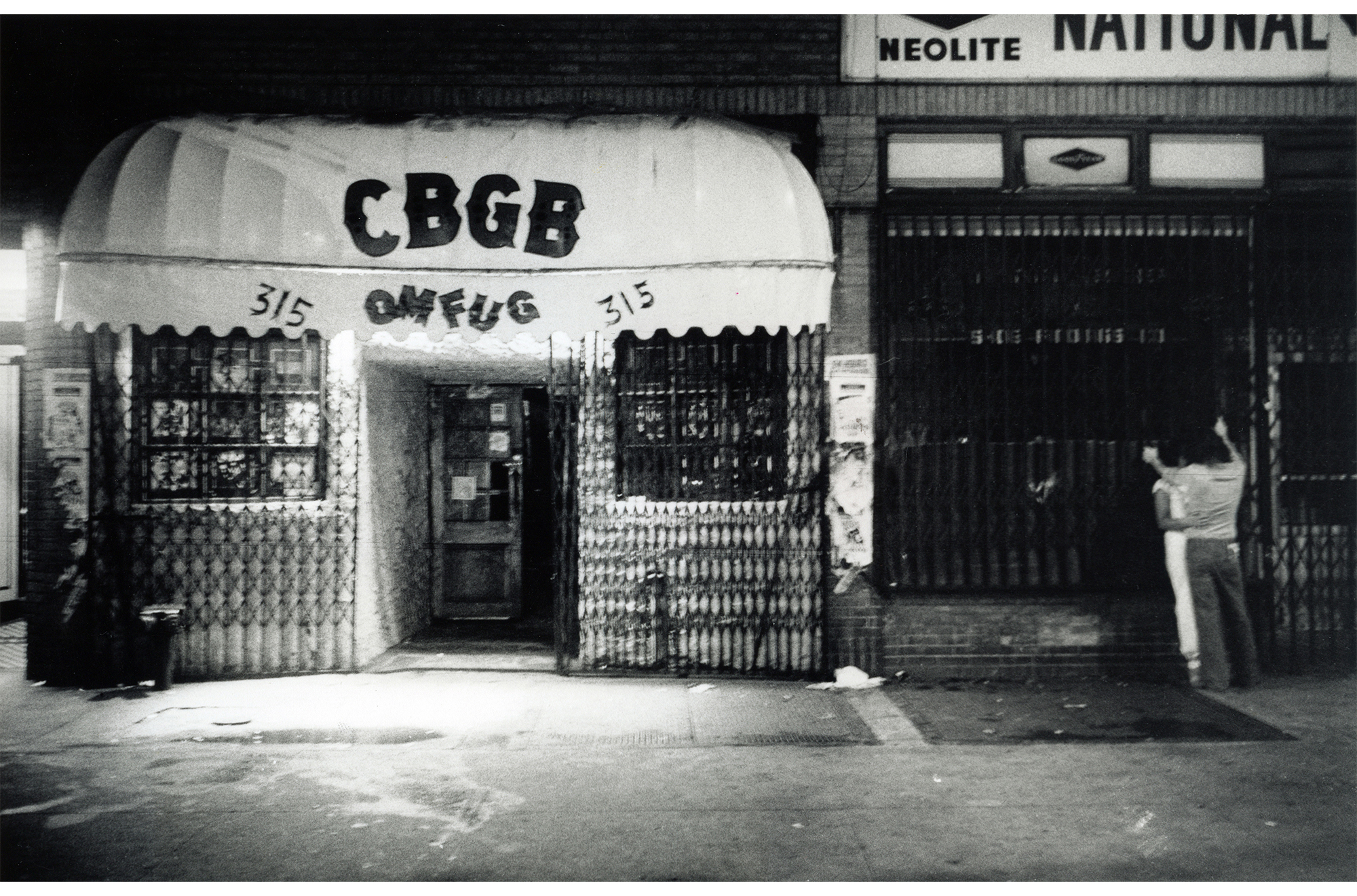 Photo: Courtesy of David Godlis
Things took off quicker than expected, due to a wave of support. Blondie guitarist and co-founder Chris Stein posted it to the band's social media. Godlis hired Laura Lindgren, a designer who specializes in art and photography books, to help guide him through the publishing process. "I always sort of had 80 percent of it done. I knew what it was going to be. There was always going to be a mix of famous people and not famous people—bar tenders, waitresses—it was going to be this overview of what was happening, mixed in with the heavy hitters," he explained. Godlis knew that he would write the afterward, and that the introduction would be provided by filmmaker Jim Jarmusch, whom Godlis met on the Bowery when the former was still in film school. He also knew that when the book was finally out, agnès b. would host an exhibit. The remaining 20 percent lay in the details.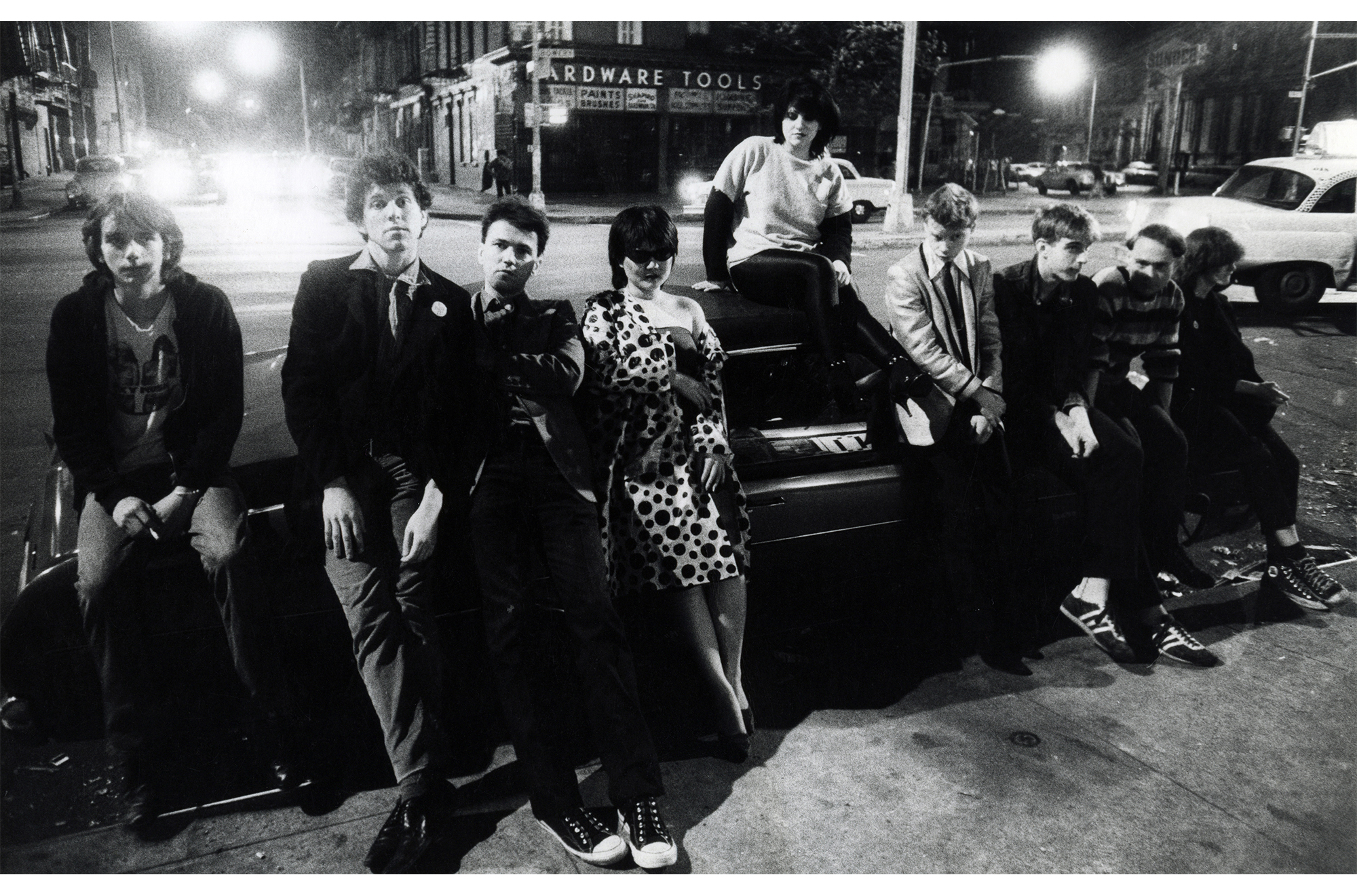 No Wave Punks / Photo: Courtesy of David Godlis
"The careful part was sequencing, and then working with the designer to come up with a format," he explained. Trips were taken to the Strand bookstore to review various sizes. Listening to music of the era, Godlis ended up physically arranging the pictures to get the order right. In a punk move, he rejected perfection, scanning vintage prints rather than the original negatives, retaining a grittiness to the images he associates with that time.
"When I was down there, I was just another guy down there. But I had this photo background. I remember telling myself, This is what I can do here that nobody else can do. If I don't do it, nobody's going to do it," he recalled. "It doesn't mean I was better than anybody, it just meant that was what I was able to do."
Despite the era being over, the ethos of punk, and the fascination with it, lives on. For both Godlis and the general public, the work of the Ramones and Patti Smith still resonates. "It's all very real, what was at the core of it. I don't think that stuff really dies any more than opening up a book of Robert Frank's pictures dies for me. They're very alive, as are the Diane Arbus pictures every single time I look at them."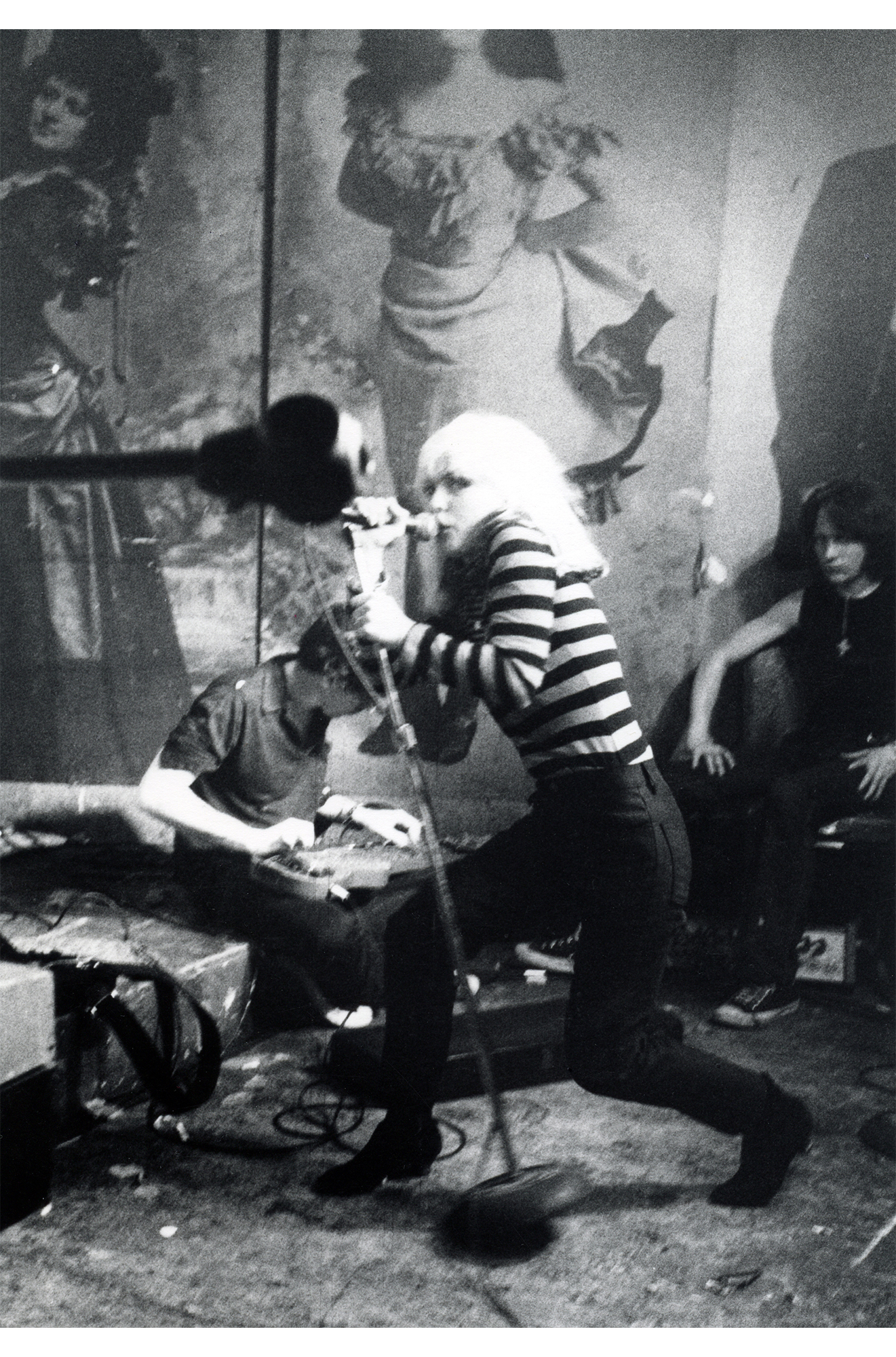 Blondie / Photo: Courtesy of David Godlis
"From the time I walked in to CBGB's, I just felt like it was the place for me. There weren't that many people there," he continued. "It was a moment of opportunity that who knows if it will ever happen again, that way, that place. I'm not romantic about it, but I'm just glad that I made the decisions I made in the time that that happened. I think I knew going into it. When I came to New York, I remember thinking to myself, If I ever run into a scene that's really cool, I hope I recognize it. And I guess I did."
Images from History is Made at Night are now on view at the agnès b. boutique in Soho, until October 16th. Copies of the book are available in the store, and on Godlis's website.
0 Comment