"It's important that we put our bodies out to be counted—literally counted," said artist Deborah Kass while marching outside the Puck Building last night. "It's really important to show up for everything now."
Yesterday evening at 6 PM, New York's creative community did just that, with artists like Marilyn Minter, Cecily Brown, Rob Pruitt, Dan Colen, and more rallying together in front of Ivanka Trump's and husband Jared Kushner's apartment building for a candlelight vigil protesting Donald Trump.
The gathering was organized by Halt Action Group, founded by artist Jonathan Horowitz, art dealer Bill Powers, and curator Alison Gingeras. The organization launched a much-talked-about "Dear Ivanka" Instagram account last week, on which glammed-up snaps of Ivanka are posted with captions like, "Dear Ivanka, I'm afraid of the swastikas spray painted on my park," or "Dear Ivanka, I'm afraid for all my friends who aren't white men." Halt Action Group's Website follows suit, its homepage featuring a photograph of the former model and the words, "Dear Ivanka, We need to talk about your dad." It goes on to state, "Racism, anti-Semitism, misogyny, and homophobia are not acceptable anywhere—least of all in the White House. Steve Bannon has no place in the White House. Jeff Sessions has no place in the White House. Talk of a Muslim registry has no place in the White House. Hate has no place in the White House. We refuse to 'wait and see.' We look to you as the voice of reason."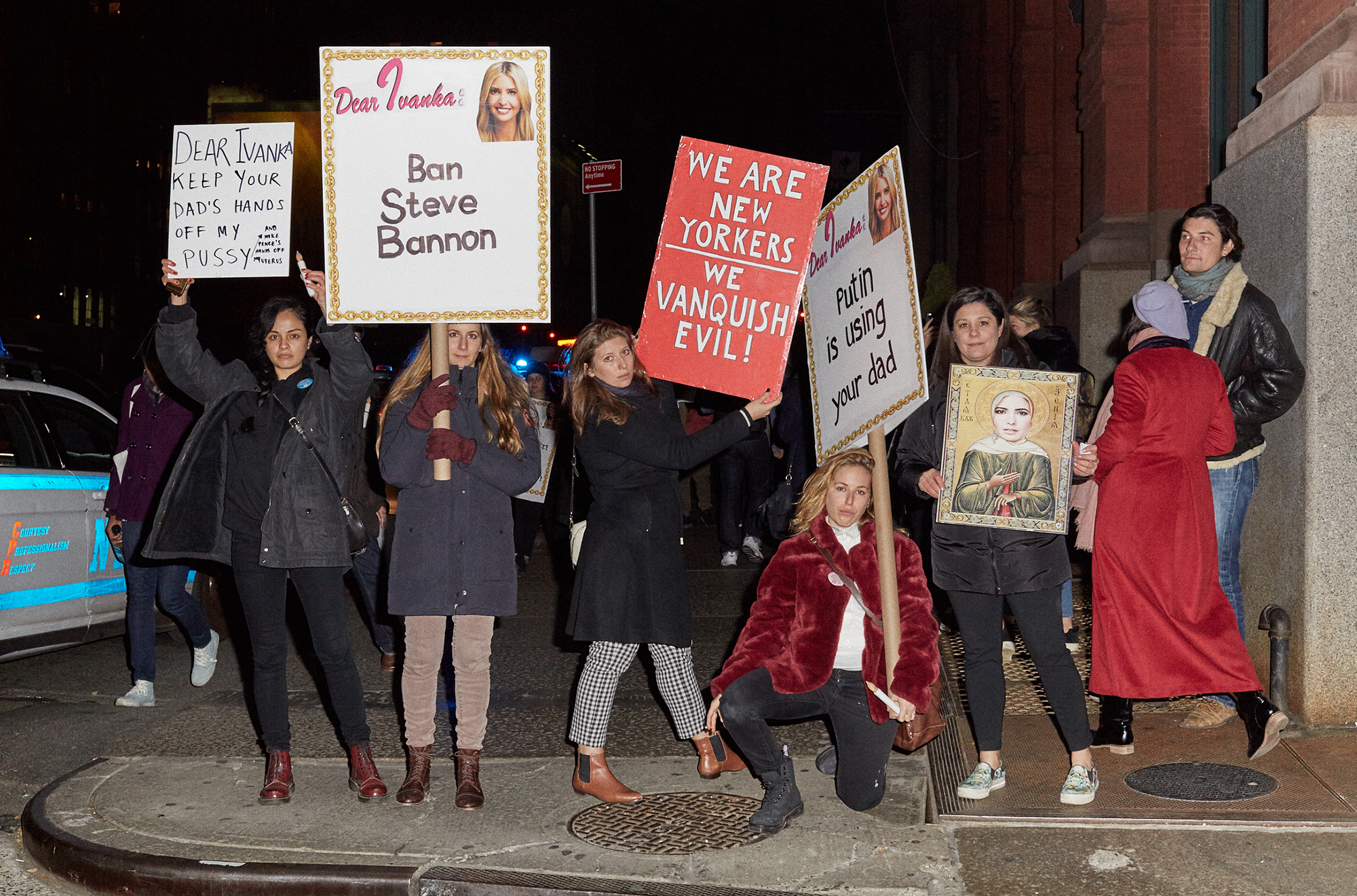 Photo: Courtesy of Balarama Heller
Over the weekend, the group announced it was planning a "Dear Ivanka" protest, which resulted in last night's peaceful but poignant gathering, and drew many of the artists whose work Ivanka and Kushner collect.
There was no chanting, no screaming, no rioting. Just concerned New Yorkers carrying electric candles and posters that served as open letters to Ivanka, who has advised her father during his transition, and of course, has his ear.
"We wanted to strike a less inflammatory tone for this protest," said Horowitz of the vigil format. "We wanted to sincerely express our fears and grievances. There's not a great expectation that she's listening, so it's all essentially theatrical."
What's the point of marching if you think the subject of the protest isn't paying attention, you might wonder? "People have to speak out. They have to use their voices, their bodies, their talents to do whatever they can to stop what we fear is going to happen, and is happening."
Minter, whose sign read, "Dear Ivanka, If someone grabs my pussy, is it O.K. to fart?", and depicted a cat passing wind, shared Horowitz's sentiment. "I don't think Ivanka is going to pay any attention to it, but it's an excuse to start organizing," offered the artist, adding that her message to Ivanka was "absurdist humor." "This is about making our presence known, and hopefully the left will create our own Tea Party, except it will be on steroids because we have the media on our side."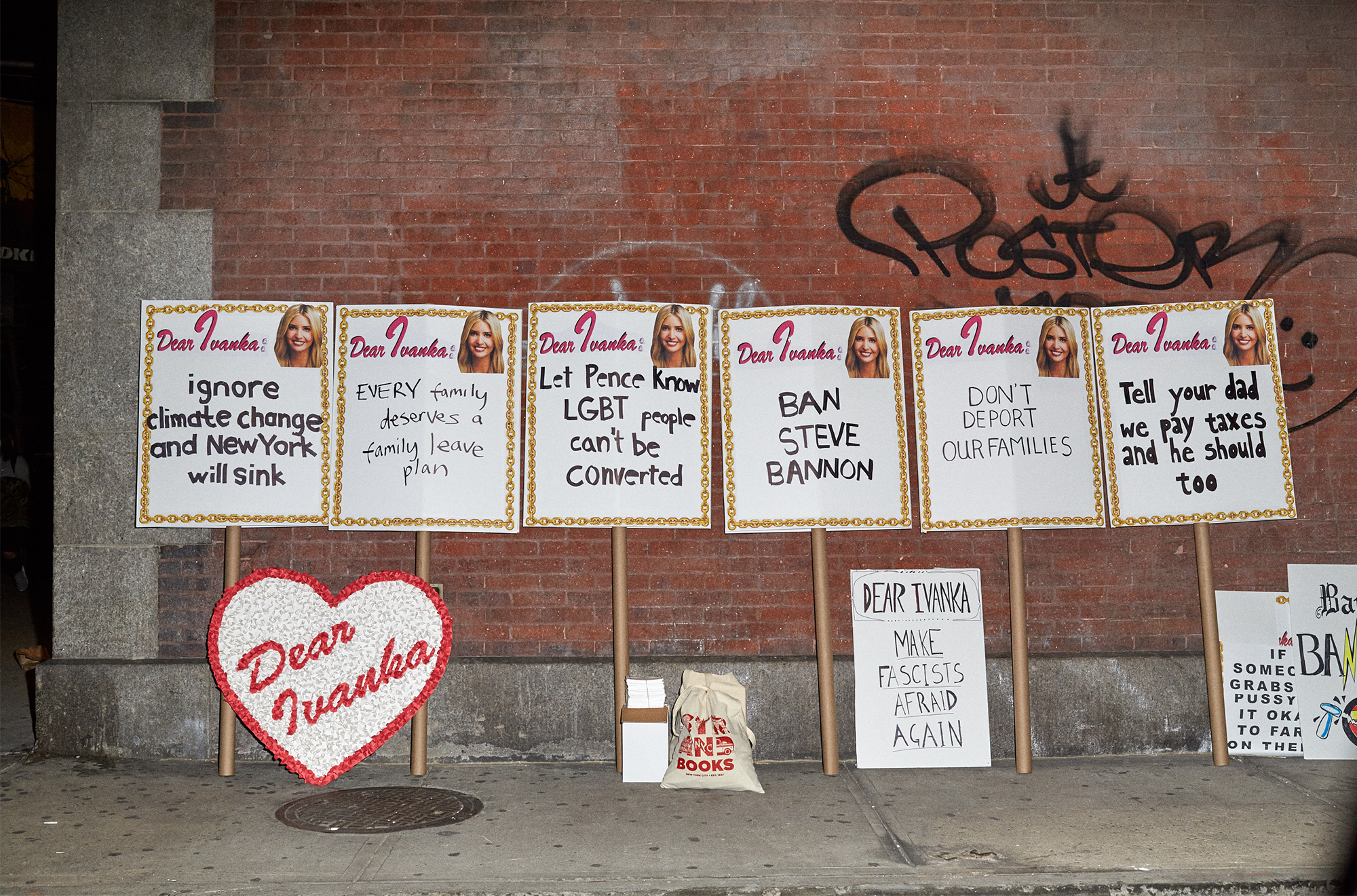 Photo: Courtesy of Balarama Heller
Like many in attendance, Minter was wearing one of Planned Parenthood's "Don't fuck with us, don't fuck without us," pins, and cited its defunding as one of her main fears under a Trump presidency. "I'm [worried] about Roe V. Wade and our reproductive rights. Then there's also the Muslim registry. Of course, I'll sign up as a Muslim immediately, and everybody else will, too."
Everybody else in the New York art world, at least. But the bubble we creative types have built around ourselves is one of the reasons that Trump won the presidency—or, at the very least, why we were so shocked Trump won the presidency. To that point, Brown stressed the importance of reaching out to people beyond your immediate community. "We want to make it clear that New York doesn't stand behind him, but we don't want this just to be about a bunch of New Yorkers—especially just a bunch of New Yorkers from the art world. We want to speak beyond that, catch some attention, and hopefully spread [our message] across the country, so that even people who did vote for Trump might listen and realize that he's not the voice of reason, and he's not the person we want in the White House."
The message reached at least one Trump voter, who alone stood just beyond the police barricade holding a "Build the Wall" sign. He wasn't exactly swayed, but he did appear visibly uncomfortable, shifting awkwardly while quietly trying to proclaim his support for the President-elect. Indeed, there is power in numbers.
"It seems like, because of social media, everyone is staying home and putting up angry messages, but no one is really coming together," noted designer and native New Yorker Chrissie Miller. "I think the more we can do stuff like this, where we're all in person together, I just keep thinking about solidarity. Just get out of your house."
"We're all very lucky and fortunate to live in New York, and because of that privilege, it's our responsibility to speak up and speak out" said Pruitt, who carried a poster asking Ivanka to "Tell your dad that we pay our taxes and he should, too."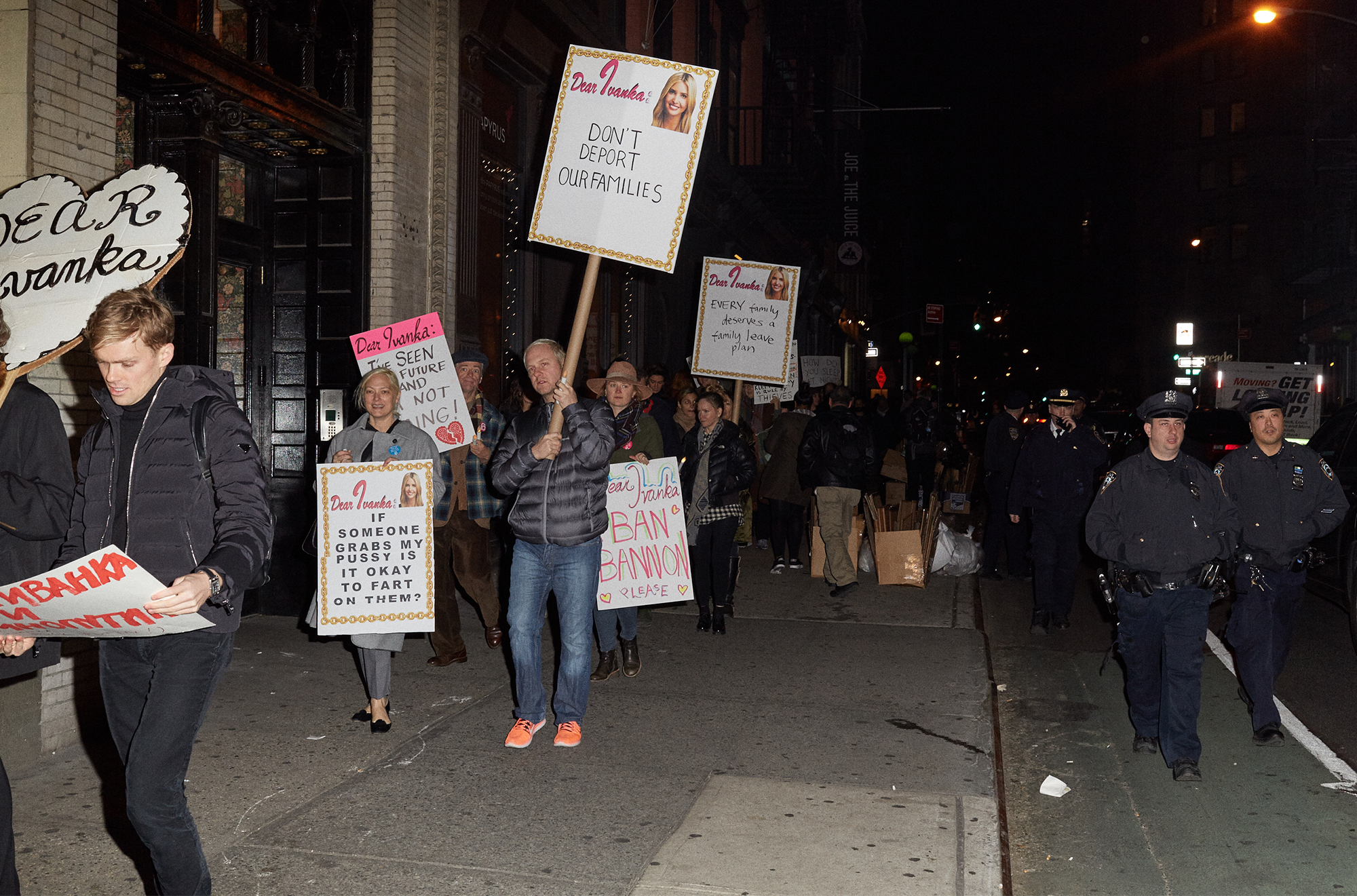 Photo: Courtesy of Balarama Heller
Other signs voiced concern about Putin (Stella Schnabel's read "Dear Ivanka, Fuck Putin," in Russian), Bannon's racist and sexist views and rhetoric (one had "Ban Bannon" writ large), the Trump-fueled culture of racism and hate ("The KKK took the White House away"), immigration ("Don't deport my friends"), women's issues ("Dear Ivanka, Keep your dad's hands off my pussy, and Mike Pence's hands off my uterus"), and beyond.
As so many of the artists admitted, it's unlikely that this particular protest will change Trump's political approach, or motivate his daughter to advocate on behalf of the American citizens who feel threatened by her father's policies and appointments. But it's a start, and as one very popular sign stated, "We are New Yorkers. We vanquish evil!" Like the protests at Trump Tower, and the forthcoming January 21st Women's March on Washington, assembling, organizing, and speaking out are our greatest weapons. The only way fear and hate win is if America's citizens remain passive and silent.
0 Comment