New movie The Neon Demon, out June 24th, had the fashion world abuzz when the first trailer dropped. The murder-packed thriller, which stars Elle Fanning, Bella Heathcote, and real-life model Abbey Lee, looked stylish, intriguing, and best of all, the film is set in the fashion world—and we all love seeing ourselves represented on the big screen. But Hollywood's ability to depict the fashion industry hasn't exactly been on-the-nose.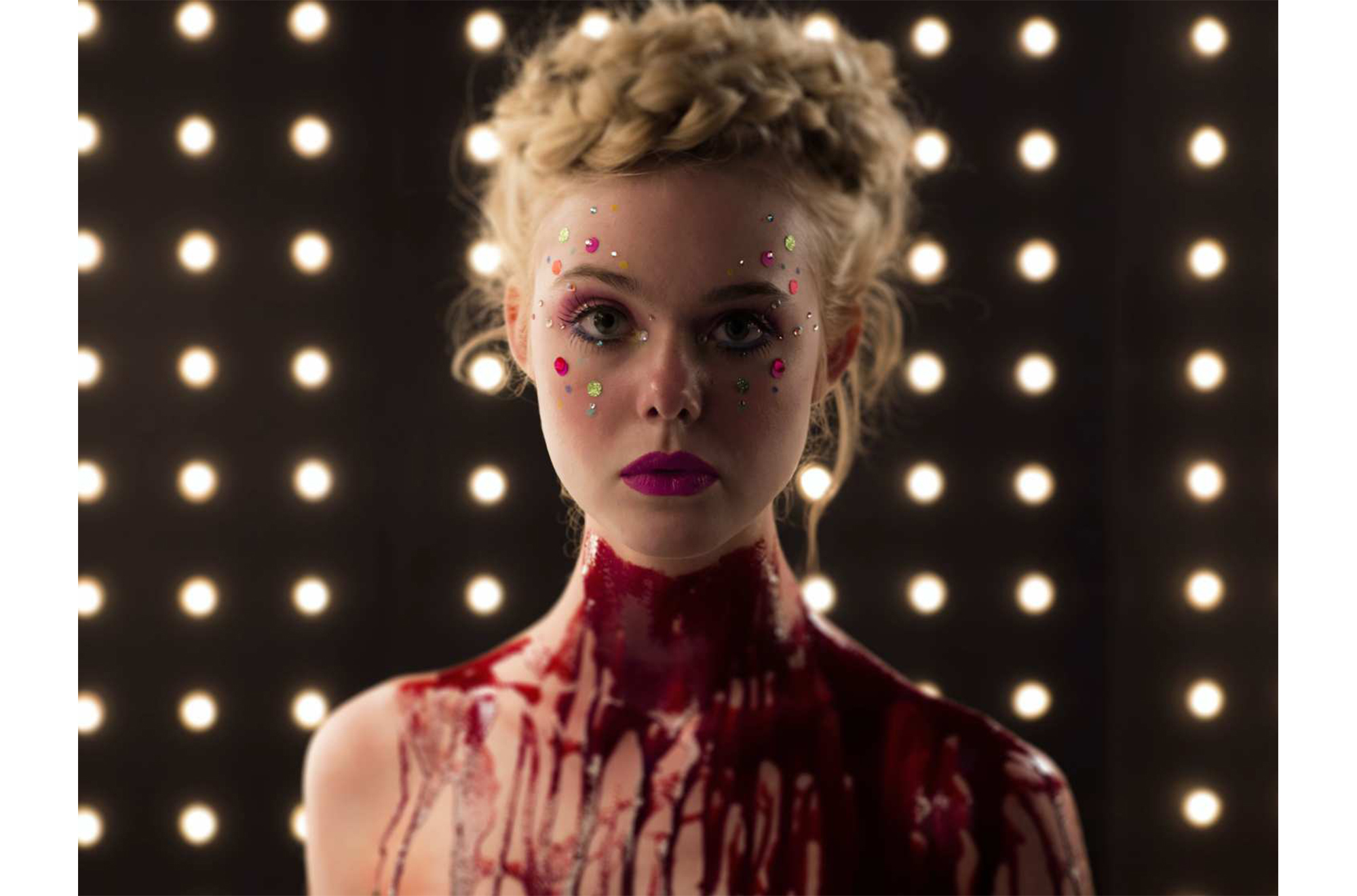 Elle Fanning in "The Neon Demon" / Photo: Courtesy of Broad Green Pictures
Arguably, Funny Face (1957) is the movie that best merges the worlds of film and fashion, due to its reliance on the fashion industry to make it look good in the first place. The story is about a young woman named Jo (played by Audrey Hepburn) who accidentally becomes the muse of fashion photographer Dick Avery (Fred Astaire), and is whisked off to Paris with magazine editor Maggie Prescott (Kay Thompson) to appear in a couture show. Jo reluctantly agrees, seeing an opportunity for a free trip to Paris where she can meet her beatnik intellectual heroes. The whole film sets up many a future fashion movie trope: Jo is an outsider, "too smart" to take fashion seriously, thinking it's beneath her. Maggie thinks Jo's lack of fashion sense makes her some sort of plebeian gremlin, and beneath her. Dick is the go-between, charming Jo into warming up to the industry, and getting Maggie to be a little less uptight. If this oversimplification of the plot sounds familiar, it's likely because you've seen The Devil Wears Prada (2006). While the specifics are different, both films have an outsider entering the "world of fashion", fighting against it, and feeling defeated before eventually winning it over. Both films have an ice-cold, cartoonishly pretentious magazine editor whose respect the outsider must win. Both films have a male character that is able to concede that yes, the fashion industry is crazy, but it's also fun/escapist/a job/artistic/a thriving industry of people who know what they're doing so please stop talking down to them like they're idiots. Both films send the characters to Paris for fashion week.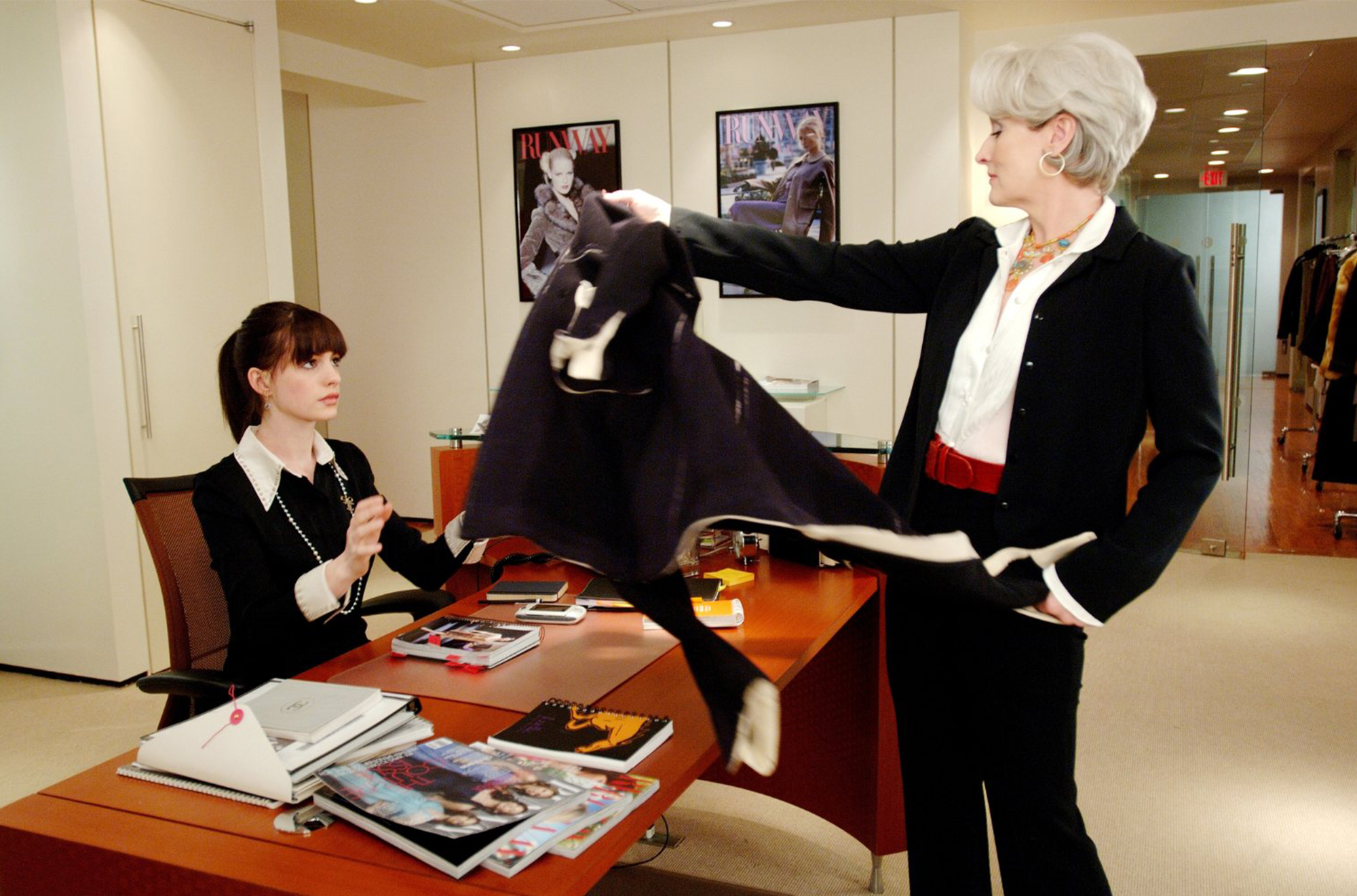 Anne Hathaway and Meryl Streep in "The Devil Wears Prada" / Photo: Courtesy of Twentieth Century Fox
Both films also draw from real life. Prada was obviously based on the book of the same name, written by a former Vogue staffer who wanted to capitalize on a bad experience. Miranda Priestly is a less-than-vague stand in for Anna Wintour, whereas Funny Face's Maggie is a portrayal of Diana Vreeland, and Dick is based on renowned photographer Richard Avedon, right down to his name (Vreeland used to call Avedon Dick). But this is where Funny Face takes it a bit farther: Avedon was brought on as a consultant for the film, setting up the photography shots (there is an amazing sequence in which Dick photographs Jo in couture). And while both films cast models in roles (Gisele Bundchen pops up as an office mean girl in Prada), Funny Face has a sense of humor about the situation, getting then-mega model Dovima to parody herself in an era where no one outside of fashion would get the joke (people didn't always follow models as we do now). That being said, Vreeland didn't think it was too funny, famously forbidding the film to be discussed among her staffers, and, according to Amanda Mackenzie Stuart's tome, Empress of Fashion: A Life of Diana Vreeland, the editor later said she was, "too real for teasing."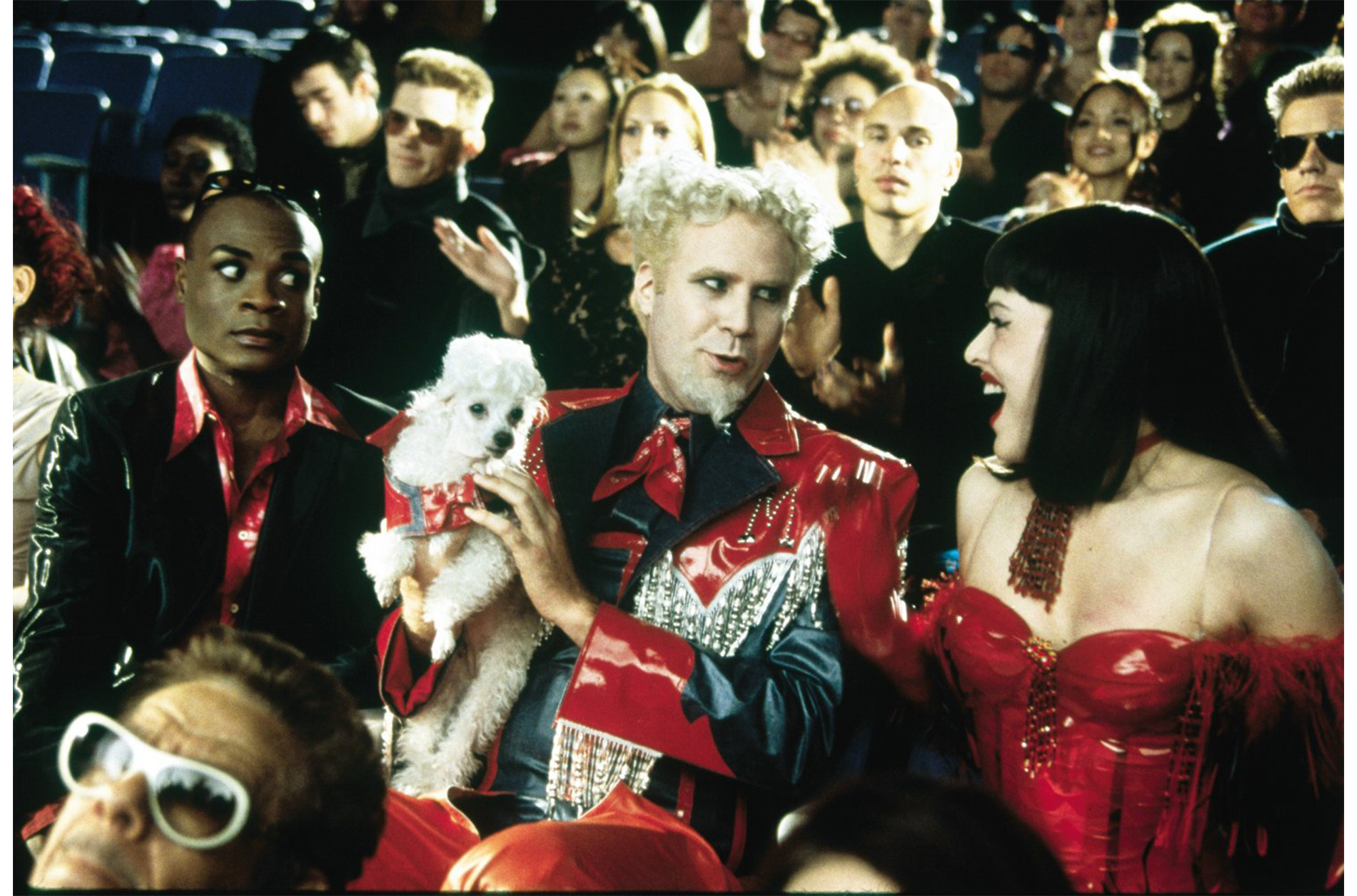 Nathan Lee Graham, Will Farrell, and Milla Jovovich in "Zoolander" / Photo: Courtesy of Paramount Pictures
Another thing these movies have in common is that they attempt (or at least pretend) to portray the fashion industry, yet fall into the trap of lampooning it. They both show a glamorous world, with superficial people who are greatly concerned with over-the-top nonsense. And occasionally, the industry is in on it. Anyone who has seen Pret-A-Porter (1994) or the Zoolander films will note the staggering amount of real-life models, designers, and editors willing to play themselves in a send-up of epic proportions (as we expect from this summer's upcoming Ab Fab movie). There is a lot of fun to be had here. A person like Diana Vreeland, for example, had a habit of saying deliciously insane things (like suggesting that people wash their hair with champagne in her "Why Don't You?" column for Harper's Bazaar). Naturally, a personality like hers is easily parodied in films like Funny Face, the mocumentary Who Are You, Polly Magoo?(1966), or the play Full Gallop, which was about Vreeland's life immediately post-Vogue. Incidentally, Polly Magoo was both written and directed by famed fashion photographer William Klein, who drew from his experiences in the industry to satirize it.
Part of the problem here might just be that the reality of the industry is…kind of boring? Sure, there are fun parties, but for every 20 minutes of cocktails there are three hours of typing, trying to set up meetings, or packing and unpacking clothes. It's kind of the fashion industry's fault—we only want the general public to see the glitz and glam, because that's what sells. That coupled with taking ourselves far too seriously, it's almost hard not to poke fun.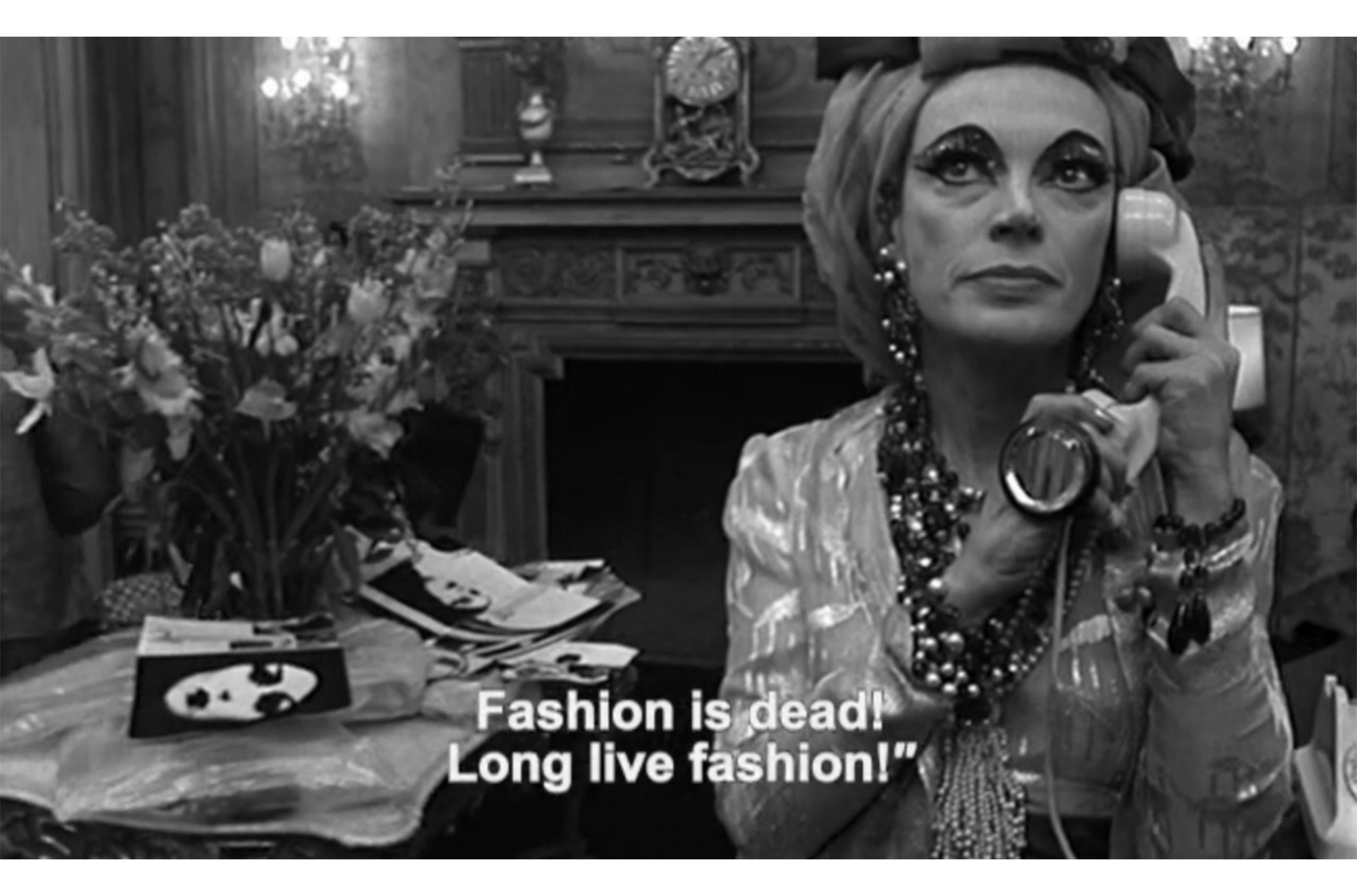 A scene from "Who Are You, Polly Magoo?" / Photo: Courtesy of Delpire Productions
Not all fashion films are feel-good stories. Blow-Up (1966) and The Eyes of Laura Mars (1975) both involve fashion photographers stumbling into violence. Blow-Up is the more artsy of the two, in which a male fashion photographer (based on David Bailey) who spends a day frolicking with models (Verushka, Peggy Moffit, and Jane Birkin included), accidentally photographing a murder, and halfheartedly investigating it. There's no real resolution to the film, but it stands out in the public consciousness, solidifying the idea of the rock-star fashion photographer that took the '60s by storm, and outlining a caricature of what goes on behind the camera. While Blow-Up captures the sexual freedom in Mod-era London, The Eyes Of Laura Mars is thematically rooted in the violence of '70s fashion photography. The title character is known for taking violent images, and begins to see murders take place through the eyes of a serial killer. Naturally, Helmut Newton was asked (and agreed) to provide supporting images that appear in the background of the film. The play The House of Von Macramé was a more comedic riff on killer style, with a mysterious murderer killing off models, yet the humor coming from members of the fashion industry being catty to one another.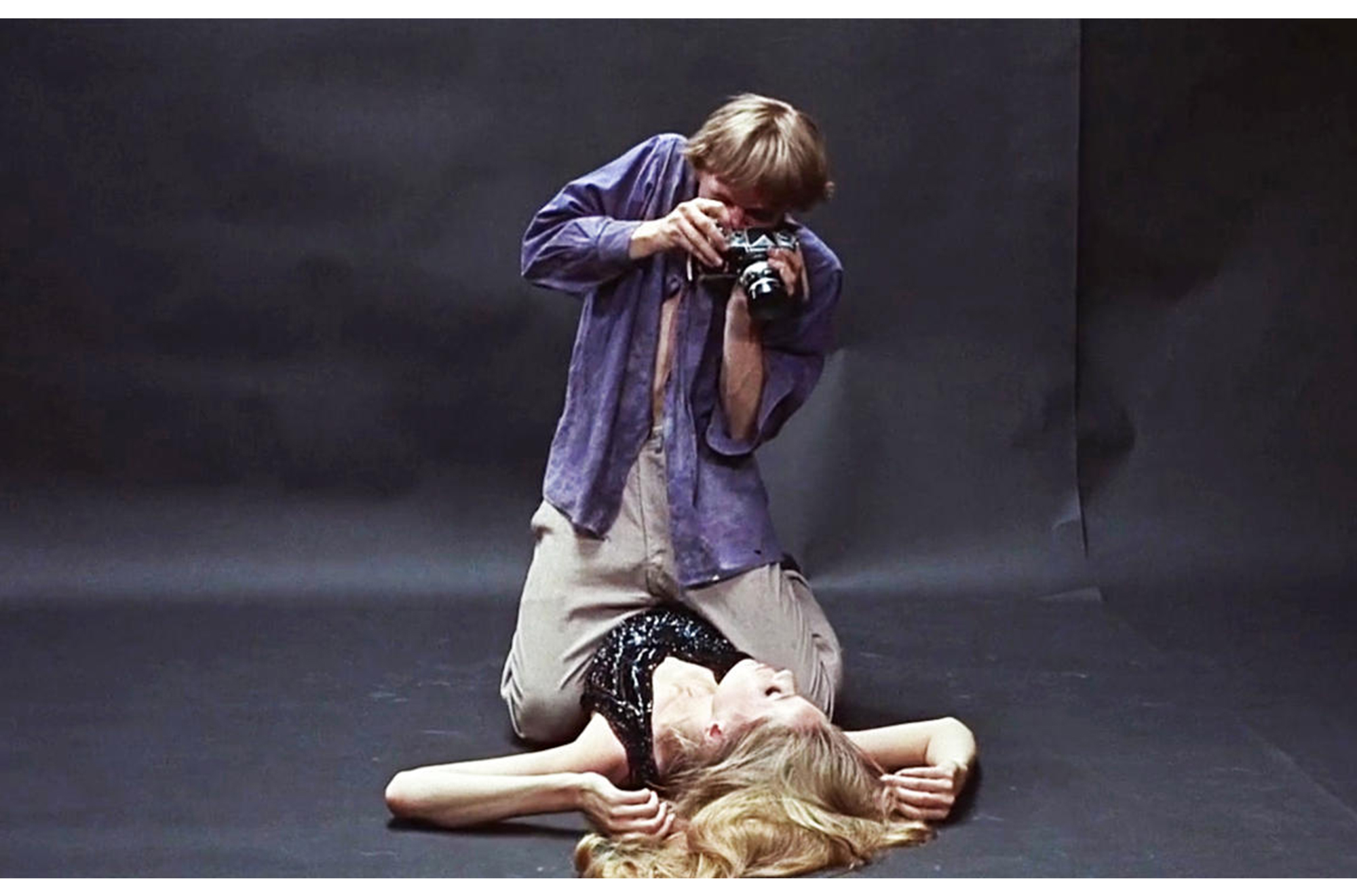 David Hemmings and Veruschka von Lehndorff in "Blowup" / Photo: Courtesy of Premier Productions
Another trope is that chancing a superficial career in fashion will corrupt an otherwise "good" girl. This usually pops up in non-fashion related movies, where the title character (or villain) looses herself to a job, which inevitably ends up being in fashion (like 13 Going On 30 or Gia. The Devil Wears Prada touches upon this as well). But Mahogany (1975) lays it all on the line, making this the central plot. Diana Ross plays the lead, who falls into modeling while pursuing a career as a designer. The fashion world in this film is hollow and meaningless, which is at odds with her hometown beau, who is an activist in Chicago. This perpetuates an ongoing (and incorrect) belief that fashion and social justice are mutually exclusive. While the industry is, without question, full of problems, this does not mean that there aren't brands and designers using their platform to facilitate positive change. These films also allude to the idea that the more ambitious a woman becomes, the "meaner" she gets, which is—to be frank—some seriously misogynistic bullshit. And sadly, it's a trope that extends beyond fashion-related movies, but that's a whole other article.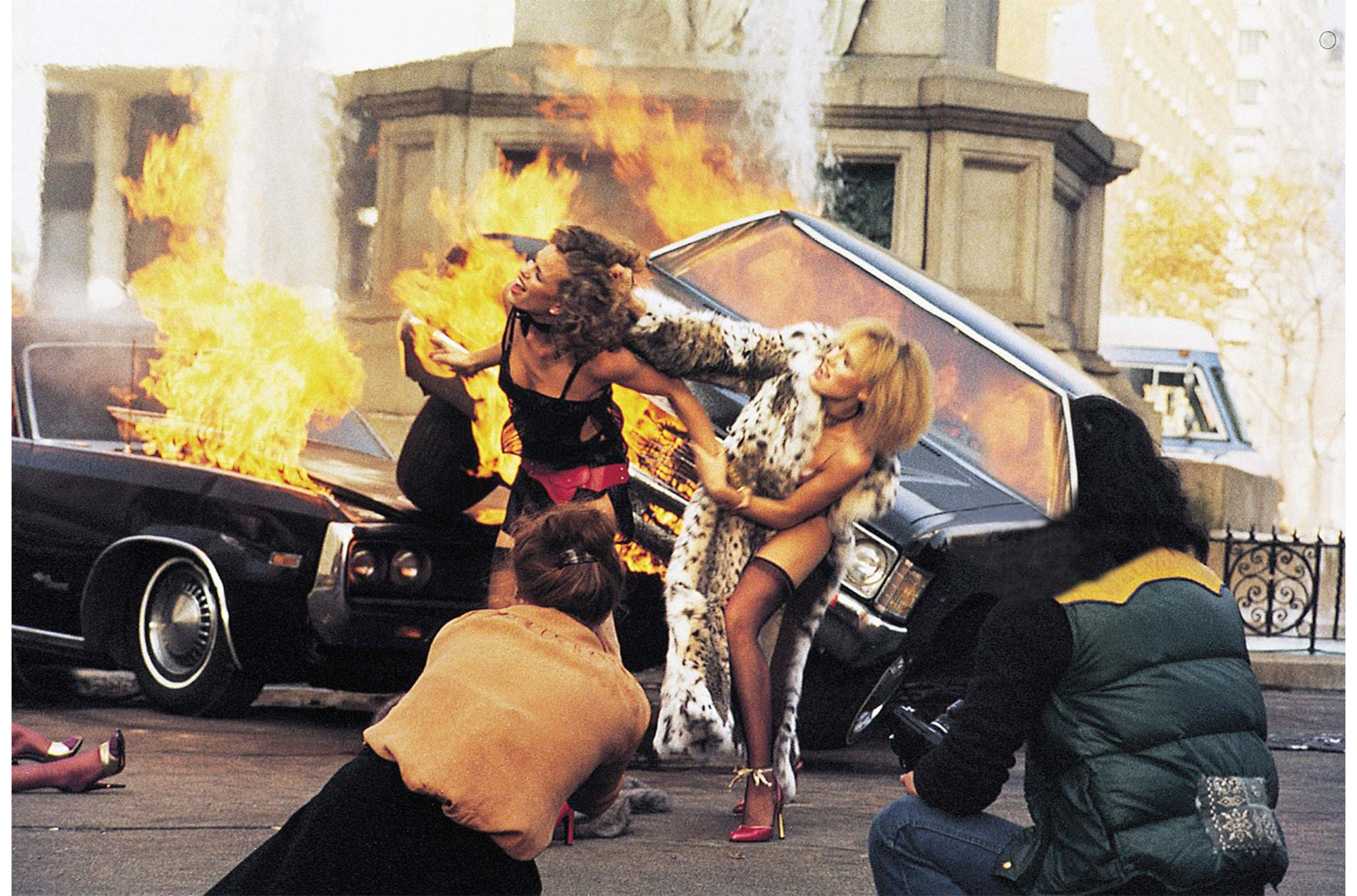 Faye Dunaway, Darlanne Fluegel, and Lisa Taylor, in "Eyes of Laura Mars" / Photo: Courtesy of Columbia Pictures
For a somewhat realistic view of the fashion world, documentaries seem to be the average viewer's best bet, especially now that the genre is expanding. Films such as Dior & I manage to articulate the hard work that goes on behind the scenes of Haute Couture, and details the pressures designers face while walking the line between their own creative nature while also appeasing investors. Meanwhile Picture Me drew back the curtain on the modeling industry, showing every un-glamorous detail of a model's life, with accuracy that The Neon Demon likely won't delve into. At the moment, it appears that Demon might be to modeling what Black Swan was to ballet—sure, there will be some behind-the-scenes action, but hallucinations of evil, and the threat of unspecified doom are not common in either industry (unless you're a writer who has been tasked with up-to-the-minute reviews of fashion month, but hey, what doesn't kill ya, am I right?). That being said, to get caught up in the details of whether or not fashion has been showcased for what it is would be to miss the point of watching movies in the first place—to be momentarily transported into the story, and swept up in the fantasy world onscreen. Wait, isn't that how we describe the point of fashion?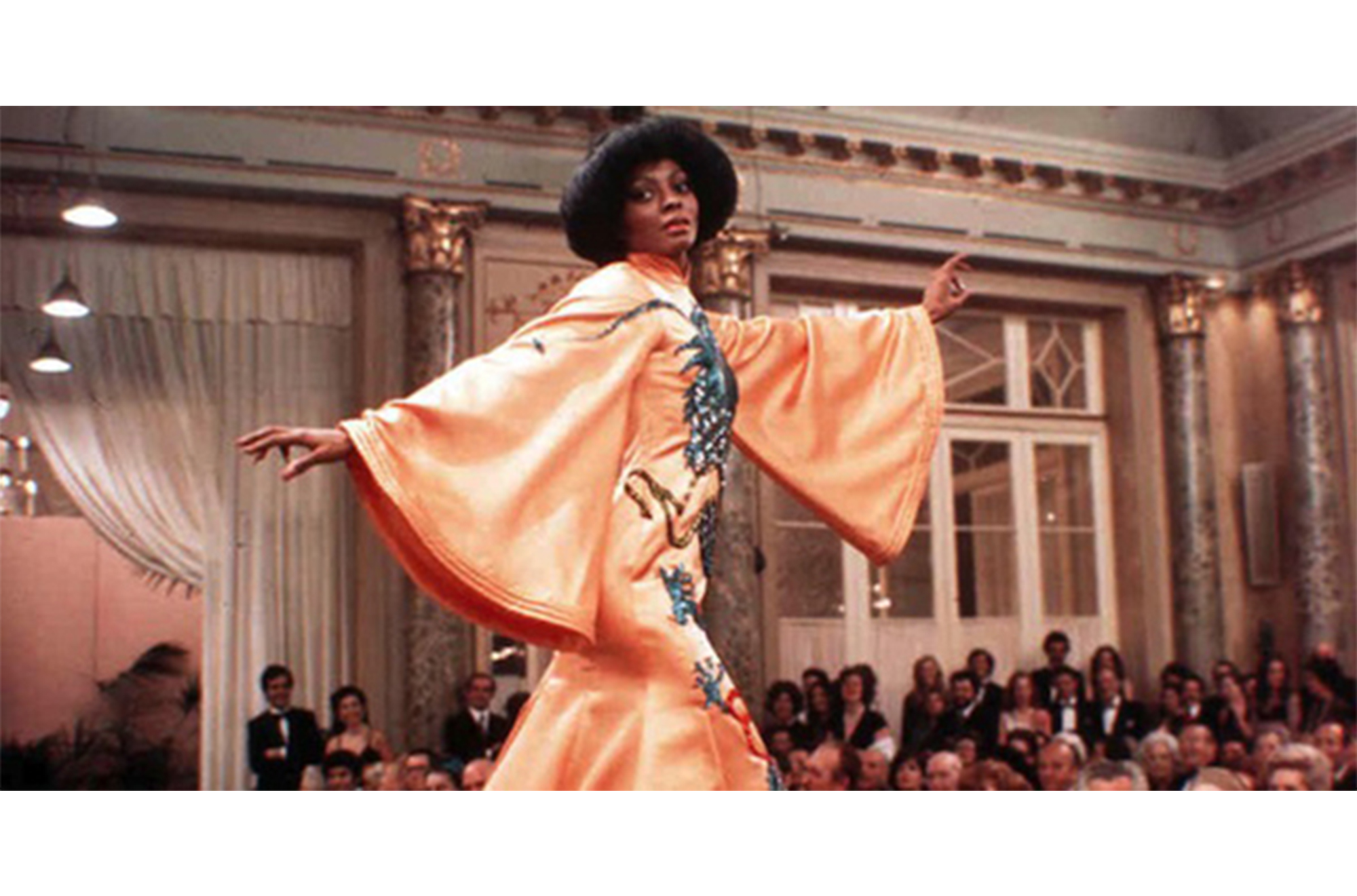 Diana Ross in "Mahogany" / Photo: Courtesy of Paramount Pictures
0 Comment