For Ho Chi Minh City-born, Berlin-based womenswear designer Nhu Duong, utilizing high-tech materials is paramount. Perhaps that's why the young talent, who cut her teeth as a design assistant at Acne Studios before making her Stockholm Fashion Week debut in 2009, was commissioned to create futuristic garments for Société Berlin gallery's exhibition at Frieze New York, the annual art fair held on Randall's Island last week.
The installation fused components of art, science, and technology, and was part of a collaboration between artist Sean Raspet and Los Angeles-based food and beverage startup Soylent. (For the exhibition, which featured a series of minimalist, sleek refrigerators housing boxes of the new age, 400-calorie drinks, Raspet, who also works as a flavorist for Soylent, developed an algae paste prototype to hand out to Frieze-goers.) Along with employees of both Société and Soylent, Raspet sported Duong's avant-garde uniforms at the four-day fair.
"I have always been interested in the dichotomy of artificial and natural materials," said Duong. "Approaching the idea of a uniform for a company that epitomizes the idea of efficiency was quite fascinating."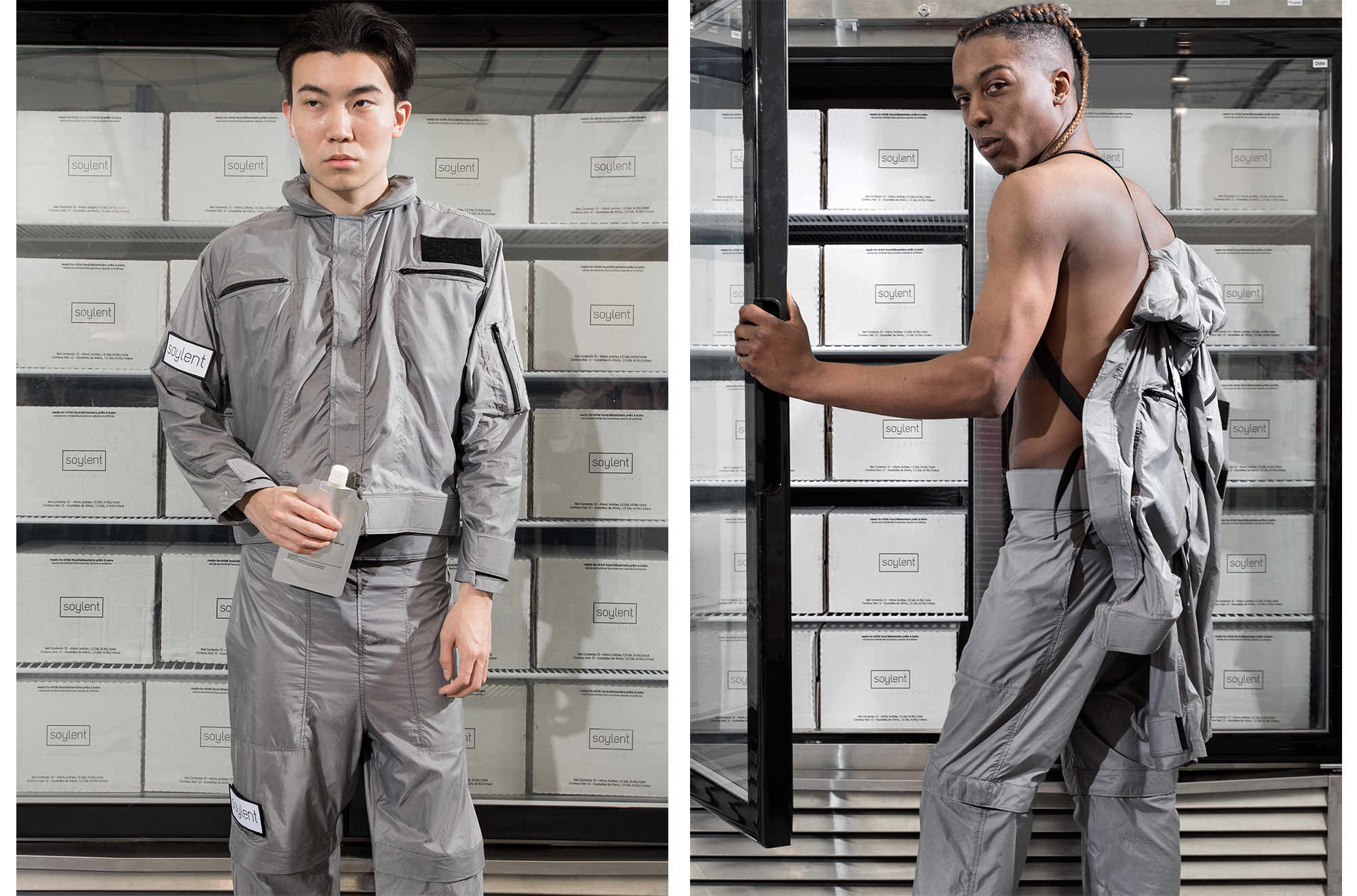 Photos: Rob Kulisek
Duong said the micro-fibrous, technological material, produced by Swiss textile manufacturer Scholler, is entirely water-resistant, and allows substances like ketchup, honey, coffee, or red wine to run right off.
The modular, slate gray garments, which feel almost windbreaker-like to the touch and appear part Margiela, part Ghostbusters, are a true lesson in the marriage of fashion and function. Parts of the uniforms are detachable via Velcro straps and can be worn in the form of overalls, shorts, pants, a hoodie, and even as a backpack.
"We wanted to create a garment that reflected some of the aspects of efficiency and versatility that Soylent itself has," Duong explained. "We started looking at nanomaterials, which mimic the natural self-cleaning effect of certain plants whose leaves always remain clean."
"At its core," she continued, "fashion can be quite the opposite of efficiency, so to imagine a garment that you can just slide into, but that still makes you feel dressed is quite inspiring."
Duong added that she looked to space travel and high-fashion designs from the '90s for inspiration.
"Sometimes, the perception of high-tech materials as artificial makes them associated more with functional sportswear rather than high fashion," she said. "This is one aspect I like to play and work with."
In the eyes of Raspet, who said his installation was primarily about the collision and crossover of mass consumption and the art world, Duong's uniforms are as exciting as they are cutting-edge.
"I love the idea of streamlining things and making them more efficient and getting rid of all the needless variation that exists in the economy," he said. "Why not have everyone wear the same thing actually? It sounds very radical, but if it's something very good and very versatile and very comfortable, it can be used in different occasions. I really would like to see this become the suit of the future—if that's possible."
Indeed, it does sound radical (and a little sad for the fashion lover—who wants to look just like everyone else?) but it sure does make you think.
0 Comment