On April 13th, Jason Wu, New York's reigning king of all things elegant, dropped a proverbial bomb on Instagram, revealing that he was launching a little sister line, GREY Jason Wu, and that his first collection, available now at Bergdorf Goodman, Neiman Marcus, Nordstrom, and GREYJasonwu.com, is a collaboration with artist Hunt Slonem.
If you've opened any fashion or interiors magazine in the last five years, you've probably seen Slonem's work. The New York-based artist is famed for his joyful, gestural paintings of butterflies, birds (his studio and homes are veritable aviaries, filled with Slonem's exotic feathered friends), Abraham Lincoln (more on that later), and—wait for it—rabbits. It is the latter creature, a favorite amongst the fashion set (Katie Grand, Katie Hillier, Cara Delevingne—seriously where is Cecil?—and even yours truly have bunnies as pets; Maison Michel's Laetitia Crahay can't get enough of them; they were all over Prada's Spring 2016; I could go on…) that appears in Wu's debut GREY lineup, which is priced between $295 and $1,395. "We had Hunt's bunny print on our mood board for the collection and I wanted to collaborate with him on the print. Hunt's work is charming, full of life, and so clever—qualities that perfectly sum up GREY Jason Wu," Wu told Fashion Unfiltered. "I was drawn to the bunnies because they're so abstract—from far away, they look like a graphic print. You only notice it's a bunny up close," he continued.
Slonem, for his part, couldn't be happier with the collaboration, noting that his favorite pieces are a sweater with a big bunny motif and a rabbit-print dress. "I'm quite pleased with what happened," he said from his Brooklyn studio. "It's very beautifully interpreted and very simple and gorgeous."
But working with Wu isn't the only thing this prolific artist, who possesses a flair for history and vivid color, has been up to. For starters, his show, "Antebellum Pop!" which fuses Slonem's art and interiors work, is currently on view at Baton Rouge's LSU Museum of Art. Never mind that he's in the midst of creating a number of monumental, 16-foot rabbit sculptures set to be displayed in Louisiana, restoring the F.W. Woolworth mansion in Pennsylvania, and preparing for several museum and gallery shows around the world. Here, Slonem speaks with FU about working with Wu, all things rabbits (painting them, communicating with them, rescuing them from pythons, etc.), his singular sense of style, and why everyone seems to be so gosh darn obsessed with bunnies.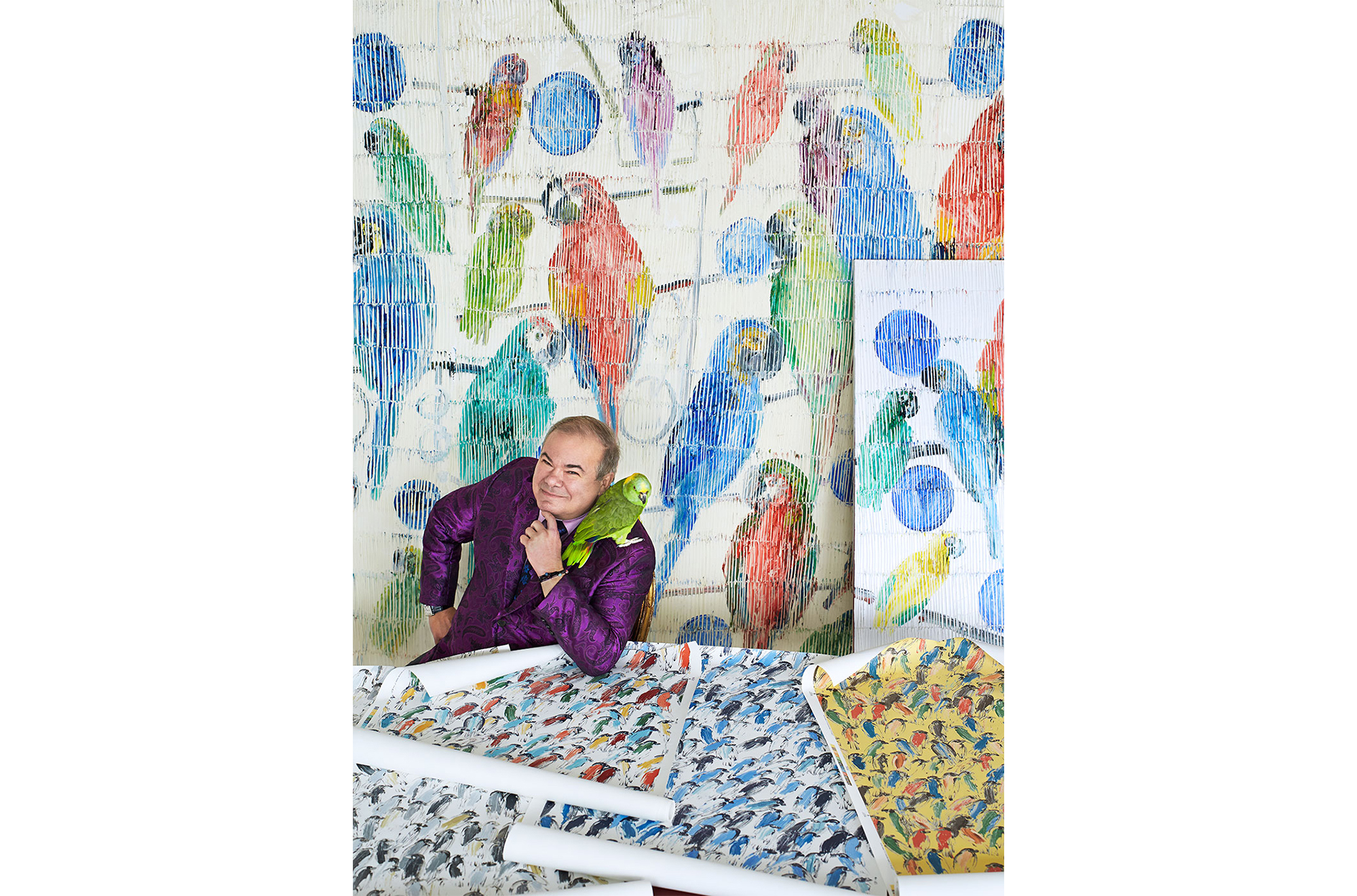 Hunt Slonem / Photo: Courtesy of the artist
Katharine K. Zarrella: So, to start things off, how did you come to work with Jason?
Hunt Slonem: Well, I got a call from him one day and we started talking. He told me I was on his vision board for many, many years. I was very honored and flattered, and he proposed that we do some kind of a collaboration. We weren't sure exactly what it would look like, or that it would definitely be rabbits, but it seemed like it would. And my rabbit population has expanded enormously in the last five or six years. I was more of a bird painter before, but I've always painted rabbits. I've been doing them since the '70s, but they really took off in the last few years. And I've done them on very, very large scales—50-foot paintings. Metaphysically, the rabbit symbolizes good luck and fertility. They're considerate and intelligent living, conscious beings with all these positive spiritual qualities. And they're just great, wonderful pets. People are always amazed at how they can be housebroken. They're really terrific. I haven't had a pet rabbit for many years, but I have had them.
KKZ: When was the last time you had a pet rabbit?
HS: It's kind of a weird story, but I'll tell you anyway. A friend of mine, who owned cats, too, rescued a rabbit from being fed to the python from a pet store and brought it to me. He was pretty rambunctious. He actually chased people. He was like the bad rabbit in Monty Python and the Holy Grail. He was cute, but he was very destructive. Finally, years later, an architect friend of mine who had a place in the country and had pet rabbits took him. And this rabbit, I think his name was Skipper, really didn't think he was a rabbit; he spent his later years following around a horse and sleeping by its side.
KKZ: You paint rabbits every morning as a warm-up exercise. How did you begin doing this? And what kind of emotional state does it put you in?
HS: It's like automatic writing—it's an altered state. It's just a ritual, and it's so fascinating to hang them and see years and years of effort in this way done on a very small scale. It's very gestural. And each bunny that I paint has a very particular personality. Each piece is completely unique, and they look very powerful when they're isolated. Anyway, that's what I do. It's probably been done for centuries in some form. I use a brush and a stick.
KKZ: Over the past few years, the fashion set has become obsessed with rabbits. They've been all over the runway, and a lot of fashion people have rabbits as pets, yours truly included. Do you have any insights into what's fueling this fixation?
HS: Well, do you want me to say that I influenced them? [laughs] Rabbits are in the air. Kris Kardashian just bought a painting of mine in California. It will be on her new show. Her mother brought her in, and she just made a statement that rabbits are going to be everywhere for now on. I don't know, I mean, I've worked with a medium, and the rabbits talk to us, and they really want their time.
KKZ: They want their moment in the sun?
HS: They're powerful forces. They've really brought my work to the attention of people that perhaps wouldn't have seen it before. I've also done fabric and wallpaper. It's out there. I noticed a lot of rabbits popping up after I started doing a few things. I don't know, great minds think alike.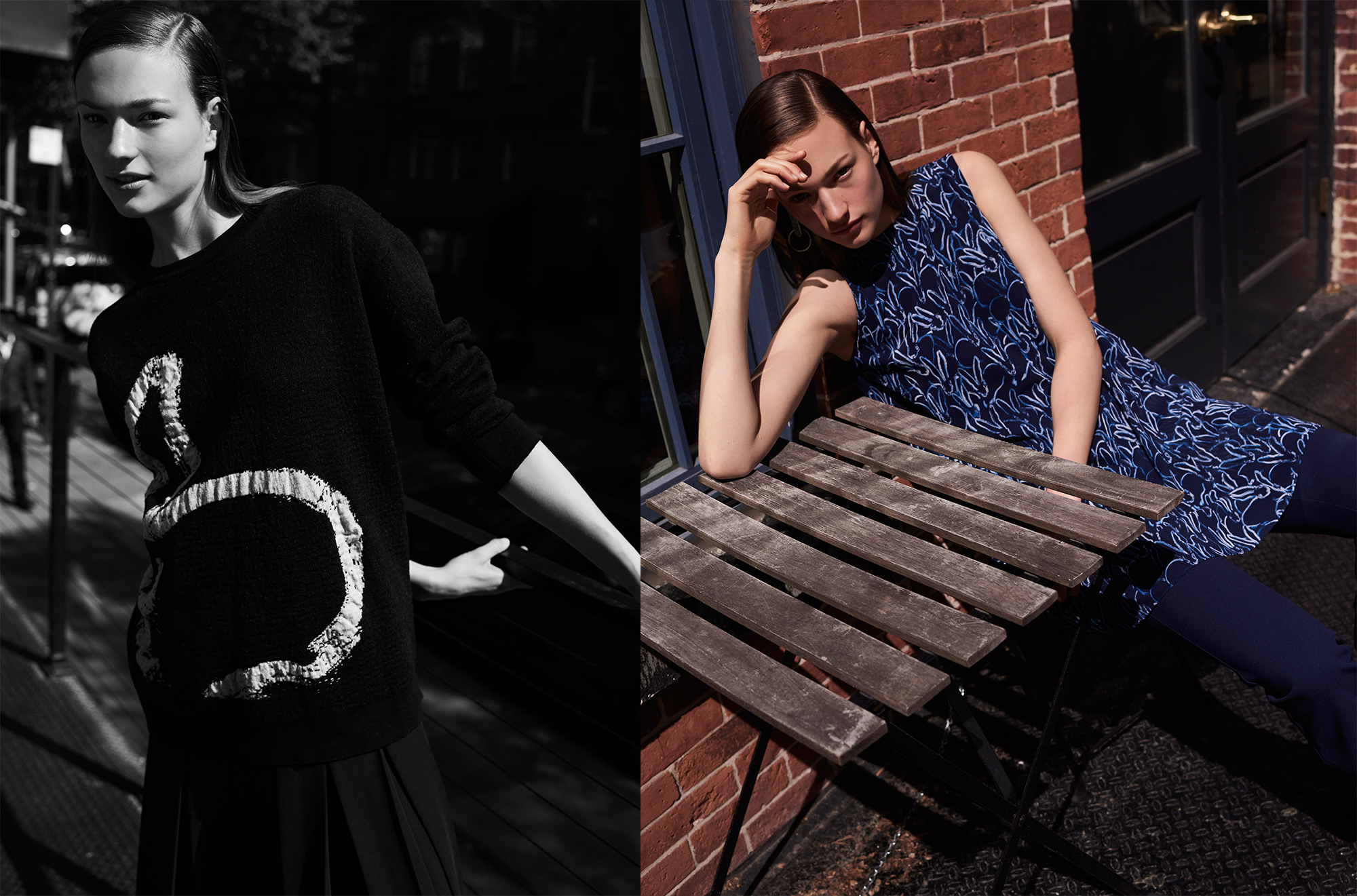 Looks from GREY Jason Wu / Photo: Courtesy of
KKZ: Can you expand on communicating with rabbits through your medium?
HS: I'm reluctant to speak of this public. I have one channeler, and we talk to Abraham Lincoln a lot. Not by calling him. He told me to paint a dove. The rabbits, though, I was already painting. But they were determined as a force and a group and a consciousness to be known in the world.
You know, working with mediums and channelers was so popular in the 19th Century. That's what Mary Todd Lincoln did, and Abraham went to mediums every day. He belonged to no formal religion, but it was kept a secret. So did most of the Congress and the Senate. Mary Todd Lincoln and Queen Victoria and the emperors usually would swap psychics. It was part of a reality, and I think it still is today, but it's like UFOs or something—we all know they exist. Anyway, I have been doing this for most of my adult life, and it's fascinating insight and feedback. The rabbits definitely have spoken to us, but that didn't influence my painting them. That was a natural inclination. I am the sign of the rabbit in the Chinese Zodiac. I found that out late one night. I didn't even know it.
KKZ: That's wild!
HS: They're just a fascinating subject matter for me. Obviously, there's a historic log of rabbits being used in tapestries, and [Albrecht] Dürer's famous portrait of the hare. Our whole cultural heritage has not ignored the rabbit, that's for sure, but I don't know if anybody's really isolated it.
KKZ: I'm curious about your relationship to fashion because you're probably one of the only artists in Manhattan who loves dressing in vibrant colors and doesn't wear black everyday.
HS: I know, isn't that funny? And I'm in a line called GREY!
KKZ: How did you develop your sense of style?
HS: Well, from being on this planet for a very long time. And mostly from looking at historical things. I ponder over books from the 18th or 19th Century or early 20th Century. I would have to say the Countess of Castiglione and her great gowns that showed her ankles are among my favorite examples of high style and luxurious use of materials. I mean, just crazy amazing. And the whole Napoleon III look. I love the 1860s. I have a show up [at the LSU Museum of Art in Baton Rouge] called "Antebellum Pop!" in which I'm addressing the 1860s and 1960s. There are so many overlaps in the machine making of things, manufacturing, and advertising, and how women's issues were treated at that time which relates to women's rights in the '60s and on and on and on. I thought it was an interesting juxtaposition, and I have southern homes—plantations in which I dialed up the color scheme. People think plantations were white, and many of them were not. Belle Grove, the largest in Louisiana, was actually lavender.
KKZ: In addition to painting, you also restore historic homes and properties. How does this fit into your body of work?
HS: I consider my restoration part of my artistic life. I've always been fascinated by the idea of the artist's studio and was mesmerized by Picasso as a child, both as an artist and a buyer of great chateaus, which he would fill up, close the door, and go on to the next one. I don't close the door—I go back, changing colors and fabrics. I really love doing all that.
KKZ: Why did the collaboration with Jason Wu feel right?
HS: Early, early on, when I first came to New York in 1973, I was walking down Sixth Avenue late one night, and I saw a pair of socks in a window with Edward Hopper's "Nighthawk" painting on them. And I just loved those; it was fabulous. And I liked the merger of art and fashion. My work has been incorporated in many, many fashion shoots over the years. So, [a fashion collaboration] is something that's been looming.
KKZ: Last but not least, by collaborating with Jason on GREY, you're giving so many people access to your joyful paintings that perhaps didn't have access before. What do you hope to achieve through that?
HS: Well, I hope that…I guess not hope. I know that they will notice it's not just another fashion look, the newest of the new. It's got substance and an emotional component. I'm just counting on people noticing that it's different than other things. And it's done with my hands. It's not a photograph. I think that it's been beautifully portrayed in [Wu's] work. I hope that the public will notice it's not just another print, but that it's really coming from a high-level artistic intention.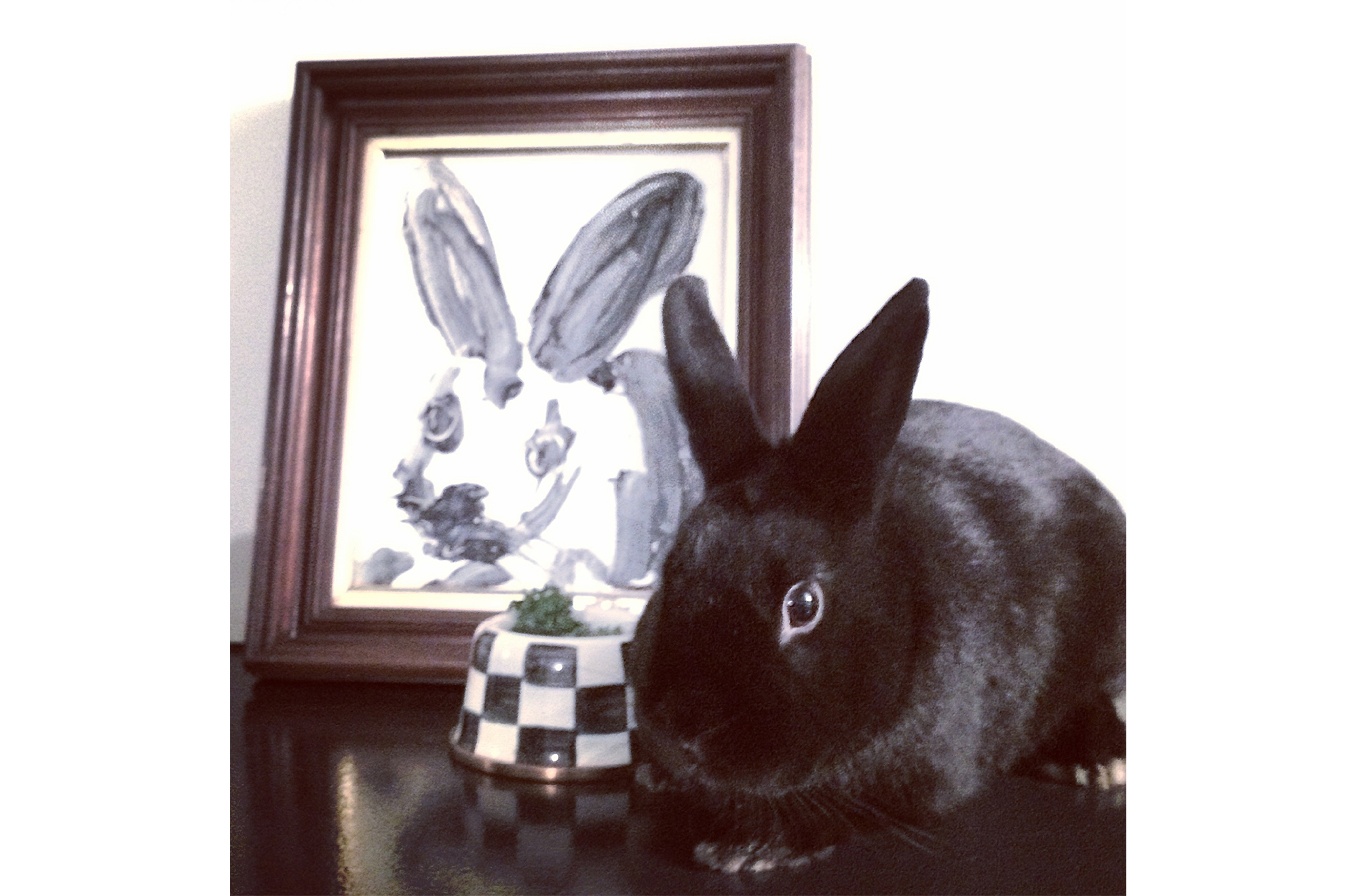 Mssr. François FrouFrou posing beside a Hunt Slonem painting
0 Comment