Almost 10 years have gone by since the Costume Institute's last acquisitions show, blog.mode: addressing fashion. Given how much the Institute must receive, it's surprising that it's taken this long for Masterworks: Unpacking Fashion (now on view) to come about. In addition to donations and purchases the museum has made, recent years have also seen the transfer of the Brooklyn Museum's costume collection to the Met, overseen by the then curator in charge Harold Koda. As a tribute (and particularly sentimental move) to the now-retired Koda, the Institute also requested that various designers donate some of his favorite pieces. They were happy to oblige (a testament to how beloved he is), and those looks are displayed in the exhibit in the Carl and Iris Barrel Apfel Gallery.
Entering Masterworks, visitors are greeted by the work of Viktor and Rolf twice: First when walking down the grand staircase into the space, where a garment from the design duo's Fall 2015 couture show is draped on a pedestal (this was, after all, the collection in which the designers went ultra-literal with wearable art), and then again at the bottom of the staircase, with an impressive tulle ball gown from the Spring 2010 collection. For the most part, the space is organized by era, although there are some instances in which curator Jessica Regan has paired a contemporary piece with a historical one, to illustrate how designers draw from both the past, and each other.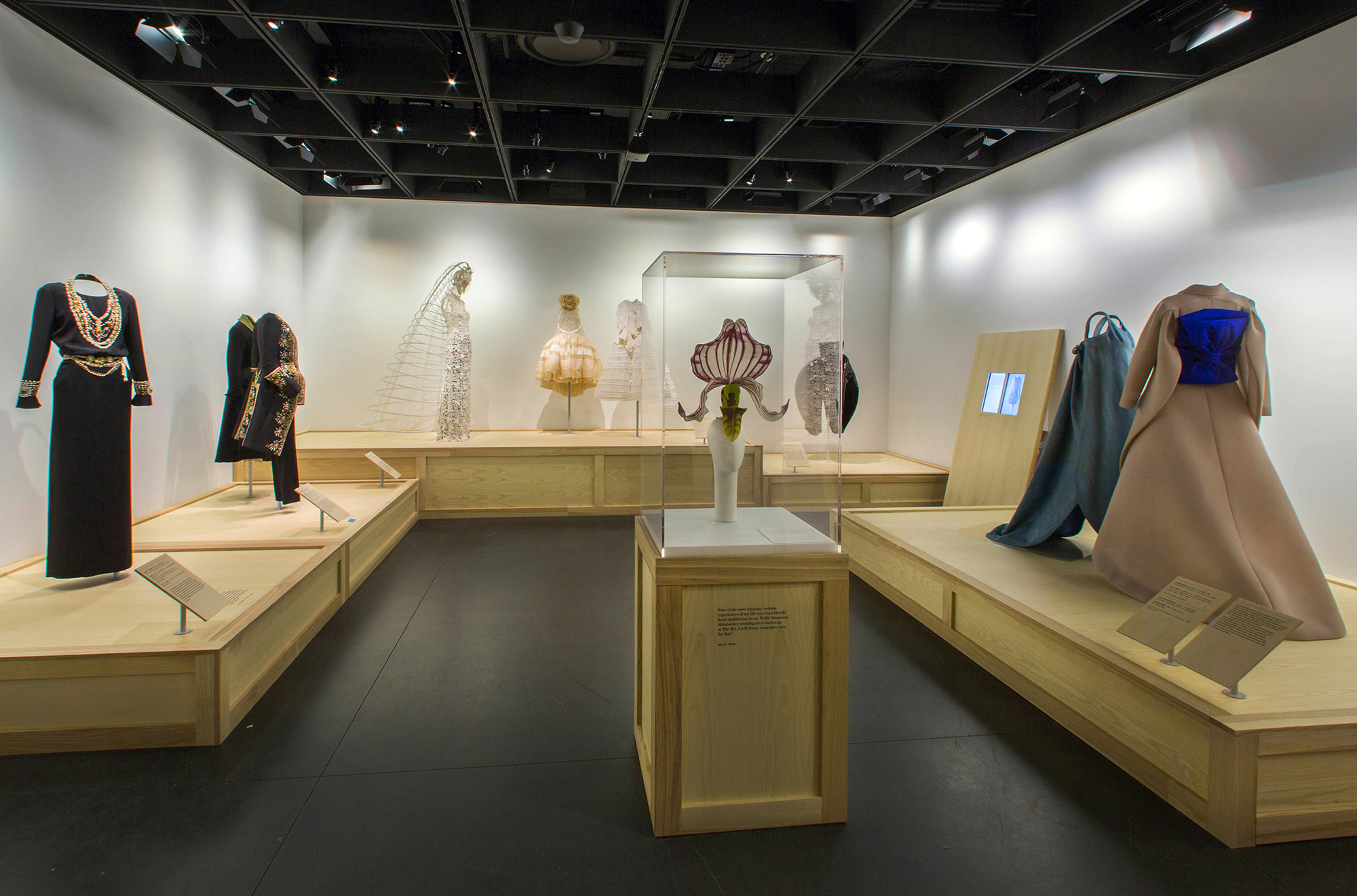 View of the Carl and Iris Barrel Apfel Gallery
Photo: Courtesy of The Metropolitan Museum of Art
It's a particularly effective way of displaying the pieces, and perhaps best illustrates the rise and importance of the designer as "artist" or individual better than one could glean from other sources. While the attitude and efforts of Charles Frederick Worth (furthered by Paul Poiret) can be explained, discussed, and studied in lectures and fashion history tomes, the exhibit's non-liner setup guides the viewer into a creative explosion. Additionally, the occasional pivoting back and forth between new and old sheds a clear light on how designers have contributed to the forward march of fashion. The average attendee might be aware of who Madeleine Vionnet was, but when her work is presented beside a John Galliano from 70 years later, not only is her influence felt, but the fact that she was ahead of her time becomes clear.
Below, curator Jessica Regan discusses the pieces in Masterworks: Unpacking Fashion and what we can learn from fashion history.
Aria Darcella: You mentioned that designers draw from history, but also from each other. When you were setting up the exhibit, how were you thinking of putting pieces in dialogue with each other?
Jessica Regan: We wanted to create pairings that would be immediately legible to people. For instance, we have this juxtaposition of a 1920s Vionnet and a 1990s John Galliano. I think people can immediately see the similarity in the way the clothing relates to the body. Galliano was very much inspired by Vionnet, and how she so fluidly draped fabric around the body to create these dynamic forms. Even the cut of the seaming echoes the way that Vionnet worked her garments in the '20s and '30s. Or when we paired the Azzedine Alaïa with the Charles James.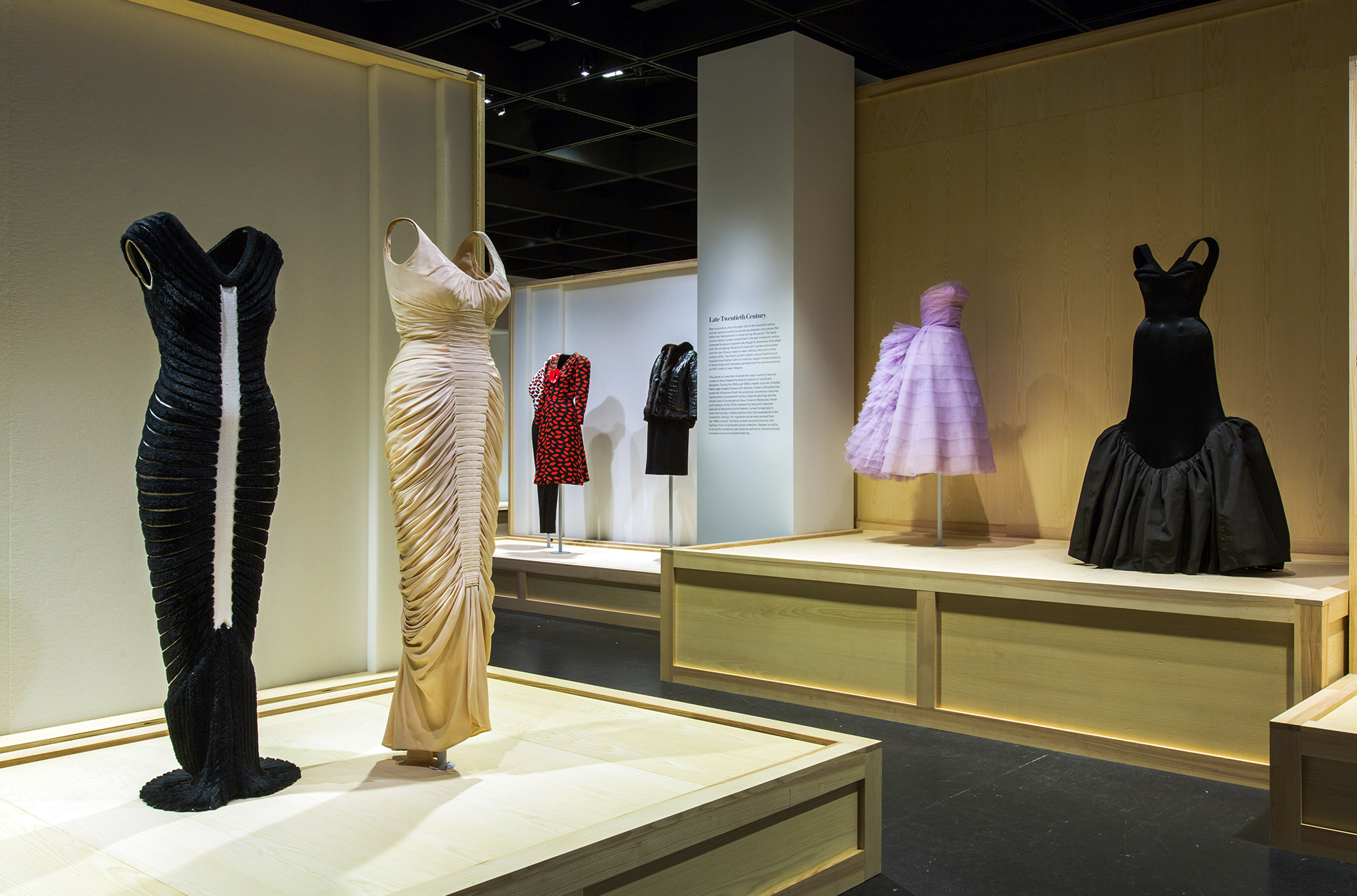 A gallery view of the early Twentieth century pieces, including an Azzedine Alaïa dress paired with a Charles James it was inspired by
Photo: Courtesy of the Metropolitan Museum of Art
AD: That threw me—from far away I thought they were both Charles James!

JR: [Alaïa] had actually studied Charles James' work at the Brooklyn museum, and this is a piece that came to us as part of that transfer from the Brooklyn museum collection. It's one of James's iconic works. So when this Alaïa became available, we said, "This would be an extraordinary opportunity to show these together!" You know, to show this influence. But Alaïa has completely transformed the idea in his own vocabulary. He is an absolute master, of course, in working with knits, sculpting them so perfectly to the body, and has really transformed it for a contemporary idiom. I think we can still see the connection in a way.
AD: Obviously with acquisitions and with the Brooklyn museum transfer, you guys knew what you were getting. Do you ever get surprises with donations?
JR: We are often approached by people who are interested in donating pieces to the department, and we're not able to accept everything. Often we're offered something that duplicates what we already have, and because we have limited space, we have to be fairly selective. So we're quite focused in our collecting, really trying to fill gaps in terms of the periods we can't fully represent, as well as looking for pieces that best represent designers who are already in our collection.
AD: I spoke to Harold Koda last summer, and he said that one of his biggest challenges in doing an exhibit was trying to get the information across. What were some of your challenges communicating the information to the viewer?
JR: He's absolutely right. It is incredibly challenging. We try to select pieces that really, truly capture the spirit of their time. Even juxtaposing the House of Worth from 1890s with the Paul Poiret from not many years later—a little over 10 years later—we can immediately see this extraordinary shift that occurs in fashion from garments that are tailored to a corseted figure. What was so innovative about Poiret is that he was working with these loose forms, draping on the body in a way that recalls the shaping of a kimono. He's looking to Eastern forms of dress that allow a certain amount of freedom for the body, for his inspiration as a way of working out how to liberate the female form. I think that we're able to create moments where people can immediately see these changes in the evolution in fashion. We try to, in our text, highlight the significance of each.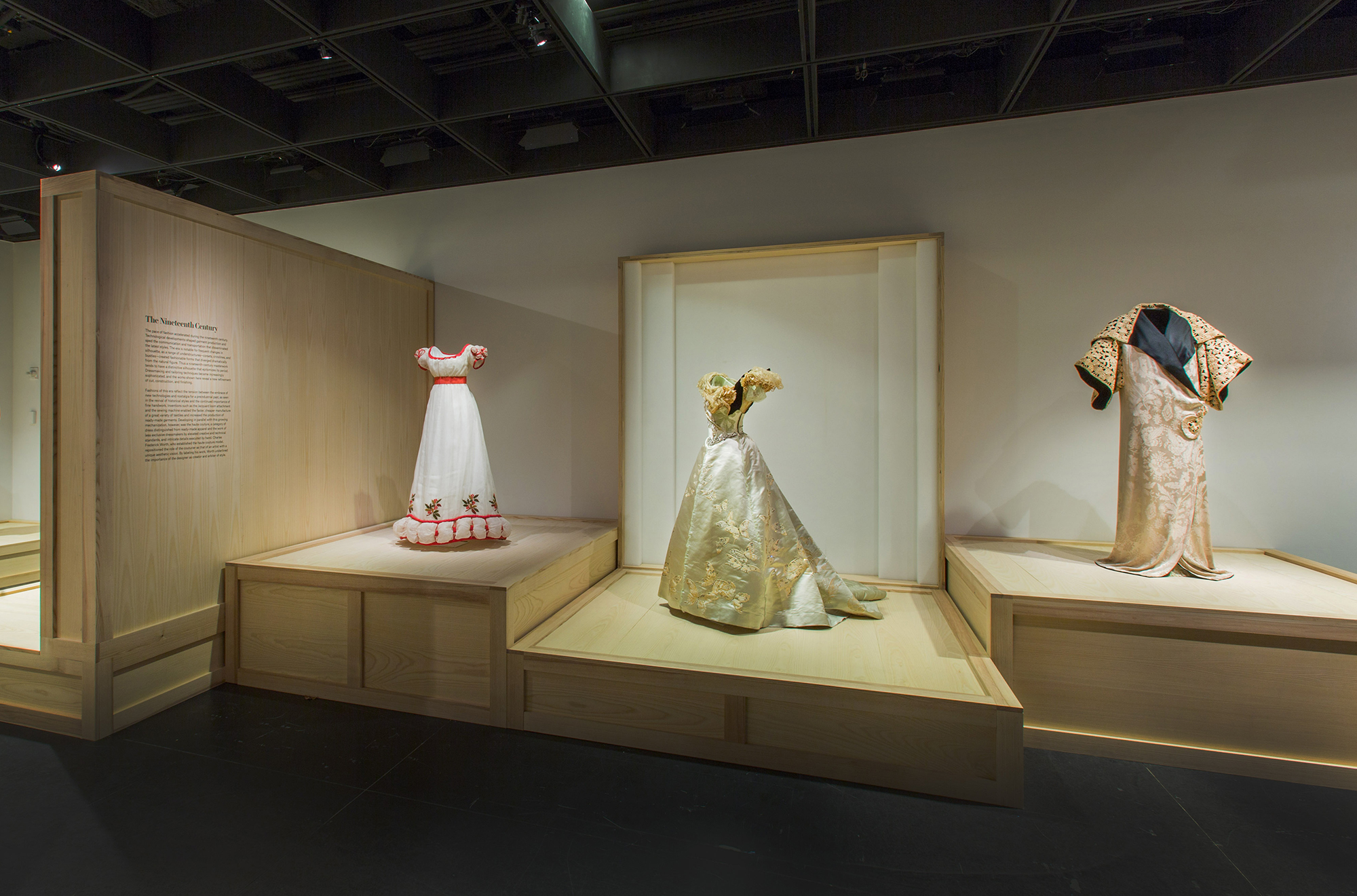 A gallery view of the nineteenth century pieces
Photo: Courtesy of the Metropolitan Museum of Art
AD: There's a Worth piece that I never would have associated with the house. How are you communicating to people that this was not what he was known for? It's never spoken about, the later years…
JR: No, it's a period in the house that has received relatively little scholarly attention. We try, in that case, and in didactic materials, to point out the fact that that piece, which is about 1930, follows a period when the house was struggling to remain relevant, and wasn't seen as part of the avant-garde, competing with designers like Schiaparelli and Chanel, who captured the spirit of modernity and change. And they were being patronized by the old guard. So for the first time, [Worth] started to advertise and emphasize the extraordinary craftsmanship and skill they were known for. Then they also try to suggest that "we're equally capable of the modern aesthetic." That piece is a really brilliant example of the fact that they were able to adapt to a more modern aesthetic.
AD: How do you think the historical pieces capture modernity for their time? And how do you think we can understand that from our 21st century view?
JR: If you look at this blue gown here, it's a Robe Volante from about 1730. It was a style that evolved, essentially, from dressing gowns—from negligee wear. So when it started to be worn simply as street wear in public, it was initially a bit of a shock to some of the bit more conservative, older generation. It was a moment when the leaders of fashion were shifting away from court, and moving towards the younger generation. We can see parallels there with modern fashion, and let's say underwear as outerwear. For its time, it was really a modern innovation. It was much looser, more free-flowing compared to the court gowns that were worn at the time. It became a model for the styles of dress that followed, and for the rest of the century.
AD: Do you have a favorite piece in the collection? Or a favorite setup?
JR: It's always extremely difficult to single out one piece, but I think that one of our really exciting pairings was the Alaïa and a Charles James that was already in our collection that had inspired [Alaïa]. When we come upon those acquisitions, it's always very exciting for us.
Masterworks: Unpacking Fashion is on view now through February 5, 2017, at the Costume Institute at the Met
0 Comment