"What a beautiful photograph!" I heard one gallery-goer say while previewing new show "One or the Other" at the Highline Loft. False—but you could forgive this viewer for being fooled. Courtesy of curators Anne Huntington and Natalie Kates, the photorealistic works of emerging artists Jared Flaming and Eric Helvie have been brought together, and these paintings will definitely make you look—and think—twice. The artists' works are at once incredibly similar and starkly different—both draw inspiration from art history and paint with a skill that most assume was thrown away with the Renaissance. However, Flaming's works are, as Huntington explained, "sensuous and feminine, while Eric's are hard and masculine. The subject matter for both artists is 'allusionary'," Huntington continued. "Jared's with art historical and pop references, while Eric's alludes to references from film and Francis Bacon."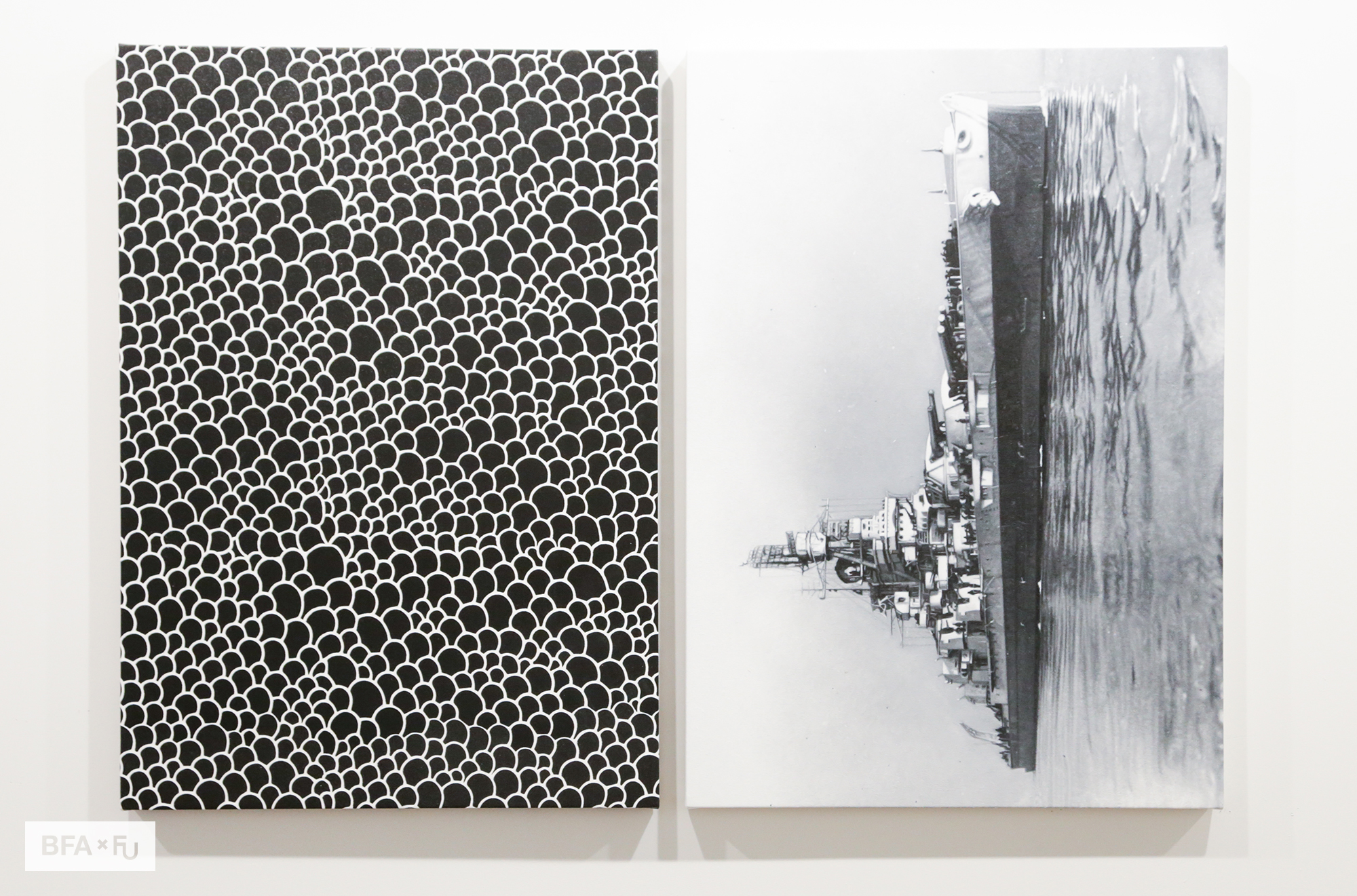 Eric Helvie. Untitled (Scales). 2016. Silkscreen on canvas, 34" x 24".; Eric Helvie. Leviathan. 2016. Oil on canvas, 34" x 24". / Photo: BFA.com. View more at BFA.com.
Helvie's paintings—large-scale black-and-white archival images of erect battleships, paired with black-and-white silk screens of scales, inspired by a sea monster—are stoic and ominous. During a panel discussion on Wednesday night, the artist told me that he intentionally leaves traces of his own hand in his works, so that, as you approach the painting, the illusion that you're staring at a photograph "melts away." Flaming's work, meanwhile, is vivacious, even erotic. One standout (and one of the artist's personal favorites) dubbed "Witching Hour" is a recreation on Man Ray's "The Kiss" (1935), only it's overlain with a shocking pink painting of paint (stay with me) and frenetic, almost floral scribbles. He gave classical artworks, as well as contemporary ones, like Chuck Close's "Big Self-Portrait" (1967), similar treatments, abstracting them with electric hues and dancing lines to joyful, sensual, and sometimes surreal effect.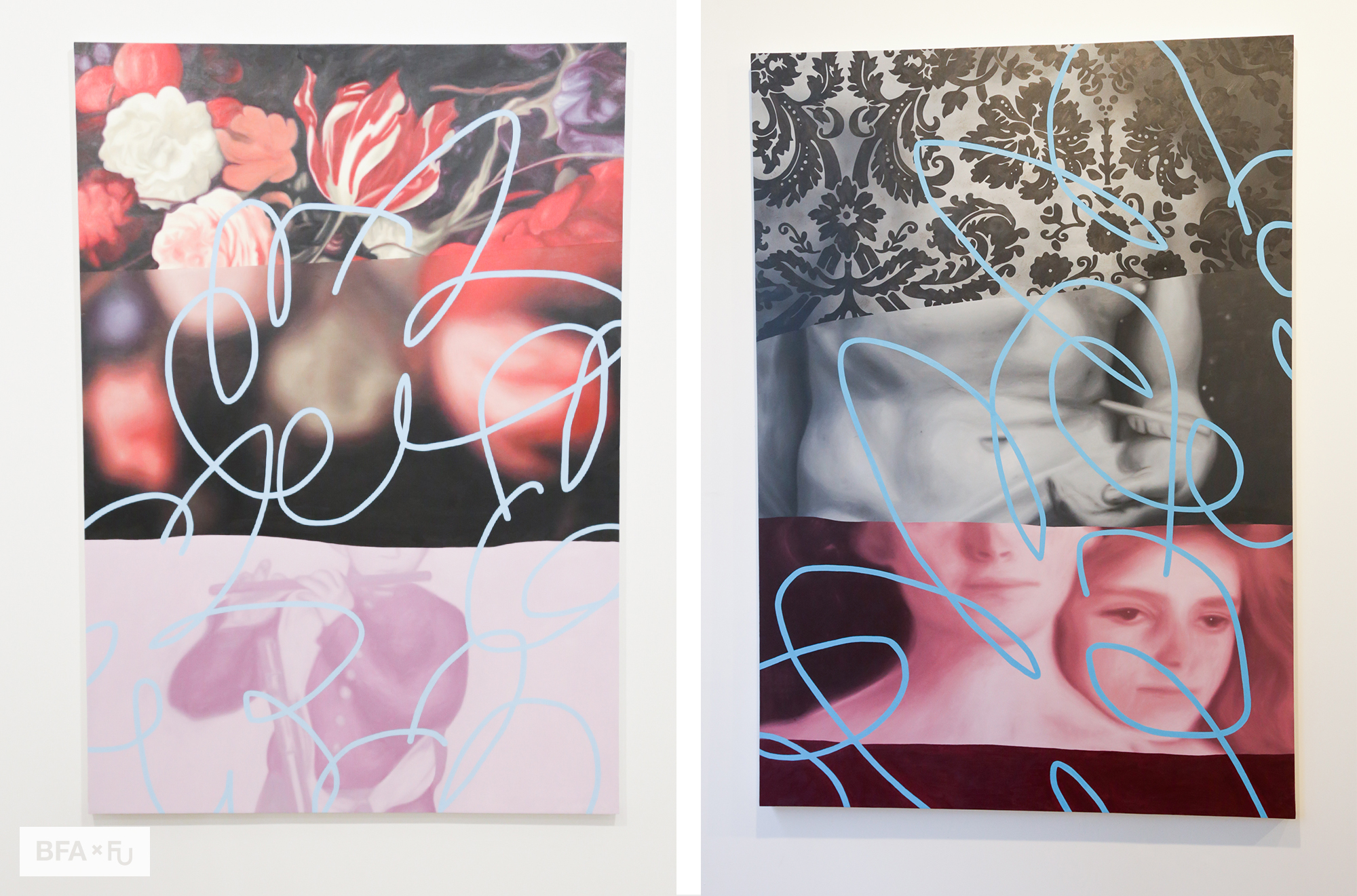 Jared Flaming. Exciter. 2016. Oil on panel, 68" x 48".; Jared Flaming. Welcome Home. 2016. Oil on panel, 68" x 48". / Photos: BFA.com. View more at BFA.com.
According to Huntington, the concept of "One or the Other" (the title for which came from a work the curators unearthed in Flaming's studio), is "to showcase talented, emerging artists whose masterful, photorealistic approach is beyond the everyday. In such a fast-paced society, these works make you stop and look again to comprehend and appreciate the true painter's stroke." Considering we are constantly bombarded by imagery, thanks to relentless advertisements and social media feeds, it is indeed refreshing to be presented with something that transports you, envelops you, or, at the very least, makes you look—really look. "Natalie and I are drawn to these works because of the overall approach and composition," Huntington added. "These two artists capture a style of photorealistic painting that is unlike anything we see." Go and see the show yourself on the fifth floor of 508 West 26th Street. Open through Saturday, it's not to be missed.

0 Comment