Ask photographer Roxanne Lowit what she most wants to capture of her subjects, and she won't hesitate before answering: "Their souls."
A fashion photographer with an expansive, four-decade career shooting portraits, editorials, fashion shows, and parties, Lowit is arguably the industry's most prolific documentarian. The glamour and hustle of the industry is captured so intimately and strikingly in her photographs that her images are repeatedly used to illustrate common narratives in fashion. If the statement is "Kate Moss is a rock star," cue Lowit-lensed pictures of the super eating ice cream topless backstage at Vivienne Westwood, or of her touching tongues with John Galliano. If someone's proclaiming, "The '90s was the age of the supermodel," cue pictures of Christy Turlington, Linda Evangelista, and Naomi Campbell in a bathtub together, champagne in hand, or mimicking "see no evil, hear no evil, speak no evil" with their hands. Want something that illustrates the assertion that the '70s were a decadent disco dream? Look no further than Lowit's snaps of Pat Cleveland twirling and jumping on the runway, Yves Saint Laurent with his army of models, or an image from inside Studio 54.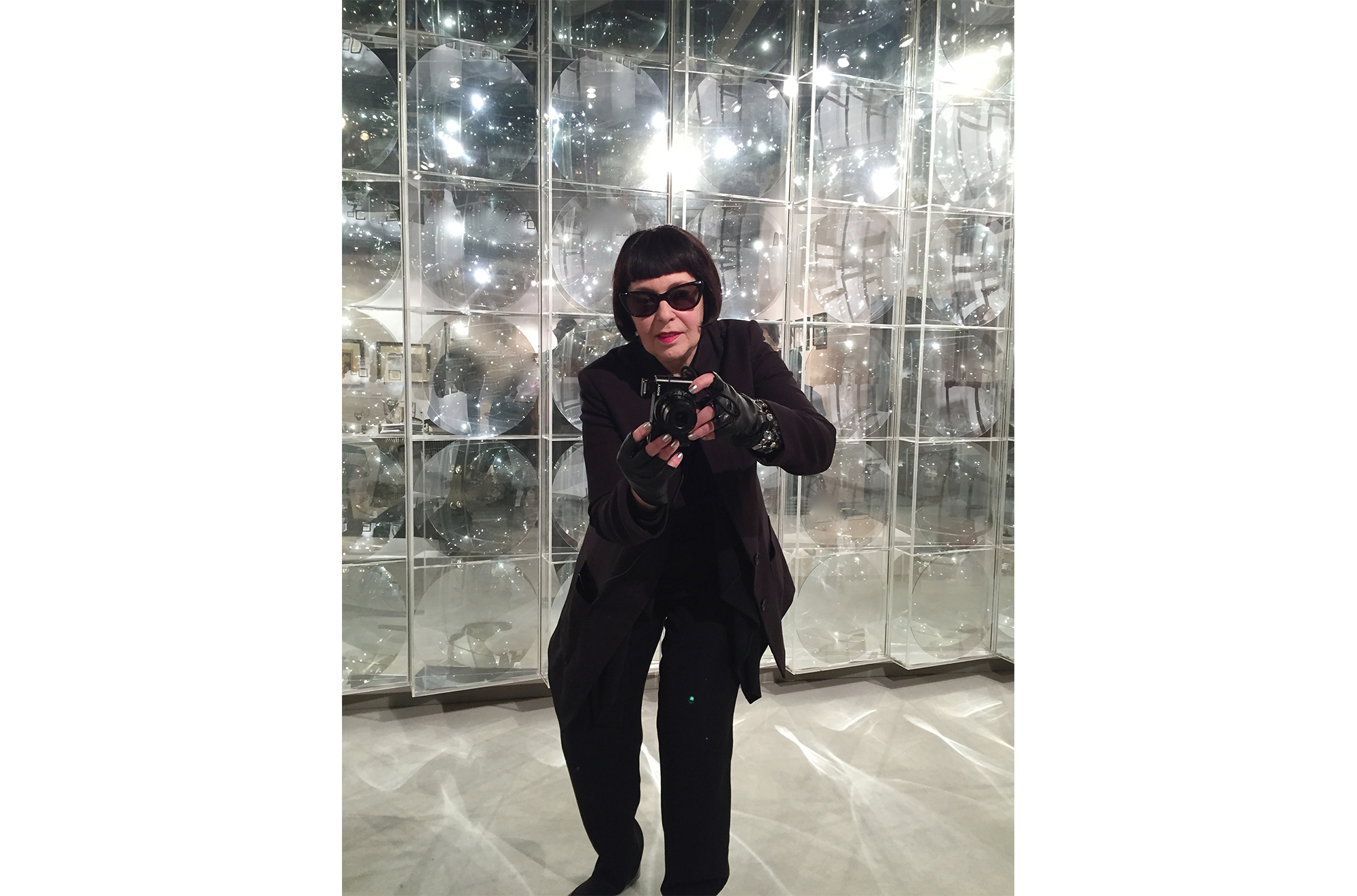 Roxanne Lowit; Photo: Yvonne Sciò
We've seen the pictures time and time again, but more often than not, the focus is on the subject, not the lenswoman. Now, Lowit is getting her due, with director Yvonne Sciò's new documentary, Magic Moments, which not only follows the photographer through Paris and New York, but also includes interviews with the many people she's worked with over the years. "I really thought that [her story] was supposed to be told as I see her, with a low voice and a camera in her hand," explained Sciò, who has known Lowit for decades. "I thought it was my duty as a friend to give her grace."
Although the film already premiered at the Venice Film Festival in 2015, the special screening held in New York last night had the importance of a home game, and the New York fashion crowd came out cheering—literally. Whoops and applause emitted from audience members whenever a friend came on screen, especially if said person was in the room, which happened often. Pat Cleveland, Kelly Cutrone, and Susanne Bartsch all made an appearance on-screen and in the audience (which also included Angela and Rosita Missoni, Isabel and Ruben Toledo, Phillipe and David Blond, and Fern Mallis).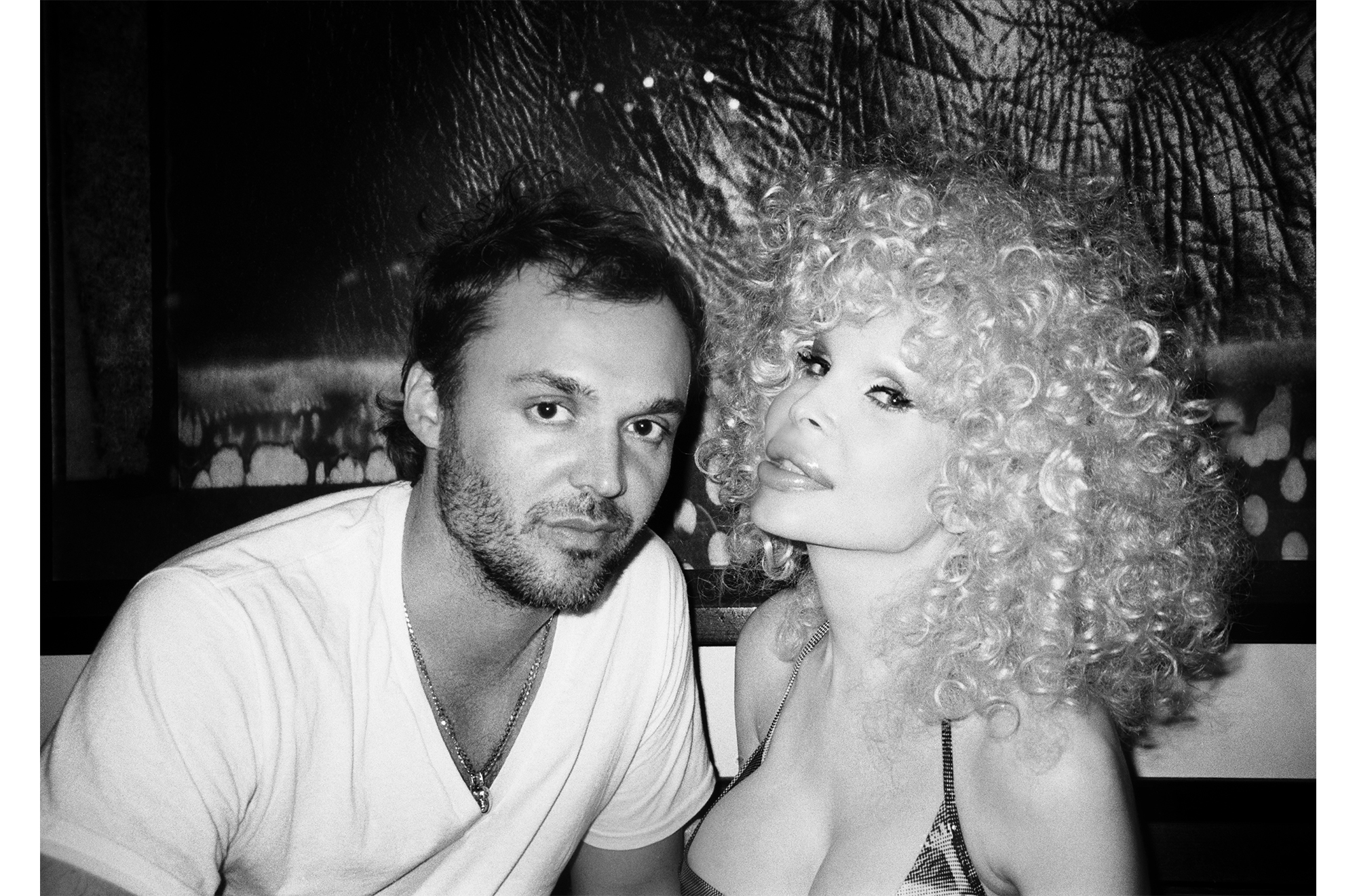 David LaChapelle and Amanda Lepore; Photo: Roxanne Lowit
"She's such a New York figure, and I thought it was vitally important to have it seen in New York," Sciò said, who brought it to the city with the help of W magazine's Editor-In-Chief Stefano Tonchi. "I worked with Roxanne through many different magazines and careers. And we have done portraiture, fashion stories, reportage, and backstage," Tonchi said, reflecting on his longstanding friendship and professional relationship with Lowit.
A former FIT student and textile designer, Lowit began photographing shows in New York in the 1970s—one of the only women doing so at the time. Completely self-taught (she spent the plane ride of her first trip to Paris for her first magazine assignment learning how to load film into her new 35mm camera), she relied on instinct to frame the perfect shot. "I was always interested in fashion, but [photography] really widened the scope and gave me more to look at," Lowit told Fashion Unfiltered.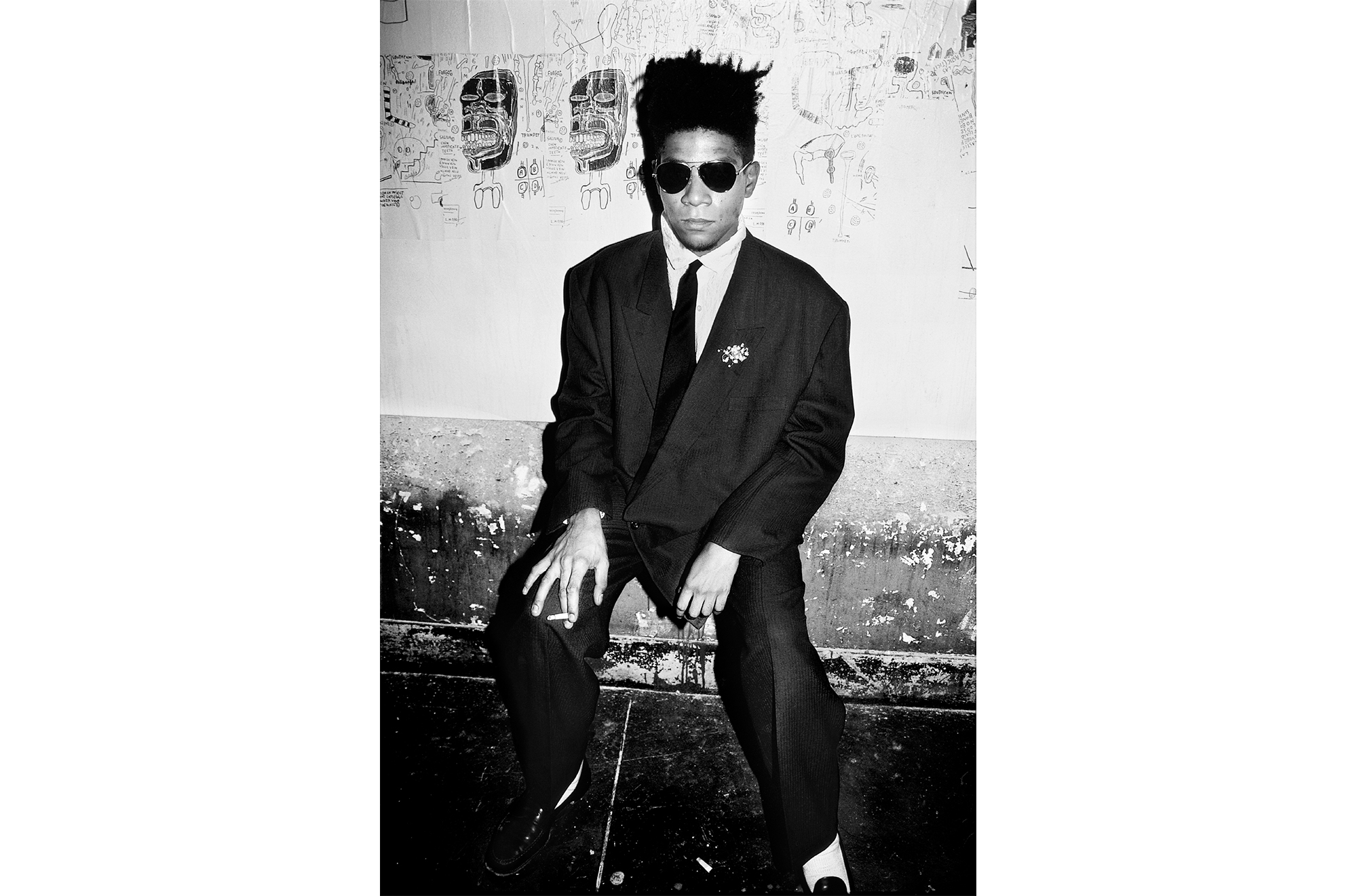 Jean-Michel Basquiat; Photo: Roxanne Lowit
The worlds of fashion and art frequently collided at night, when everyone came out to party. This is what became Lowit's domain—the space in which Yves Saint Laurent, Andy Warhol, and Jean-Michel Basquiat let their guard down for her lens. "I feel I have a real rapport with my subjects. I love my subjects that I'm photographing, and I'm very gentle—if they resist or something, then I don't push," she explained of her approach. "They know I'm not going to do something awful to them."
She often put the subjects' feelings above her own, such as when she buried a photo of Basquiat upon his request, as the image depicted him with a cigarette, and he didn't want his clients to know that he smoked (Lowit later released the image after Basquiat's death).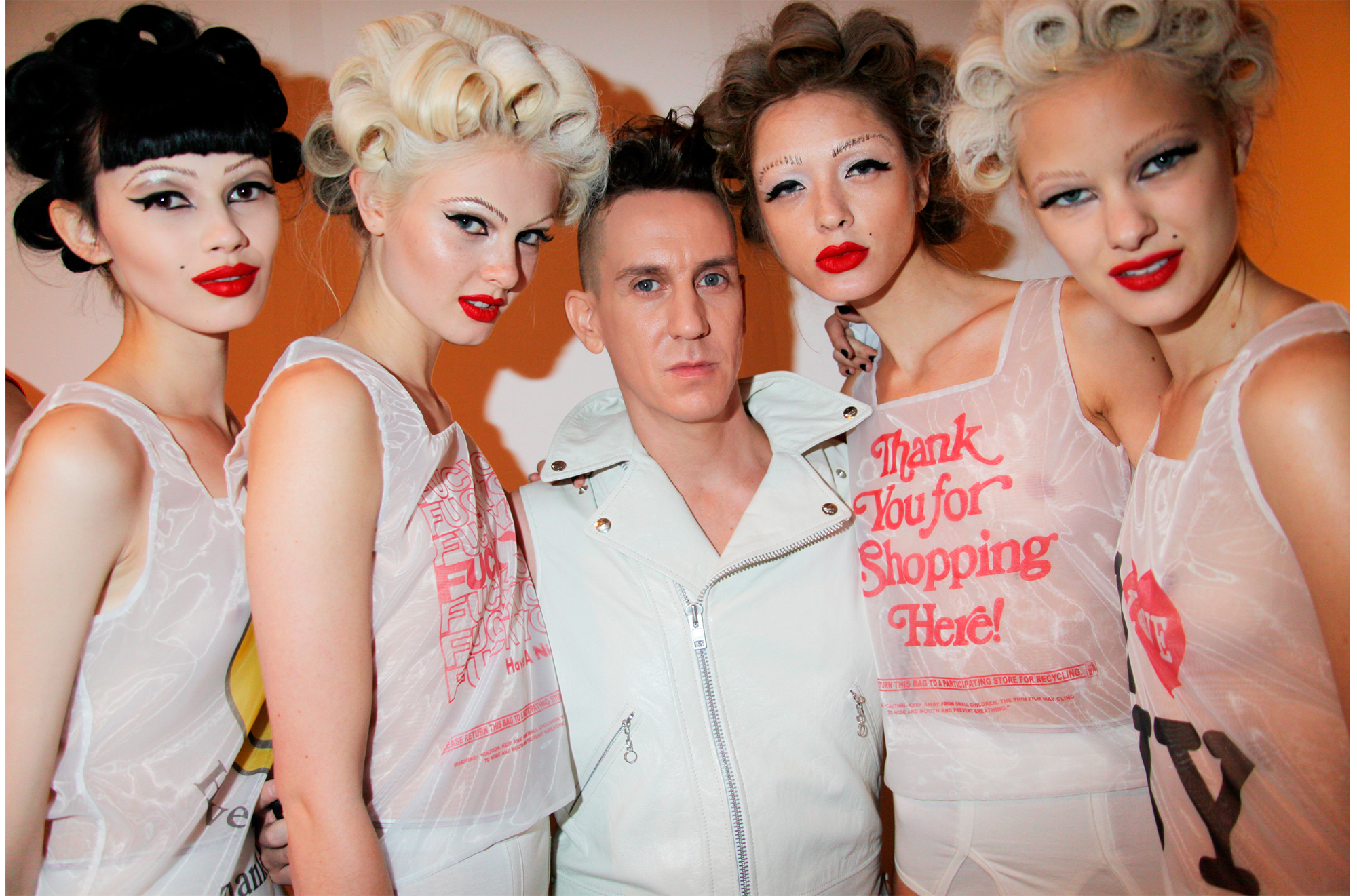 Jeremy Scott backstage with models; Photo: Roxanne Lowit
Her friendly demeanor not only grants her access to photograph at her will, but also to get her subjects to step out of their comfort zones. "She can be at the same time an insider and an outsider. What I mean is that she is taking the picture, but also making the picture happen," explained Tonchi. "She's not just a reporter. She is also, in a certain way, a fashion photographer. It's a crossover. You know, how in fashion pictures, everything is fake, and in reportage, everything is real? In Roxanne's pictures, reality and fiction collide, because in those images nothing really could be there without her making it happen."
Case in point: At an event honoring Alexander Liberman, the late, great former editorial director of Condé Nast, Lowit managed to get a picture of the elusive Irving Penn by using Richard Avedon and Helmut Newton as human bookends. The result is an extremely rare group portrait of three of the most important photographers of the 20th century. Initially, Penn was not too pleased, yelling at her after the picture had been snapped. "I thought I was going to die," she said of her embarrassment. "I felt so awful that I took a picture that he didn't want to take." But eventually Penn came around, sending Lowit a note that read: "What you do is terrifying, intrusive, completely contemporary, and enormously skillful, and a nuisance. But you're a charming young woman. Irving Penn."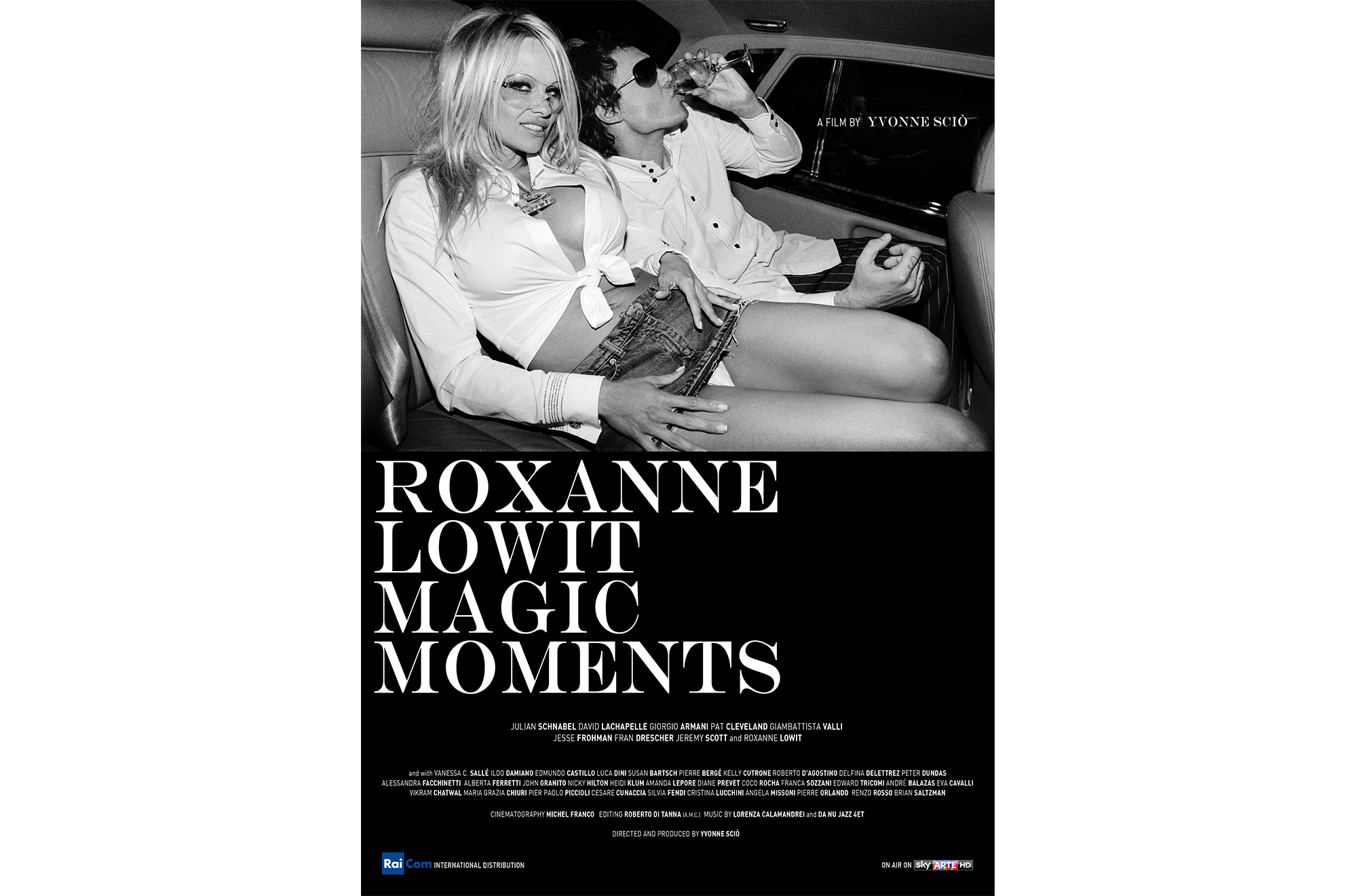 "Magical Moments" film poster; Courtesy Photo
Now, with this documentary, the tables have turned on Lowit, putting her in the subject's seat. "I don't feel comfortable on the other end of the camera…I don't feel I'm a performer; I feel I'm a recorder. I'm a mute observer." She is silent only in the sense that she is removed from her own images, but her eye (and her lens) speaks volumes about what she chooses to capture. The priority is given to whatever grabs her attention. "The spontaneity of it," Tonchi said when asked what makes her work so compelling. "There is some kind of immediacy…that capacity of catching the moment. That is really what it is about—catching the moment."
Lowit's next big project is archiving all of her material, a process that has her reflecting on how adventurous her life has been. "This has allowed me to walk through many wonderful worlds, being a photographer," she said. "That's very important, that I got to walk through all these worlds. And you'll see in the documentary a small part of it." The rest is seen in her work.
0 Comment