How can coding translate into fashion? Not coding as it relates to computer programming. Think about all the biological and cultural codes, or ways a designer might approach the design process. What if cells were used instead of fabric to create accessories? Or what if a dress could change its shape based on the sound of its wearer's voice? Coded Couture, a new exhibit opening on Friday at the Pratt Institute, will touch upon all these possibilities and more.
The show is less a riposte to headline-making wearables like Fitbit and Apple Watch, and more an exploration of the future of fashion, as well as the scope of our own imagination. "What we would like people to do is to think about life and work in a critical way, a more thoughtful way," explains co-curator Judith Hoos Fox.
The travelling exhibition plays host to 10 international designers and a dynamic range of personalized garments that fit, change, or react uniquely to the wearer. One of the designers is Ying Gao, who does a beautiful yet intelligent line of garments: one dress, made from a kind of super organza and photo-luminescent thread with eye-tracking technology, responds to an onlooker's gaze. In addition to Gao, there is British designer Amy Congdon, who looks to biological codes. She produced an eye-catching brooch comprised of acetate scales, silicone, embroidery, and crystals. Other designers' works on display includes a mini skirt that changes color based on real-time audience input and a dress that shocks its wearer when she lies.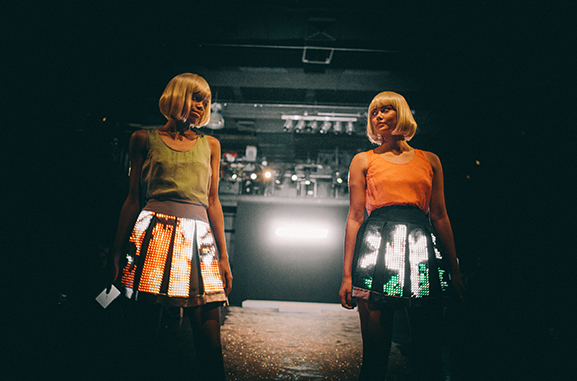 Cute Circuit, "iMiniskirts" at AW 15 CuteCircuit RTW Fashion Show at NYFW Photo: Theodoros Chliapas
Following the Design Museum Holon's Mechanical Couture show in 2010, Hoos Fox and co-curator Ginger Gregg Duggan set out to push the envelope further. "As curators, continues Hoos Fox, "we see what's going on and then try to identify trends, new directions or weird things that are happening and then tell us about the world we're living in."
That world has become increasingly interested with smart fabrics and the role of technology in everyday life. A flush of wearables, from fitness trackers to tech shirts, has been the subject of new product launches. Come May, the Manus X Machina exhibit at the Metropolitan Museum of Art will focus on the dichotomy between handmade and machine-made couture.
But Coded Couture's conceptual bent is unique. Fashion has typically been borne from purpose, a sense of need or desire. Here, the show suggests that there is an afterlife to fashion. It can be reactive. It can transgress boundaries—like Congden's accessories demonstrate, through tissue engineering and bio-ink printing. Or, as designer Melissa Coleman's trench coat illustrates—it can record and store personal memories.
Hoos Fox hopes that the exhibit encourages visitors to question their own assumptions. "Don't just assume that everything is the way it is and that's the way it is," says Hoos Fox. "No. It doesn't have to be."
Coded Couture will be on view at Pratt Institute from February 12 through April 30, 2016. The touring exhibition will also appear at Ulrich Museum of Art, Kansas University Art Gallery and Tufts University Art Gallery through Winter-Spring 2018.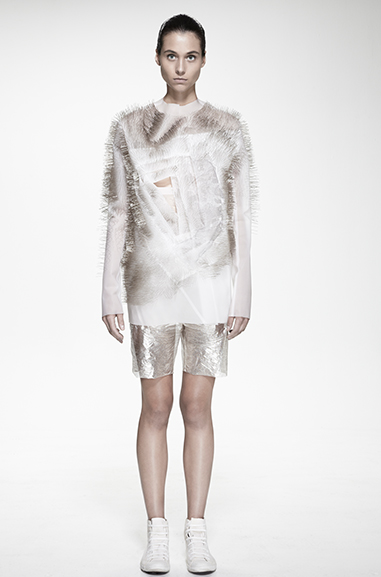 Ying Gao, "Incertitudes," 2013; PVDF, dressmaker pins, electronic devices Photo: Mathieu Fortin
0 Comment