After dropping her long-awaited album, A Seat at the Table, on Friday, Solange just released two new music videos for "Cranes in the Sky" and "Don't Touch My Hair," the latter of which features British soul singer Sampha. These are her first music videos since "Losing You," the synth-y, melancholic track co-written by Blood Orange's Dev Hynes, which surfaced in 2012. The 21-track album—which the 30-year-old singer-songwriter has dubbed a "confessional autobiography and mediation on being black in America"—includes collaborations with Lil Wayne, Kelly Rowland, Questlove, and The-Dream, among others, and features interludes narrated by her parents, Matthew and Tina Knowles. The album, which she wrote and co-produced herself, is nothing short of ethereal, soulful, and achingly poetic. And in true Solange form, the accompanying visuals are just as beautiful.

There's a lot to unpack here, so let's start with "Cranes in the Sky," a track that seemingly alludes to a painful breakup and the deep self-reflection that often follows ("I ran my credit card bill up / Thought a new dress would make it better / I tried to work it away / But that just made me even sadder"). In the opening scene, Solange is seen in a variety of soft pastels—at first, she appears in a big, cotton candy-colored coat, and then is shown perched atop a tree trunk in a bubblegum-pink shoulder-exposing dress. Lavender was a stand-out shade; in one of the most powerful scenes, Solange stands in front of a mountain with six of her friends (one of which is her stylist, Shiona Turini) all connected together by a dress crafted by her mother and her friend, Tim White. It was inspired by Issey Miyake's remarkable Spring 1999 finale, and, to me, felt like a subtle nod to Alice Walker's The Color Purple.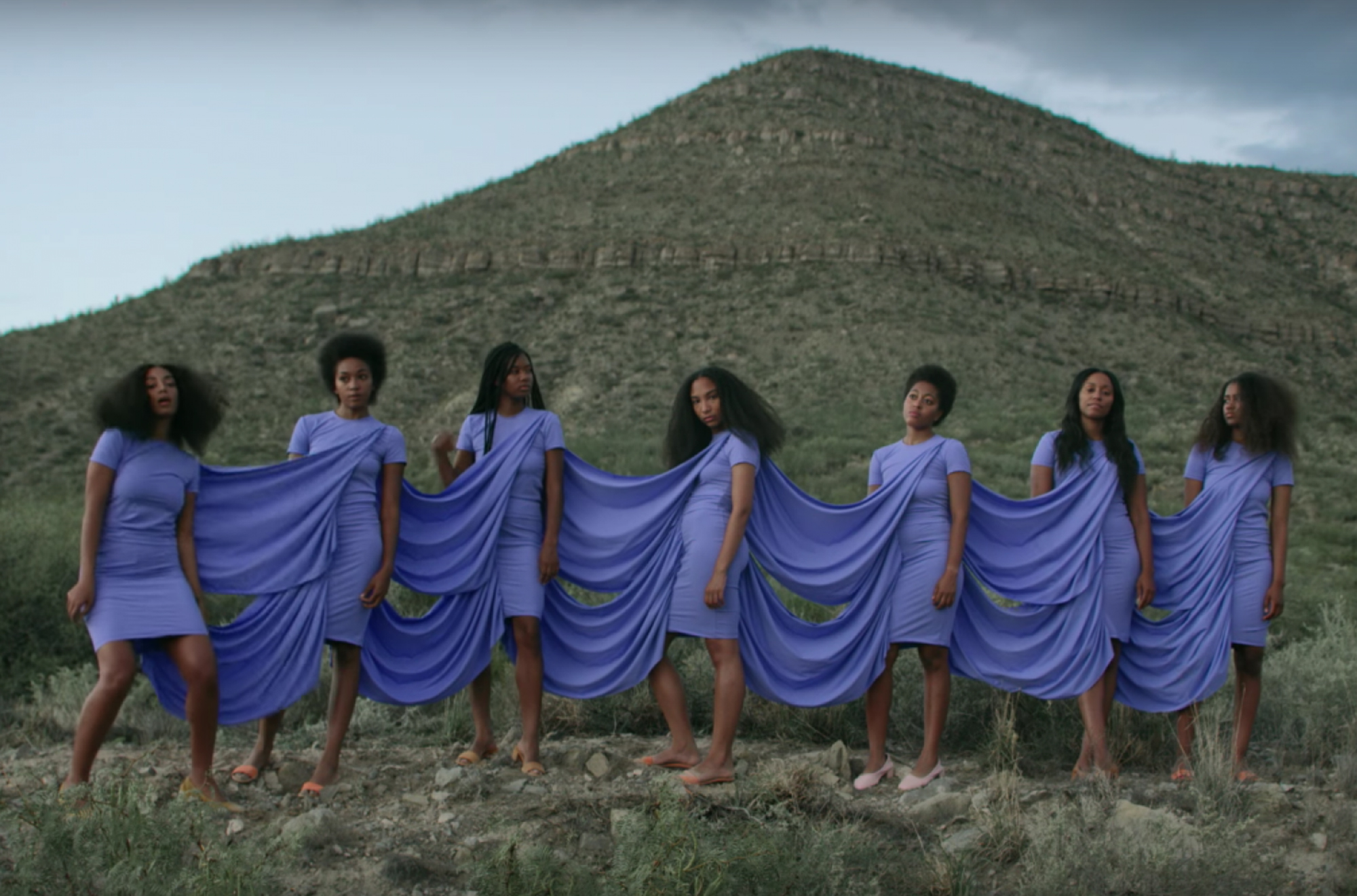 There were also several noteworthy DIY moments—in one scene, Solange wears a dress made of large green leaves, and in other, she is simply cloaked in strings of purple yarn. "Been hanging out with @carlota_guerrero too long…. I fucked round and made a dress out of yarn," she wrote on Instagram. (Guerrero art-directed the videos alongside Solange.) Earthy hues were big, too, and in one shot, Solange and her dancers don nude bodysuits. (Solange's, for the record, is from European underwear label Base Range.) Metallic slip dresses also had a moment, and so did a variety of futuristic, geometric getups. In fact, she wore two silver pieces from up-and-coming New York-based designer Anthony McDowell, which bolstered the Saint Heron singer's abstract aesthetic. It's worth noting that Solange's approach to fashion is a departure from her sister's, which is that of careful cultivation and big-name labels like Gucci and Balmain. (At this year's Met Gala, for instance, Beyoncé wore a body-hugging custom Givenchy number, while Solange wore a yellow accordion dress by experimental Dutch designer David Laport.)

"Don't Touch My Hair" begins with Solange shaking her head back and forth, her beaded strands reminiscent of jazz musician Patrice Rushen's. The four-minute video, like "Cranes," was co-directed by her husband, Alan Ferguson, and focuses on hair and its relation to black culture. "I think that one of the things that I'm also trying to communicate through that song is the way that people see us through our hair," the singer told Fader's Judnick Maynard. "It's almost my India Arie's 'I Am Not My Hair' moment." Sartorially, the video is like a monochromatic daydream, with jewel-toned accoutrements and references to art. (In one scene, Solange recreates Lynette Yiadom-Boakye's oil-on-cavnas "Complication" piece.) She also wears an orange down coat from Acne Studios' Fall 2016 collection (you can purchase it for $1,150 here) and several custom pieces by emerging designer James Flemons of gender-fluid clothing line Phlemuns. Fendi and Tibi also had moments, and in that same scene, one of her dancers wears an oversized white fur coat custom-designed by Adrienne Landau creative director Saulo Villela.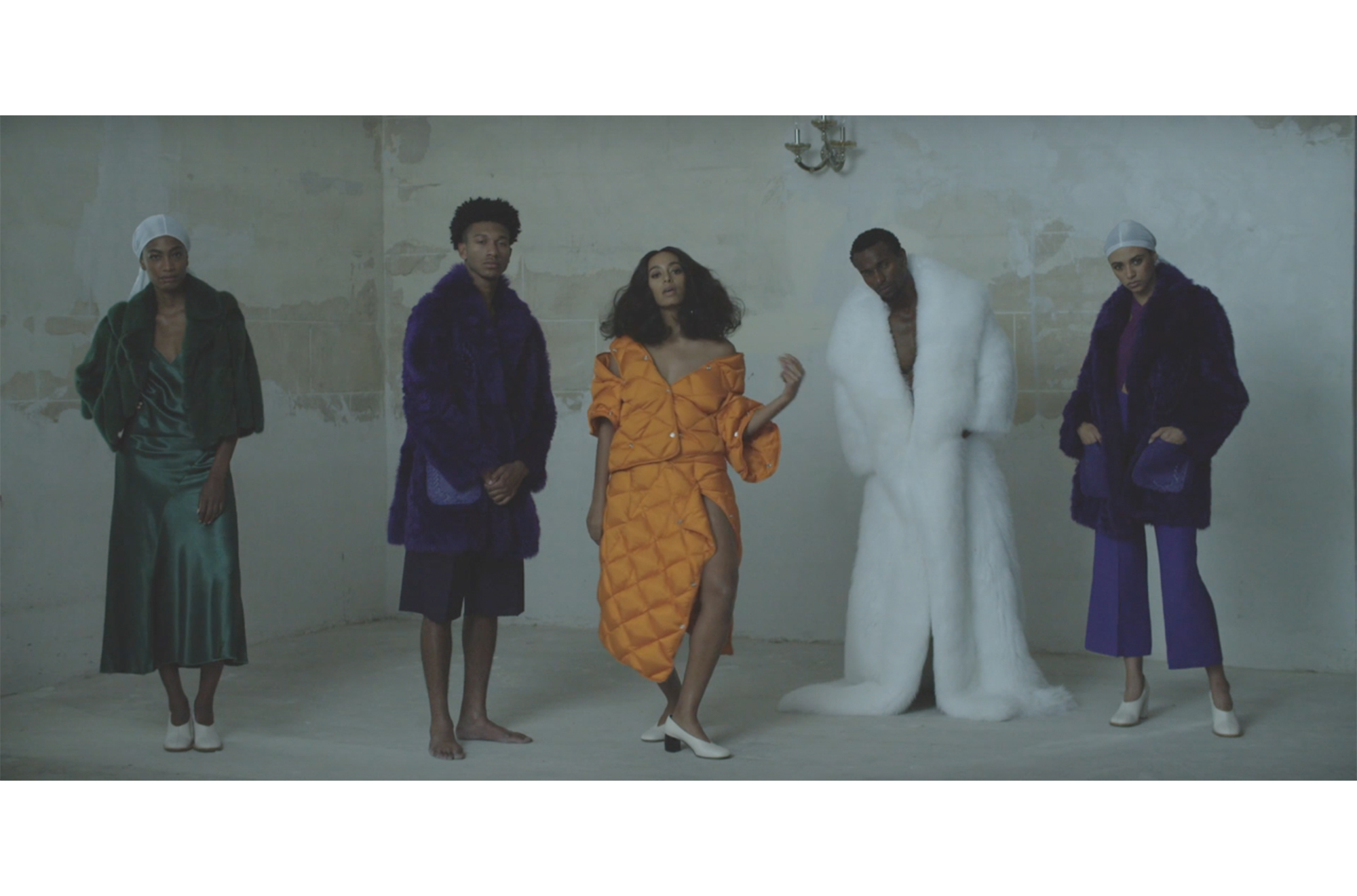 Solange's powerful album and subsequent visuals come during a time that's rife with turbulence and civil unrest, and when race relations are a focal point of this year's election. (The first song on ASATT, "Rise," was directly inspired by the shootings in Ferguson and Baltimore, and a good chunk of the tracks deal with themes like black identity, rage, sadness, and empowerment.) Much of it is an ode to black womanhood, not dissimilar to Beyoncé's Lemonade. But at its core, what Solange has delivered is both visceral and unapologetically human, and most importantly, punctuated by the kind of calmness the world could really use right now.

0 Comment