If you've ever had to explain why fashion is "important" (as many a fashion enthusiast has), chances are the reasons one would use to defend fashion have been dissected in great detail, intelligently, by those in the field of "fashion studies." Sociology, anthropology, economics, art history, gender, and race studies—these are but a few of the umbrellas under which fashion can be discussed. For anyone battling the general perception that the fashion is vapid and superficial, fashion studies is an affirmation that there is a smart way to speak about clothing.
Unfortunately, like most academic work, the literature can be intimidating to the average reader. Enter The Fashion Studies Journal, a new publication that straddles the line between academia and popular journalism. "We're part of this whole new guard of thinking about fashion," said co-founder and editor-in-chief Kim Jenkins, who began the journal when she was studying at Parsons in 2012. "My vision was that I wanted to make fashion studies accessible to everyone. I want it to be this open, fun thing."
It is not the only academic journal of fashion studies to work with journalists and writers, but its current online format allows for a democratization of its content, deliberately reaching the widest possible audience without compromising the quality of the writing.
"[Other journals] tend to publish the work of more established scholars, and they tend to take a really, really critical stance on contemporary fashion," explained co-founder and managing editor Lauren Downing Peters. "We wanted to have the critical angle, but we also wanted to leave room for people to celebrate fashion, and to enjoy fashion, which I think is another gap that we were seeking to fill. Often times, fashion criticism can be just that—too overtly critical."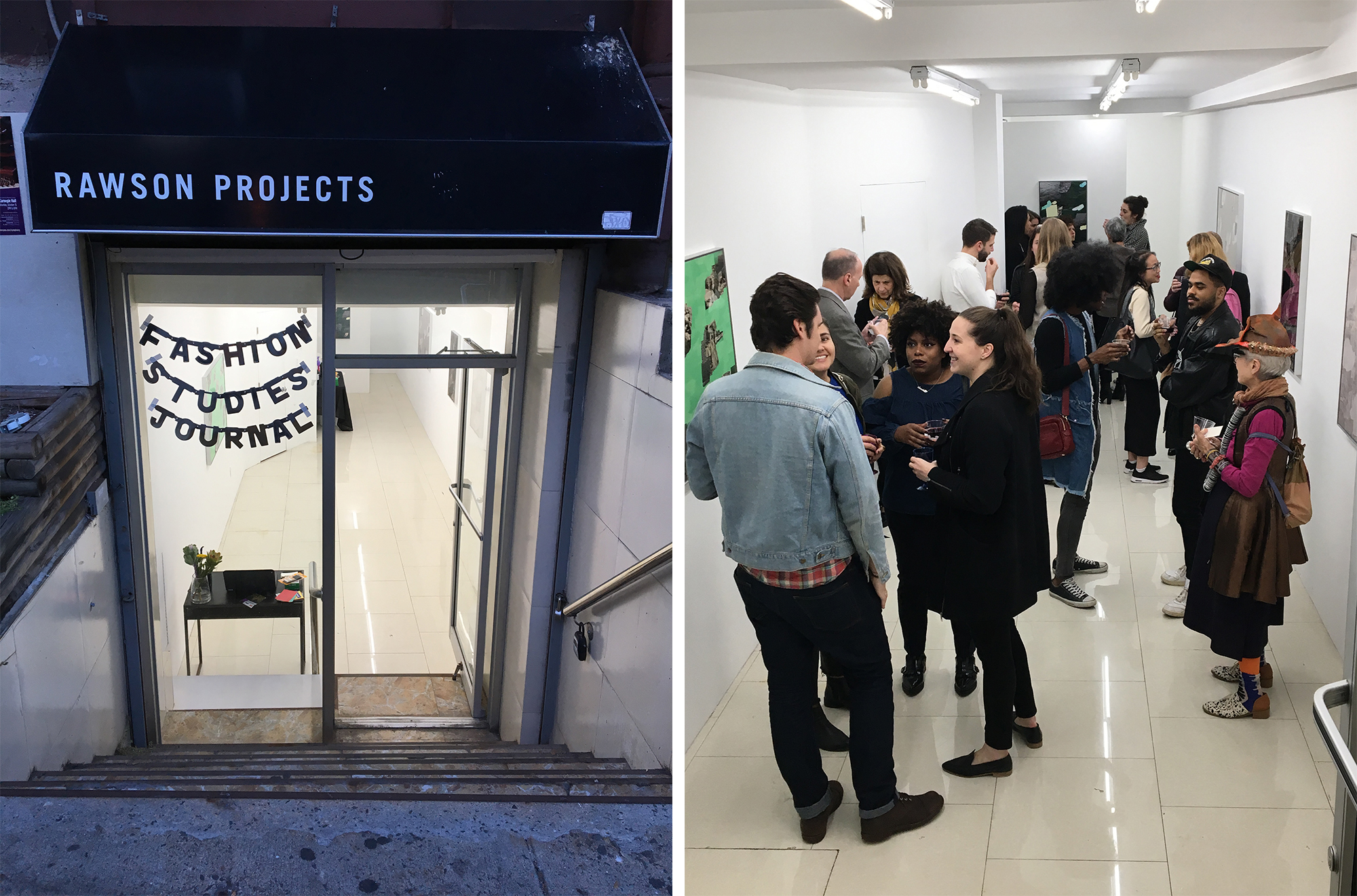 Images from The Fashion Studies Journal launch party, which took place last month.
Photos: Courtesy of The Fashion Studies Journal
The duo is aiming to create a space in which younger academics, notably those with master's degrees who are not yet in PhD programs, are able to contribute to the conversation, and develop their voices as well as their resumes. "My frustration came from being a PhD student, having experienced the less friendly side of academia," explained Peters. "It's really, really competitive, and really cut-throat, and there are very few platforms that have a friendlier, more community-driven approach to thinking about fashion studies, and thinking about fashion phenomena."

Columns include "Notes From the Field," where academics explain their process of working in fashion studies, "Reviews," which covers fashion-related exhibits and books, "What We're Wearing," which explores the personal side of getting dressed, "Essays," covering modern and historical topics, and "The Weeklies," which tackles current news items, and is updated (as the title suggests) every week.
In the future, Jenkins and Peters will explore ways of expanding their community through events such as talks and dinners, as well organizing support groups and mentorship programs for young academics. But in the meantime, the journal itself—which is already garnering positive interest—is the main focus of development. "I think what's strong are the columns that we have. We've established a tone. With issue one, thankfully we've got some pieces that have become our gold standard," said Jenkins. "We're seeing what's possible."
The inaugural issue of The Fashion Studies Journal is available online now. Issue Two will be released November 30th.
0 Comment