On Saturday night at New Jersey art hub Mana Contemporary (which, for all you city snobs like me, is just a 15-minute hop, skip, and jump from lower Manhattan), the human and digital realms united in poetic, multidisciplinary harmony. In collaboration with Performa, Mana hosted the debut of Virtually There, an enchanting performance inspired by Oskar Schlemmer's influential 1922 Triadic Ballet.
"We both had a mutual passion for the Triadic Ballet," said Roya Sachs of her and co-artistic director Mafalda Millies' connection to the work. "The more we delved into [the original ballet], the more we found all of these really relevant themes and ideas that were consequential 100 years ago, but are suddenly translating into a contemporary environment."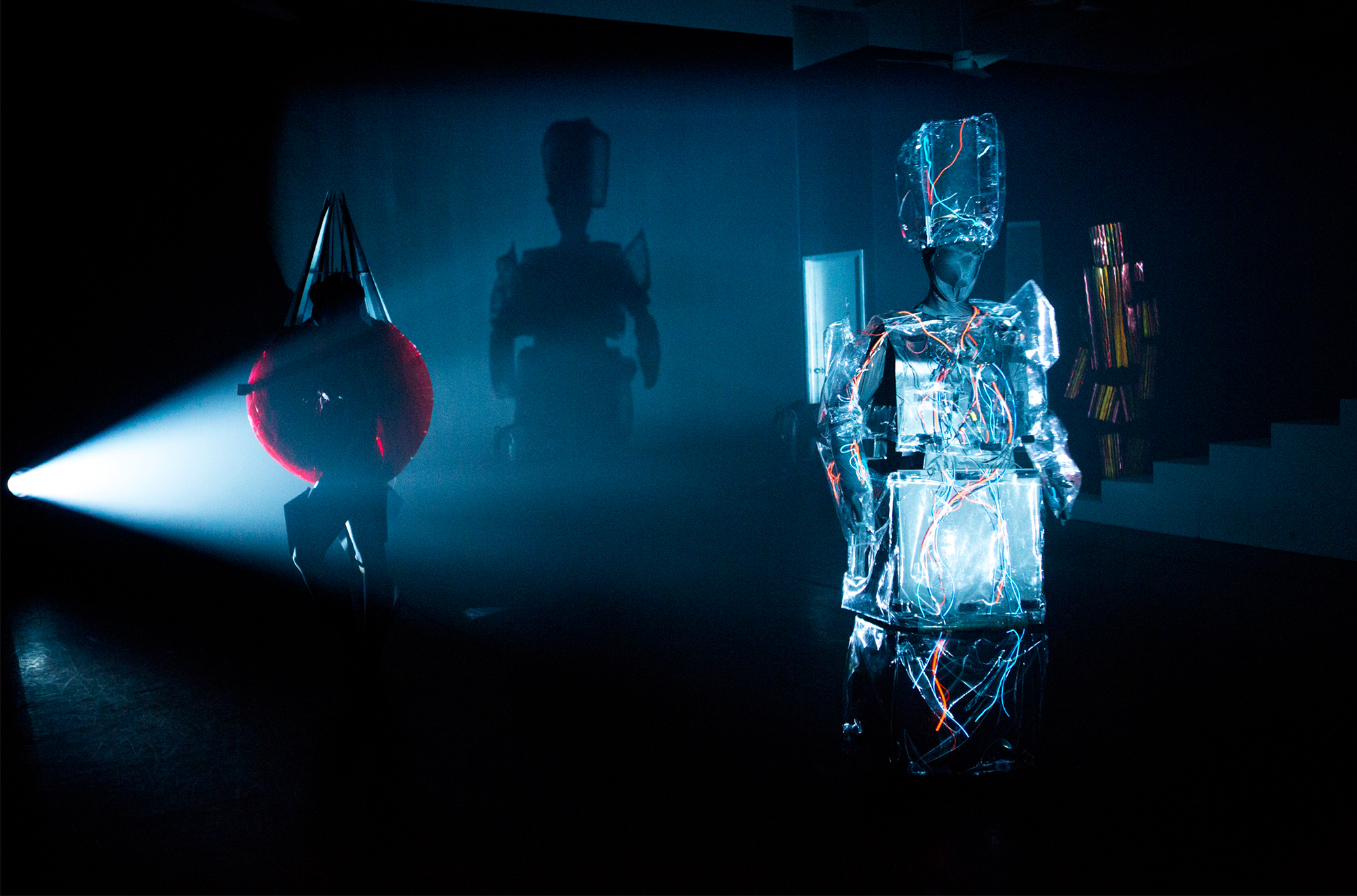 Virtually There, act two
Photo by Maria Baranova
Schlemmer's Triadic Ballet dealt with post-war Germany's obsession with technology and the Industrial Revolution, and through dance and elaborate, cumbersome, robot-esque costumes, detailed the bonding of man and machine. Virtually There brings this tale into the 21st Century, portraying a story of turmoil and, finally, acceptance—perhaps even love—between human and digital beings.
In order to make this performance—which had both Bauhaus and Surrealist elements—truly impactful, Sachs and Millies assembled an all-star team of creatives to contribute. Karole Armitage, who earned the title of "punk ballerina" in the '80s, went on to work with the likes of Madonna and the late Michael Jackson, and is one of the most radical choreographers of our time, handled the dance moves, which fused traditional ballet with stiff gestures emblematic of the Bauhaus movement. Featuring mirrors, stark stairs, and cage-like boxes, the set was designed by artists Kate Gilmore and Heather Rowe, and the haunting music came courtesy of composer Charles Derenne. Finally, the costumes, like that of the metallic robot, a being covered in colorful blocks and flickering lights, a creature infused with glowing wires, a pair of balloon people, and one cheerful character that looked one-part beating heart, one-part tissue paper strawberry, were the work of Brazil's famed Campana Brothers, Humberto and Fernando.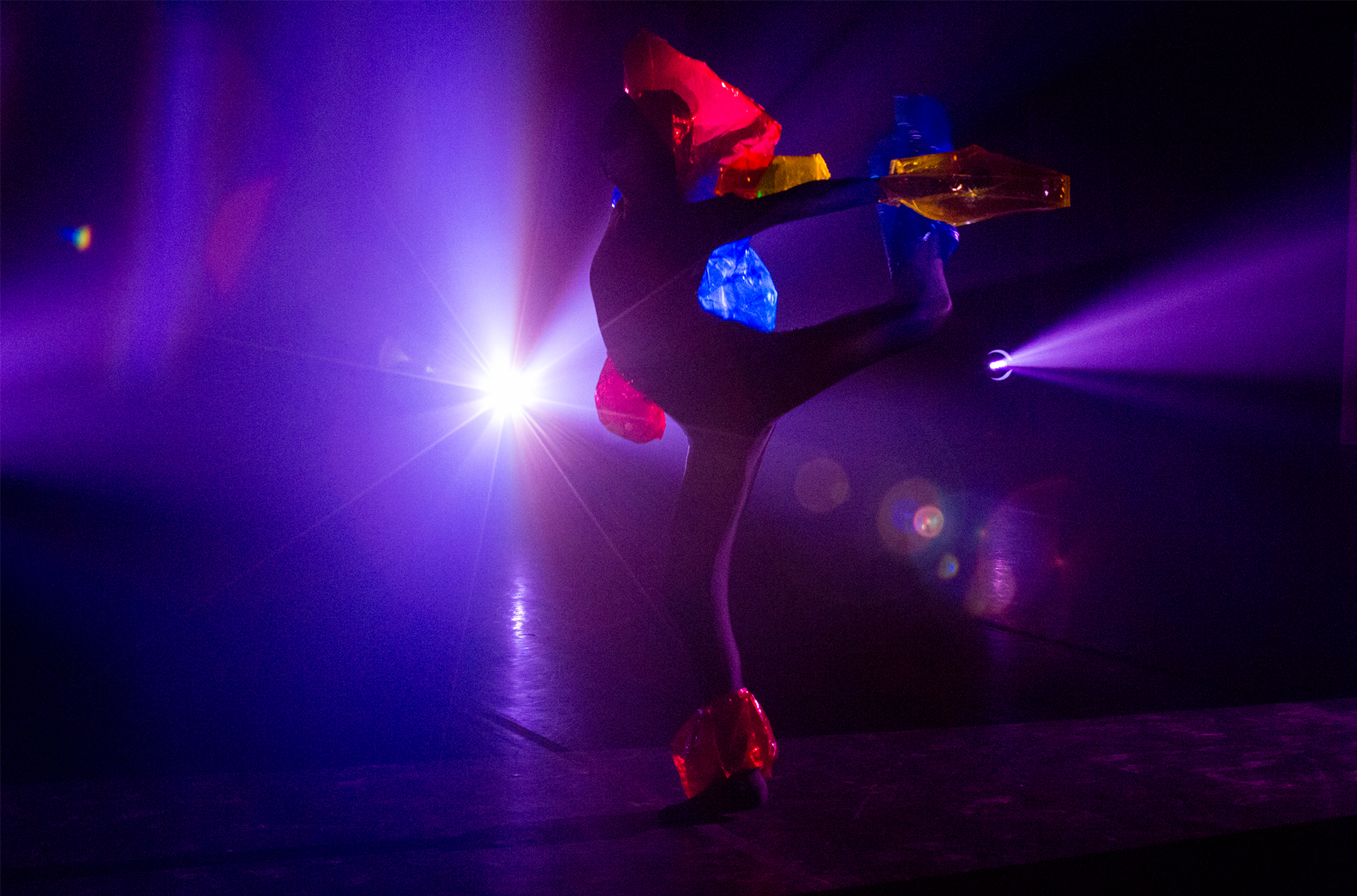 The Inflatable Woman
Photo by Maria Baranova
"At first, I was a little nervous to take part," admitted Humberto Campana, who was approached by Sachs. "[Triadic Ballet] was such an iconic piece! It was a bit daunting." Eventually, though, he embraced the opportunity, deciding to go in the complete opposite direction of Schlemmer. "I did that by deconstructing the costumes. I was inspired by primitivism," he continued. What's more is that the Campanas sourced all their materials from downtown New York, specifically from China Town. "I like to touch my materials and give them a second skin. Always, my work is about transformation—changing the function. But always with simple materials—nothing sophisticated." Indeed, his costumes had a childlike charm, but in conjunction with the music and movements, they pulled at the heartstrings. "I go for the heart," Campana asserted. "My only goal was to please [the audience's] eyes."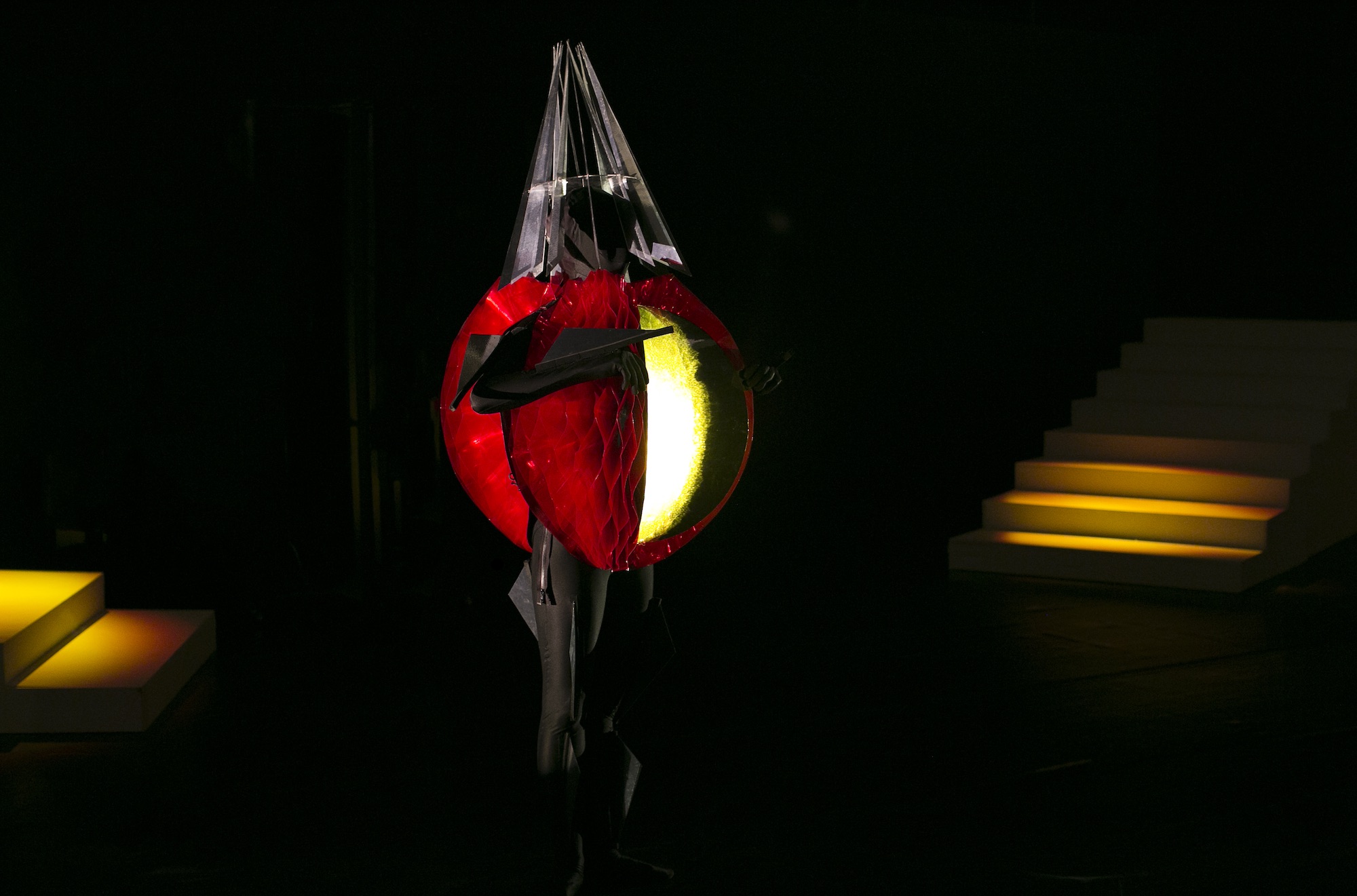 Virtually There, act one, The Honeycomb Woman
Photo by Maria Baranova
Mana's director of corporate development and global partnerships, Shai Baitel, offered that he was particularly excited about hosting Virtually There because, as he told it, "Performance has become one of the most important mediums of art in the past few decades. And it has become such a comprehensive method that we wanted to feature it here in the way that we saw it tonight." So how does Baitel think the digital realm has impacted the public's relationship with art? "Part of what we believe in at Mana is that art belongs to everybody. So social media is democratizing art, allowing for art to reach farther, allowing it to reach people that don't have the chance to physically see it. All those videos and images from tonight's performance will be able to disseminate the concept and the spirit. It's not the same as being present, but it's something." Indeed. Though, if you can, Virtually There is one artwork that is worth catching IRL. Tickets are on sale now, and the show runs through Tuesday, November 22.

0 Comment