India is the land of drapes, not fitted fashion. The bra, then, was nowhere on the scene, a fact amply supported by ancient paintings and sculptures that depict women bare-chested. The first historic allusion to the bra—half-sleeved tight bodices called kanchuka—can be traced to the Vijayanagara Empire that thrived between the 13th and 16th centuries.
When, after two hundred years, the British Empire's rule ended in India in August 1947, it bequeathed her tea, cricket, and the Victorian brassiere. "Padded or underwired bras were never a part of Indian culture. We inherited corset-inspired bras from the British," said Priyanka Thakran.
The 42-year-old is the maker of Angiya—The Indian Bra, inspired by the short-sleeved bodice that ends just below the breastbone (also known as angiya). The aboriginal design finds copious pictorial references in author Kālidāsa's Shakuntala, an epic play integrated as a chapter in India's literary masterpiece Mahabharata,written somewhere between the 1st century BCE and 4th century CE. Eons later, the indigenous underwear staple was worn by womenfolk in Rajasthan, Haryana, and Punjab, very much before the invention of the present-day bra.
And that's why Thakran's attempt to revive the angiya is significant, because it's not a derivative of the colonial corset. "The angiya decolonizes design. It's about form and fabric," said the designer, who was first introduced to the bodice by her paternal and maternal grandmothers, and has, in fact, dedicated three styles, Shobai, Sukma, and Shanti, to them.
Her incentive to reintroduce an alternative to the modern pad-prod-push bra instantly takes us back to the 19th century, when a young American socialite, Mary Phelps Jacob, fought to catch a full breath in a stiff, "boxlike armor of whalebone and pink cordage" (according to a Telegraph report on her life). Just over a century ago, Jacob invented the first "backless brassiere" by stringing together two handkerchiefs, some pink ribbon, and cord to create a light-as-air halter-top bikini shape, and sold it under the name, Caresse Crosby.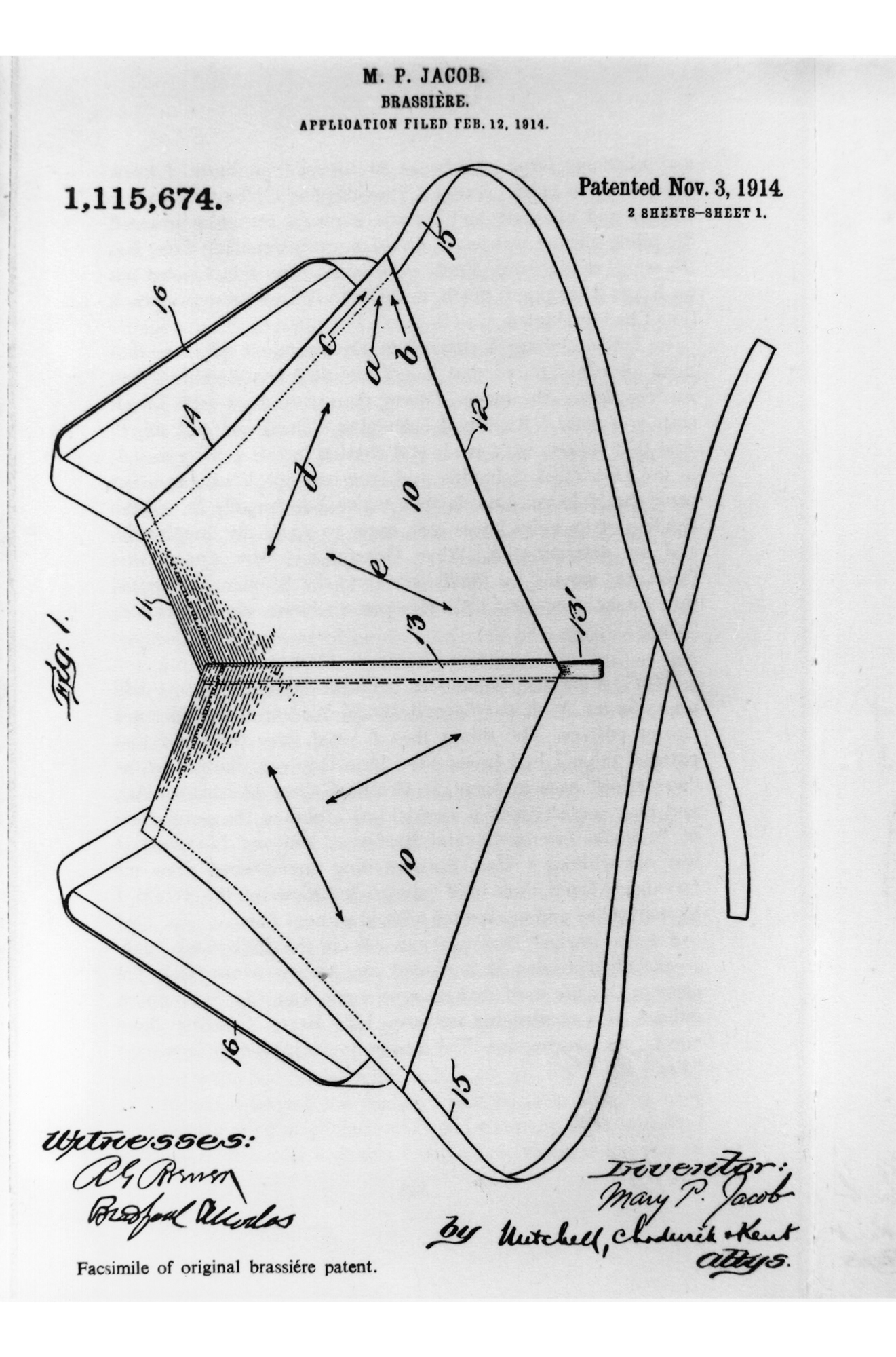 The first patent for the brassiere, filed in February 1914 by Mary Phelps Jacob
Photo: Getty Images
Thakran calls her adaptation an antithesis to the existing brassiere available in the market. "I don't understand the bra, its purpose or design; either the elastic is too tight, the underwire is limiting, or the padding suffocating," she said, admitting that her effort to go braless received not-so-favorable reactions in Mumbai, where she is based.
Her brand focuses squarely on comfort, using strings to hold the bra in place and an interesting application of elastic to allow for support without assaulting the breasts. "If you look at the modern bra, the load falls on the shoulders/blades and mid-back. With the Angiya, we have relooked at the load-bearing areas through the use of strings, which allows the weight to fall on the mid-upper back, a better alternative to the former," she added. The Angiya uses breathable Indian fabrics like Ikat and organic cotton mixed with a Lycra blend, while native techniques of Rajasthani quilting shape the cups. Basket weave is used in places to ensure an even look. The range is available in 11 sizes, starting from XXS (30 inches) to XXXL (44 inches). "We sell the Angiya by inches, not by cup size. I'm interested to find out who invented the cup size!" Thakran wondered.
Two decades ago, a Kolkata-based designer, Suman Nathwani, began informally counseling women on the right bra to pick, ways to identify cup size, and size changes during pregnancy. Some of her work also concerned mastectomy patients. And it all happened quite by chance.
Lovable, one of the first international lingerie brands to enter India in the mid-'90s, reached out to Nathwani to stock its collection at her store. At a time when buying lingerie was ridden with awkward experiences and having to share intimate data with male salespeople, Nathwani's store, La Lingerie, employed female staff. "Indian women were unaware that the bra is essentially made up of two components—the band and the cup—and most of them were making a wrong purchase. Back then, information wasn't available like it is today on the Internet. I educated myself by reading books on lingerie," she told Fashion Unfiltered. Size B was every woman's default cup choice, and when the designer suggested size C and D options, Lovable put an end to the association. "The brand didn't comprehend my feedback, since size B made commercial sense for their business; there was a huge demand after all," she adds. Nathwani continued to help women customers, free of cost.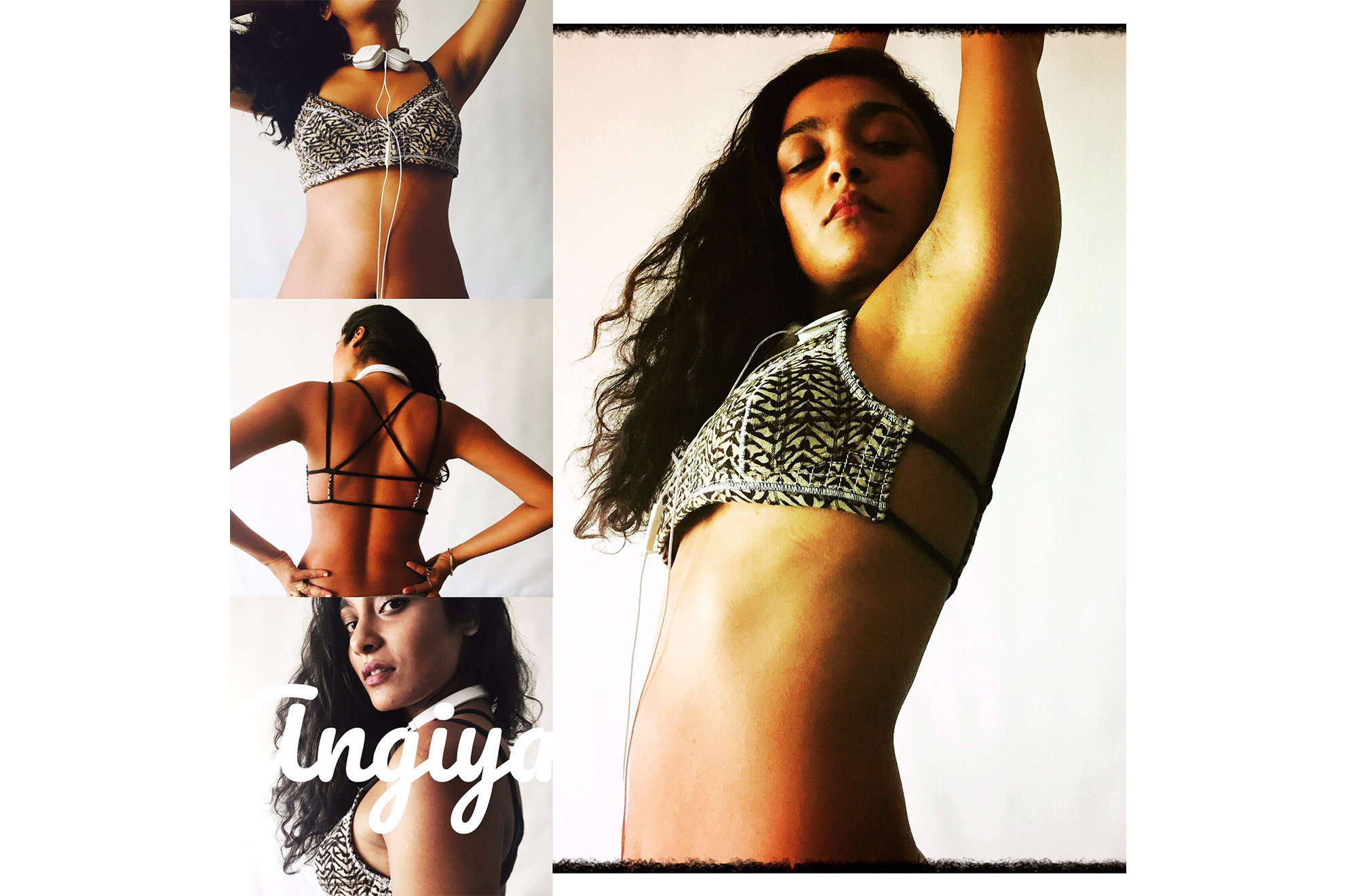 Photo: Courtesy of Angiya
Nathwani has company in Amelia Bandlish.
British-born Bandlish works as a specialist bra fitter in New Delhi. It's a calling she surrendered to after settling in India in 2005. Her education in business management in the U.K. led her to a placement in the lingerie department at Evans, where buying and merchandising were part of her training. "I remember feeling bemused when my mother visited India with 10 nude and 10 black bras in 36B from Marks & Spencer. These were gifts for relatives and friends. I sensed the need to offer professional help as a bra fitter, someone who'd advise women on styles in a relaxed, private setting," she said.
Now and then, she finds herself in the midst of an embarrassing moment when she is asked, "So, what do you do?" in a social setting. "When I tell them that I work in lingerie, they assume it's 'laundry,' simply because it rhymes," she said, laughing. "Some Indians still pronounce it as lin-guh-ree. It's a great conversation starter, though."
Funny anecdotes aside, Bandlish values client feedback reflecting diverging shades of gratification. "Most struggle with upper back and shoulder strain on account of wearing the wrong size. During an informal consult, I explain the importance of a good fit, and help them choose the right style for better posture," she said.
An astounding number of Indian women report that they wear ill-fitting bras. A recent international study of 10,000 women by Swiss brand Triumph found that 64 percent of participants were wearing the wrong size. Of these, only 29 percent were even aware of their folly. "Much of India is not aware that cup sizes can range from AA to L. Most women are fixated on a particular size, not realizing that it is not the end of the world if they have crossed to D," rues Bandlish, explaining the myth harbored by some is that wearing a large cup size leaves you looking tubbier.
That's a startling revelation, considering some of the top brands including Amanté, La Senza, Wacoal, Triumph, and Hunkemöller have store presence in India, while online stores like Zivame, Amazon India, and Koovs brag about a wide selection. "It saddens me to walk into a lingerie store and find limited styles but in a multitude of colors," said Bandlish, who collaborates with lingerie brands including Elomi, Fantasie, and Freya on her website, Bramelia.
Photo: Courtesy of Angiya
Nathwani and Bandlish both don't understand the fuss or the need for a measuring tape. Nathwani starts by asking the client to wear her existing bra, and makes adjustments around it, while Bandlish assesses the frame of the client, especially how the band sits on the shoulders, the under-bust, and back before making an evaluation. "I'm appalled that most international brands located at malls still use a measuring tape. It's an outdated tool, and internationally, most leading bra fitters desist from using one," argues Bandlish. The measuring tape, usually used around the fullest part of the chest, only offers an approximation. Since every woman's body is unique, and breasts differ in fullness, shape, and spacing, a simple tape measure might not offer you the accurate band and cup size. That there is a lack of standards for bra sizes means measurements vary between manufacturers, too.
Seventy years since having been left with a Victorian legacy, India is still figuring its relationship with the bra, gradually moving from sex appeal to self-appeal. "When I began counseling in the '90s, women were interested in knowing their size because they wished it to appeal to their husbands. The recurring argument used to be, 'since it's innerwear, who's going to see it?' But society is changing, and with it, preferences. Now, women aren't hesitant to spend money on lingerie, because they have experienced that a right fit is more about boosting confidence, empowerment, even, and less about tools of objectification," said Nathwani.
0 Comment