While walking up the Guggenheim's spiral to the fifth level, where Anicka Yi's new exhibit, Life is Cheap, is on display, one passes by classic art museum fare: Picassos, Degas, and pieces from other notable masters. For many artists, to have their work alongside these paintings is an honor. But for Yi, whose exhibit comprises living materials and a custom scent, it might also be a conceptual advantage. After all, how does one compare a painting of modern life to a living biological sample of it?
"It's a huge statement to have the Guggenheim recognize my work," said Yi (who won the 2016 Hugo Boss prize last October), of her solo exhibit, the opening party for which was held on Thursday. "It certainly does boggle the mind."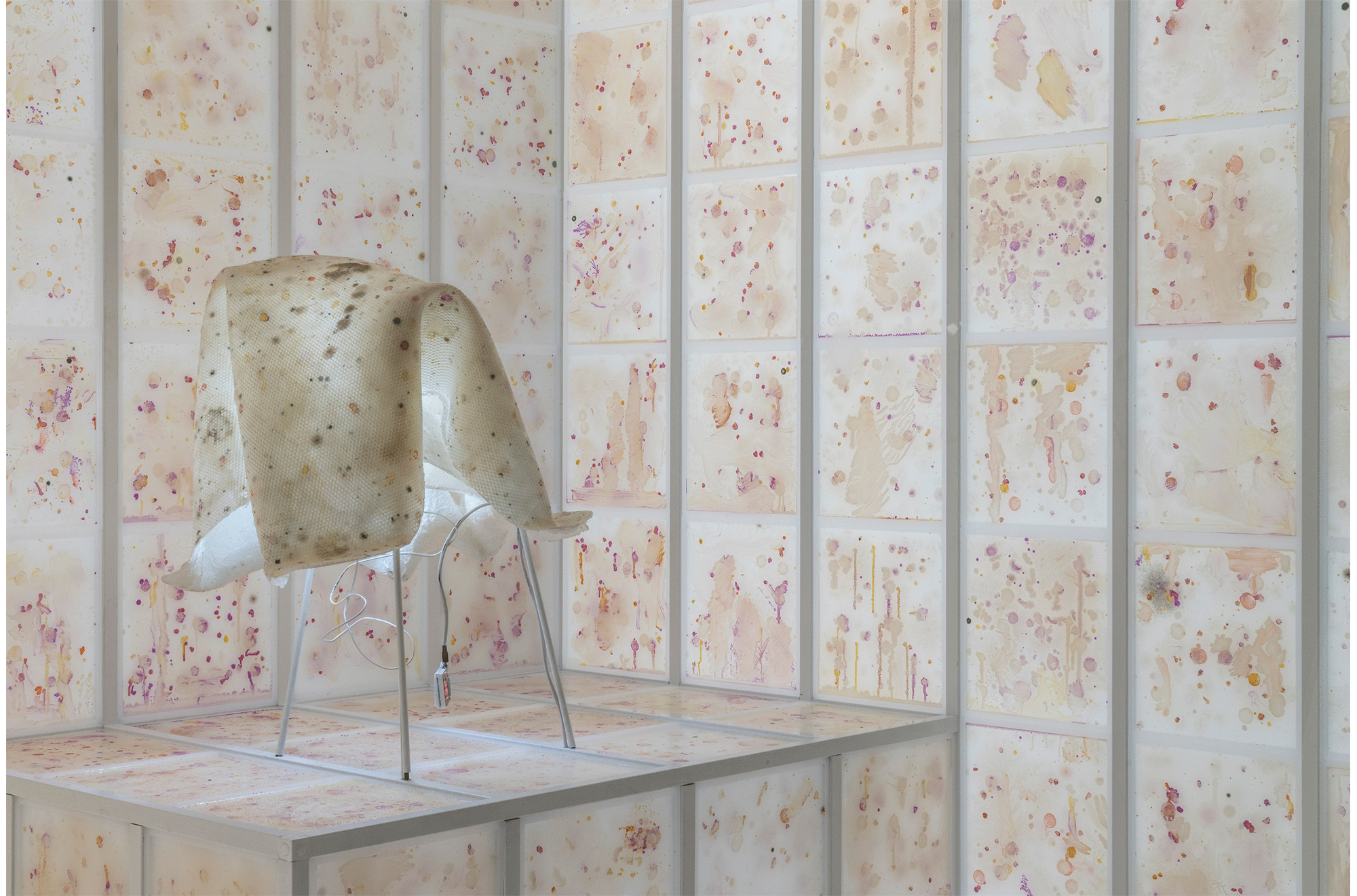 "Force Majeure"
Photo: David Heald / Courtesy of the Solomon R. Guggenheim Museum
Life is Cheap features two dioramas. On one wall, a softly lit box is filled with bacteria cultivated from Chinatown and Koreatown in New York ("I wanted to collect a range of bacteria in a densely clustered Asian American community," she explained). On the opposite wall, a futuristic mirrored box meant to resemble a data processing unit is filled with live ants. Visually, the two dioramas could not be more different, however, the inclusion of live materials in both is thoroughly captivating.
Of course, the main draw of the exhibit is the scent, a big part of Yi's body of work. For Life is Cheap, she crafted the aroma "Immigrant Caucus," which is not only pumped into the entrance of the exhibit, but to the ants as well. "I wanted to capture the contradictions in thinking about what an ethnicity could and should smell like," Yi said of her goal. "Scientifically, there's no real objective 'ethnic' smell and yet culturally, we ascribe different ethnic groups with a particular smell. Therefore, I wanted to foreground social conditioning in our perception of these aromas."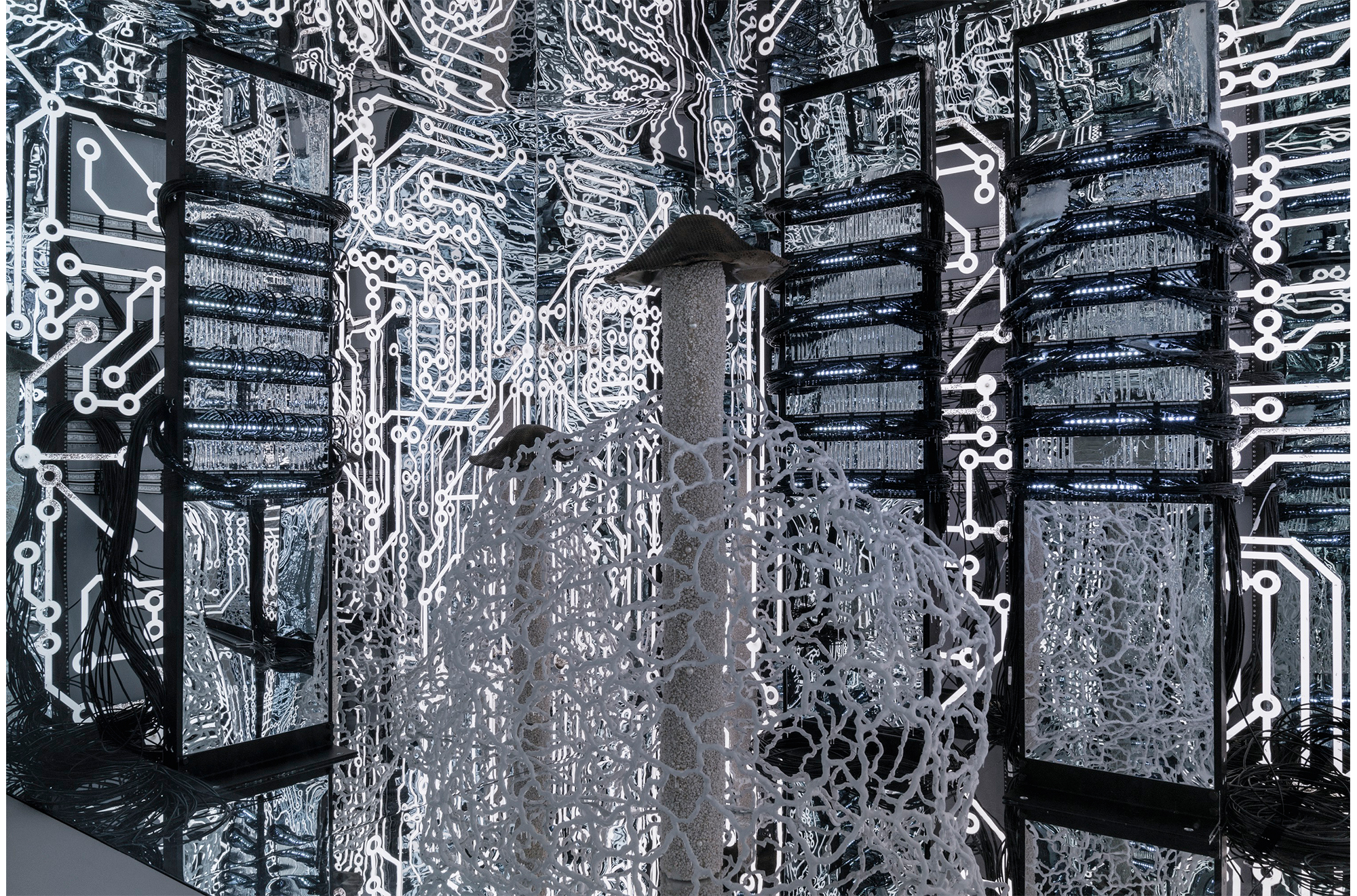 "Lifestyle Wars"
Photo: David Heald / Courtesy of the Solomon R. Guggenheim Museum
Perhaps it was the high volume of guests (this was, after all, opening night), but "Immigrant Caucus" (which combines chemical compounds from Asian American women and carpenter ants) is hard to pick up on at first. It smells familiar in an almost ubiquitous way. It is only upon leaving the room, when you are hit with the cold, almost sterile scent of the museum itself, that you notice "Immigrant Caucus" is comforting.
What is perhaps most interesting about the living installation is how immediately it speaks to our current social environment. "I was attracted to a disposable, catchy title," Yi said of her show. "Life Is Cheap captures the mood of the current American presidential administration—a profusion of devaluing democracy and lives." Partygoers aggressively taking selfies added a surreal extra layer to the social commentary.
Life is Cheap is on now at the Guggenheim, and runs through July 5.
0 Comment