Azzedine Alaïa is not exactly the most talkative designer. He's not secretive, like Martin Margiela, but he's also not one to court celebrity. His notoriety is based almost entirely on his work—quite a feat in an industry where posturing actually gets you somewhere, and in an age where self-promotion is half the job. In a way, to really understand his importance is not to know the man himself, but to understand his impact.
In a new documentary about the designer, stylist Joe McKenna highlights just that, tapping some of fashion's most respected names to reflect on what Alaïa means to them, or their interpretations of what he means to fashion. Top editors such as Carlyne Cerf de Dudzeele, Sophie Hicks, and Grace Coddington, as well as fashion critics Cathy Horyn, Suzy Menkes, and Vanessa Friedman all discuss the first time they encountered his work.
"It was like another echelon of fashion—if you could reach that echelon to go to an Azzedine Alaïa show," Horyn says in the film. "That's how I saw it…It was something that you almost had to know about by word of mouth. Like, the word was put out that Azzedine was going to show, and everybody went."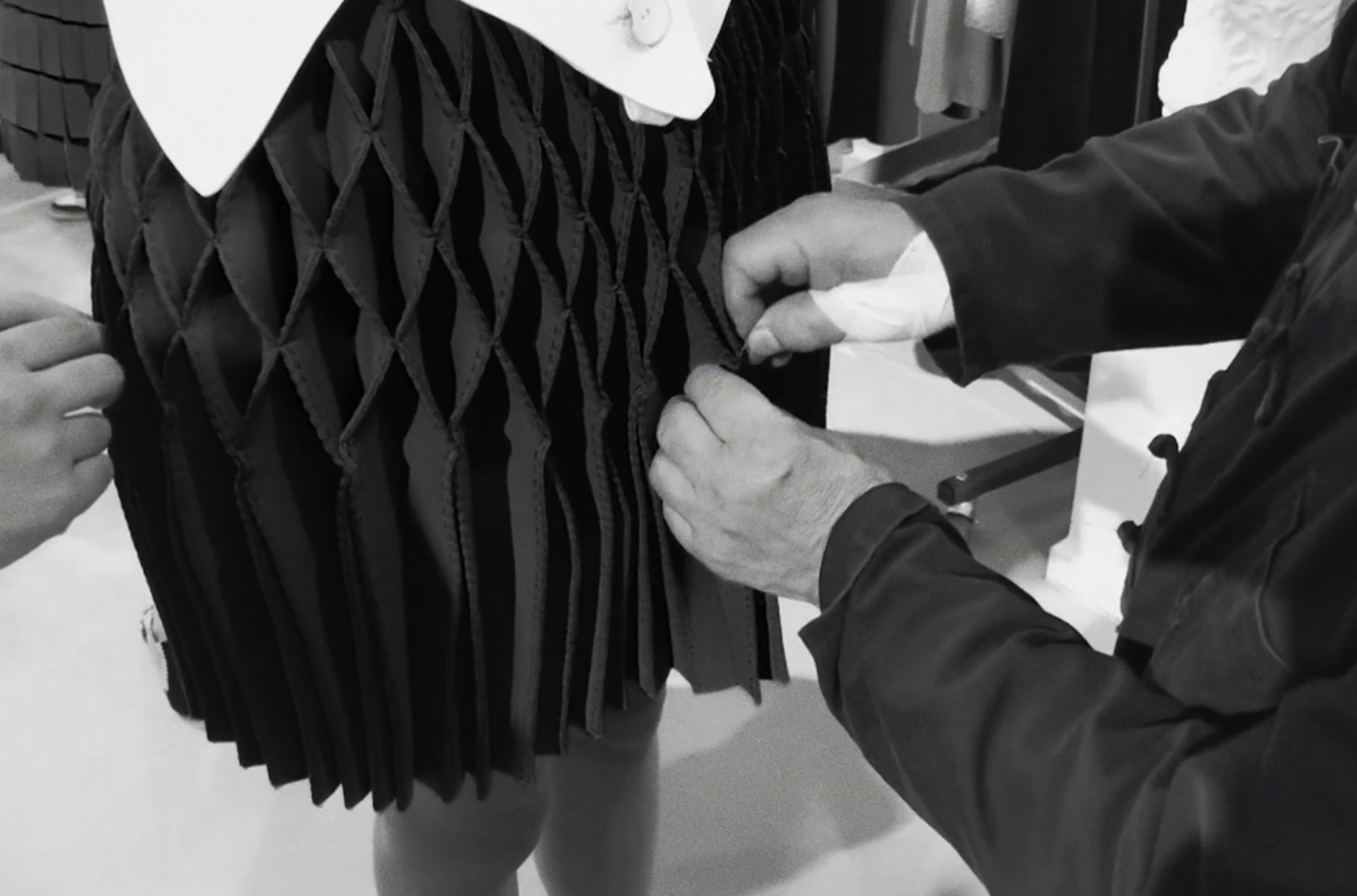 A still from the film
McKenna, a close friend of Alaïa, was granted access to the designer's atelier and shows him hard at work drafting pattern pieces and molding toiles to a fit model, but also interacting with his dedicated team. When Naomi Campbell (who calls him "Papa") explains how Alaïa creates a sense of family amongst those in his close professional circle, her words are immediately supported with footage of the designer eating a meal with his team, or lovingly interacting with his dog. When anyone mentions his work ethic, he is seen fussing over a detail.
"I think it changed my conception of fashion," Louis Vuitton designer Nicolas Ghesquière says of the first time he encountered Alaïa. "Before that, I thought fashion was about embellishment, as a kid. And when I saw Azzedine's work, I think I understood fashion was about construction, and architecture, too."
As archival footage of his runway shows plays, the viewer is able to see the clothes he so tirelessly works on in motion. This might just be the first documentary about a fashion designer in which the work truly speaks for itself—and that's when you understand what everyone interviewed is talking about.
The documentary can be viewed online for free, here.
0 Comment